Finding the right gifts for couples who travel isn't an easy task if you're not much of a traveler yourself. Fortunately, there are some things you can keep in mind when looking for such gifts.
Traveling as a couple means that they love to show that they're inseparable, so matching gift items will be appreciated by your recipients.
Another thing to consider is that most people who take trips prefer to travel light and compact. So travel bags that keep their things compact and organized are one of the gifts they'll appreciate the most.
Pack your bags because you'll be taking a trip to find the best items for traveling couples.
7 Travel Organizer Gifts for Couple
1. Matching Passport Covers and Luggage Tag
Keep their travel documents safe with these matching passport covers and luggage tags. The faux leather material keeps their passports and traveling material dry from any wet elements that may spill inside their bag.
Those who love a simple design will also enjoy having these tags on their luggage because of the golden symbols.
There are also other color options besides black and white, like pink, teal, and many more.
2. Nylon Travel Bag for Shoes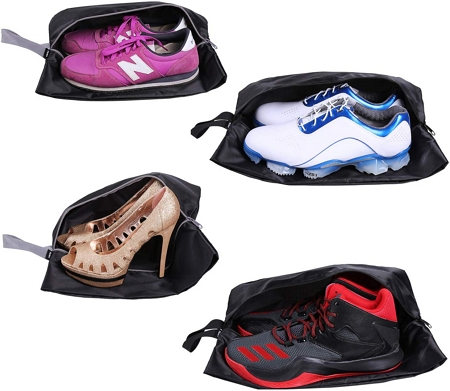 Traveling couples might not have the time to clean their shoes when they put them in their luggage. Help them save time and keep their other stuff free of any dirty shoes with this nylon travel bag for shoes.
The nylon material is waterproof so it keeps your shoes from being wet.
3. Packing Cubes Luggage Organizers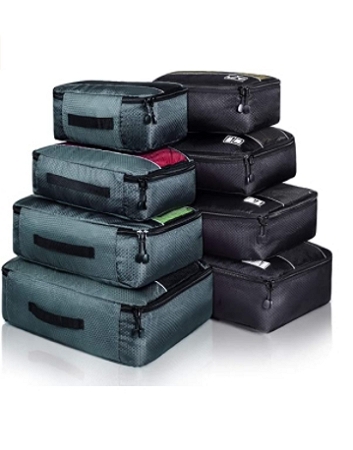 Here are the ultimate organizers to keep your recipient's clothes neat and compact within their luggage. Putting stuff inside these packing cubes might seem counterintuitive since they also eat up space, but they effectively reduce the bulk of luggage by eliminating air pockets and maximizing the space within their luggage.
The set includes eight packing cubes with four different sizes and two different colors, perfect for the traveling couple.
4. Travel Laundry Bags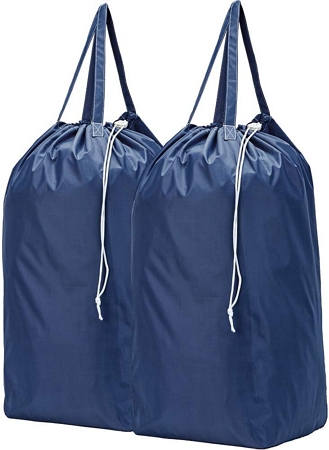 Why bring plenty of additional clothes and risk overweight charges when your recipient can just do the laundry in their travel destination?
That's where travel laundry bags will come in handy. They're foldable and easy to slip in luggage. Additionally, the nylon material is durable enough to carry a heavy load and the handles are reinforced for long-term use.
5. Electronic and Gadget Organizer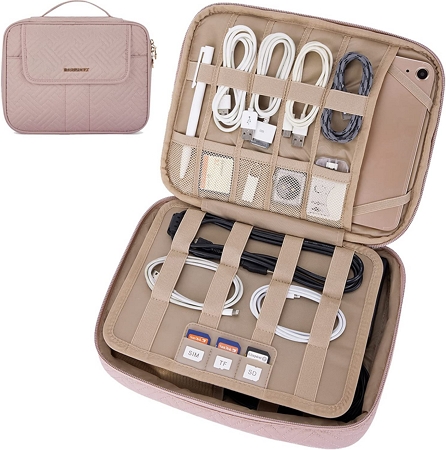 It can be annoying to find space for electronic devices and their accessories when traveling. What's more frustrating is when they need to be taken out quickly for security checks or if you need a quick charge.
Keep them all in one place by giving your giftee an electronics and gadgets organizer that keeps cables, connectors, USB flash drives, and even pens within reach.
6. Travel Toiletry Bag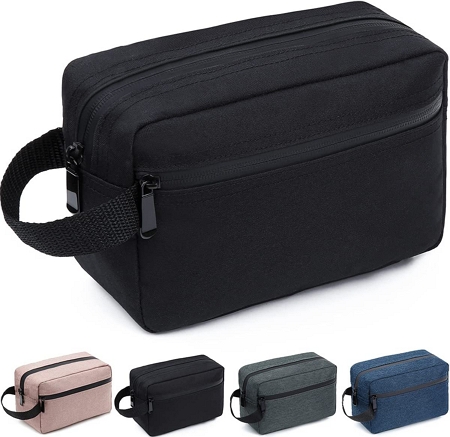 Keep your giftees worry-free by giving them a pair of these toiletry bags to keep cosmetics, toothbrushes, soaps, shampoo, shavers, and other necessities.
This foldable bag comes in different colors, including pink, gray, blue, and black. Since these will be often brought to the bathroom, it's made of a waterproof material that's also quick-drying.
7. Luggage Straps for Suitcases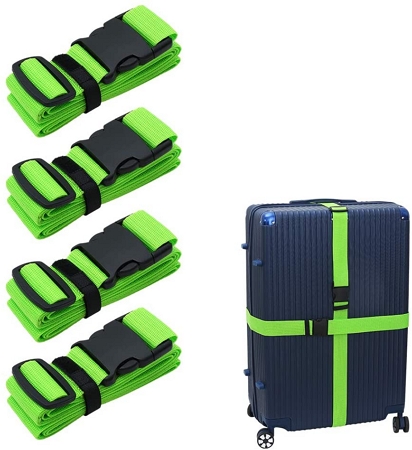 Here's another gift to help your giftees worry less about their luggage. The bright-colored strap not only lets your giftee locate their luggage faster, saving them precious time, but it also helps protect their luggage from accidentally opening during transport, which is important for maintaining peace of mind.
8 Awesome Travelling Accessories Gifts for Couples
8. Anker Powerbank Portable Battery
Sometimes traveling means not having access to a power outlet for long periods. That's especially difficult when most transactions and information are digitalized.
Help your giftee avoid uneasy situations by keeping their phone battery running for longer with this portable battery.
9. Travel Adapter Kit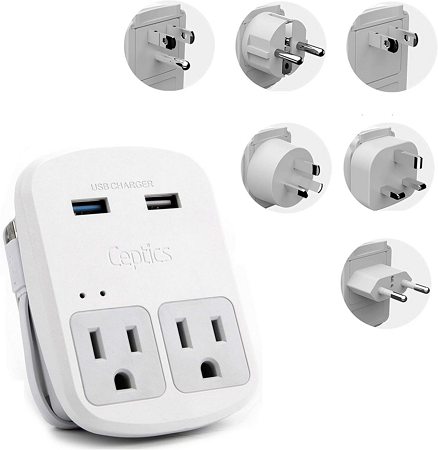 People who travel often know that the shape of power outlets might be different from what they have at home. To ensure that they've got the correct adapter, give them a 5-in-1 travel adapter kit.
This compact travel adapter, which comes with six types of international adapters and also contains two USB charger, has a surge protector that guards devices against dangerous voltage spikes.
10. GoPro Chest Mount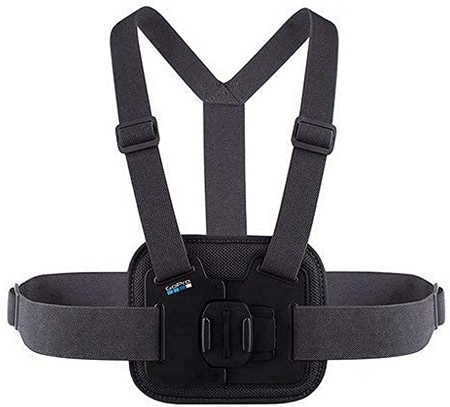 You can't get the full experience and live in the moment when you're trying to take the perfect angle with a GoPro in your hand.
Allow this GoPro chest mount to capture every second of their trip while letting your giftee enjoy and relax instead of focusing on holding a camera. Once it's attached to their chest, they just have to worry about having fun.
11. Mickey and Minnie Mouse Luggage Tag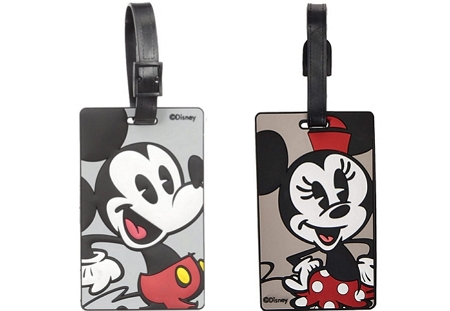 Get the couples who travel the perfect matching gift with this Mickey and Minnie Mouse luggage tag. While Mickey Mouse is a popular figure, there would be a one in a million chance that other passengers would have the same tag AND same luggage, so it would be easy to spot your bags when they're attached.
12. Monocular Telescope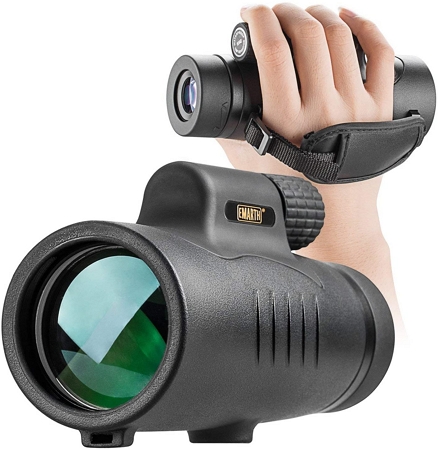 Traveling couples would love having a monocular telescope that would be perfect in big open areas, such as when they're viewing a stunning landscape from the top of a mountain or a skyscraper.
Holding handheld objects can be quite frightening when you're up high, so this monocular is made with a rubber material that makes it comfortable to hold and less susceptible to slipping. It's also lightweight and resistant to elements, making it easily portable for any outdoor adventure.
13. Travel Pillow Airplane Kit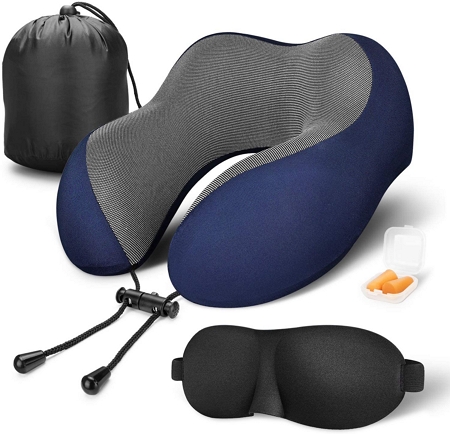 Some people just hate traveling, especially long-distance flights. Sitting on an airplane for more than five hours can already make some people weary. Imagine those who fly for more than ten hours.
Make a couple's trip more comfortable with these airplane kit that includes a neck pillow, a contoured eye mask, earplugs, and a travel bag to store everything in.
14. Digital Luggage Scale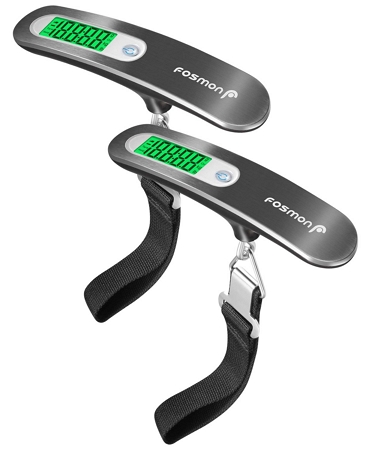 If your giftees haven't experienced the hassle of removing items from their overweight baggage, this is the time to warn them of it by giving them a digital luggage scale. Either they lessen their baggage weight or they'd have to pay as much as $30 per excess kilo (or 2.2 pounds).
It's better to be on the safe side by having an accurate digital luggage scale, which is small enough to fit in any luggage. The scale has a maximum carrying capacity of 110-lb, which should be more than enough than what's usually allowed per luggage.
15. Luggage Locks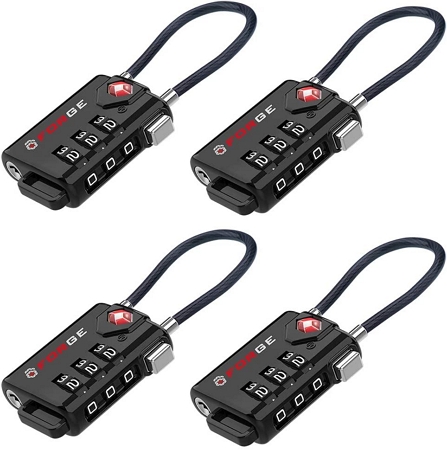 Offer your giftees some peace of mind while traveling through these luggage locks that will make them less anxious about the contents of their baggage.
The best thing about these locks is that they provide your giftees the security they need while also having the option of resetting the lock combination as many times as they want by following a set of instructions.
8 Other Gift Ideas for Travelling Couples
16. Travel Fund Piggy Bank for Couples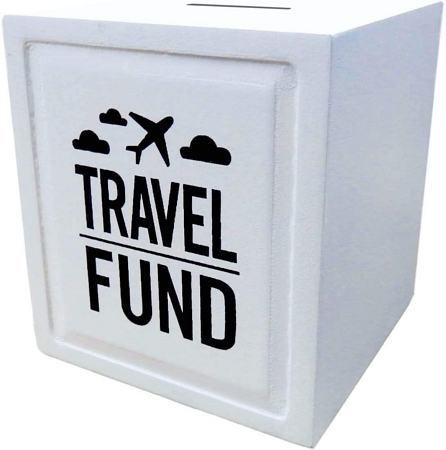 Help couples to spend less on unimportant stuff and focus on the one true goal: traveling. A simple piggy bank with a "Travel Fund" written on it can be a powerful reminder to save for this trip that they've been longing for.
Saving a portion of your income can go a long way and people will be surprised how much they saved once the target travel date is coming.
17. Traveler's Notebook
Some people love to capture moments with cameras. Others love documenting it in their journals, so here's a traveler's notebook for those couples who love writing their feelings and experiences during their trips.
18. Travel Blanket and Pillow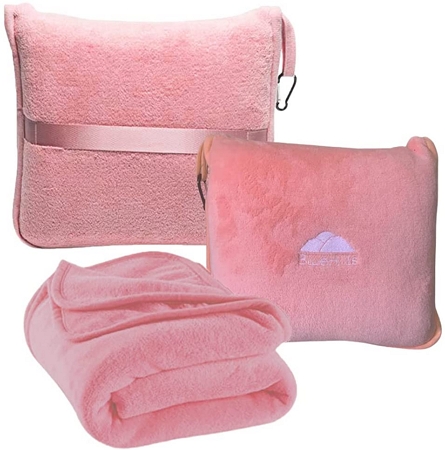 Here's a travel blanket for those who love bringing their own things on the plane instead of using the ones provided by the airlines. This set contains a super soft blanket that will keep them warm on the chilly airplane, another blanket that can be used as a pillow, and a small hand luggage belt to make it easily portable.
19. Collapsible Water Bottle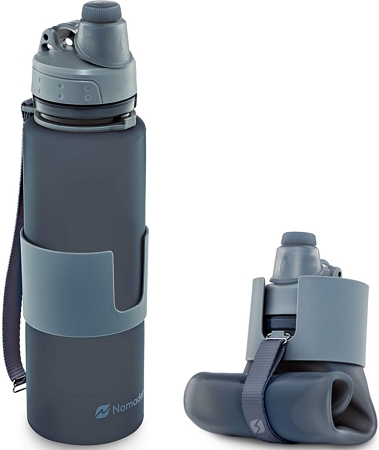 Having enough space is an important factor for traveling. Make the most out of their baggage by giving your giftees a collapsible water bottle, ready to be emptied at the airport security and stored in any bag.
20. Multipurpose Bracelets for Couples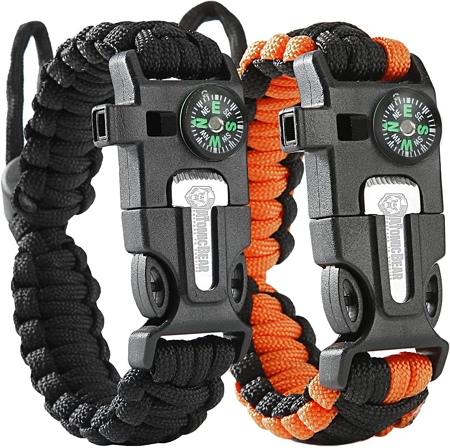 Couples who love to travel and stay outdoors will appreciate having this multipurpose bracelet.
This paracord bracelet has a fire starter, a compass, and a loud emergency whistle that are essential for any outdoor hiking and camping.
21. World Map Scratch-Off Poster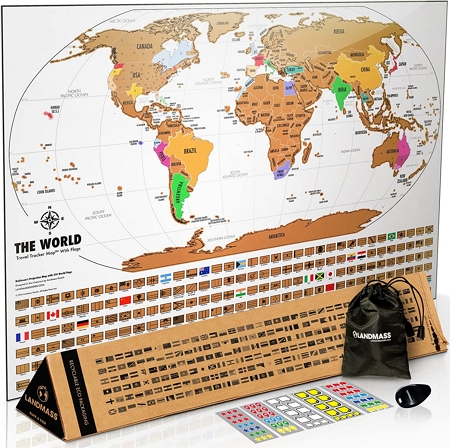 It's quite satisfying to scratch off the destinations that you and your partner have gone to. Get the traveling couple the perfect display for their living room with this world map poster.
22. Stamped Luggage Tags for Couples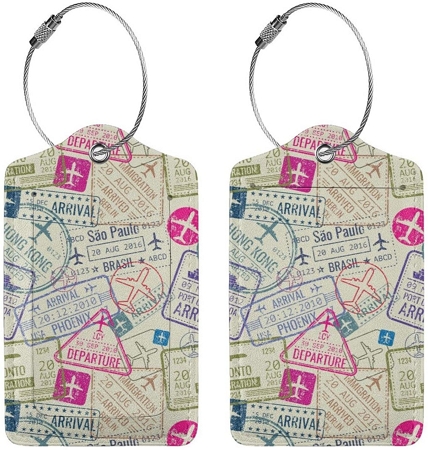 Here's another matching pair of luggage tags for couples who travel. These have an awesome design similar to a stamped passport.
The interesting part of these tags is that they can be attached with a stainless steel loop and each tag has a flap that covers information, protecting your recipient's privacy.
23. Ultimate Journeys for Two by Mike & Anne Howard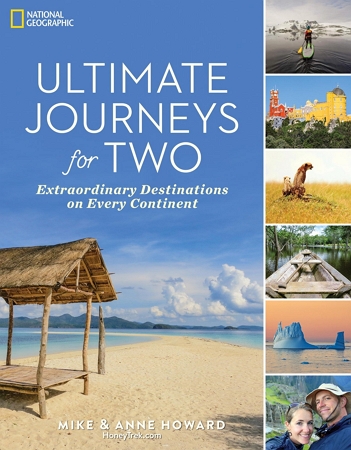 Allow your couple recipients to learn from the best who also love to travel by getting them the Ultimate Journeys for Two by Mike and Anne Howard.
Read up on various tips during your travel, such as the best times to go to a certain location and much more!
Safe Travels!
I hope these options helped you in choosing the right gifts for the couple who loves to travel.
Here are other gift ideas that you might like: