Most diehard fans will tell you that Batman is the coolest superhero for one reason: he has no superpowers. Aside from the fact that he's a billionaire and has the coolest Batcave under his manor, he's just a regular guy like you and me.
If you're looking for the perfect Batman gift for the comic book geek in your life, look no further because I found 29 of the most unique, nostalgic, thoughtful, and creative gifts for Batman lovers of all ages.
Whether you're looking for Batman merchandise, collectibles, or everyday items, this list has it all.
8 Batman Merchandise and Apparel Gifts
These first few gift ideas would make excellent Batman gifts for men, but they also work great as gifts for Batman lovers of every gender and age!
1. Batman Hoodie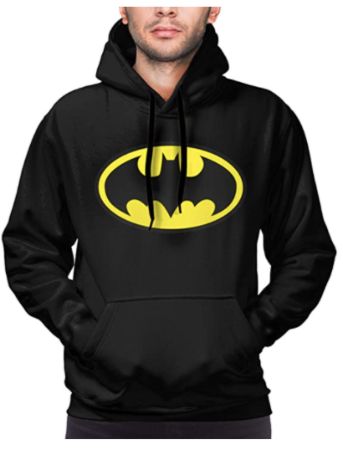 This classic Batman Logo pullover will look cool on anyone, but it will be much more appreciated by a Batman fan. It has front pockets to keep hands warm or for holding other Batman stuff they like to carry around.
If you're looking for something for kids, check out this Batman Hoodie for Boys that can work as a costume, too! The hood comes with Bat-ears and a mask that will have your kid feeling as cool as his favorite superhero.
We also found some funny T-shirt and top options if you prefer something more light-hearted:
Funny Batman T-Shirt
Batman Tank Top for Women
2. Bat Symbol Print Silk Tie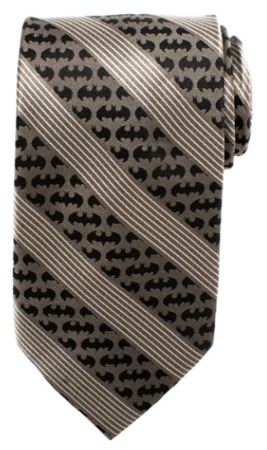 Help them express their love for The Caped Crusader at the office with this sleek tie. Made of silk, the black tie looks very subtle and professional because unless a colleague or the boss gets close, the print is barely noticeable.
3. Batman Smartwatch Band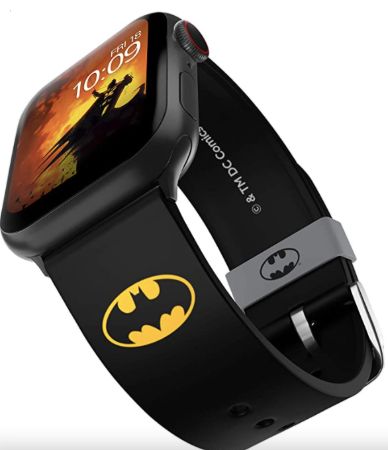 This smartwatch band with the iconic yellow bat symbol will make any Batman fan's smartwatch even cooler! It's made with UV and sweat-resistant silicone and is compatible with Apple, Samsung, and other smartwatches.
4. Batman Snapback Hat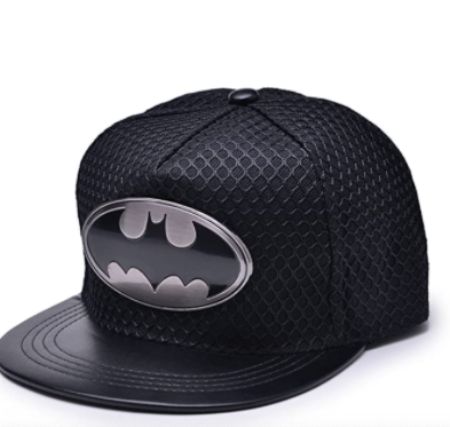 This snapback hat with the black and silver Batman logo will look great with any outfit. It's made from breathable mesh-type material for those extra hot days. The snap closure is adjustable too, so it will fit any size.
5. Batman Pendant Necklace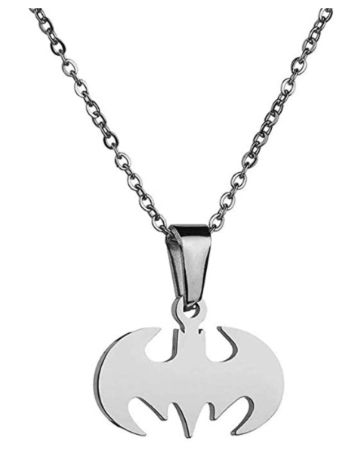 Why not get them some Batman bling like this stainless steel pendant? It comes with a thick silver chain so you know it'll last and won't irritate sensitive skin. You can also choose the gold version if you think it's more their style. Perfect for men and women!
6. Batman Chuck Taylor High-Tops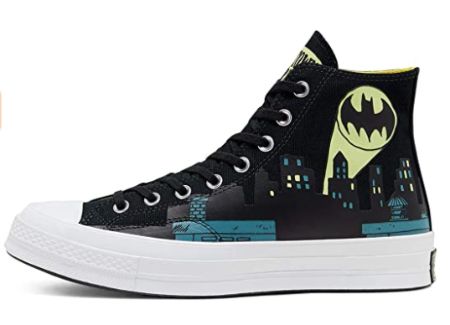 The only thing you need to know about these awesome Chuck Taylors is that the Batman logo glows in the dark. What's cooler than that?
These high-tops are a little bit punk and a little bit geeky – perfect for the stylish Batman fan in your life.
7. Batman Child Cape and Mask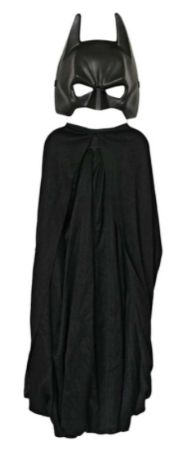 For the young Batman fan, it doesn't have to be Halloween to bust out the cape and mask. They can be a superhero any time of the year while adhering to the strict no-gun code followed by The Defender of Gotham.
8. Batman Hooded Kids Towel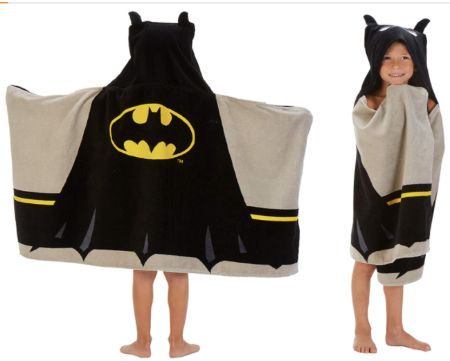 Maybe this fun hooded towel would help make your little Batman fanatic get ready faster? One can only hope. It's made from high-quality and absorbent cotton terry cloth that's soft and comfortable.
One thing's for sure though – it will make your kid happy!
13 Batman Gifts for Adults
9. Handmade Leather Journal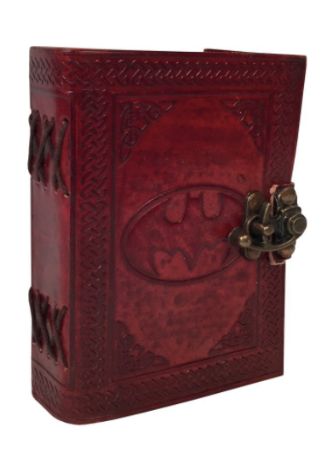 If you're looking for a unique Batman gift, this handmade leather journal is something you won't see often. It's beautifully bound in genuine red leather with recycled cotton paper pages.
10. Batman Projector Pen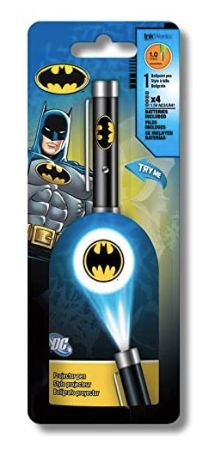 This cool Batman pen is not only good for writing things down, but it can also project the Bat Signal up to two feet. Now they can call their favorite superhero with just the press of a button.
This is one of the easiest gifts for Batman lovers, kids or adults alike.
11. Batman LED Mirror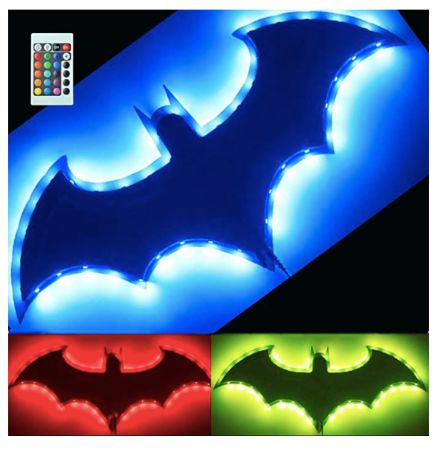 Give the Batman fan you know this Batman mirror with LED lights they can install in their Batcave, (aka, their bedroom).
This comes with a remote they can use to change the color of the light. Plus, it's not just decorative – it also functions as a mirror!
12. Batman Vinyl Record Wall Clock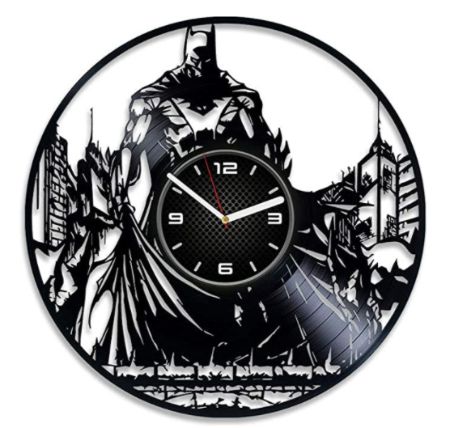 This unique Batman clock is made from a real 12-inch vintage vinyl record. If you look closely, there's a piece of The Dark Knight story on this clock.
13. Batarang Desk Lamp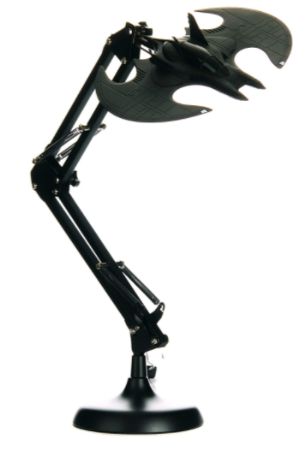 The Batarang desk lamp is the perfect Batman item for both adults and kids! They can put this on their desk or their bedroom nightstand for all those late nights studying or leisurely reading about their favorite superhero.
14. Bat Signal Kitchen Timer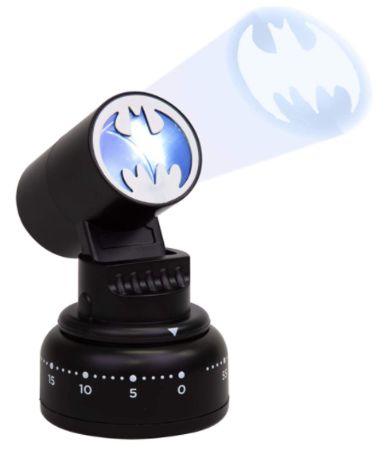 Make them feel like a superhero in the kitchen with this awesome Bat Signal kitchen timer. When the food is ready, the Bat Signal will light up so they know it's time to save the family meal from burning in the oven. Everybody gets to eat. Win-win!
15. Batman Cookie Jar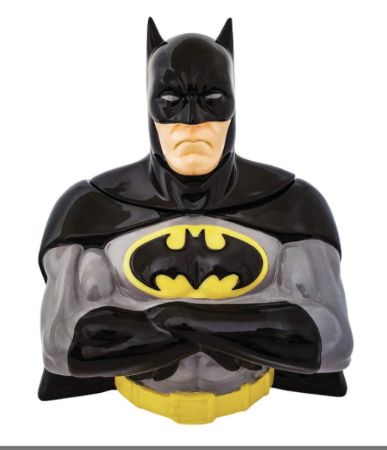 The Batman fan with a sweet tooth would love this ceramic Batman cookie jar. It's the coolest way to store their favorite cookies or sweets.
With The Caped Crusader on guard, they can be sure no one steals their favorite treats.
16. Personalized Wooden Batman Mug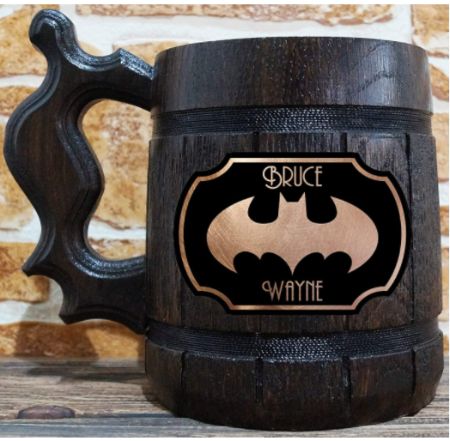 This wooden beer mug is the perfect personalized Batman gift for the ale-loving Batman geek. It has a stainless steel inner coating that will keep their favorite IPA colder for longer.
You can even get this mug engraved with their name, initials, or a message to make it this Batman gift more special.
17. Batman Travel Mug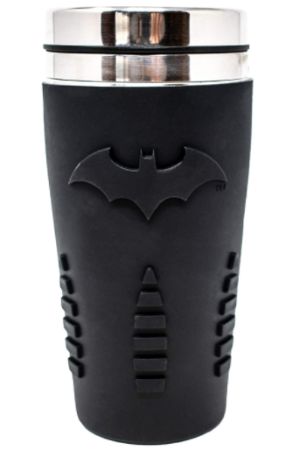 For the Batman fan on the go, this Batman travel mug is the perfect gift. Its double-insulated walls will keep their coffee, tea, or any hot beverage hot and safe from any spills or leaks.
The rubberized textured surface prevents the cup from slipping or sliding. It looks really cool with the silver lid, too!
18. Batman Symbol Ice Cube Tray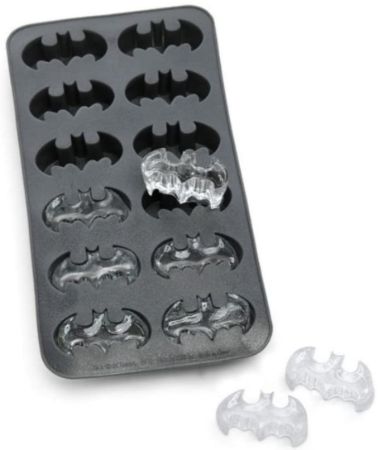 This black silicone ice tray that makes perfect batman logo ice cubes will add a little more delight to any fan's next Batman movie marathon.
19. Batman Oven Mitts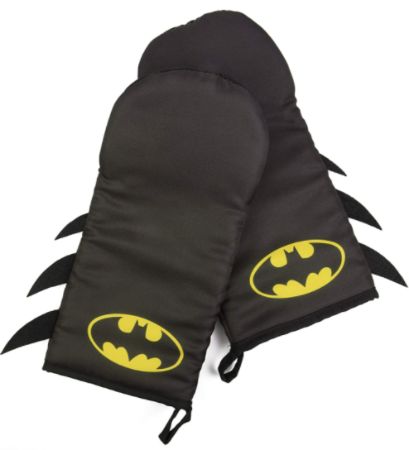 These heat-resistant oven mitts feature the yellow Bat Symbol logo and side-guard spikes to make it look extra-cool. This is a great gift for Batman fans who love to bake.
20. Batman Toaster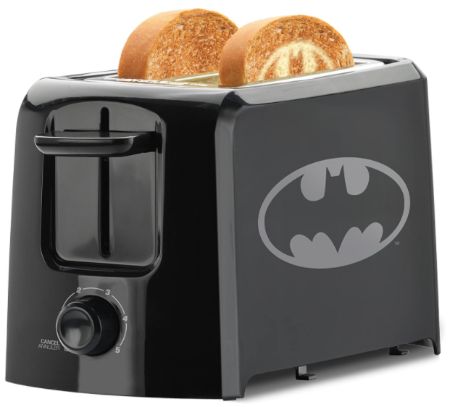 This two-slice oven toaster can take breakfast to another level. Any Batman fans, young or not-so-young, would happily bite into freshly toasted bread with the Bat Symbol imprinted on it.
9 of the Coolest Toys and Collectible Gifts for Batman Lovers
21. Batman 4K Film Collection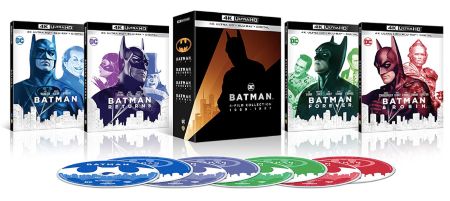 This Batman 4K Film Collection includes the most iconic Batman movies made so far: Batman, Batman Returns, Batman Forever, and Batman and Robin.
It contains an eight-disc set that includes 4K Ultra HD, Blu-ray, and digital copies of each film.
22. The Killing Joke by Alan Moore (30th Anniversary Edition)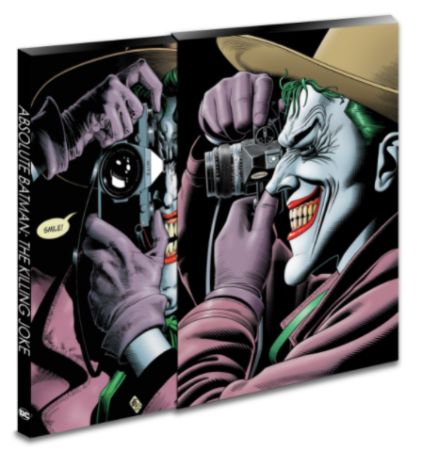 The Killing Joke will always have a special place in the hearts of diehard Batman fans. The story is based on Batman and Joker's insane rivalry and has one of the best storylines.
This edition includes never-before-published scripts and many other related stories and sketches.
23. LEGO Batwing Model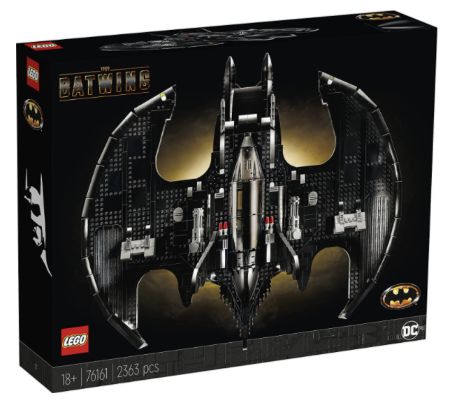 This buildable Batwing display model is from the controversial 1989 Batman movie by Tim Burton. This is a great Batman gift for the serious collector and model-building enthusiast.
They'll spend hours happily assembling this 2,363-piece model of the coolest superhero plane ever. Plus, it also comes with a sturdy stand and three mini-figures: Batman, The Joker, and a Boombox goon.
24. The Batman Who Laughs By Scott Snyder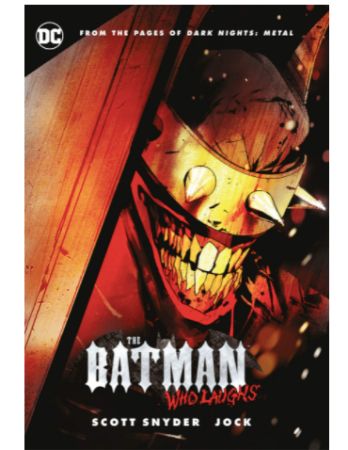 What if Batman and the Joker were the same? This is the premise of this graphic novel by writer Scott Snyder and famous illustrator Jock. We guarantee this will be a welcome addition to any Batman connoisseur's collection.
25. Batman: The Definitive History of the Dark Knight in Comics, Film, and Beyond by Andrew Farago and McIntyre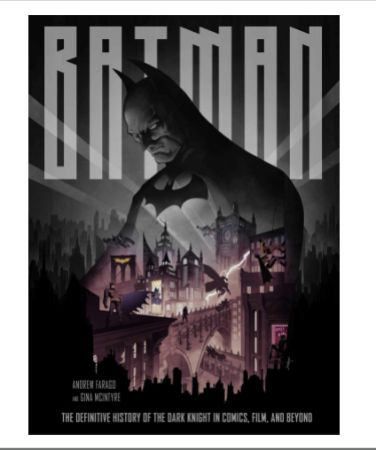 This is considered the Batman bible as nearly every iteration of Batman – from The World's Greatest Detective to The Dark Knight – is explored in this comprehensive 400-page guide to everything Batman related.
Every true Batman fan will tell you that this book is a must-have for every Batman collection worth its salt. Your favorite Batman geek will love you for this. Trust me.
26. The Batman Who Laughs Figurine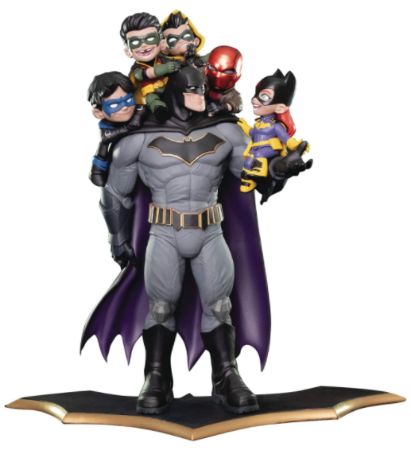 This beautifully made Batman Family figurine is the first in a new series of large-format dioramas called q-master.
The statue stands 15 inches tall and features Batman as you rarely see him: with six other characters that appeared in The Batman Who Laughs graphic novel.
27. The Dark Knight Action Figure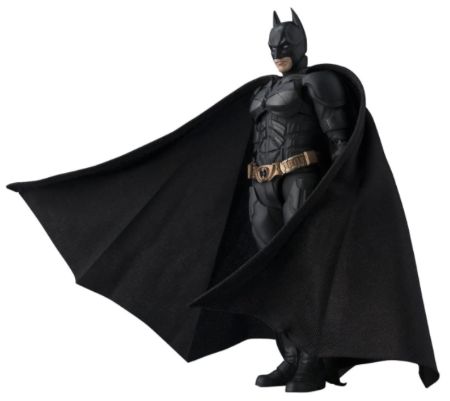 Complete their collection with this six-inch tall The Dark Knight action figure. You can indulge their Batman love even further by including two or more of its optional accessories to choose from.
28. Batman vs. Joker LEGO Set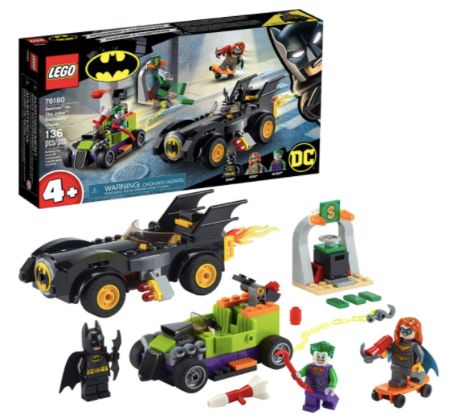 This supercool LEGO-DC Batman vs. The Joker playset is designed to boost the imagination and dexterity of young Batman fans aged 4 and up.
The playset includes Batman, Batgirl, and The Joker mini-figures, a buildable Batmobile toy, a wacky hotrod, a bank vault, and a host of other extras.
This will be a great bonding activity for Batman fans of all ages in your family.
29. 75th Anniversary Batman Action Figure Set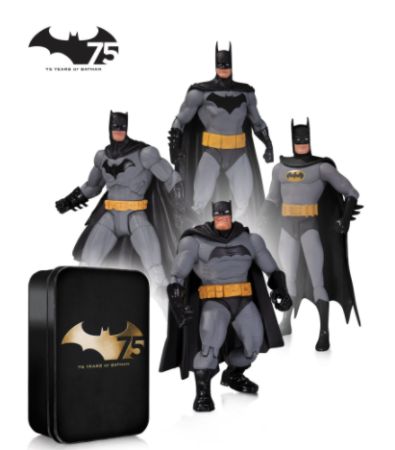 Lastly, any Batman fan will fall in love with this 75th Anniversary Action figure set. It honors the history of the Caped Crusader with four action figures spanning the entire history of Batman.
From the comic book of the 40s to the TV show of the 60s to the modern Dark Knight and animated hero – all are faithfully represented in this action figure set.
The Best Batman Gifts for the Batman Geek in your Life
You will never be stumped on what to get the Batman fan in your life thanks to this list of awesome Batman stuff.
Whether it's for Christmas, birthdays, or any other occasion, there are plenty of Batman-themed gifts to choose from right here!
If you need more gift ideas for someone else on your list, check out these other gift guides available on this website: