There's no shortage of gifts for Lakers fans out there. This team is considered one of the NBA's greatest teams that has produced some of the best players in the league.
Add a die-hard fanbase into the mix you've got yourself plenty of Lakers gift ideas to choose from. The quuestion is, what Lakers merchandise do you choose?
If you want to impress the Lakers fan (or fans) in your life, this is the list for you. I found 29 of the best gifts for Lakers fans so you don't have to.
12 Gifts for Lakers Fans of Every Age
1. LA Lakers Apple Watch Band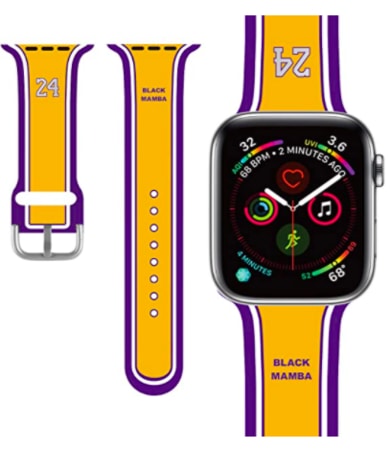 If they have an Apple Watch and wear it everywhere, give them this Lakers Apple Watch band that features the team colors and Black Mamba's jersey number.
It's like giving their favorite watch a glow-up without breaking the bank.
This watch band is made from skin-friendly silicone, is available in two sizes, and is compatible with the iWatch Series 6 and SE  Series 1 to 5.
2. Los Angeles Lakers Folding Sunglasses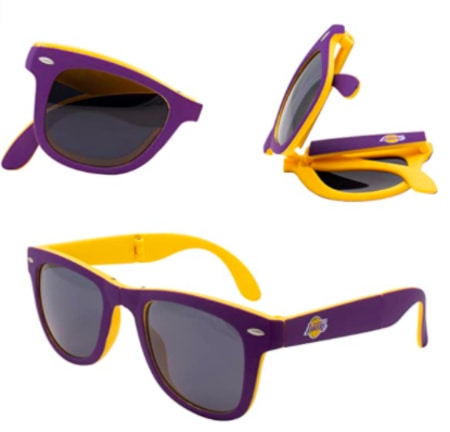 These officially licensed Lakers sunglasses are not only cute, they also fold into a compact size.
The polycarbonate lenses offer protection against UVA rays, and the plastic frame is lightweight and flexible so it won't break easily.
3. LA Lakers Scarf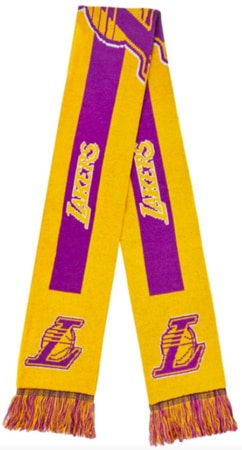 Not all Lakers fans are located in sunny LA. If your Lakers fan is based somewhere cold, this logo scarf will be just the thing to keep them warm while showing off their team pride.
It's made from soft acrylic material with enough thickness to protect from the cold.
4. LA Lakers Hat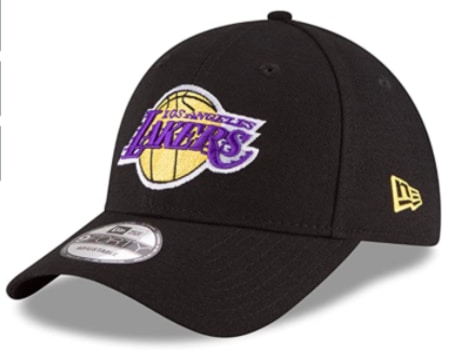 This officially licensed hat makes the list of great all-around gifts for Lakers fans. It's made from lightweight polyester and features an embroidered team logo on the front.
It's only available in standard size, but the velcro back closure makes it fit most adult head sizes.
5. LA Lakers Baby Bib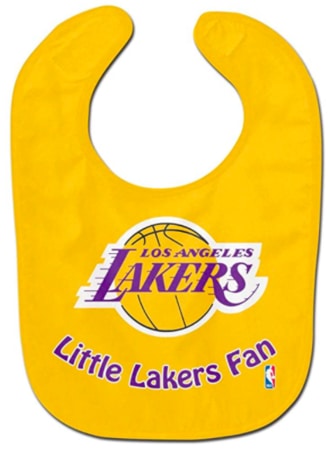 If the Lakers fan in your life is also a new parent, help them keep the Lakers love in the family with this baby bib.
This bib will not only make the littlest Lakers fan look adorable, it will also keep them clean during meal times.
This bib is made from a soft fabric that won't harm their baby's sensitive skin and has a velcro closure for the perfect fit.
6. The Ultimate Los Angeles Lakers Trivia Book by Ray Walker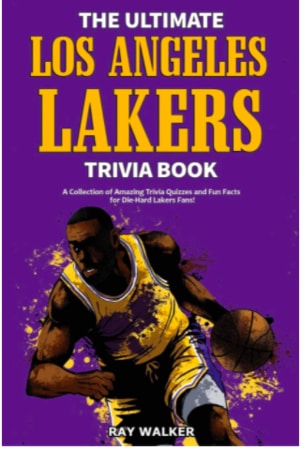 This book contains more than a hundred pages filled with fun facts, anecdotes, and trivia that die-hard Lakers fans should know (if they don't already).
They can impress their fellow Lakers fans with funny and interesting information about the greatest basketball team ever. Plus, it also features multiple-choice or true or false questions.
7. Lakers Coffee Mug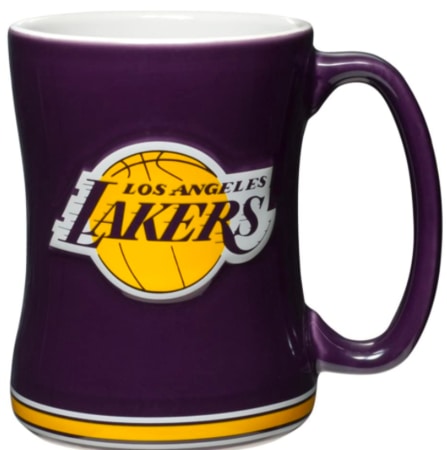 If two of their great loves are coffee and the Lakers, then you can't go wrong with this mug that features a vibrant print of the Lakers logo.
This mug can hold 14 ounces of their favorite liquid so they can start their day off on the right foot. It's microwave and dishwasher safe, too!
8. Lakers Chrome License Plate Frame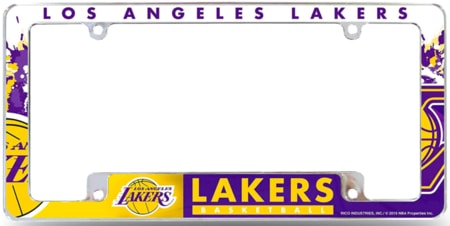 Let them cruise around town representing their beloved Lakers with this all-over chrome license plate frame that features pre-drilled holes for easy mounting on standard license plates.
9. Lakers Kids Pajamas

Make bedtimes more fun for young Lakers fans with these officially licensed kids' pajamas from Ultra Game.
These ultra-soft pajamas are made from brushed polyester fabric and designed for maximum comfort so they can dream about their favorite team all night.
10. Lebron James Funko POP!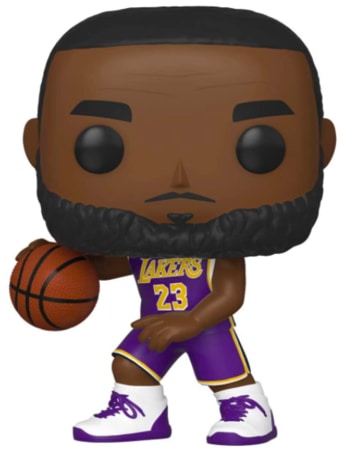 While King James joining the Lakers was not well-received by loyal fans at first, he has certainly proven himself worthy of wearing the gold and purple jersey after a few years.
Complete the greatest Lakers players collection of the die-hard fan in your life with this Lebron James Funko POP! vinyl figure.
11. Lakers AirPods Case Cover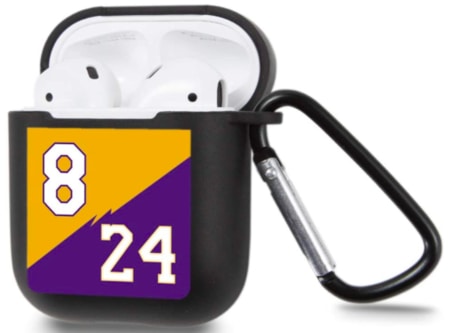 While this AirPods case cover may look simple, it holds a lot of meaning for Lakers fans as it features the jersey numbers of one of the most loved players of all time.
Plus, this cover is made from scratch-resistant TPU silicone that offers shock-proof protection with a carabiner that attaches safely to backpacks, purses, and more.
12. Los Angeles Lakers Insulated Tumbler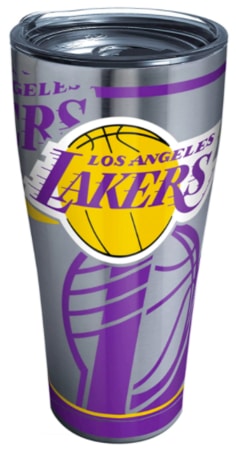 One of the most in-demand gifts for Lakers fans is this triple-insulated LA Lakers tumbler from Tervis that has all the features you look for in a great tumbler: leak and sweat-proof, and can keep drinks hot or cold for hours.
9 Kobe Bryant Gift Ideas
This list of gifts for Lakers fans wouldn't be complete without Kobe Bryant gifts for lifetime members of the Mamba Squad, so ere are nine great Kobe gifts to point you in the right direction.
13. Kobe Bryant Canvas Wall Panel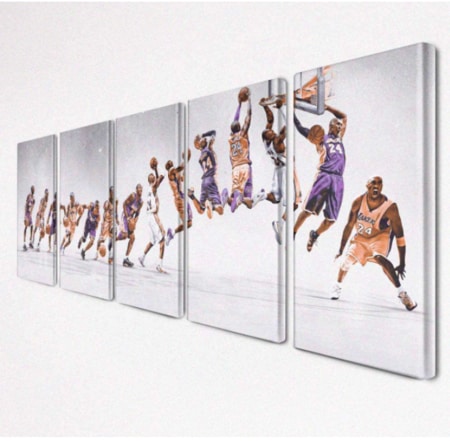 For die-hard Kobe fans who want to pay tribute to one of basketball's greatest, this 5-panel canvas wall art is the perfect addition to their home.
It features different shots of the Black Mamba in action in five 12×20 canvas frames printed in high definition.
14. Kobe Bryant Framed Photo Collage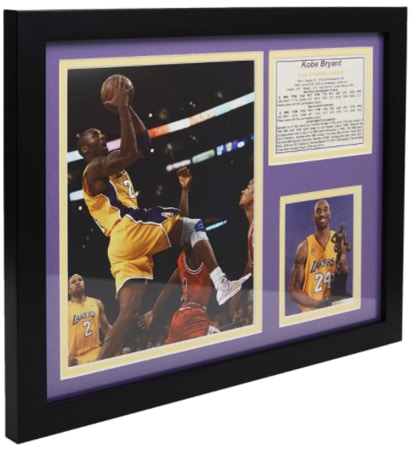 This Kobe Bryant framed photo collage is great memorabilia to give to serious Kobe fans. It features a 8×10 inch action shot of the Black Mamba with a smaller one of him holding his MVP trophy.
It also includes a short bio with his stats and achievements.
15. Mamba Mentality Mug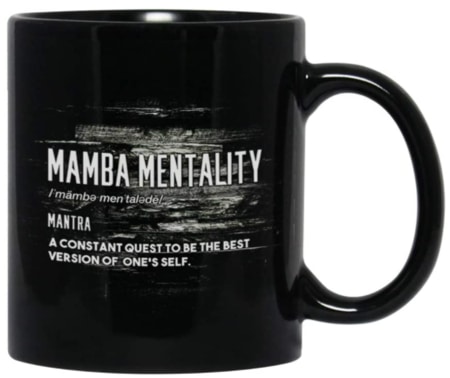 Most gifts for Kobe fans out there are meant to inspire and celebrate his greatness as an athlete and a person, like this Mamba Mentality mug that's microwave and dishwasher safe.
It features cool graphics and words that members of the Mamba Army aspire to follow. 
16. The Mamba Mentality: How I Play by Kobe Bryant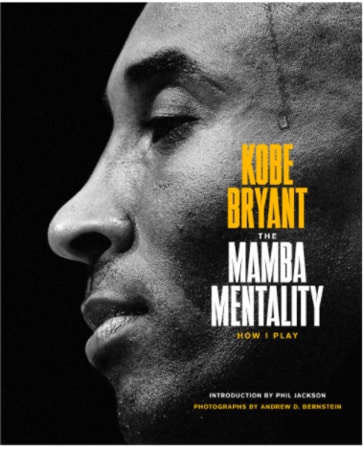 This autobiographical book will provide the Kobe fan in your life deeper insight into their basketball hero's life, career, and THE motivation that led him to become one of the greatest players.
It contains detailed accounts about what it took to mentally and physically prepare to excel in the game, and stunning photographs from premiere sports photographer Andrew D. Bernstein.
This book is the perfect gift for hardcore fans and devoted students of the game.
17. Kobe Bryant 3D Night Light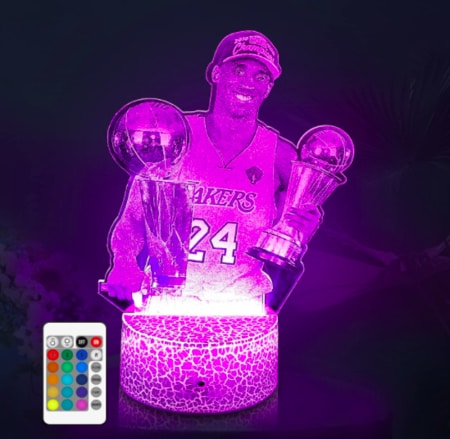 This acrylic nightlight that features a laser-engraved photograph of Kobe's smiling face will help young Kobe fans sleep better.
It also features color-changing LED bulbs that create a 3D illusion when lit up. Plus, it comes with a remote to change the colors and can be powered by 3 double A batteries or with a USB cable.
18. Kobe Bryant Backpack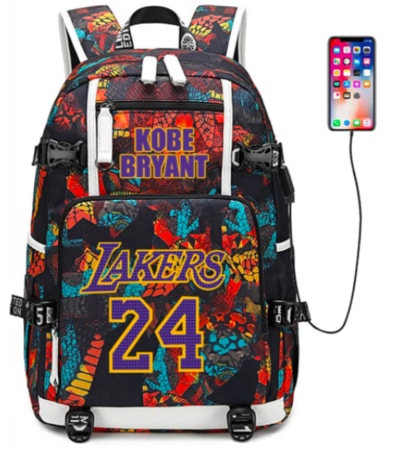 True fans will want to own this Kobe Bryant backpack not only because it looks cool, but also because it's made from water-resistant canvas and roomy enough to carry and organize everyday essentials.
Plus, it features an external USB port with a built-in charging cable for a more convenient way to charge their phone.
19. Mamba Squad T-Shirt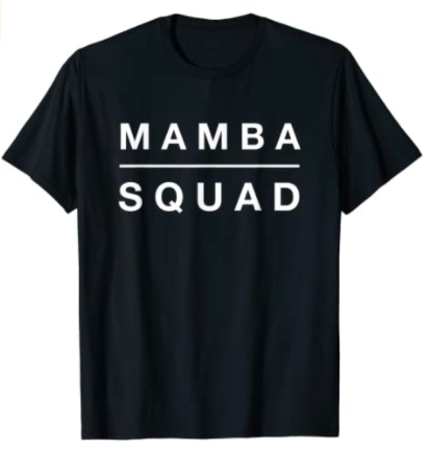 Give them this T-shirt so they can officially declare being a proud member of the Mamba Squad.  This shirt is made from lightweight cotton and is machine washable.
This shirt is available in four other colors and comes in sizes small to 3XL.
20. Nike Men's Mamba Focus Basketball Shoes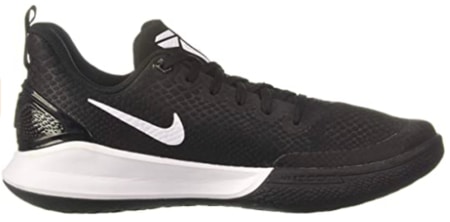 These Nike Men's Mamba Focus shoes are popular not only with basketball players and Kobe fans, but also with sneakerheads and collectors.
Because they're made for basketball, these shoes are breathable, lightweight, and provide responsive cushioning and shock absorption. The thick rubber sole offers non-slip traction on all surfaces.
21. Kobe Necklace and Keychain Set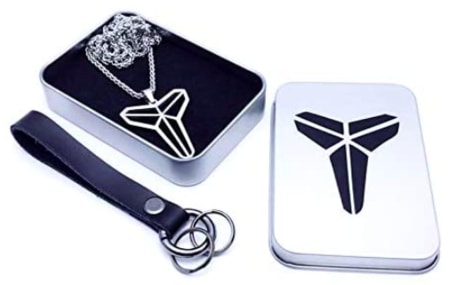 Rounding off the Kobe gifts category on this list is this stainless steel necklace and leather keychain set that features the Black Mamba's logo. 
Kobe fans can wear the pendant on the chain as a necklace, or they can attach it to the leather loop strap to convert it into a keychain.
8 Lakers Gifts for Him
22. LA Lakers Chrome and Neon Wall Clock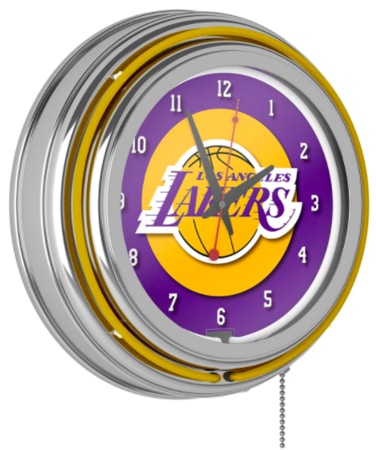 This officially licensed wall clock is the ultimate addition to a Lakers fan's mancave. It's made from a chrome-finished resin case with a neon gold accent exterior ring and includes the Lakers logo on the dial.
This clock features a ring-light border that can be turned on or off with the convenient pull string switch.
23. Lakers Neck Tie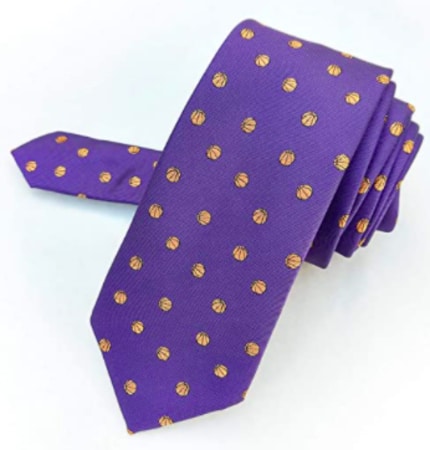 This necktie will allow them to wear Lakers merchandise at work or on occasions where their Lakers jersey, hoodie, or T-shirt just won't cut it.
It features subtle golden basketball prints in high-quality purple microfiber fabric. This tie is the perfect addition to their fun tie collection.
24. Lakers T-Shirt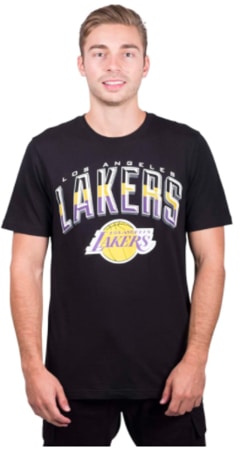 Give them this Lakers T-shirt as an alternative to the one they've been wearing for years. It's black and simple, but the Lakers print and logo give it all the cool points it needs to become their new favorite shirt.
25. Lakers Jogger Pants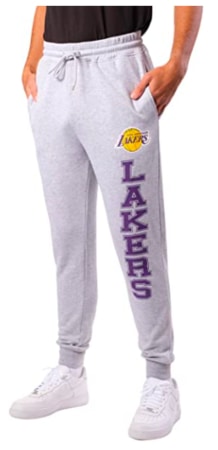 How about these stylish jogger pants from Ultra Game? They feature a screen-printed Lakers logo on one leg with a drawstring waist for a more comfortable fit.
These pants are lightweight, breathable, and stay dry during exercising, while running errands, or while lounging around the house.
26. Lakers Basketball Shorts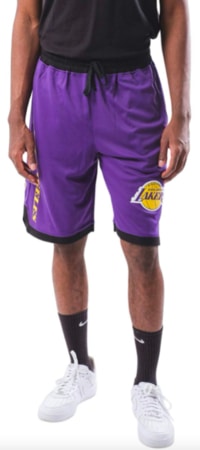 Whether or not they play the game, they'd still appreciate these officially licensed Lakers/Lebron James basketball shorts.
These shorts are made from 100% polyester fabric and are lightweight and breathable with a drawstring waist for extra comfort.
27. Lakers Athletic Socks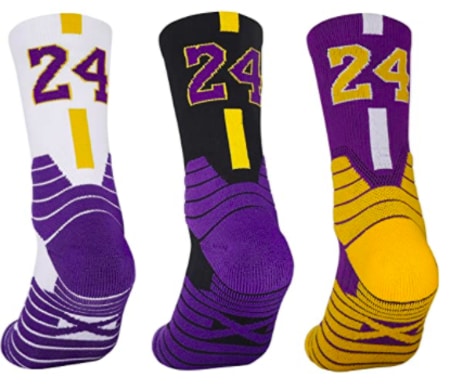 Active Lakers fans will love these athletic socks for their comfortable anti-skid fit, sweat-wicking properties, compression, and extra heel support.
These socks are not only made for athletes, they're also made for Lakers/Kobe Bryant fans. Just like their love for the team, these socks are built to last.
28. Lakers Wall Decal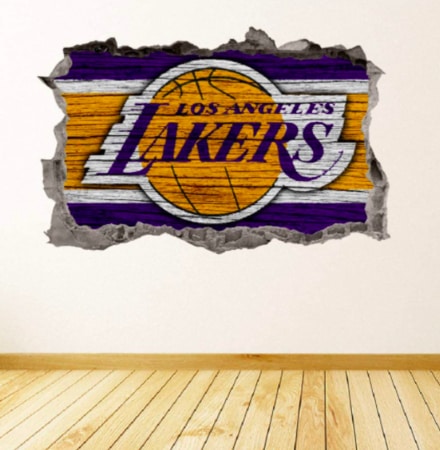 Give them this super cool LA Lakers wall decal so they can instantly decorate their home with their favorite team's logo.
Choose from four different sizes.
29. Lakers Rug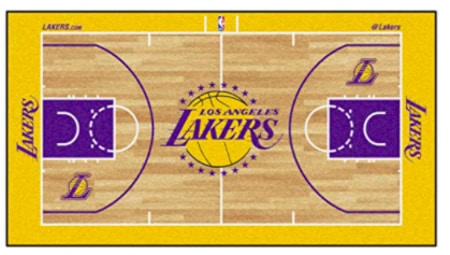 And finally, here's another man cave idea to complete this list of gifts for Lakers fans.
This 24×44 inch basketball court runner from Fanmats is made from 100% nylon and non-skid recycled vinyl Chromejet printed in true Lakers team colors and logo.
Show your Favorite Lakers Fans Some Love with These Cool Gifts!
If you're a fan yourself, why not treat yourself with something on this list, too?
I hope you found this list helpful. We have a lot more awesome gifts ideas on the site to check out: