The Kansas City Chiefs has one of the most loyal fan bases in the NFL, making it home to one of the loudest stadiums in the world. 
In fact, Arrowhead Stadium was officially recognized by Guinness World Record in 2014!
It's no wonder fans celebrated in 2020 when their favorite football team finally took the championship, 50 years after they won their last championship during Super Bowl IV.
This list shares 30 of the best Kansas City Chiefs gifts for the most hardcore (and loudest) Chiefs fan in your life.
10 Kansas City Chiefs Gifts for Him
1. KC Chiefs Drawstring Backpack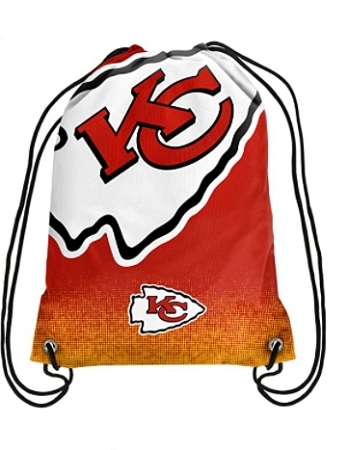 Give your Chiefs fan a drawstring bag that they can take with them to the gym or even to pick up a couple of items from the supermarket.
This handy string bag will fit their water bottle and other essentials like keys, a wallet, and phone.
2. KC Chief Wallet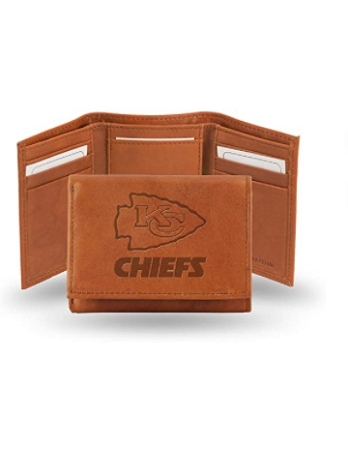 With plenty of different cards to keep nowadays, like credit cards, personal ID cards, and other important documents, I'm sure that your KC Chiefs fan will put a wallet like this one to good use.
This wallet is made with genuine leather that makes it look stylish.
3. Wristwatch with KC Chiefs Design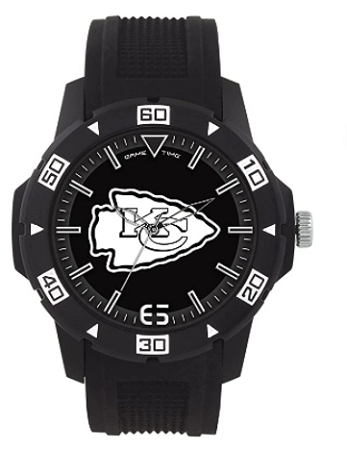 Help them make their next KC Chiefs game on time with this black wristwatch that features a KC Chiefs design. 
Your recipient will never be late for an important KC Chiefs tailgate with the "Mahomies."
4. KC Chiefs Water Bottle

There's no better motivation than seeing the logo of your favorite football team on your water bottle. It reminds you of the players' work ethic and dedication to achieve their success.
You'll notice how frequent your recipient will go to the gym after giving them this water bottle with a KC Chiefs logo.
5. KC Chiefs Wristbands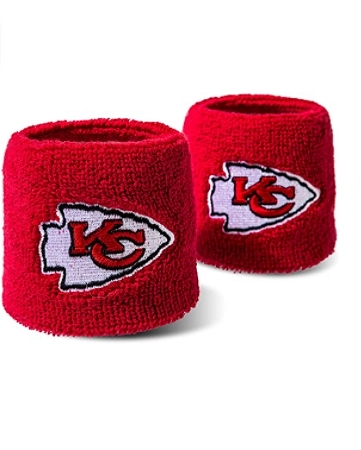 Don't forget these KC Chiefs cotton wristbands for when your recipient works their butt off at the gym.
These wristbands made of sweat-absorbing cotton are easily washable and helps the wearer show their unwavering support for their favorite football team.
6. Kansas City Chief AirPods Silicone Cover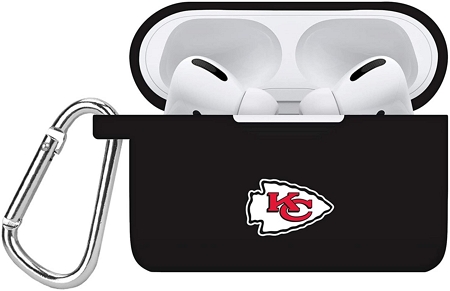 Give your KC Chiefs fan a protective case for those precious AirPods. 
In addition to keeping them protected, he doesn't need to waste his time remembering where he last placed them because they'll be hard to miss!
7. PopSocket for a Chiefs Fan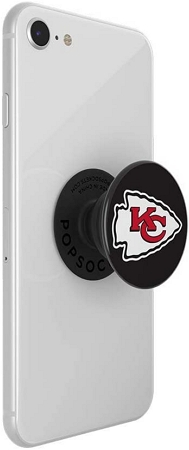 New research and technology finds way to either increase or decrease the size of phones.
Whatever the case may be, your recipient might need one of these PopSockets that allows them to easily grip their mobile devices and keep it from slipping when watching a Chiefs game.
8. Chiefs Mancave Wall Sign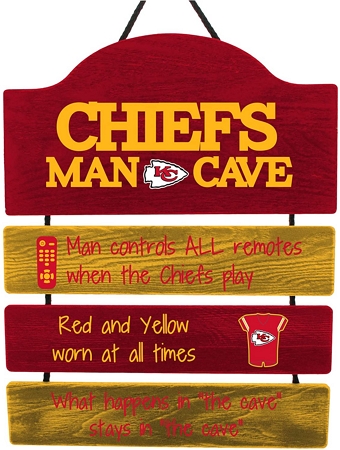 The times your man watches a Chiefs game is sacred.
Don't even try to take the remote control when the game is on.
A hardcore Chiefs' fan will appreciate this wall sign that they can hang on the door of their man cave to let them know what time it is.
9. 2-Piece Luggage Set for Kansas City Chiefs Fan
Your friends or family who are Chiefs fans and are always on the go deserve to receive such an appropriate gift as this 2-piece luggage set to easily fit and carry their essentials wherever they go.
10. 3-Pack Face Masks with KC Chiefs Logo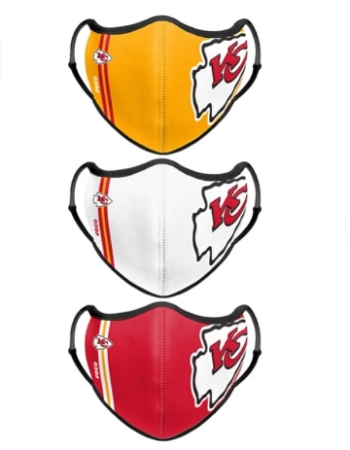 Chiefs fans who love attending live games will appreciate these face masks that scream the love for their favorite football team.
Help them abide by strict health protocols when going to the stadium.
10 Chiefs Gifts You Can Wear
11. Cap with KC Chief Logo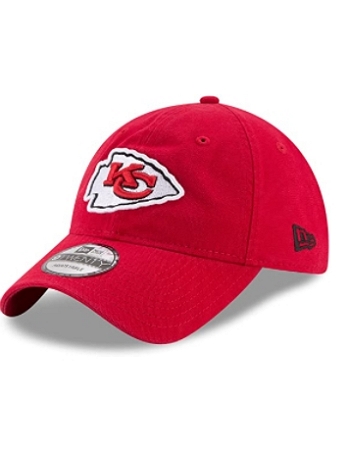 Wear this simple yet fashionable KC Chiefs cap to the stadium to show your solidarity with fellow Chiefs fans.
This is one of those Chiefs gifts that can be used year round, especially during the summer and if your recipient loves spending time in the sun.
12. KC Chief Scarf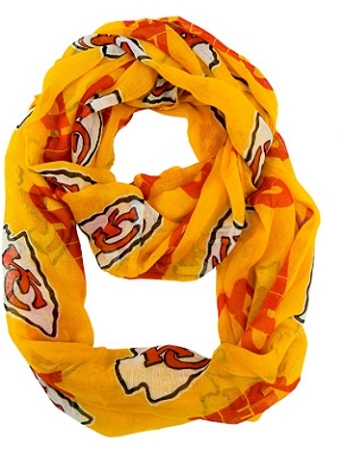 Windy weather calls for an eye-catching scarf such as this one. Protect her from the breezy and open Arrowhead Stadium with this yellow KC scarf.
13. KC Chiefs Hoodie
Grab your finger food and get cozy with this KC Chiefs hoodie – it's game day! Everyone who is a fan  of the Chiefs will vibe with this awesome hoodie.
14. Kansas City Chiefs Long Sleeve T-Shirt for Women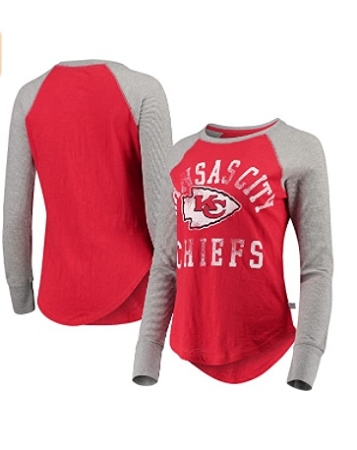 Any KC Chiefs fan will appreciate another addition to their everyday apparel, so get this plain KC Chiefs long sleeve t-shirt for favorite lady.
She doesn't have to worry about not fitting in with the crowd anymore with this cool t-shirt.
15. KC Chiefs Pajama Pants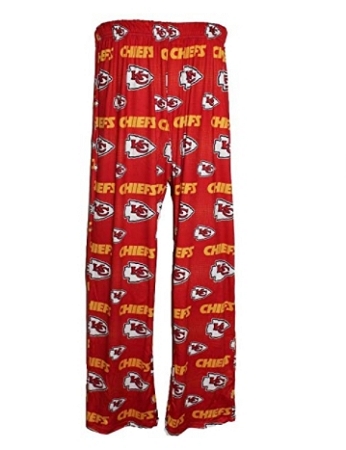 There's nothing wrong with wearing a pair of pajamas while watching a KC Chiefs late at night and snuggled up at home.
So, tell your recipient to grab their favorite snacks and beverage and put on these warm pajamas on the next game day.
16. KC Chiefs Boardshorts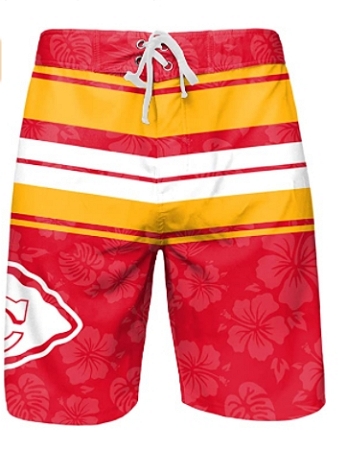 Does your recipient love going to the beach or taking an annual vacation to a resort? Then they'll appreciate these KC Chiefs boardshorts.
This is a perfect gift for any kid, teen, or man who loves going to the pool.
17. Baby Bodysuit for Future Chiefs Fans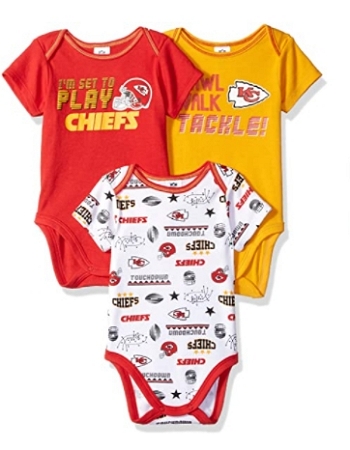 Are you searching for the perfect gift for a big-time Chiefs fan's baby shower?
Look no further because I'm sure that they'll be grateful that this bodysuit for their baby, who'll eventually share their parents' love and support for the Kansas City Chiefs, exists.
18. KC Chiefs Slides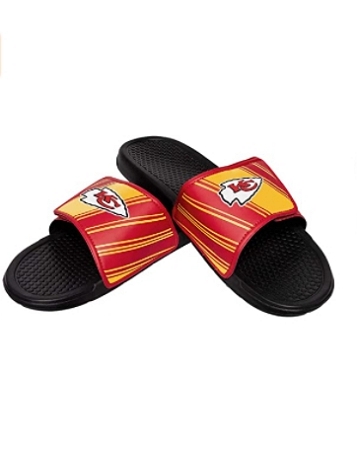 How does someone look casual at the next tailgate while still expressing their loyal support to their favorite team? Easy answer: wear these slides with the KC Chiefs logo.
Tailgate parties will never feel more comfortable.
19. Women's KC Chief Slippers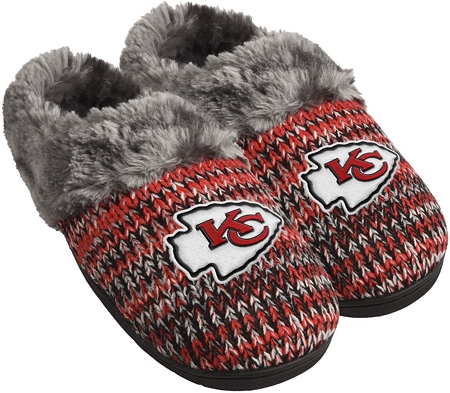 On the other hand, if you're looking for a gift for your wife or girlfriend, then these house slippers with the KC Chiefs logo will keep her feet warm.
20. KC Chiefs Sneakers for Her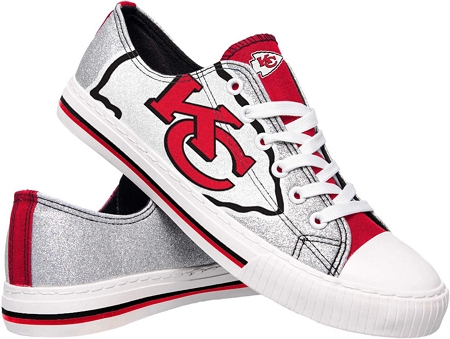 If you bought tickets to watch a live Chiefs game with your partner, then surprise her with these Chiefs sneakers to wear to the game!
This will be a memorable moment for the both of you, especially if it's the first live game you'll attend together.
10 Other Kansas City Chiefs Gifts
21. Chiefs Chef's Hat and Apron Set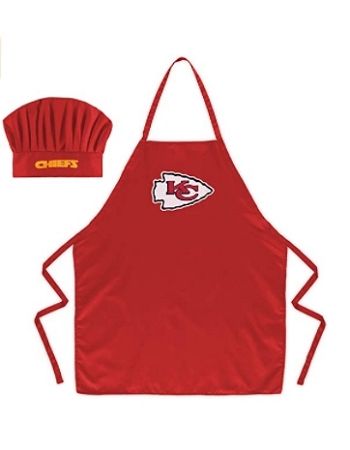 Tailgate parties will inevitably include some form of grilling, whether it's grilling meat in the backyard or grilling in the middle of a parking lot.
This gag gift will make your recipient laugh while also giving them the serious responsibility of grilling at the next tailgate.
22. KC Chiefs Kitchen Knives Set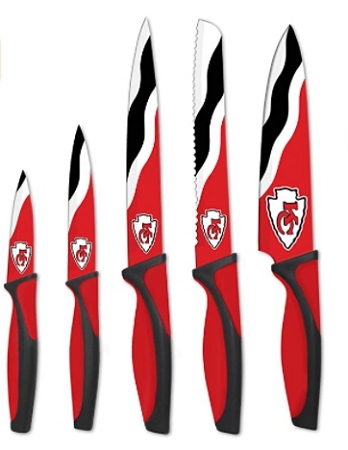 This set of knives includes different types of knives for different needs, ranging from a paring knife to much bigger knives meant for cutting meat for the grill.
23. Chiefs Fan BBQ Grill Set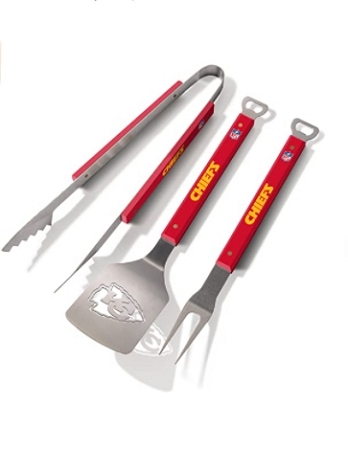 Is your man lacking the equipment to host the the next Chiefs game? 
This BBQ grill set will allow him to flip burgers and keep the beers flowing.
24. Gnome BBQ King Figurine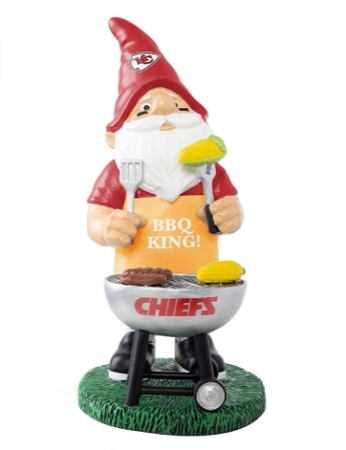 This gnome figurine will inspire the KC Chiefs fan in your life to become the next BBQ King at tailgate parties.
This is a perfect decoration to place in the backyard.
25. Kansas City Chiefs Flag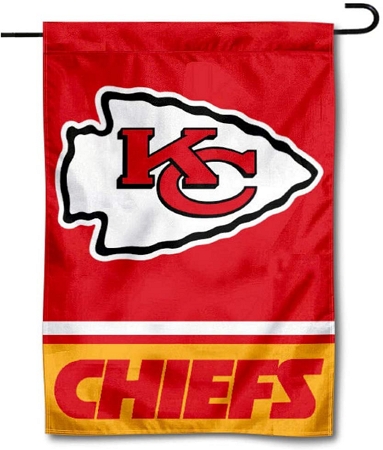 Let their neighbors know they're a true fan by getting them this bright Kansas City Chiefs flag they can place on their front porch.
26. Protective Display for Chiefs Fan
Show your support for their hobbies and give them insurance for their most precious signed memorabilia with this protective case.
Take note that this does not include the mini helmet – it's just the protective case!
27. Storage Bin Organizer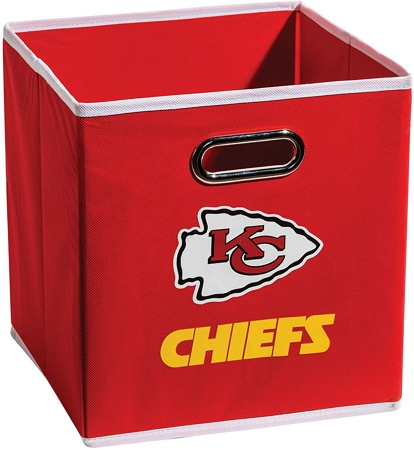 Get your teen a storage bin organizer where they can store their precious KC Chiefs memorabilia.
Or, it can also be used to store dirty laundry.
This versatile storage bin is a functional space-saver because it can be folded when it's not in use.
28. NFL KC Chiefs Pens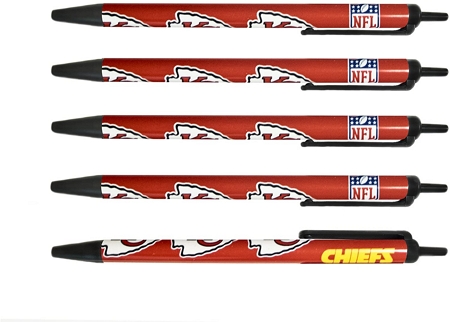 Everyone needs a handy pen now and again.
These KC Chiefs pen set with an added NFL logo is a decent and simple stocking stuffer.
29. Clock with Chiefs Logo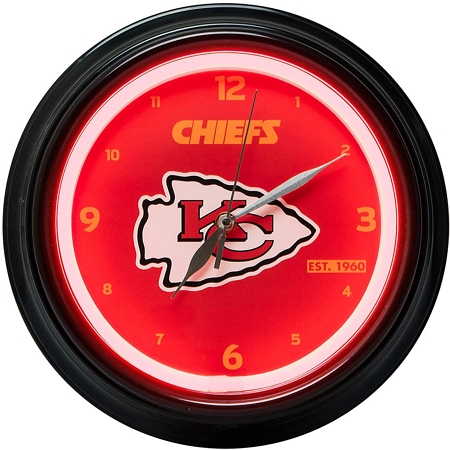 Keep a stylish clock in your kitchen or in your backyard so you never miss a game.
This is a great gift for the wedding, graduation, or birthday celebration of a devoted KC Chiefs fan.
30. KC Chiefs Torch Light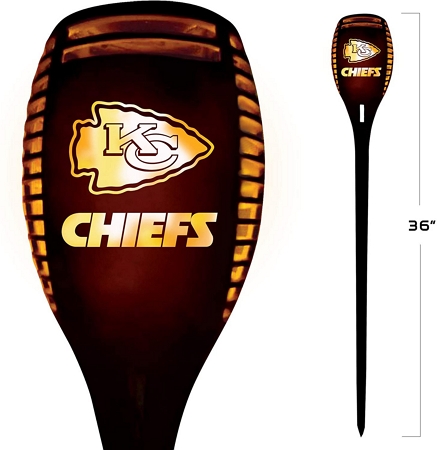 Keep their backyard illuminated while they grill with this KC Chiefs torchlight, which will impress definitely impress the KC Chiefs fan in your life.
Chilling Out with Your Mahomies
Loyal fans will appreciate any of these KC Chiefs gifts, regardless if they're a man, woman, or child. Whether it's for a small occasion or something much more meaningful, you'll find a gift that will suit a fan's needs.
If you need more gift ideas for football fans, or sports fans in general, you should check these other gift lists out, too: