And just like that, it's football season once again! If you know someone who's a lifetime member of the "Niner Gang," you probably want to do something nice to help them get their fighting spirit back after the less than spectacular run the 49ers had last season.
This list is here to help you pick the best gifts for every 49ers fan in your life.
Whether it's for their birthday, Christmas, or just something to help them get in the right mood for this season, I'm sure you'll find the best 49ers gift ideas for the most "faithful to the bay" person you know.
It could be for you, your partner, a friend, a family member, or a coworker. Doesn't matter – I've got you covered.
11 San Franciso 49ers Gifts for Every Fan
1. 49ers Bottle Opener Keychain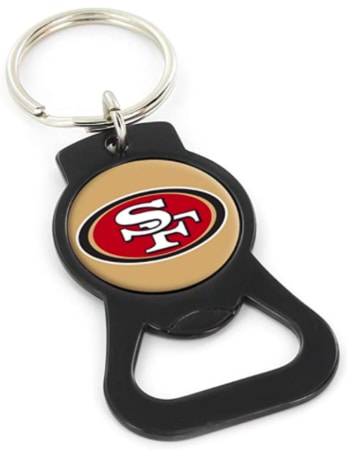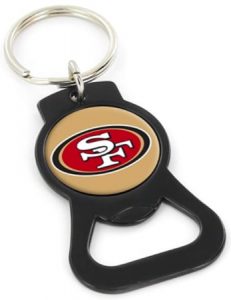 Give them this 49ers bottle opener and keychain in one so they can keep track of their keys AND easily open bottles at tailgate parties, game day barbeques, or gatherings with fellow 49ers fans.
2. 49ers Glass Coaster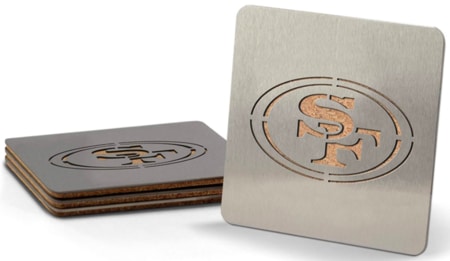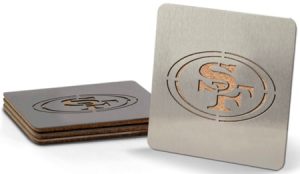 If the 49ers fan in your life enjoys hosting watch parties and barbeques, they'll appreciate having these 49ers glass coasters to protect their tabletops and counters from water marks and drink stains.
They features the 49ers logo engraved on a stainless steel plate with cork bottoms to help the coasters stay in place.
3. 49ers Tervis Insulated Tumbler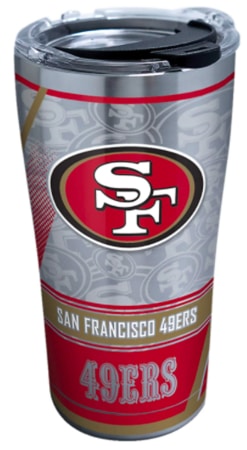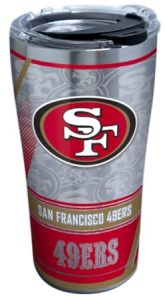 Let them take their coffee and team pride wherever they go with this San Francisco 49ers tumbler by Tervis.
Its triple insulation prevents sweating and keeps drinks hot or cold for a long time. Plus, it features an acrylic vacuum lid so they don't have to worry about spills or leaks.
4. Joe Montana Funko POP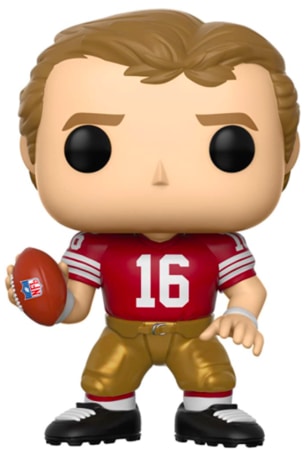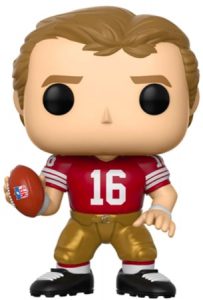 No true fan can explain why they like the 49ers without extolling the virtues of Joe Montana and why he's called "The Comeback Kid."
Give them this Joe Montana Funko pop vinyl figurine and they'll love you forever.
5. 49ers Throw Blanket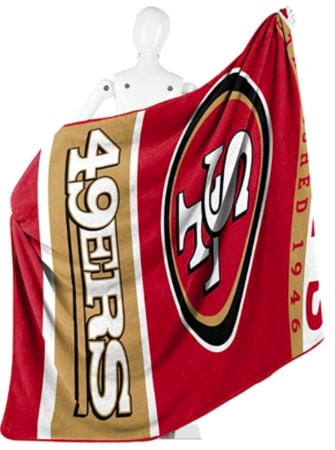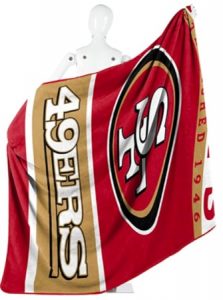 This warm 49ers throw blanket will not only come in handy on chilly nights, but it will also look cool draped on their couch, hanging on their wall, or when used as a comforter.
This blanket is easy to maintain because it's made from machine washable 100% polyester fabric with a fade-resistant team logo print.
6. Retro Hoodie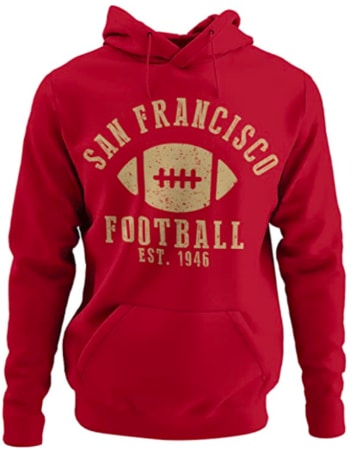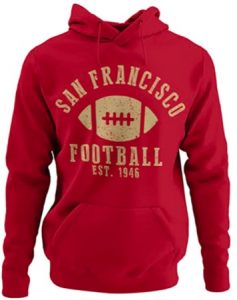 While it doesn't feature the team logo, anyone who sees them wearing this retro print San Francisco Football hoodie won't doubt what team they're loyal to. The red and gold combination is a dead giveaway!
This hoodie is made from pre-shrunk soft fleece fabric with quality stitching that holds up in the wash.
7. Niner Gang Long-Sleeved T-Shirt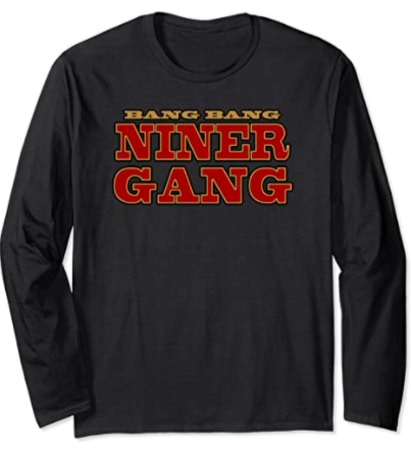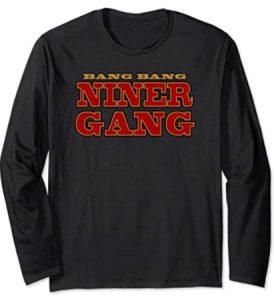 They're probably already a member of the "Niner Gang," so all they need is this long-sleeved t-shirt to seal the deal.
For even more options, this print is available on hoodies, t-shirts, tank tops, and raglan tees in a variety of colors and sizes to choose from.
If they're THAT committed, they can practically live on these shirts for the entire season (just saying).
8. 49ers Jersey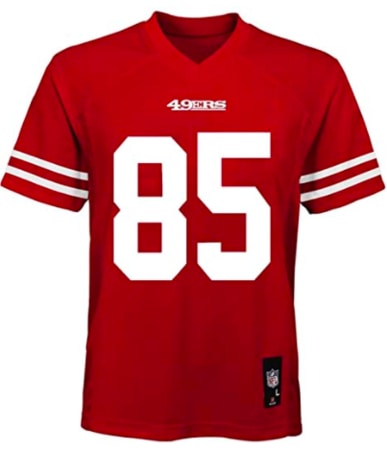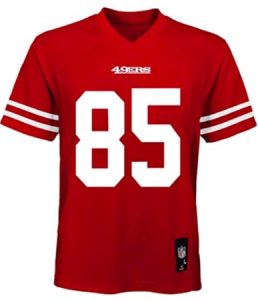 Ask any sports fan and they'll say it's almost mandatory to own at least one jersey of their favorite team. 
This mid-tier officially licensed jersey is the perfect 49ers gift idea for fans that need an upgrade or a young fan that's just starting their jersey collection. 
It's made from 100% polyester and has a tagless collar for extra comfort. Plus, it features durable printing that will not peel off with frequent washing. 
9. 49ers Hat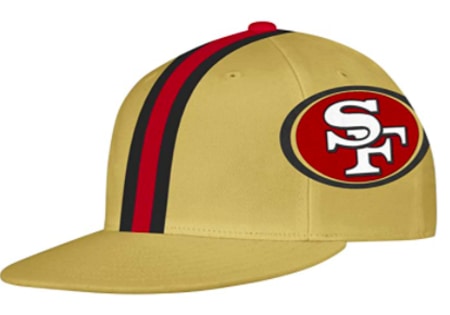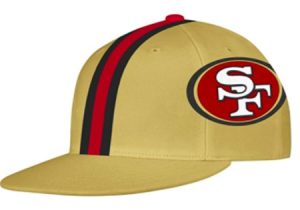 This baseball hat by Reebok is designed to look like the 49ers helmet. What's cooler than that? They can wear this on game days, to tailgate parties, at barbeques, or while doing their favorite outdoor activities.  The Niner fan in your life will gladly trade their old had for this one.
10. 49ers Three-Piece Infant Outfit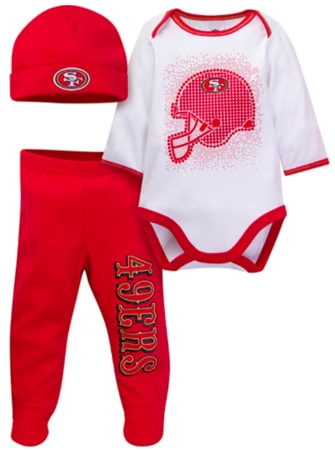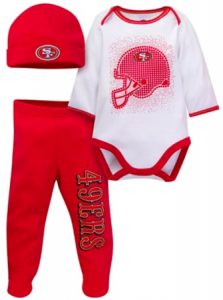 The youngest 49ers fan needs a game day outfit too, and they'd look super adorable in this three-piece 49ers baby merch. The set includes a long-sleeved onesie, footie pants, and a beanie to complete the ensemble. They're made from a soft and comfortable cotton-polyester blend and won't irritate a baby's sensitive skin.
11. 49ers Robe


Their 49ers swag doesn't have to end with jerseys and T-shirts.
Give them this 49ers robe so they can lounge around the house like a boss.
It's made from silk-like material and features a belt closure with two big front pockets. Throw in some socks or comfortable house slippers and they're good to go on the next Football Sunday.
5 San Francisco 49ers Gifts for Tailgate Parties and Barbeques
Here are a few 49ers gifts to take to any Niners fan's barbeque and tailgate party. They're perfect for bringing the fun and team spirit!
12. 49ers Playing Cards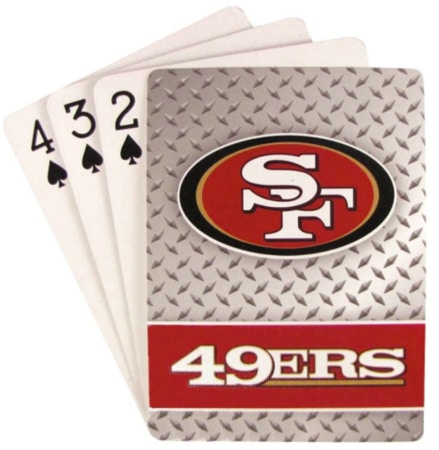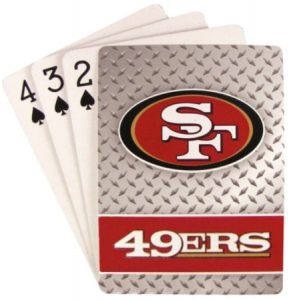 These 49ers playing cards can add some pregame entertainment for fans who are tired of playing cornhole. This standard 52-card deck has a thin plastic coating for easier shuffling and features the 49ers logo at the back.
13. 49ers Party Napkins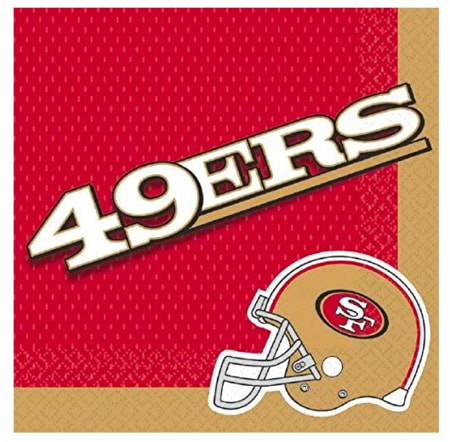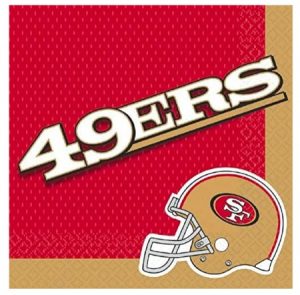 They can go all out the next time they throw a 49ers themed party or barbeque with these 100% recycled napkins.
It features the iconic "gold rush" team colors and logo and has a semi-embossed finish that feels soft to the touch. The pack comes with 16 table-sized napkins.
14. 49ers Insulated Can Cooler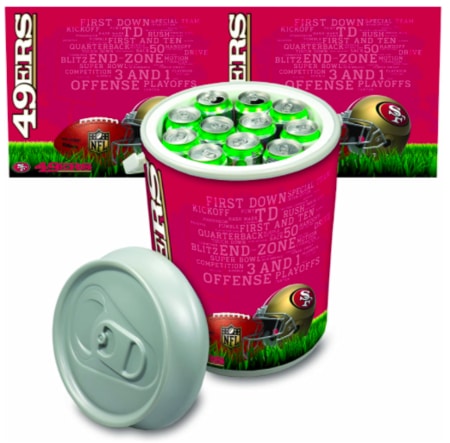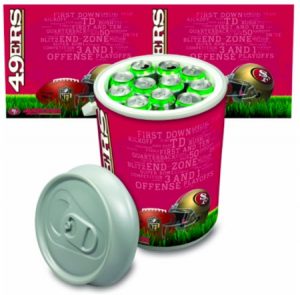 Tailgate parties usually mean cold drinks.  They can take this 49ers insulated cooler that can hold up to 27 standard-sized cans to the next tailgate and never run out of cold drinks. Plus, the material is sturdy enough to double as a seat for in-between cheering and walking to and from the barbeque grill.
15. 49ers All Weather Blanket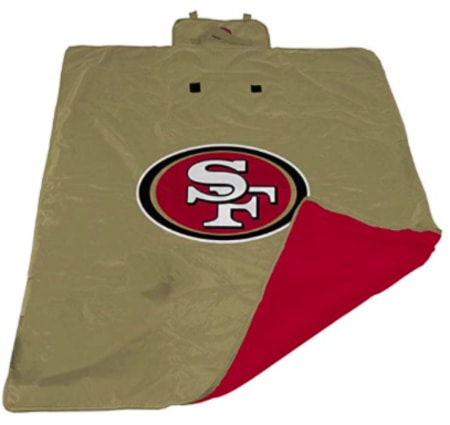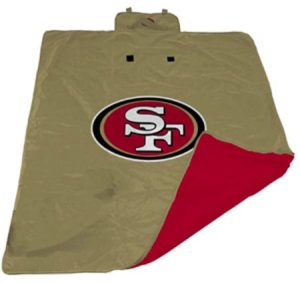 This all-weather picnic blanket will not only come in handy for tailgate parties, it's also useful for picnics and sporting events.
It features a water resistant exterior that will keep them dry and their belongings dry so they can enjoy themselves with no worry. Plus, it's easy to clean and store. Just roll the blanket up, secure the velcro straps, and keep it for the next event.
16. 49ers Double-Sided Flag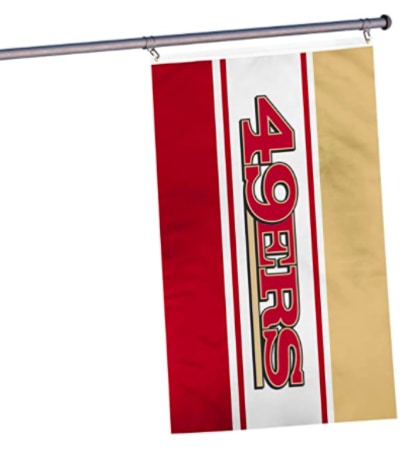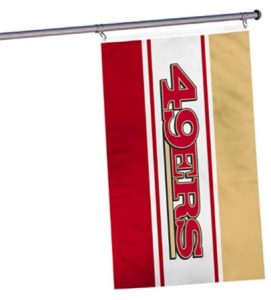 This 5 ft x 3 ft 49ers flag can be planted on their home or brought to tailgate parties to represent their pride and loyalty to their favorite football team. The flag is made from nylon material with double-sided printing and has reinforced ringlets for easy hanging.
5 San Francisco 49ers Accessories for Her
17. 49ers Wristlet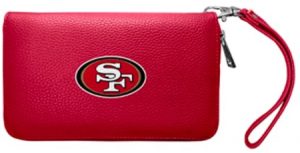 This faux leather organizer features a detachable strap so it can also be used as a wallet. Aside from that, its zippered accordion opening provides plenty of room for valuables and small essentials. Of course, the best part is the 49ers logo printed on the front.
18. 49ers Rope Tote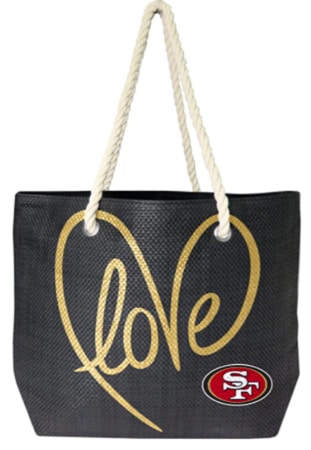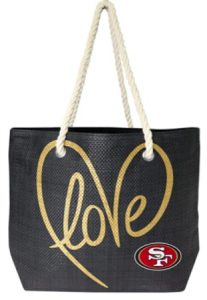 This eco-friendly 49ers tote bag is perfect for shopping, grocery runs, laundry days, and even for a quick trip to the beach.
It's made from woven paper with polyester inside lining and woven cotton rope handles. It's a stylish alternative to the usual canvas tote and a subtle way to declare team pride.
19. 49ers Athena Women's Watch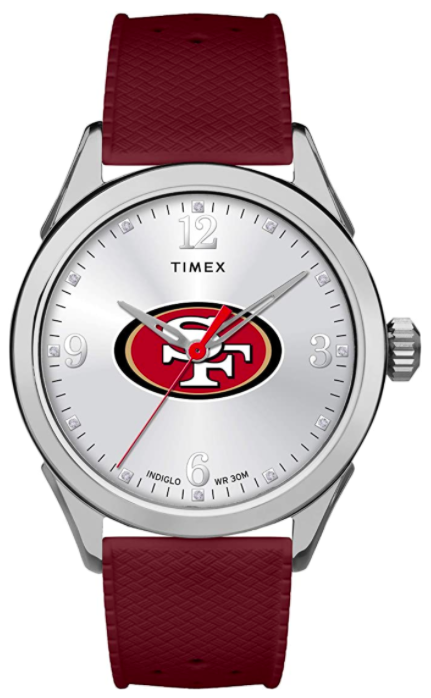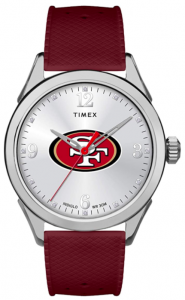 There are several versions of this Athena Women's Watch by Timex, but this one, with the red straps and the 49ers logo, is perfect for the ultimate Niners fan. Aside from that, this watch also has an Indiglo dial that lights up with a push of a button and a scratch and resistant glass face. Coupled with the silicone straps, this watch can withstand rain and sweaty days.
20. 49ers Sheer Caftan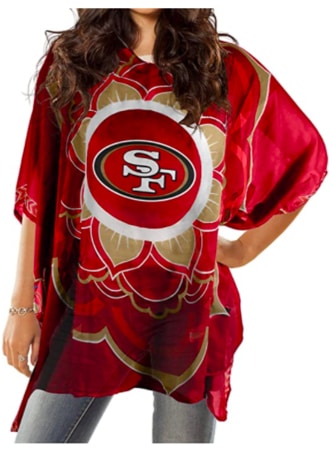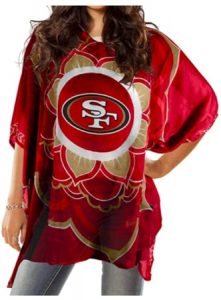 This lightweight 49ers caftan with the Niners logo and lotus flower print will add a bohemian chic vibe to her game day outfit.
It's perfect to throw over a tank top or a warm sweater on chilly days, or as a beach cover-up in the summer. It's made from 100% polyester and features a 49ers woodmark print on the back.
21. 49ers Charm Bracelet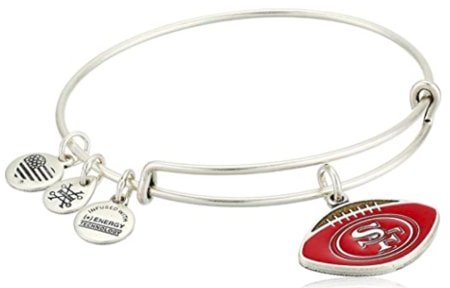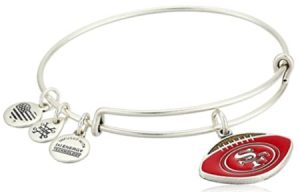 Complete their 49ers accessories collection so they'll have something to represent their favorite team on any occasion. This officially licensed Alex and Ani bracelet features an enamel football charm with the 49ers logo and a silver finish. It also features an adjustable clasp so it can fit most wrists without slipping off.
6 San Francisco 49ers Gifts for Him
22. 49ers Men's Watch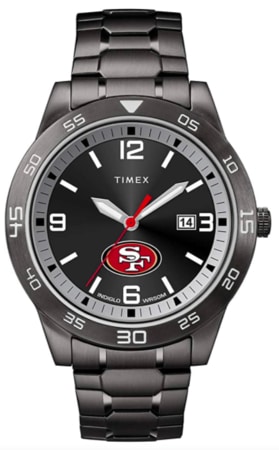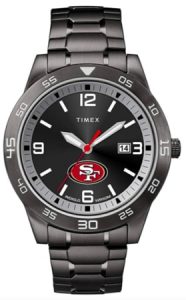 You can never go wrong with a watch, especially as a special occasion gift, so give your favorite Niners fan this stainless steel watch from Timex.
This watch features a classic matte black design with a subtle Niners logo print.  It has a lighted dial and glow-in-the-dark hands and is water-resistant for up to 50 meters.
23. 49ers Men's Graphic Hoodie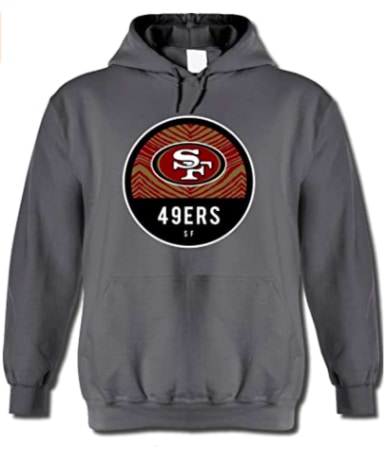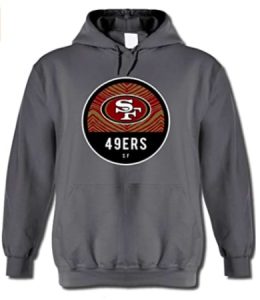 Have them embrace their 49ers fandom everywhere they go with this officially licensed hoodie that's not only good for game day and tailgate parties, it's also subtle enough to wear every day.
It's made from 100% polyester with ribbing at the wrist and waist for more durability.
24. 49ers Trifold Leather Wallet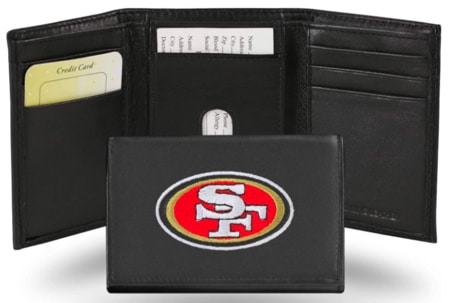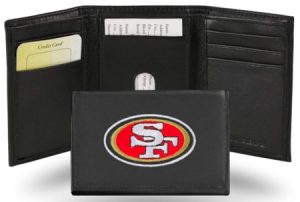 This 49ers trifold wallet is made from genuine leather and features the Niners logo embroidered on the front. Because it's leather, this wallet is durable and has enough room for his IDs and credit cards. It's the perfect 49ers gift to show off his team pride year-round.
25. 49ers Two-Piece Luggage Set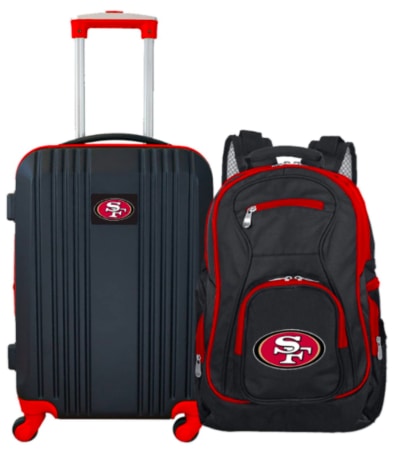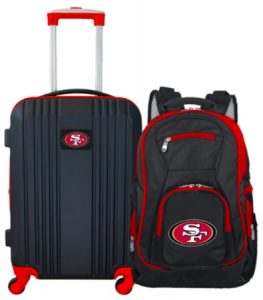 For the jet-setting fan, this two-piece luggage set is a great 49ers gift option so they can show their team pride wherever they go.
The hard-case luggage is spacious enough for all their gear and has 360 degree spinning wheels with top and side handles for easy lifting.
The backpack can be used every day and is made from rain-wicking material with shock-absorbing straps and a spacious laptop compartment that can easily hold up to 17.5-inch laptops.
26. 49ers Men's Slide Sandals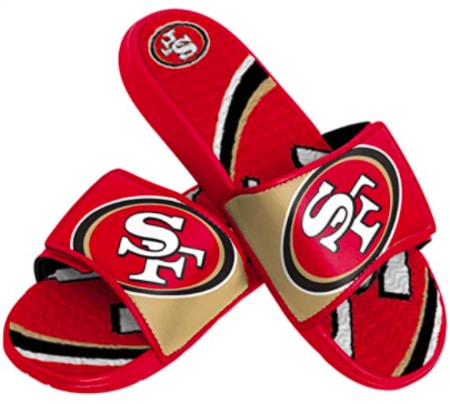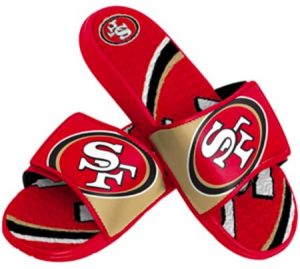 If you're looking for comfy footwear for the fan on your list, these 49ers slip-on sandals take the cake. These sandals feature adjustable padded velcro straps, the Niners logo print, and a non-slip rubber sole.
27. 49ers Men's Ankle Socks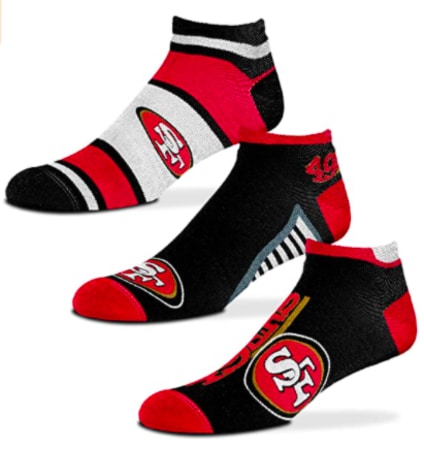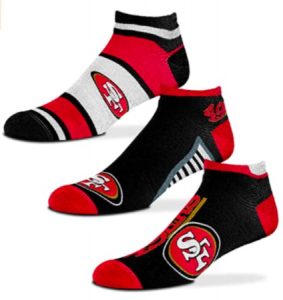 Let's not forget socks. They're s fun and practical gift with so many options to choose from. This particular set comes with three pairs of 49ers ankle socks featuring different designs. They work for active and everyday wear, too. They're made from a blend of polyester, nylon, and cotton blend reinforced with rubber and spandex for durability and comfort.
Your One-Stop Shop for 49ers Gifts
I hope you found this 49ers gifts list as helpful as I intended it to be.
Check out the links below for even more gift ideas for football fans, and let me know in the comments if you have other gifts list you want to see next!
Gifts for Patriots Fans
Gifts for Packers Fans
Gifts for Steelers Fans
Soccer Gifts
Gifts for 30 Year Old Man
40th Birthday Gift Ideas