Friends don't lie…or give each other sucky gifts. Make the search for the coolest Stranger Things gifts easier by reading this list.
Hawkins was pretty wild in the 80s. There were evil scientists, fearless kids, and a whole lot of scary-looking creatures. But that's what makes a good TV show, right?
The biggest Stranger Things fan in your life will love these epic gifts, so read on if you're brave enough to enter the Upside Down.
13 Stranger Things Merchandise Gifts
1. The Upside Down LEGO Set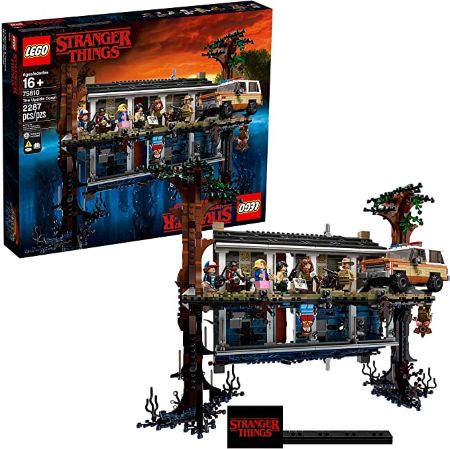 Join Eleven, Mike, Lucas, and the whole gang as they search for Will in the Upside Down.
Building this LEGO will be super fun to do with their friends. The set is complete with the Byer's house, eight characters, and Hopper's car.
2. Stranger Things Dungeons & Dragons Starter Set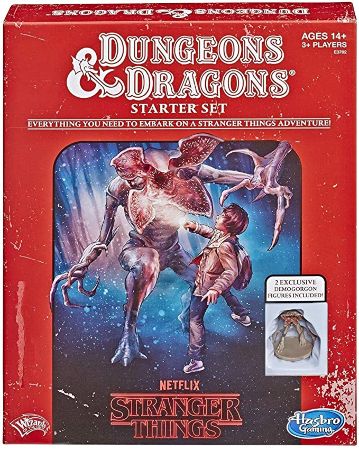 We saw the boys playing Dungeons and Dragons at the start and end of season one so it's no wonder that fans will want to have their very own game set.
This starter set is also Stranger Things themed which is a huge plus.
Looking for more D&D gift ideas? Check out this compilation of Dungeons and Dragons gifts!
3. Demogorgon Vinyl Figure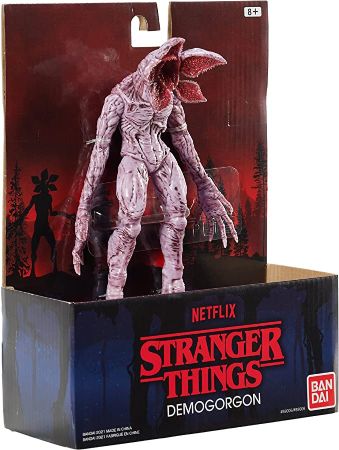 Now the Demorgons don't look creepy at all when they're this tiny, do they?
Your recipient who has an obsession with Demogorgons and the Upside Down like Murray the Conspiracy Theorist will love to have this collectible on their desk.
4. Stranger Things Chibi Characters Backpack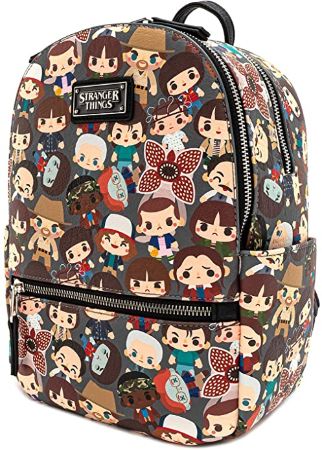 Go on adventures and explore the world with this handy backpack together with the whole cast of the show (even the Demogorgons!)
This adorable Loungefly bag has four compartments that will easily fit all of their stuff.
5. Stranger Things Eyeshadow Palette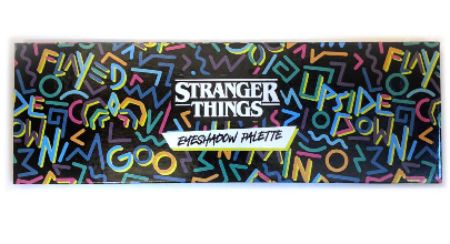 Remember when Eleven and Max went shopping and tried on all those different cool clothes? Wearing this makeup will give them that same feeling.
This palette has some electric colors named after their favorite characters like blue for Erica, red for Dustin, and sparkling yellow for Jonathan.
6. Thermo-Responsive 3D Mug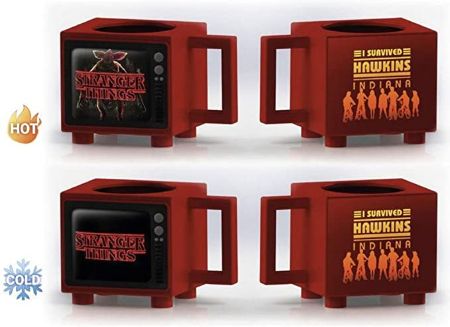 Drink coffee, soda, or beer in this TV mug while binge-watching Stranger Things.
This mug also has a cool thermo-responsive feature that shows the Demorgon when it's used for hot beverages. Very cool, I know.
7. Steve Squishie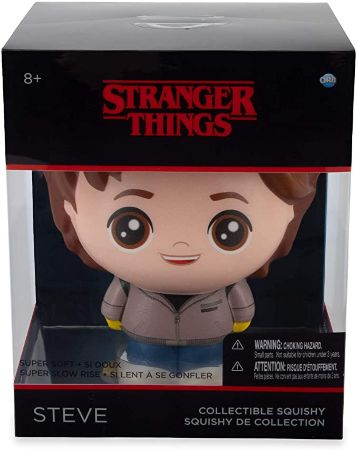 If you think Steve couldn't get any more adorable, this squishie will prove you wrong.
Aside from being a great decor, this fidget toy will also help in stress relief. Complete the whole gang and add an Eleven, Barb, and Hopper squishies.
8. Collectible Action Figures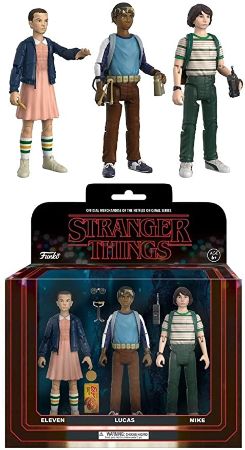 Even adults will be drawn to play with action figures because of this epic set.
Your recipient will get three action figures that they can display or play with. It comes with Lucas, Mike, and Eleven all geared up to fight the bad guys.
9. Eleven and Friends-Themed School Supplies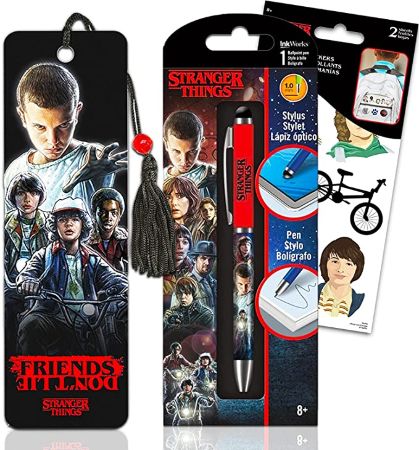 Be the cool kid in school with these Stranger Things school supplies.
The bookmark will be useful in reading some Stranger Things comics, the pen will be handy in writing out their theories about the show, while the stickers will look great on their laptop.
10. VHS-Themed Notebook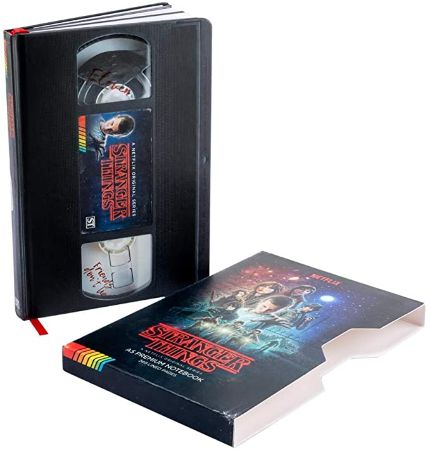 It's a blast from the past!
This VHS- themed notebook will make your recipient nostalgic. The gift also comes with cool stickers and features some exclusive photos from the series.
11. Joyce's Alphabet Ball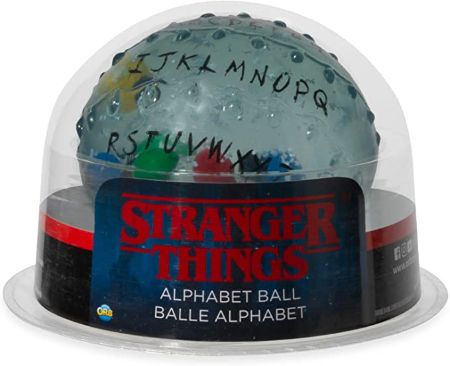 Communicating from the Upside Down is not an easy feat but Will managed to do just that.
Now, your recipient can have the iconic alphabet light that was used by Will to talk to his mom. This is definitely a must-have for fans of Stranger Things who've been watching the series since season one.
12. Double-Sided Surprise Puzzle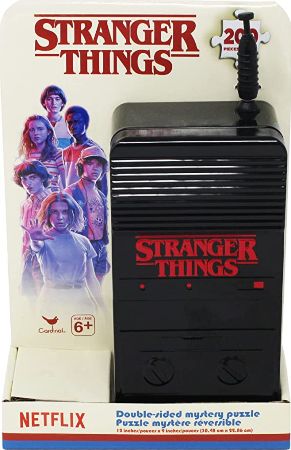 This Stranger Things walkie-talkie comes with a cool surprise inside: a double-sided puzzle that can be enjoyed by both kiddie and adult fans of the show.
More gifts for puzzle lovers can be found in this post.
13. Eggo Card Game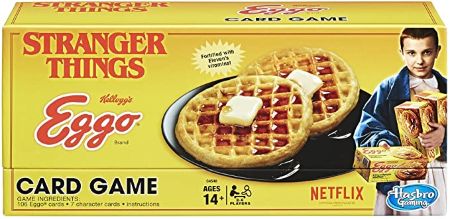 One thing we all know about Eleven is that she's crazy for Eggos. I mean, who can blame her, they're legendary!
Your recipient will never get tired of this fun card game since each play has an exciting and unique twist. Plus, it can be played by up to six players.
16 Stranger Things Gifts
14. Embossed Stranger Things Doormat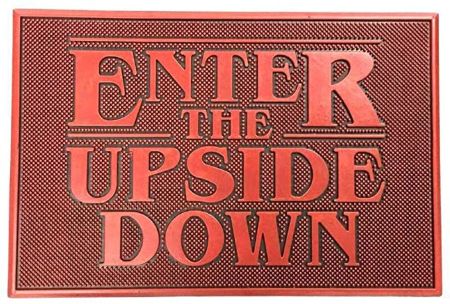 Come in and enter the Upside Down if you dare *cue in evil laugh*.
Nobody will willingly go into the Upside Down because it's dangerous, scary, and filled with Demogorgons. But I'm sure that true fans of the show will volunteer to go to that dreaded place.
15. Dustin Night Light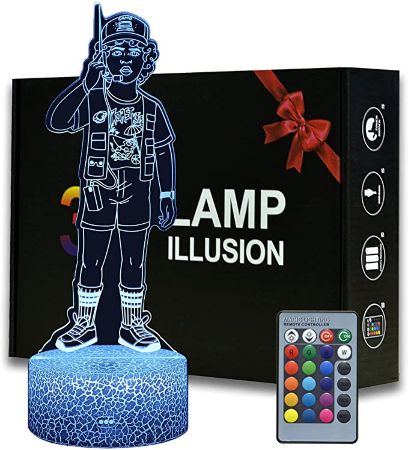 Dustin and Suzie created a giant radio to be able to communicate with each other. If that isn't dedication then I don't know what is! Raise your hand if you ship #Doozie, too.
16. Stranger Things Jewelry Set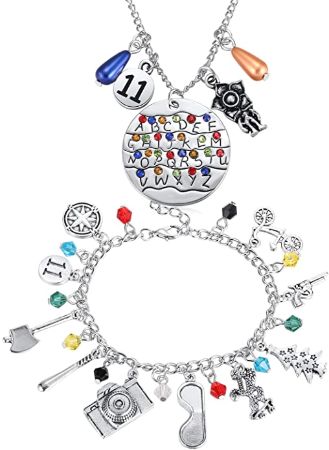 Fans of the show need to look like the part. Accessorize and pair this pretty jewelry set with their Stranger Things outfit.
The charms of the necklace and bracelet are all related to the show such as a camera, bike, and ax.
17. Flavored Lip Gloss Set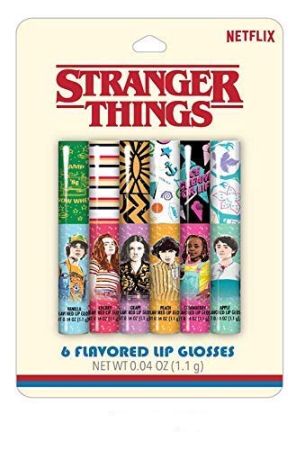 Here's a little something that will remind them of Stranger Things wherever they go.
The set comes with six flavored lip glosses that can be shared with fellow fans.
18. '85 Retro T-Shirt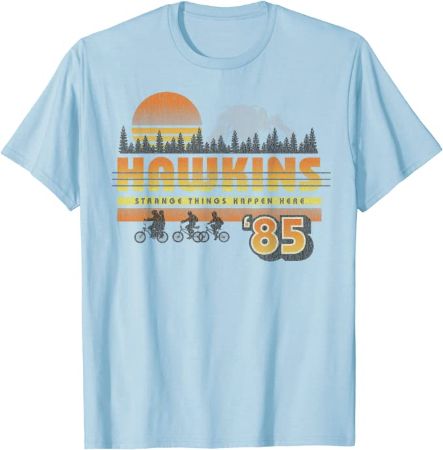 Strange things do happen in Hawkins if you know what I mean ;).
This retro shirt will be a great gift to the biggest Stranger Things fan in your life. Pair it with pants, shorts, or a skirt and they'll fit right in fictional 1980's Hawkins.
19. Stranger Things Loungewear Set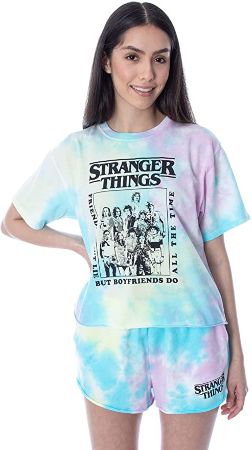 You'll know it's time to binge-watch Stranger Things (for the nth time) when you see your recipient wearing this cozy loungewear.
The crop top together with the matching shorts will be the perfect outfit for Stranger Things watch parties with friends as well.
20. Scoops Troop Hoodie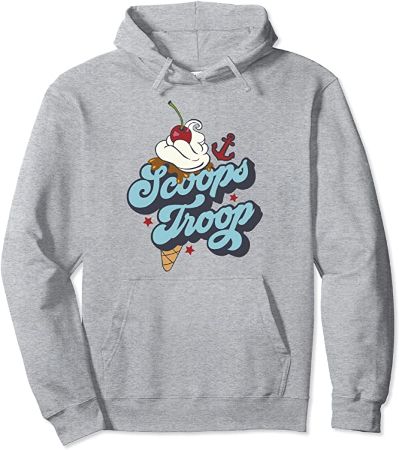 Everyone wants to be part of the coolest group in town— the Scoops Troop!
Wearing this hoodie will make them an honorary member of the unlikely heroes who saved Hawkins deciphering one Russian message at a time.
21. Pajama Pants

Whether it's time to go to sleep or to watch the show, this pair of pajamas will be perfect. It's minimalist, comfortable, and durable that will become their new favorite pajamas.
22. Throw Pillow Cover Set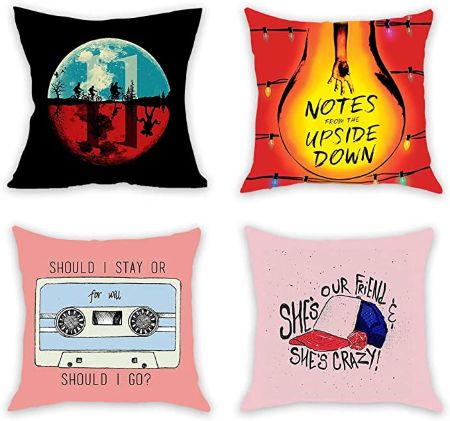 Get these decorative pillowcases to brighten up their space. The set comes with four designs with lines and illustrations that Stranger Things fans will easily recognize.
23. Stranger Things Ankle Socks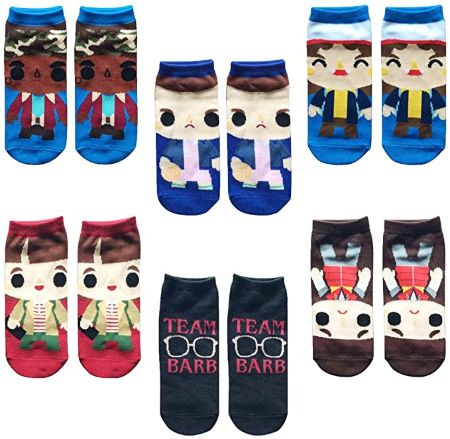 It's always nice to receive funky and fun socks especially when it's related to Stranger Things. Plus, the socks even show Will in the Upside Down!
24. Coasters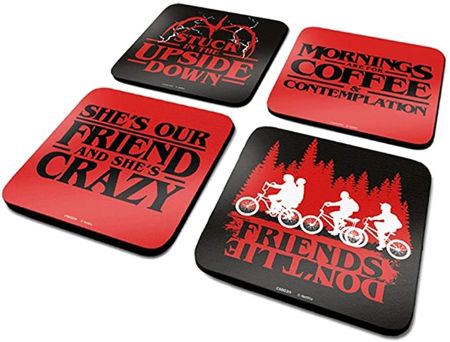 Your recipient can use these epic coasters while playing Dungeons and Dragons or binge-watching on Netflix. Whatever the occasion or event is, these coasters will come in handy.
25. Mike Collectible Plush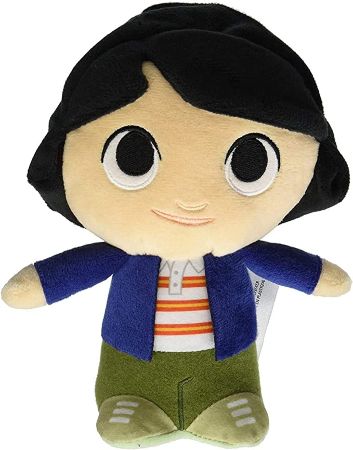 Everyone deserves a friend like Mike who's loyal, caring, and courageous.
This is the gift to buy if your recipient's favorite character is Mike Wheeler.
26. Stranger Things Season 3 Wall Poster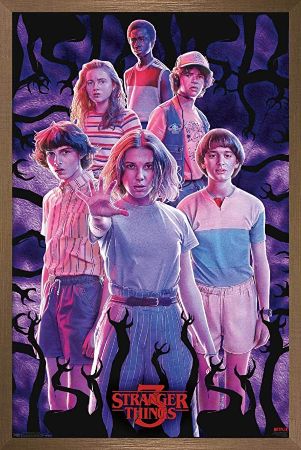 Nothing will be cooler than seeing this poster hung up on their wall.
It features the whole gang printed in dynamic colors that will make your gift stand out in their room.
27. Oversized Barbara Blanket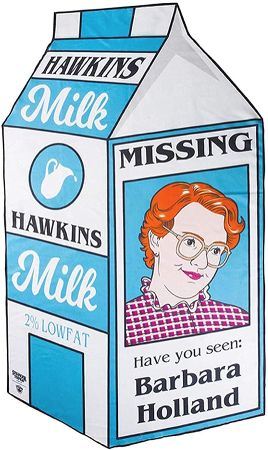 Help the citizens of Hawkins find the missing Barbara Holland.
Your recipient will love this microfiber towel because it's creative and useful. And the fact that it's Barb (forever in our hearts).
28. Stranger Things: The Other Side (Graphic Novel) by Jody Houser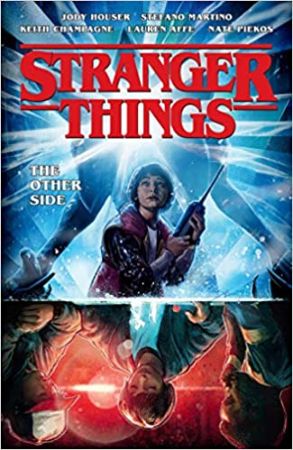 Go on new adventures in the Upside Down with this epic graphic novel. The Other Side follows Will and his adventures in this unknown dimension.
Other titles include: Into the Fire, Zombie Boys, and The Bully.
29. Stranger Things: The Complete First Season Blu-ray Set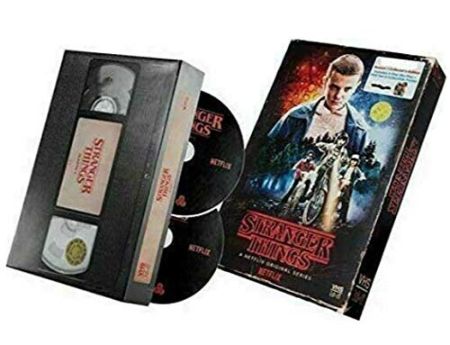 Rewatching the first season of the show never gets old because it shows how all of it started: the friendships, attacks of the Demogorgons, and Will's return.
Brownie points for the retro packaging that represents the show well.
Stranger Things Gifts for the Die-Hard Fan in Your Life
What is friend?- Eleven
A friend, by definition, gives amazing Stranger Things gifts found on this list. Kidding aside, I'm sure that the biggest Stranger Things fan in your life will be psyched to receive any of these.
Find more exciting gift ideas below: