If you're looking for gifts for drummers, but aren't sure where to start, I feel you. Buying for someone with a niche passion can be confusing to navigate, especially when it involves a musical instrument.
That's why I came up with this guide for the best gifts for drummers to help your gifting game remain on point. I've included a variety of products for every skill level and budget.
I've also sorted them into categories to make scrolling even easier. Happy stress-free shopping!
10 Gift Ideas for Drummers: Drum Kits, Percussions, and Tools
1. 3-Piece Kids Drum Set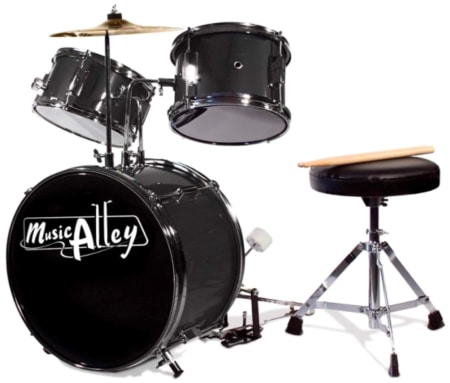 For the youngest drums enthusiast in your life, this 3-piece kids drum set from Music Alley is the perfect way to support their passion for the instrument without breaking the bank.
Unlike most drum sets for kids, this set is a fully functional scaled-down version of an adult drum kit made from metal, wood, and tuneable skins.
This kit includes a bass drum with a pedal, a snare drum, a tom, and a cymbal. It also comes with an adjustable drum throne and drumsticks so they can start rocking on as soon as they get the set.
This drum kit is recommended for kids ages 3 – 8.
2. Electronic Roll-Up Drum Kit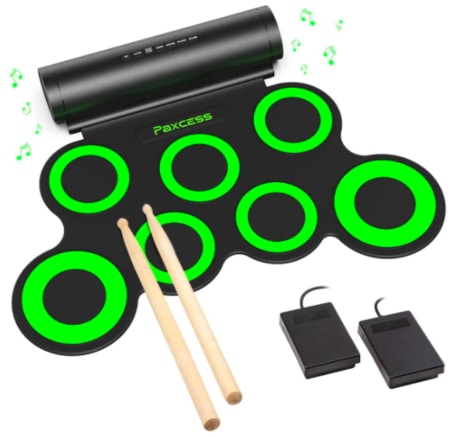 For quick practice sessions and impromptu jams with their bandmates or other musicians, this roll-up drum kit from Paxcess will save the day.
It's a complete drum set for kids or adults that will fit in their backpacks. It has built-in speakers, a 10-hour capacity rechargeable battery, pedals, and seven practice drum pads.
Plus, this set also has a headphone jack for when they want to practice at night without waking up the household or the neighbors.
3. String Cajon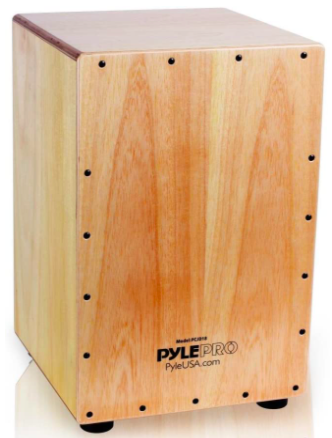 The next three items are fun gifts for percussionists, starting with this classic style string Cajon by Pyle.
This percussion instrument allows users to create acoustic drum kit beats with just this little box and their hands.
This instrument works with different musical genres and features adjustable internal guitar strings that can be tuned by using the hex key included in the kit.
It's conveniently compact and lightweight for easy transport.
4. Bongo Drums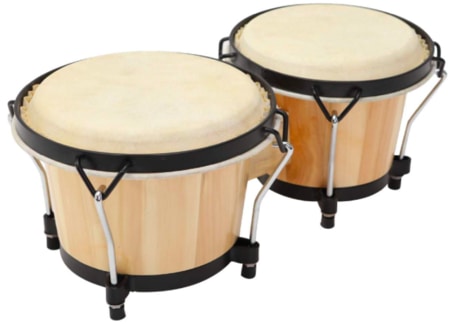 Another essential percussion instrument is the bongo drum. This bongo drum set from Musicube is made from metal and FSC certified wood with a natural leather head.
It also comes with a tuning wrench for easy sound adjustment. This set features sizes 6 and 7 and is recommended for all skill levels and for kids and adults alike.
5. Djembe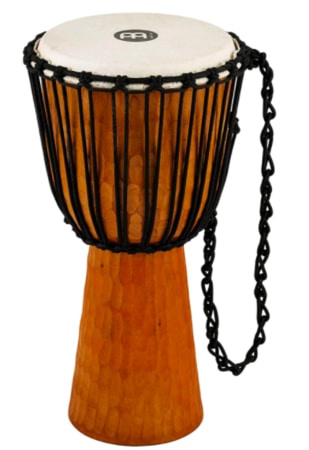 The djembe is a great percussion instrument that allows for a variety of sounds, including high to low bass notes.
This Djembe from Meinl Percussion is carved from mahogany wood and includes a large goatskin playing surface.
This instrument is great to take to drum circles, live gigs, and acoustic jam sessions with fellow musicians.
6. Drummer Survival Kit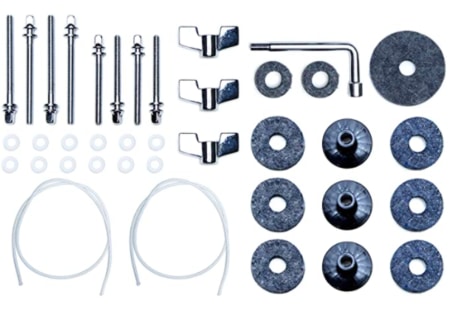 While it may look simple to us uninitiated folks, there are a lot of different smaller parts and components that go into a drum set.
This Drummer Survival Kit from Zildjian will save them from a looming gig disaster by containing everything they need for assembling, tuning, and maintaining their precious instrument.
Now they don't have to worry about forgetting felts or sleeves. All they need to do is grab this kit and go.
7. Vic Firth Drum Sticks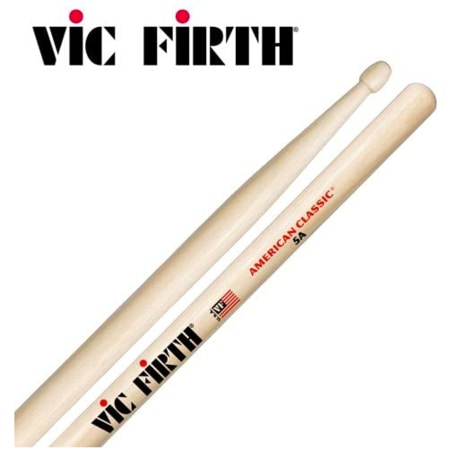 Drummers need their drum sticks to rock on and that's why they'll always make great gifts for drummers, no matter how many pairs they already own.
Give the drummer in your life these best-selling drum sticks by Vic Firth that feature teardrop tips for a richer cymbal sound and are the ideal size and weight for every skill level.
8. CruzTools Drum Key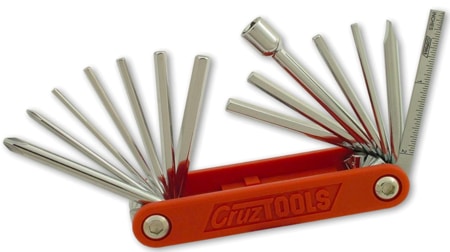 This handy multi-tool drum key from Cruztools is the equivalent of the swiss army knife for drummers. It has everything they would need to set up and tweak their drum set.
This kit has screwdrivers, and inch and hex keys that fold neatly and fit in their back pocket.
9. Drum Mute Pak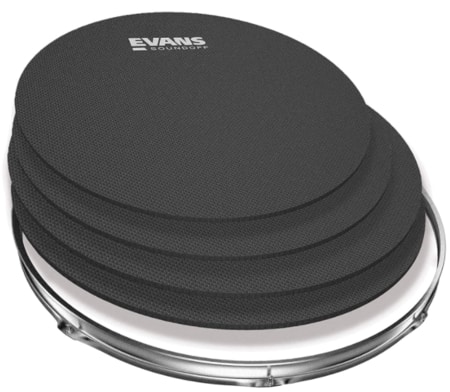 Drums are not exactly the quietest instrument on the planet. If the drummer in your life likes to practice at all hours of the day, give them this 4-piece SoundOff Drum Mute Pak by Evans.
This pack is for standard-sized toms and 14-inch snares. Your drummer's housemates and neighbors will thank you for this gift.
10. Non-Slip Drum Mat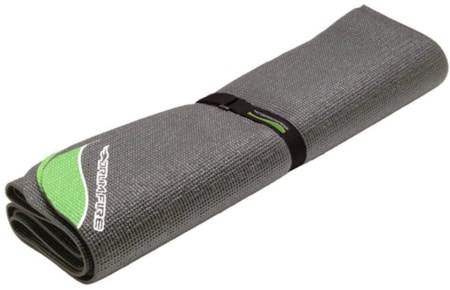 This non-slip drum mat by Onstage will keep the drum in place and protect the floor from annoying scratch marks, no matter how hard they hit that bass drum.
Its made from durable PVC material that provides a great non-slip grip. This mat is a great alternative to heavy carpets and conveniently folds into a neat, lightweight package.
8 Cool Gifts for Drummers: Clothing and Accessories
11. "The Tempo Is What I Say It Is" T-Shirt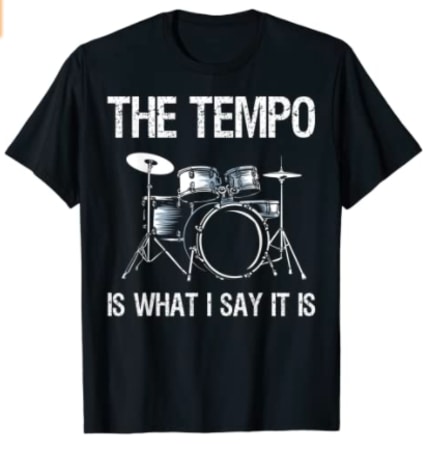 Good drummers help the whole band play in time to the beat, and this T-shirt tells it like it is.
It comes in a variety of colors and sizes, and this design is also featured in hoodies, tank tops, long-sleeved t-shirts, and v-neck shirts.
12. Da Vinci Drawing T-Shirt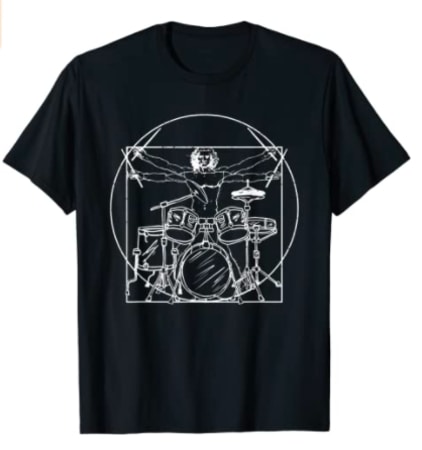 Another t-shirt option for drummers is this cool looking one that features a Da Vinci-style drawing of a drummer rocking out. This design is also available as a hoodie, a sweatshirt, or a long sleeve shirt.
13. Drummer Hat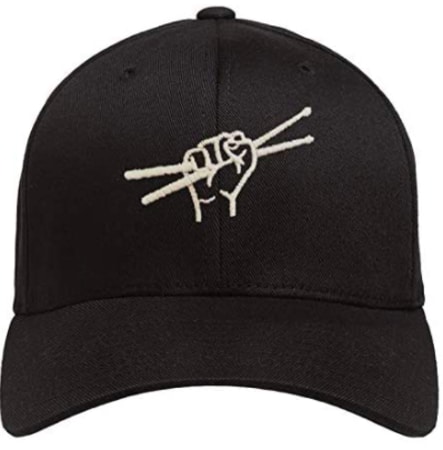 Keep them rocking even on hot days with this cool snapback hat. This hat is made from 100% cotton for breathability and features quality embroidery design and adjustable straps to fit most head sizes.
14. Canvas Tote Bag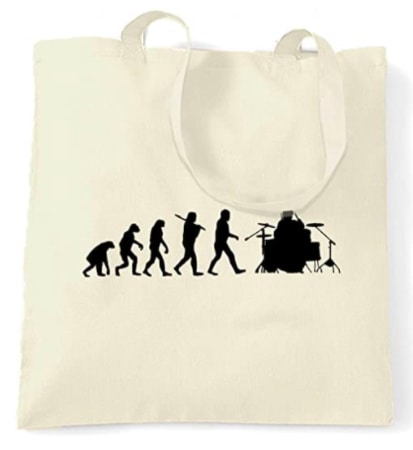 This canvas tote bag will come in handy for snacks or grocery runs between band practice.
They can keep this in their car so they don't have to use plastic bags every time they need to make a quick pit stop at the grocery store.
15. Drum Sticks Pendant Necklace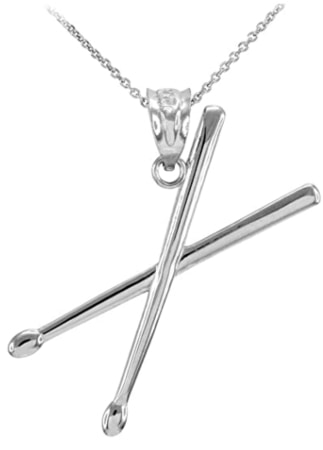 Complement any outfit with this cool drum sticks pendant necklace. Both the necklace and the pendant are made from 925 sterling silver.
It features a floating 3D drumsticks on a sturdy chain they can wear everyday as a good luck charm. Perfect for both male or female drummers.
16. Multi-Tom Drum Bag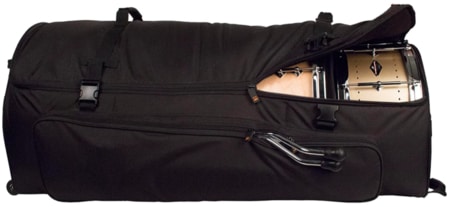 Drums are cool, but they're heavy and bulky and transporting them safely from gig to gig can be chore. Give the drummer in your life this multi-tom drum bag by ProTec.
This bag features oversized wheels and feet for easy carriage, attachable padded dividers to protect the drum skins and a large exterior pocket for drum legs and hardware.
17. In-Ear Monitor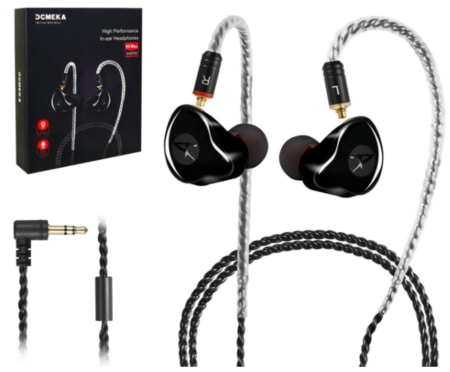 Ear protection is important for drummers as prolonged exposure to one of the loudest instruments on the planet can have harmful effects on their hearing.
Give them this bestselling noise isolating in-ear monitor by DCMEKA.
These earphones are designed to deliver great quality HiFi sound, are sweat-resistant, and come with three different-sized ear tips for a comfortable fit.
18. Wearable Metronome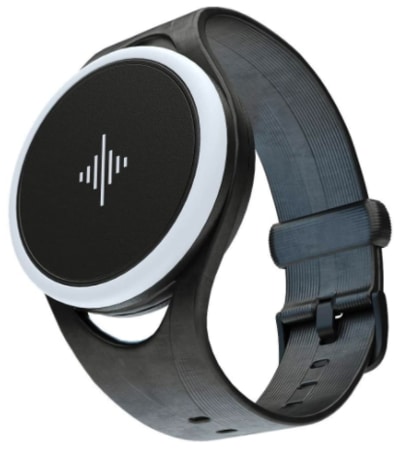 Help them keep the tempo and stay on the beat with this wearable metronome by Soundbrenner.
Unlike traditional metronomes, this device pulses so they can free up their ears and focus on the music.
It can be worn on the wrist, arm, ankle, or even the torso (using an optional extra-long strap). Connect five or more devices via Bluetooth to sync up the rest of the band.
7 Unique Gifts for Drummers: Novelty Items
19. Day of the Dead Drummer Bobblehead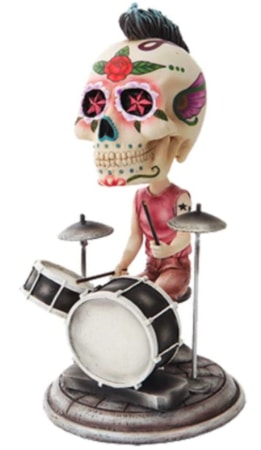 If you're looking for a fun knick knack to give to your favorite drummer, how about this super cool bobblehead?
This Day of the Dead-themed, punk-rock-looking drummer bobblehead is hand-painted and made from durable resin material.
20. Wine Bottle Holder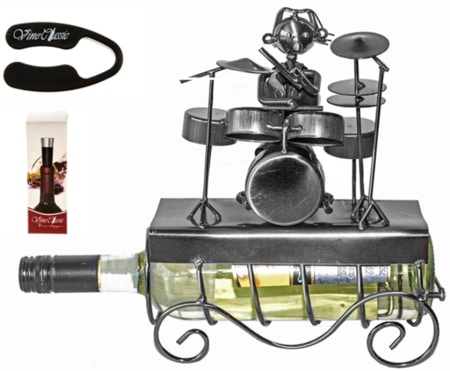 If your favorite drummer loves wine, this unique metal wine bottle holder is just for them. It's the perfect way to showcase two of their favorite things.
It comes with a foil cutter and a vacuum pump bottle stopper to keep leftover wines as fresh as the day they were opened.
21. Drum Mug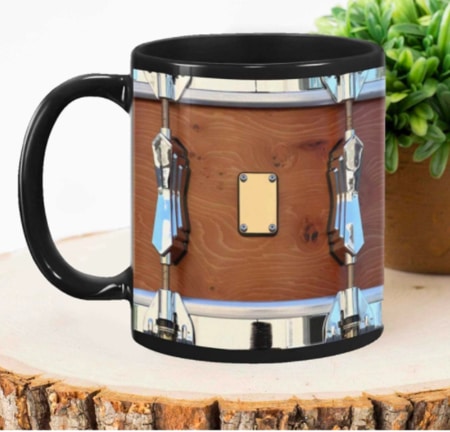 Give them this drum-themed mug so they can get their morning caffeine "kick." This mug has a solid, non-slip bottom and is dishwasher and microwave safe.
22. Zildjian Cymbal Clock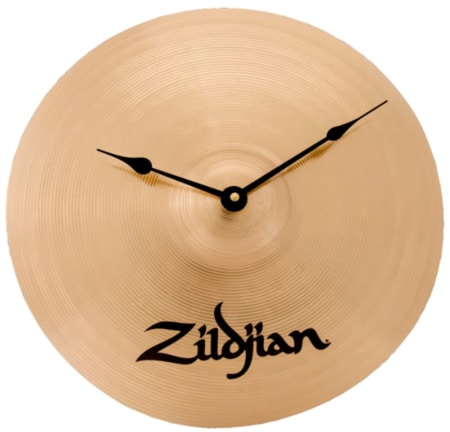 This cymbal clock is made from real Zildjian cymbals, a brand you've probably heard your favorite drummer rave about.
While they might not be able to use this for gigs, this clock will definitely look cool in their man cave. Plus, they will never be late for anything. Maybe.
23. Zildjian Mouse Pad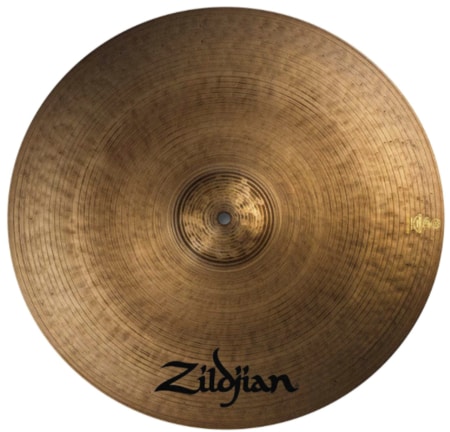 Novelty items make for cool gifts for drummers, especially when it has something to do with their favorite instrument.
Give them this cool mouse pad that looks very much like a real cymbal. It features a non-slip surface with splach graphics and the famous Zildjian logo.
24. Personalized Ornament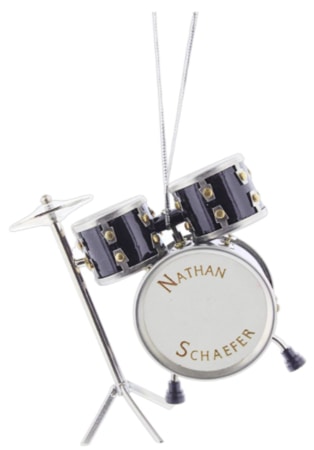 How about this miniature drum ornament from Broadway Gift for some holiday drum cheer? This ornament is made from wood, metal, and leather to give it a realistic look.
Plus, it can be personalized with their name and comes packaged in a gift box!
25. Key Hooks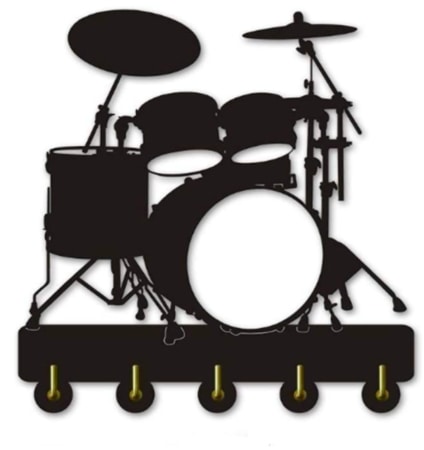 For the drummer who's always losing their keys, give them this drum-shaped key hook so they know where to look first.
These quality metal wall hooks can be installed anywhere without needing to drill a single hole in the wall.
The double sided glue included on this product is so strong it can also be used to hang towels, clothes, or kitchen utensils.
You Can't Go Wrong with These Gifts for Drummers!
These gifts for drummers will earn you cool points from the drummer in your life, no matter how long they've been rocking the drums.
I hope you found this list helpful. Check out our other gifts lists if you need another gift for someone else on your list: