Hockey is a famous sport that has many different types such as field, ice, and rink hockey. Different types require different skills and strategies that make each of them unique.
For this post, I'll share the best ice hockey gifts for both players and fans. You'll find functional presents that the hockey player in your life can use to practice and be the best hockey player out there. Likewise, there are fun gifts that fans of the sports will find exciting.
Sounds good? Then keep on reading.
9 Best Gifts for Hockey Players
1. "I Walk on Water" T-Shirt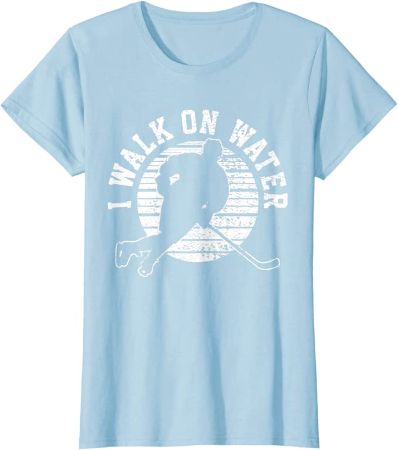 For your talented recipient who can skate, pass, and shoot simultaneously (not to mention walk on water), this shirt will be a great gift choice.
It comes in a variety of colors and sizes that will fit adults and kids.
2. "Reserved for Hockey Players" Sign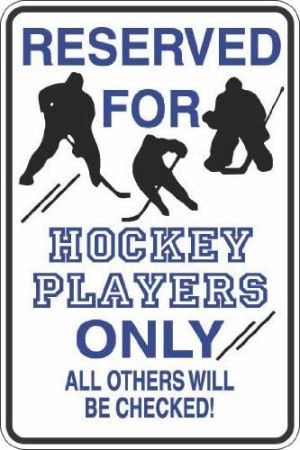 A great hockey player deserves a special parking spot.
Show how proud you are of the hockey player in your life who dedicates a lot of their time to perfect their skills in the sport. With this gift, they'll feel that all their dedication and hard work are seen.
3. Hockey Shooting Target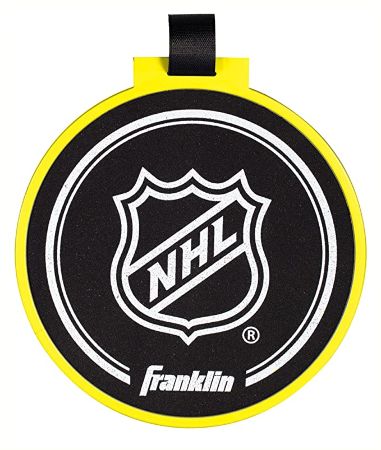 Improve their hockey skills one shot at a time with this shooting target. Each target comes with a self-stick strap to make assembly easier for players. The set comes with four targets to be placed on each corner of the net.
4. Sliding Board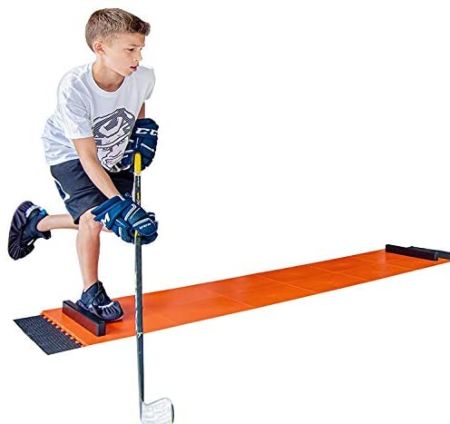 To be the best hockey player, they need to practice all the time. Even if they can't practice on the ice rink, there are still a lot of exercises and drills that can be made at home.
This sliding board will increase their leg strength, speed, and balance so when they're on the rink they'll be prepared to win.
5. Multipurpose Drying Rack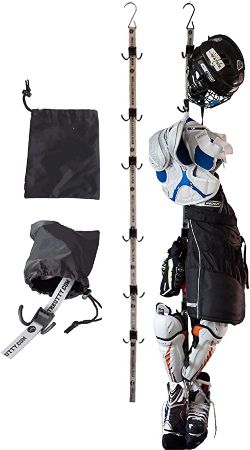 After a game, it's important to air out and dry hockey gears to avoid bacteria growth that can lead to allergies, infections, and rashes. They don't need a fancy rack since this gift will do the job well without the need to shell out a lot of cash.
Plus, it's portable so it's easy to store in the car, garage, or room.
6. Sports Deodorizer Pods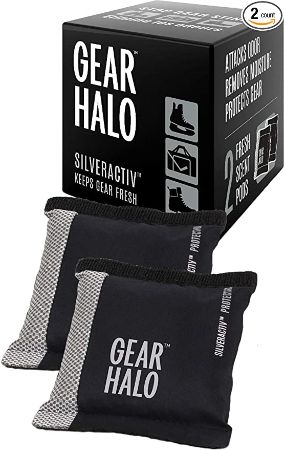 Part of being an athlete means sweating a ton, which makes these sports deodorizer pods a game-changer. Stick a pod in shoes, bags, and helmets to remove the "sport-stink". Using these will effortlessly make their gears smelling clean and fresh in no time.
7. Helmet Sweat Liner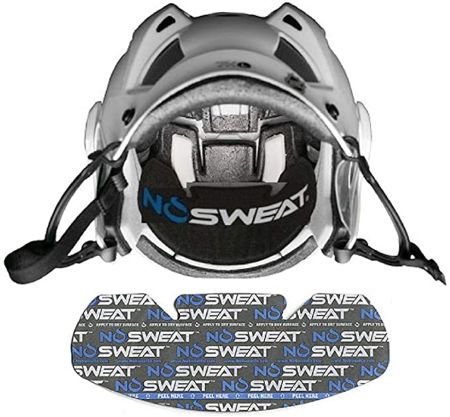 If the hockey player in your life finds it hard to focus on the game because of eye irritation caused by sweat, this helmet sweat liner is a great solution. This disposable liner is easy to use and very effective. Just stick it inside the helmet and it's sweat no more.
8. Skate Care Kit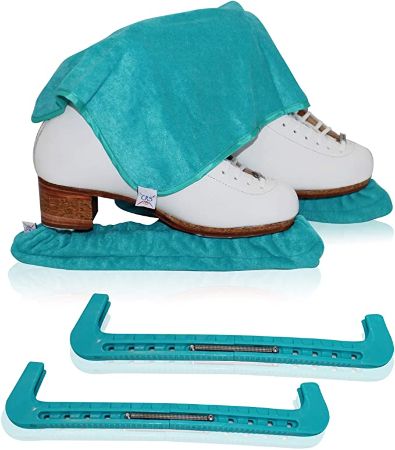 For hockey players, their skates act like an extension of their bodies. Give their skates the protection and care that they deserve through this kit.
It includes blade guards, soakers, and a terry cloth towel.
9. Ice Skate Backpack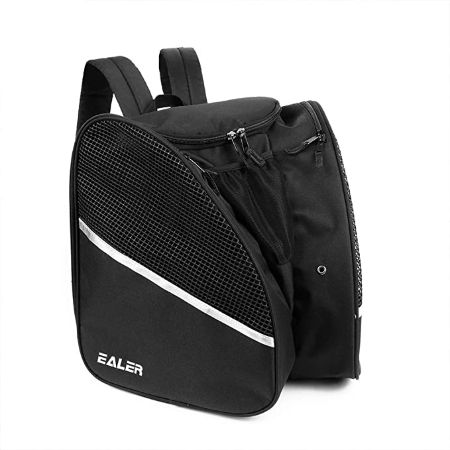 Here's a durable bag specifically made to keep ice skates safe and protected. It's also water-resistant that will be useful and practical for all their training.
Choose from the three colors (black, blue, and red) available.
7 Top Gifts for Hockey Fans
10. Hockey Mug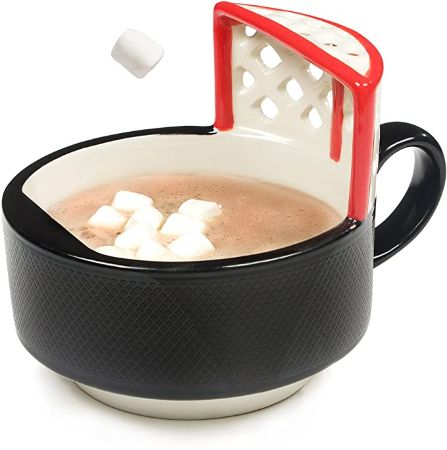 A cup of hot chocolate will do the trick of warming them up after watching a live hockey game. Waiting for the next game can be brutal and boring for true fans… but not with this mug. Drinking from this mug will give them a little fun of their own.
Plus, it also works as a cereal bowl.
11. Hockey Earrings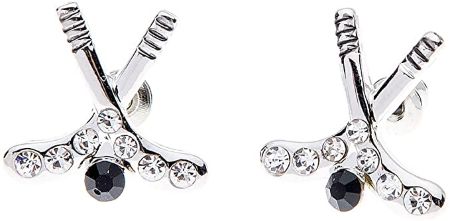 Show your love and support to your son, brother, or partner by wearing these lovely earrings while watching them play hockey. Who would've thought that sports and fashion could mix well together?
12. Hockey Player Night Light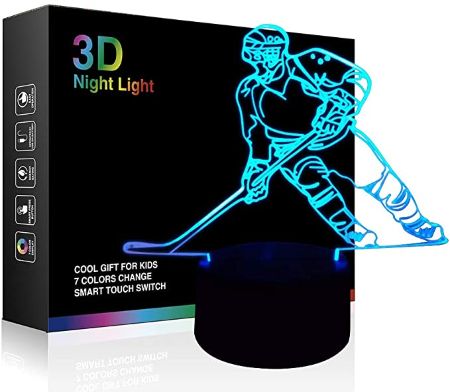 Got hockey in their mind all day and even in their sleep? This night light will be an excellent gift.
Your recipient will love this 3D hockey gift since it has the option to change into seven colors to match their preference and mood.
13. Hockey Puck Cell Phone Stand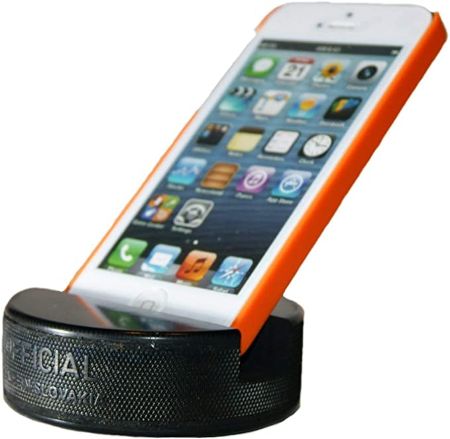 Does your recipient have a habit of losing their phone? Thanks to this cell phone stand, they'll have a designated place to keep it.
The stand is compatible with all phones, tablets, and e-readers. And what's really cool about this present is that it's made from a real hockey puck!
14. Hockey Puzzlers by Bob Moll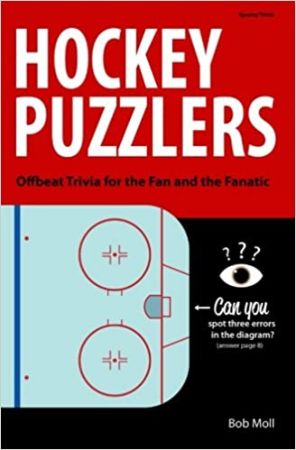 Expand their knowledge about the sport that they love with this great book by Bob Moll. It covers important topics that all hockey fans must learn such as the history of the sport and some amazing trivia.
15. Hockey Tie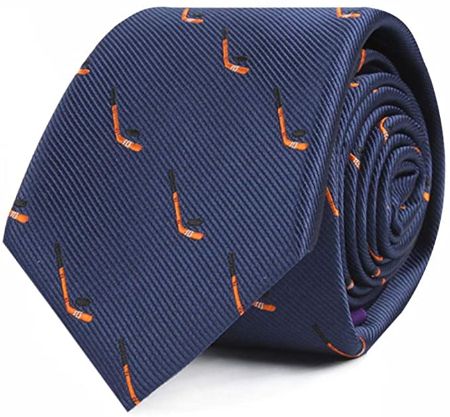 Every man needs a fun tie to wear once in a while to spice up their outfit. For the biggest hockey fan you know, this tie will be the perfect one.
Interested in more funny gifts for men? Check out this link.
16. Hockey Stick Patent Poster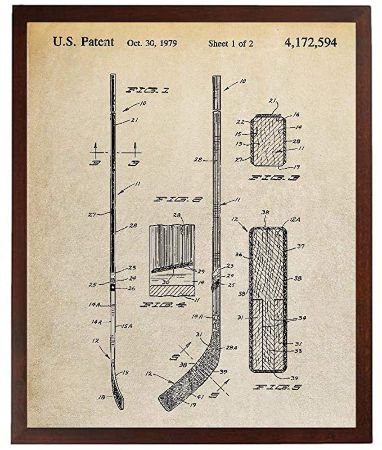 This poster will be the best gift for the hockey fan in your life who knows everything there is to know about the sport—from its history, notable players, and even equipment patents.
Plus, the vintage looks adds to its uniqueness and charm.
5 Hockey Gifts for Kids
17. Folding Hockey Set

You have to foster and support your recipient if they're showing interest in hockey at a young age. By giving them this gift for their birthday, Christmas, or any other occasion, you'll be showing them how cool and fun the sport is.
The set includes two hockey goals, sticks, and balls.
18. NHL Hockey Arena Toy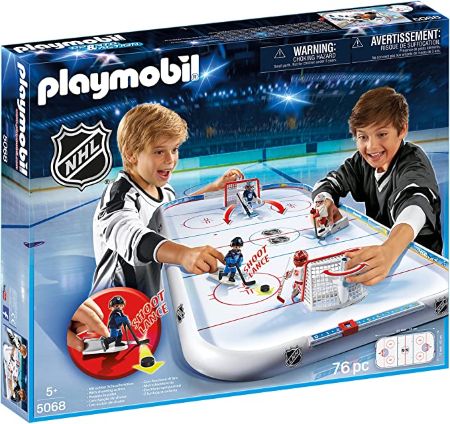 With this miniature hockey arena toy set, they can bring home the fun and play with family and friends. It includes four players with movable arms, an ice rink, and a score-keeping slide rule.
19. Goodnight Hockey by Michael Dahl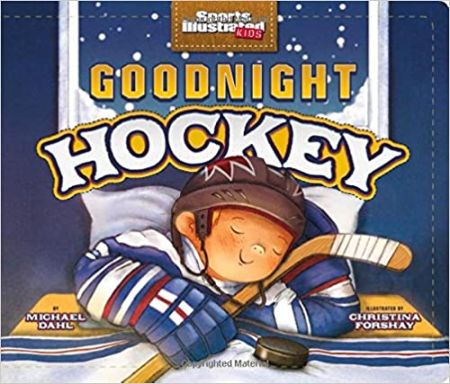 Bedtime stories promote the growth of the vocabulary and imagination of a child. They'll never tire of hearing this exciting story that revolves around a fun hockey game.
It also includes amazing illustrations that will get them hooked from beginning to end.
20. Hockey Stick Pencils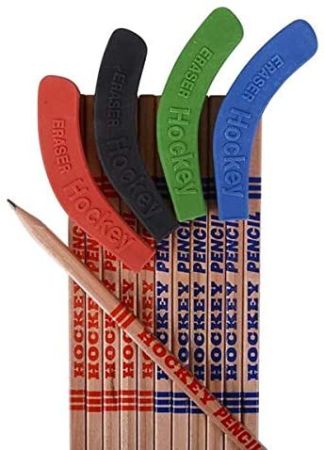 Give these pencils as a reward for doing well in school. Having these will further motivate them to study and aim for great grades.
You can also add them in goody bags or Christmas stockings.
21. Hockey Water Bottle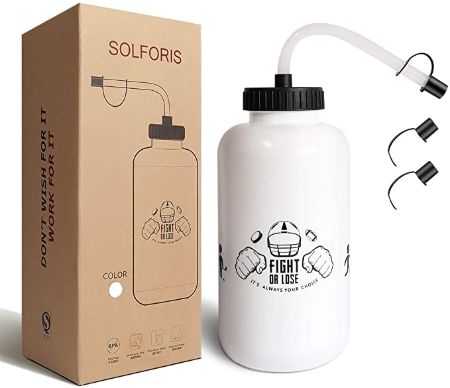 Feel like a true hockey player with every sip in this awesome water bottle. It has a long straw that's needed for sports that require helmets such as lacrosse, football, and hockey.
Plus, the materials used in this gift are safe for kids since it's BPA-free.
5 Hockey Gifts for Adults
22. Glass with Hockey Puck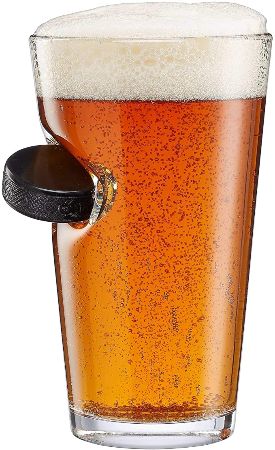 Watching hockey games will be more exhilarating while drinking a beer in this glass. After all, not every glass can withstand a puck going through it and stay functional. That's what makes this gift one-of-a-kind.
23. Hockey Heartbeat Hoodie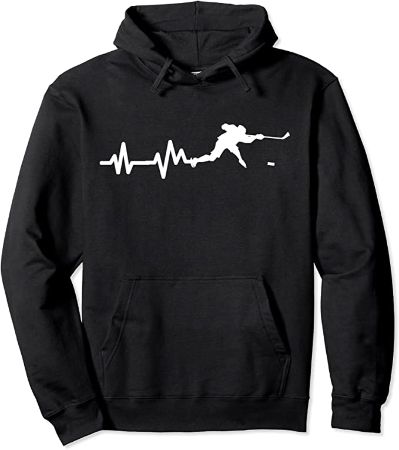 Get this hoodie for your recipient who's got hockey engraved in their heart even if they no longer play the sport. Because once a hockey player, always a hockey player.
24. NHL Hockey Puck Waffle Maker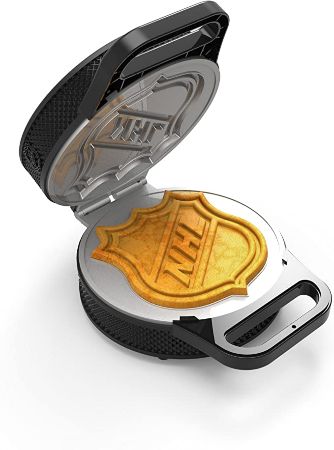 Start the day right by having a tasty breakfast of coffee and waffle. With this gift, waffles will become their go-to food when they want an easy-fix but delicious meal.
The silver plate is non-stick as well so cleaning it won't be an issue.
25. Miniature Tabletop Ice Hockey Game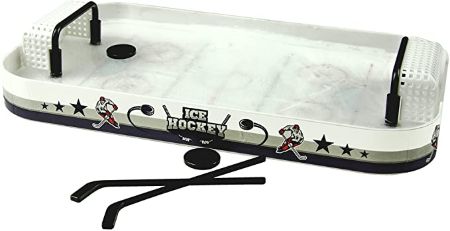 Play hockey even if they're miles away from an ice rink with this tabletop game. All they need to do is freeze the rink and put their game face on to start the fun!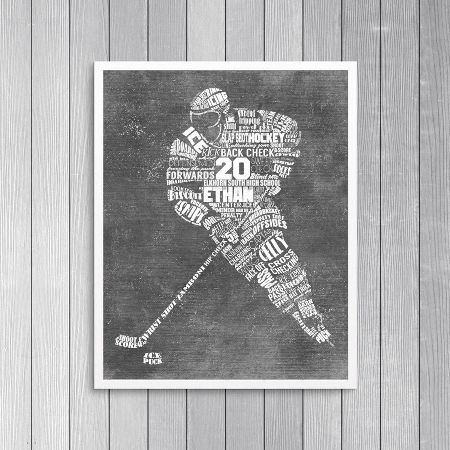 If you're looking for a customized present to give to your teammate or coach, then this artwork is highly recommended. Add the team's names, numbers, and quotes to make it more special.
You can also customize the colors of the text and illustrations.
Score with These Hockey Gifts
These amazing hockey gifts will be a hit to your recipient because they'll help them up their game and love the sport even more.
Have you played hockey before? What's your hockey story? Share it in the comments below.