Missing the coolest mob family on television? You're not alone. You'll find the best Sopranos gifts in the market on this list.
The success of The Sopranos is very evident with its multiple awards and lasting impact even in this day and age. Tony's struggles with his family and profession enthrall viewers from the very first episode to its contentious finale. (What's your take on the controversial ending scene of The Sopranos?)
Now before the debate gets heated, let's dive into the list and see what The Sopranos fans anticipate and want for their birthday or the holidays.
19 Sopranos Gifts for All
You'll find amazing Sopranos gifts for your parents, partner, and friends, below.
1. The Sopranos Family Cookbook
I know I'm not alone when I say that the food on the Sopranos is mouthwatering on each episode (too bad there isn't a Sopranos delivery hotline though).
With this cookbook, anyone can now try to recreate the perfect meal worthy of The Sopranos. Satisfy the cravings of your recipient with authentic recipes such as baked chicken, calamari ripieni, and osso buco a la bucco through this gift.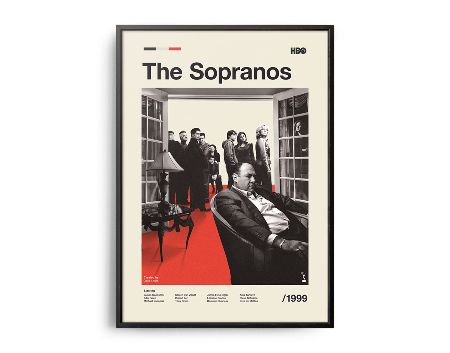 We all have that one show that changed our lives forever. It can be the Friends TV show, Stranger Things, or The Sopranos.
For people who belong to the latter, this epic movie print will be an amazing present. Seeing this everyday in their wall will give them the endorphins needed to get through the day.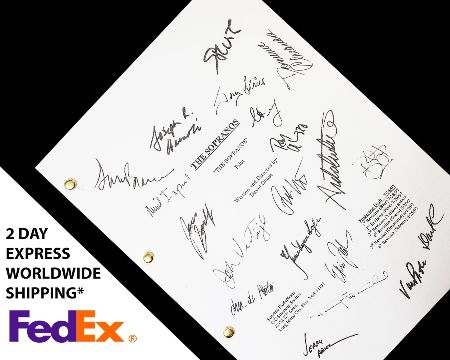 It's not everyday that you get a piece of paper  (let alone the pilot script) signed by all the legends. This gift has the signatures of their favorite characters such as The Sopranos, Christopher Moltisanto, and Silvio Dante.
This is the holy grail for true The Sopranos fans.
4. Monopoly: The Sopranos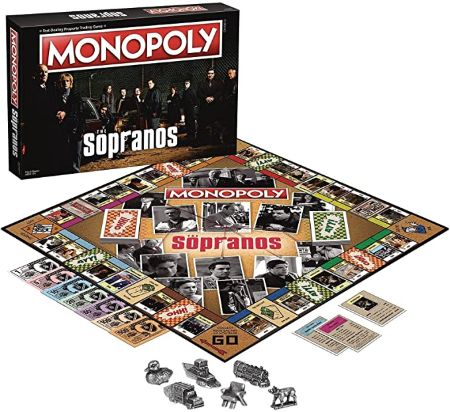 It's time for some wholesome family game night with this special Monopoly Sopranos edition.
Call everyone from the nonni, figlio, and nipoti for a bonding time that everyone from all ages will enjoy. Plus, the tokens will also remind them of their favorite episodes. It has the Stugots, Satriale's Pig, and Bobby Bacala's toy train.
Paulie Gualtieri is one of the most colorful characters in the series because of his jokes, background, and unconventional sentiments.
Even if he's ruthless and at times reckless, his loyalty to the gang is unquestionable. If The Sopranos fan in your life is a big Mr. Walters fan then this is the gift to give them.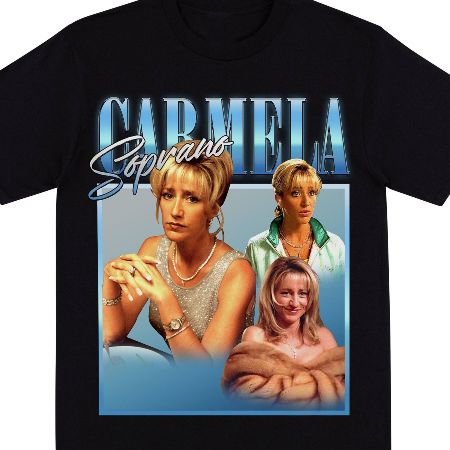 Looking for an iconic and strong woman represented in a shirt? Say no more.
Here's a shirt of Carmela DeAngelis Soprano for the strong, empowered, and beautiful woman in your life. Brownie points for the trendy design.
7. Funny Socks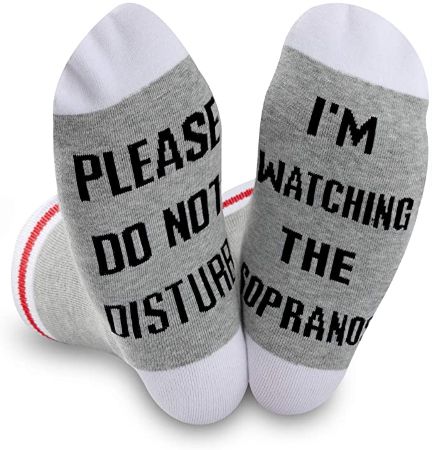 Watching a masterpiece (aka the Sopranos) should be watched not once, but at least 10 times.
Their full attention will be on the show whenever they're wearing these comfy socks since everyone will know they're busy with the Sopranos. No one will dare to disturb them which is a huge plus for these socks.
8. Woke Up This Morning by Michael Imperioli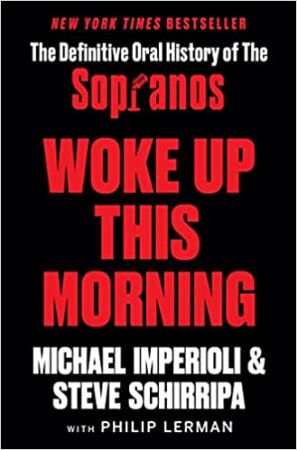 Learn all the secrets, stories, and trivia about the Sopranos in this New York Times bestseller book by Imperioli and Schrripa.
Your recipient will get exclusive behind-the-scenes of how the hit TV show came to be as well as answers to some burning questions that fans had for the past 20 years. This is a must-have for all Sopranos fans.
9. Tony Soprano Birthday Card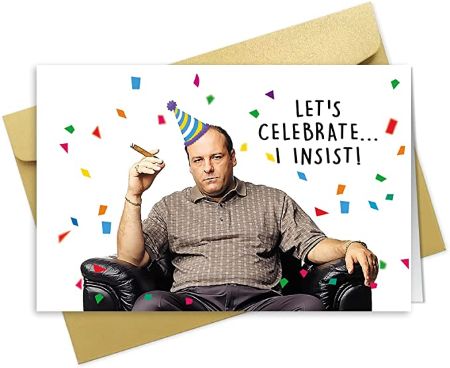 Let none other than the legendary Tony Soprano greet your recipient on their special day through this funny card.
Your recipient will love the simplicity and hilariousness of the inside joke of this birthday card. Just add a sweet note and this gift is good to go.
10. The Sopranos Keychain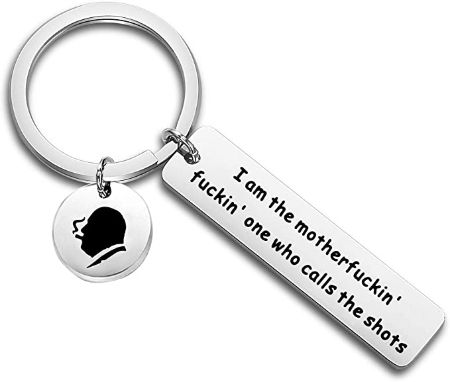 Have no idea what to give the biggest Sopranos fan in your life? This keychain with an iconic line from the show will be a foolproof present.
The quote along with the pendant is just the right size and durability for them to conveniently bring it with them everywhere. Plus, it's lead and nickel-free.
11. Cigar Whiskey Glass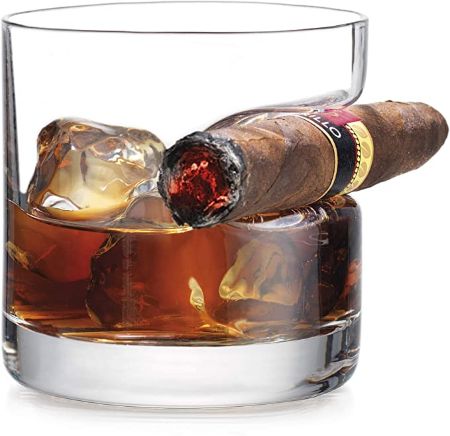 The Sopranos fan in your life will need this cool whiskey glass to perfect the mafia boss cosplay.
What's unique about this glass is that it also has an indented cigar rest. It's a great gift for Sopranos fans who are also whiskey lovers.
12. Cotton Robe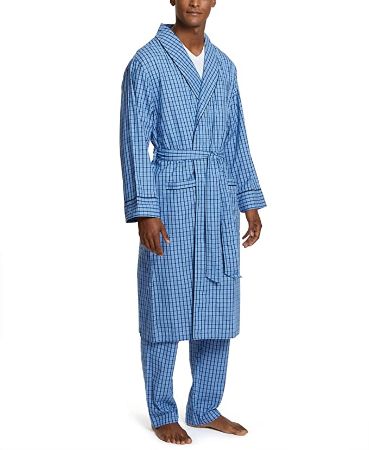 Did someone say The Sopranos marathon? Count us in!
Your recipient doesn't have to be the mafia boss to experience comfort and luxury in their home because of this cotton robe. It's stylish, comfortable, and useful as well.
13. The Sopranos Fridge Magnet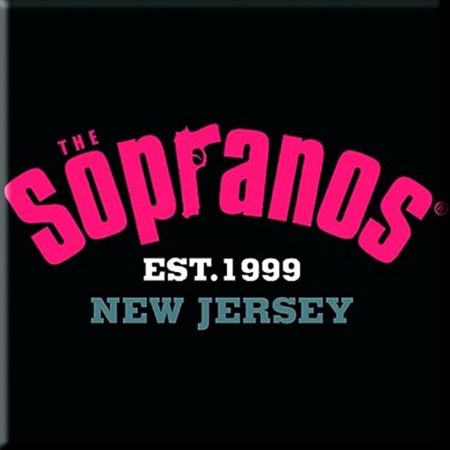 Can you believe that it's been more than 20 years since The Sopranos premiered? It seems like yesterday when we were absorbed into the drama of the mafia life.
This will be a nice gift for the loyal Sopranos fan in your life who've supported the show since '99.
14. Bada Bing Strip Club Shirt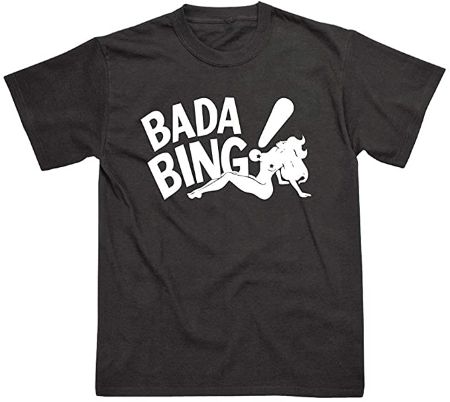 A lot of the iconic scenes from The Sopranos were shot in Bada Bing! Just like when Tony agreed to have Richie killed and when the gang found out about the death of Jackie Aprile Sr.. (No wonder why a lot of fans wish to visit this fictional strip club).
Their Sopranos collection won't be complete without this shirt.
15. The Sopranos Collectible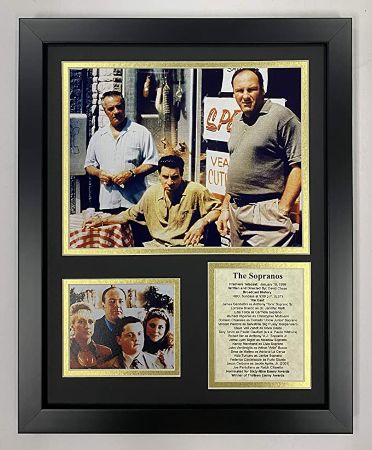 Get this gift for the avid fan of the show. This collage is a collector's item so it will be one of the best additions to their Sopranos collection.
It features the formidable Sopranos, Paulie Gualtieri, and Silvio Dante.
16. Satriale's Meat Market Mug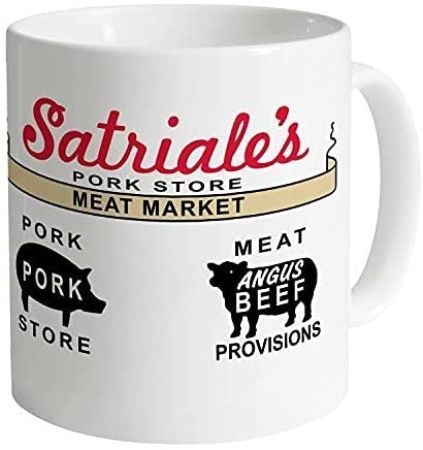 Another famous hangout place of the gang which true fans will instantly recognize is the Satriale's Pork Store.
Drinking from this mug will take them back to some of the most iconic scenes shot in that place. It will be a cool and practical gift!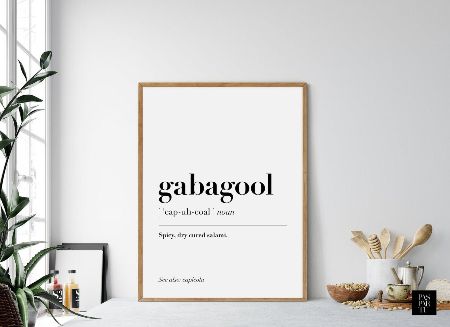 You'll know that The Sopranos has their own vocabulary if you've watched the show.
We have the goomah, marone, and of course, the gabagool. Knowing these perplexing words is a good sign that someone is a fan of the show.
18. Tony Soprano Poster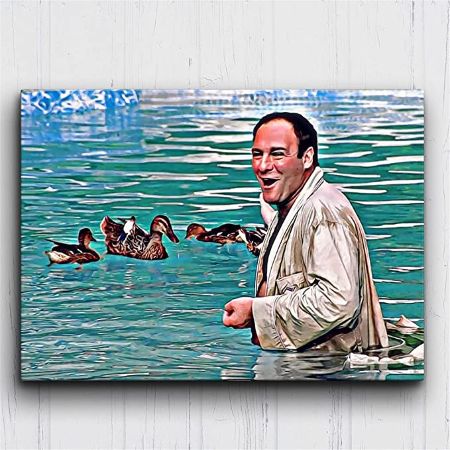 Here's a rare photo of Tony Soprano smiling to brighten up their day. It will remind them that if the mafia boss can find joy in the simple things in life then so can they.
19. The Sopranos: The Complete Series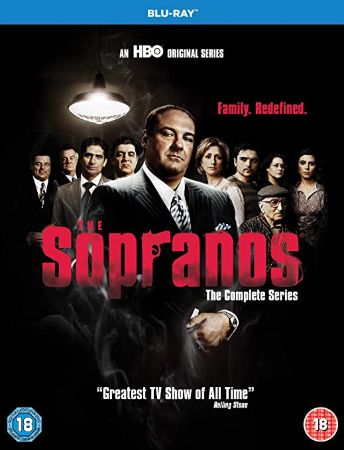 Watching this legendary show once isn't enough. They'll have no reason not to binge-watch the series with this gift.
This includes 28 discs and a total of 71 hours of runtime for an uninterrupted Sopranos marathon with the whole gang.
5 Italian-Themed Gifts
The Sopranos is an Italian-American family so these Italian-themed gifts will be a great way to honor them.
20. The Singing Floating Pasta Timer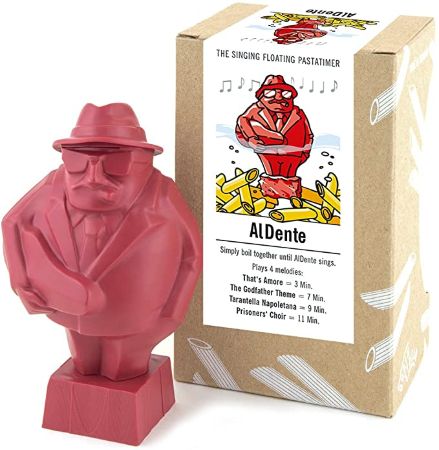 Different songs will be played for different time limits (eg. That's Amore for 3 mins, The Godfather Theme for 7 mins, etc.).
Plus, the timer even looks like a part of the mafia.
21. Italian: The Ultimate Guide for Beginners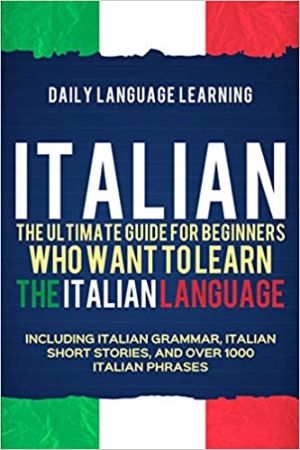 If hearing Italian words from the Sopranos made your recipient's desire to learn the language grow even bigger then this book will be a huge help.
It's perfect for those who have zero to little knowledge of Italian. It includes Italian grammar, stories, and phrases that they'll also find useful if they ever go to Italy.
22. Italy Azzurri Futbol Shirt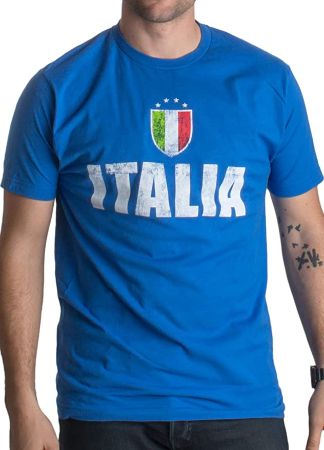 Are they fans of the Italian mafia family and football? This gift will be like hitting two birds with one stone!
23. Funny Italian Shirt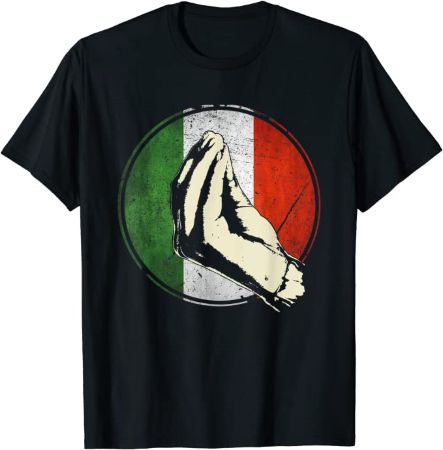 Funny and great material shirt? It couldn't get better than this!
This funny Italian shirt will be their new favorite shirt since it's comfy and shows that they have a great sense of humor.
24. Traditional Italian Card Game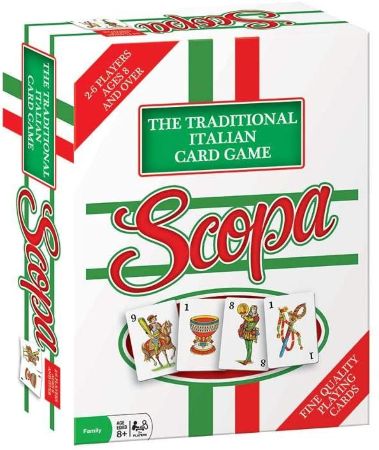 Gather the whole family for a traditional card game of Scopa!
Since The Sopranos is for adults only, this game will make everyone feel included (even the youngsters!). It can be played by two to six players aged eight and above.
The Coolest Sopranos Gifts for a "Friend of Ours"
More than the jampacked action the series gives, the story also tackles issues about family, love, and loyalty. So if you haven't watched the Sopranos, this is your sign to watch it NOW.
Find more gift inspiration from the lists below: