Finding the right Star Wars gifts for men can be a daunting task. After all, the stories that are written in the Star Wars universe are as numerous as the number of galaxies that exist in it, so choosing the right gift can be difficult.
If you're one of those people who hasn't seen a single Star Wars movie, worry you need not, because you don't have to search the galaxy to find the best Star Wars gifts for men.
All you need to do is sit back, relax, and scroll through these 31 gifts just like how you would enjoy watching the trilogies and the TV series.
8 Best Star Wars Gifts for Fans
1. Star Wars Glasses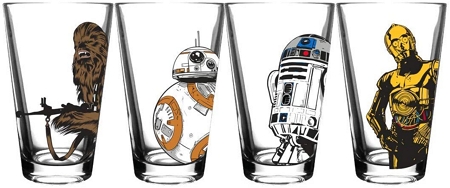 What's a classy way to say that you're a true Star Wars fan? It's by showing these Star Wars glasses to your guests, of course! But even if your recipient doesn't receive guests often, they'll still enjoy drinking from this pint glass set that features their favorite Star Wars characters, like C-3PO and Chewie.
2. The Art of Star Wars: The Mandalorian (Season One)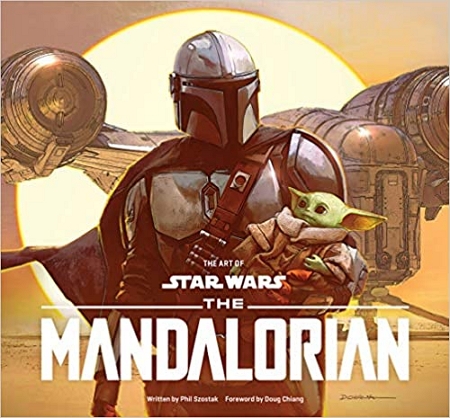 Many fans were disappointed with the latest Star Wars trilogy. But The Mandalorian redeemed the image of the franchise with its action-packed space Western adventures, engaging storytelling, and most importantly, the introduction of baby Yoda.
Fans of the Mandalorian will uncover a hidden gem with this book that features exclusive behind-the-scenes, numerous concept art, and interviews with the incredible cast and producers that will deepen any fan's connection with the series.
3. Darth Vader Mug Gift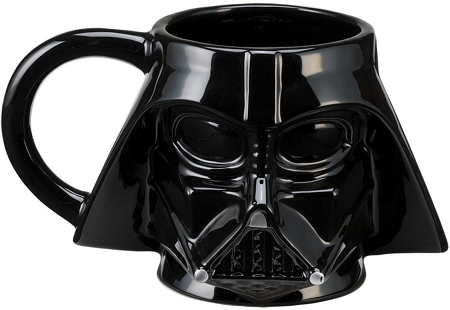 Allow your recipient to establish dominance in their homes by giving them a ceramic Darth Vader mug. A sip of coffee from this mug will make anyone feel like they can conquer worlds and rule galaxies.
4. LEGO Boba Fett Helmet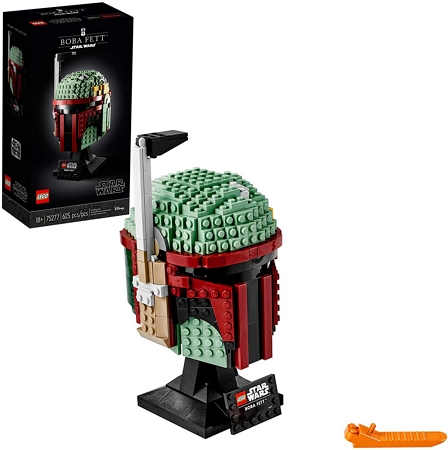 Despite being a secondary antagonist in the original trilogy, Boba Fett still was able to garner the attention and respect of many viewers. Decades after his appearance, he receives the spotlight he deserves with his own TV show, The Book of Boba Fett.
Although the show caused a division between Star Wars fans, true fans of Boba Fett will still admire their favorite bounty hunter and appreciate this Boba Fett LEGO gift.
5. Blue Lightsaber Floor Lamp

Light up any dark room with this blue lightsaber, which is the same color as that of Obi-Wan, Anakin, and Luke.
This impressive lightsaber, which stands five feet tall, is perfect for any room where you want to impress guests.
6. Mos Eisley T-Shirt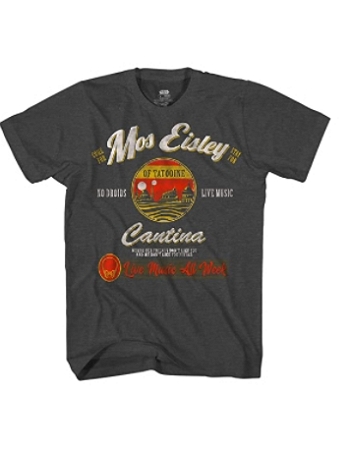 If you want to be on the safe side of things, you can't go wrong with giving a gift like this Mos Eisley t-shirt. Every Star Wars fan knows Mos Eisley is the spaceport in the desert planet Tattooine that links the entire galaxy to most canon Star Wars stories.
7. R2-D2 Tie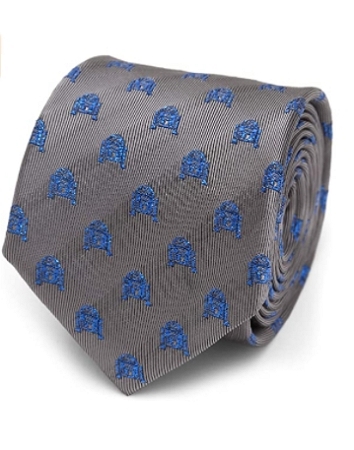 Allow your recipient to make a fashion statement at work while being proud of being a Star Wars geek with this R2-D2 tie. It's not too flashy, but anyone who's seen Star Wars can immediately recognize the small icons on the tie.
8. Star Wars Baby Yoda Beanie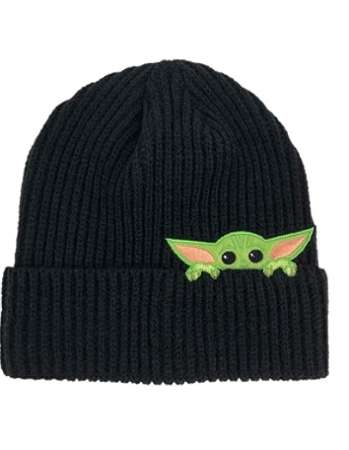 Just like the Mandalorian, wherever your giftee goes, the Child goes with this simple beanie. This cap is made of breathable polyester, perfect for just any season, and because of the adjustable strap it's a one-size-fits-all, so you don't need to worry about getting the size right.
8 Star Wars Gifts for Dads
9. May the Forties Be with You Tumbler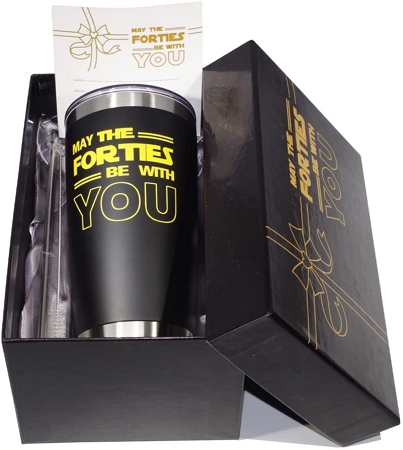 Dads who are in their 40s and 50s must've seen the original (dare I say best) trilogy in the theatres when they were young.
Remind them of the good ol' days by giving them this tumbler, which will evoke a sense of nostalgia for their childhood memories.
10. The Best Dad in the Galaxy T-Shirt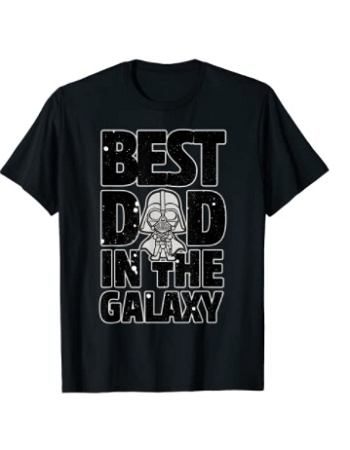 We're at a point when pretty much everyone knows the scene where Darth Vader reveals that he's Luke's dad, even those who haven't watched it.
If you didn't know about it, then now you know (oops, spoiler alert!). Here's a t-shirt for all the best dads in the galaxy out there.
11. The Mandalorian & The Child Socks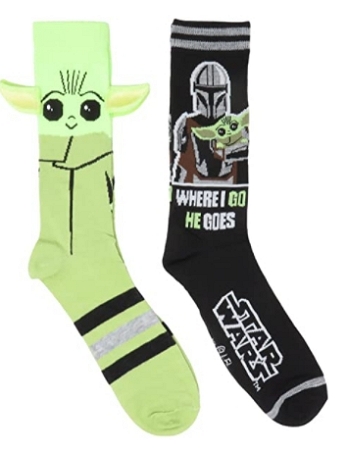 Here's a pair of matching socks, a great baby shower gift for dads and their newborns. Fans know that the Mandalorian would do anything just to make sure that the Child is safe, and I think that their bond is reflected in these socks that your recipient and their kids will wear.
12. Stormtrooper Liquor Decanter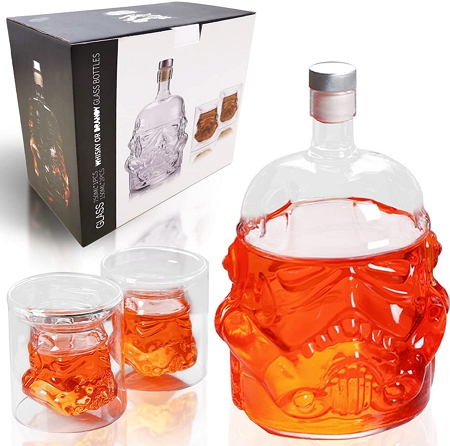 Those who enjoy rewatching the trilogies with a glass of their favorite spirit will appreciate this Stormtrooper decanter. This 25oz decanter comes with a pair of glasses with the same design, making it a perfect set when drinking with your giftee's buddies.
13. Death Star Ice Ball Mold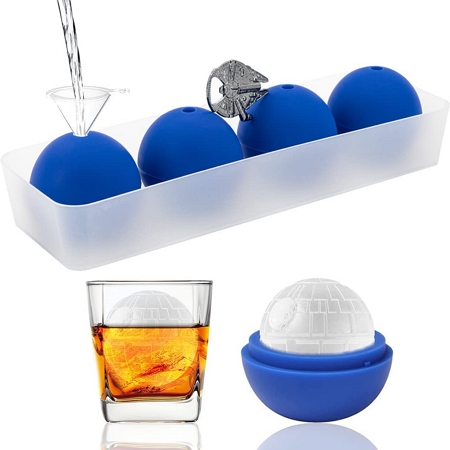 Why mold ice with an ordinary ball shape when your giftee can mold it in the shape of a Death Star?
This Death Star ice cube mold, which comes in four pieces, is made of flexible food-grade silicone that makes ice easy to remove.
14. Darth Vader Slippers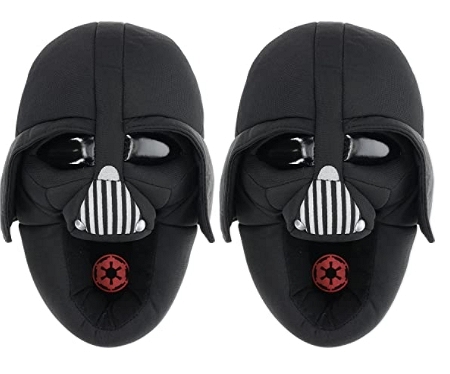 There's no doubt that your recipient will hear the Darth Vader soundtrack every time they walk around the house with these Darth Vader slippers.
It will make them feel like they're walking around an Imperial Star Destroyer.
15. Chewbacca Seatbelt Strap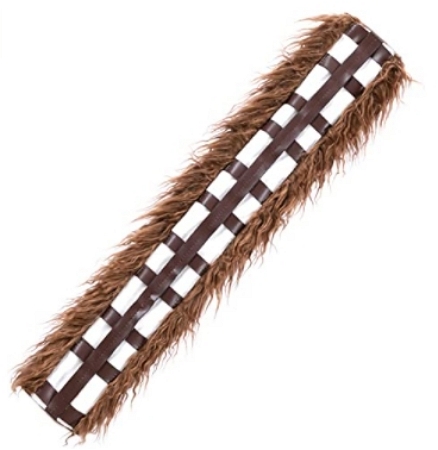 Fans of Chewie can't miss out on this strap that will make them feel like they're on an adventure with his best friend, Han Solo.
The furry strap can easily be installed through a piece of velcro, and can be used not only on the seatbelt of cars but can also be attached to any shoulder bag.
16. LEGO Luke Skywalker's Helmet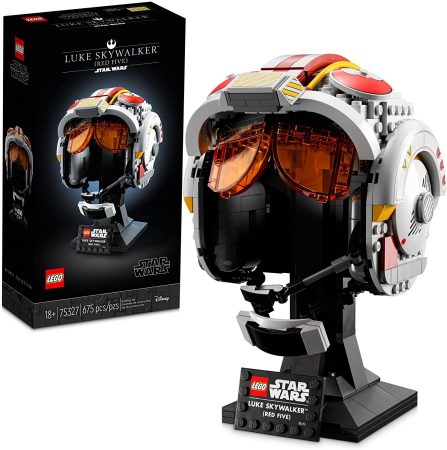 Dads who watched the original films must've also dreamt of piloting an X-Wing just like Luke did in Episode IV. But safety must come before all, so a helmet like this one is a must for any pilot.
Displaying this LEGO Luke Skywalker helmet and being able to proudly say that you were in the theatres when A New Hope was first released is everything for a dad who's a fan of Star Wars.
8 Star Wars Gifts for Him
17. Star Wars Water Bottle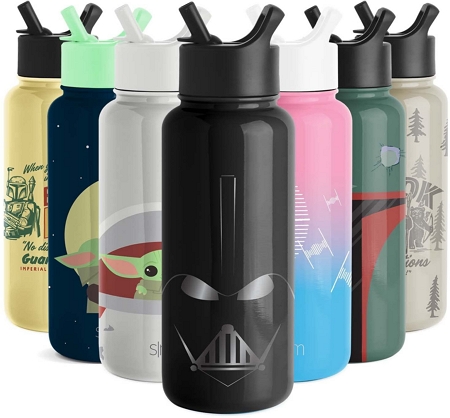 Your recipient won't ever forget to hydrate whenever they see their favorite Star Wars water bottle.
It's made of food-grade stainless steel plus the double insulation on this water bottle keeps beverages hot or cold for longer.
18. The Mandalorian & The Child Tee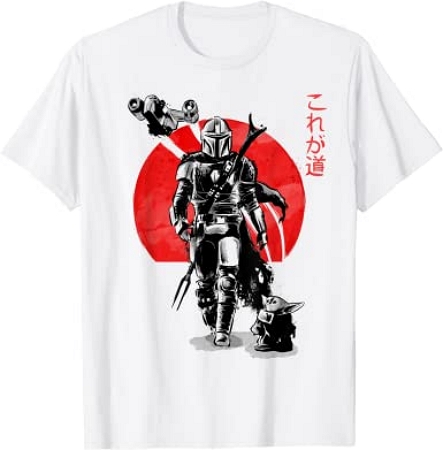 A simple t-shirt like this Mandalorian and Child will be appreciated by any fan of the TV show. The design has a very Japanese vibe, with the red sun on the background and the symbols on the side.
19. Old Rebel Logo Hoodie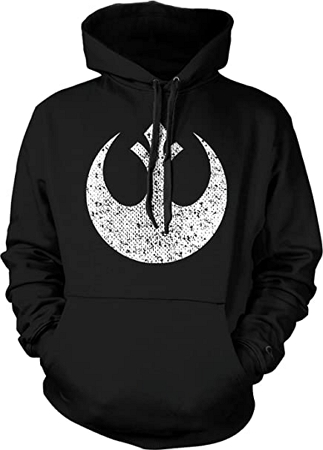 Here's another great clothing gift for those looking for a general Star Wars gift for men. The design of the hoodie is straightforward and you can choose between 20 different colors and styles, including tie-dye ones.
20. 3D Darth Vader Pop-Up Valentine's Card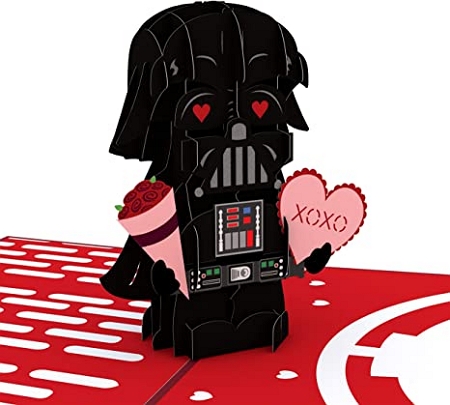 Is Valentine's day coming up and you're looking for a cute Star Wars card for your man? Look no further, because I'm sure this 3D Darth Vader pop-up Valentine's card will make their day.
21. Death Star Speakers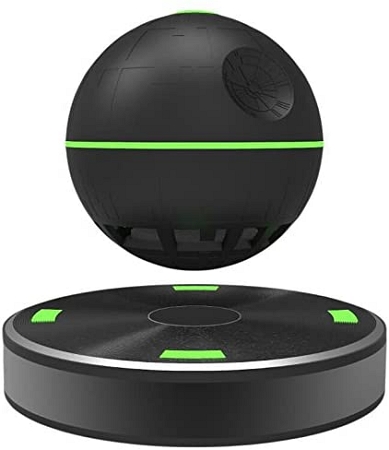 Enhance your giftee's Star Wars viewing experience by giving a Death Star Bluetooth speaker. There's nothing more satisfying than connecting your TV screen or laptop to a floating Death Star.
22. Mandalorian Smartwatch Strap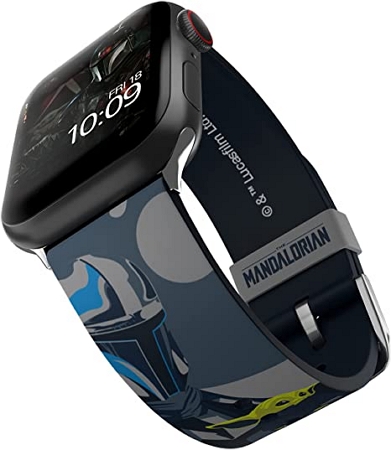 Anyone who is a fan of the Mandalorian and who's always on the go like the bounty hunter can always look at this Mandalorian smartwatch strap to give them a boost of inspiration.
The material is made of sweat- and UV-resistant silicone that's tough yet comfortable for wear, making it perfect for joggers.
23. Boba Fett Ring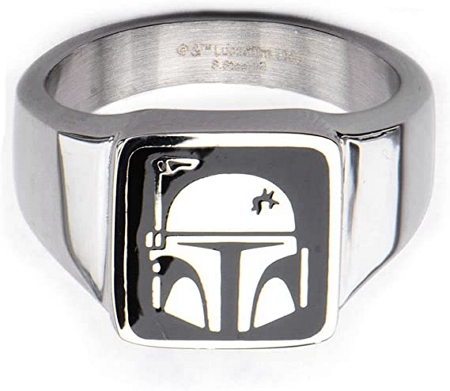 Here's another accessory for all the Boba Fett fans out there. Tell your giftee that this ring is made of pure beskar, which is a fictional material that can match the force of a lightsaber.
24. The Mandalorian Darksaber Lamp

If your recipients prefer a more unique style of the lightsaber, here's a Darksaber, which emits a dark light as opposed to the bright ones that typical lightsabers do.
This Darksaber desk lamp measures 24 inches tall and requires no battery since it is powered through a USB cable, which is included.
7 Cool Star Wars Gift Ideas
25. Star Wars Lamps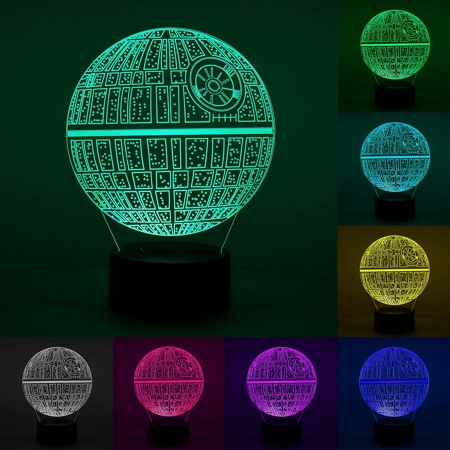 These Star Wars lamps are quite in high demand for fans, and for good reason! Just watching a glowing Death Star, R2-D2, or Millennium Falcon in the dark can feel satisfying and even therapeutic for some fans.
26. Star Wars Silicone Ice Tray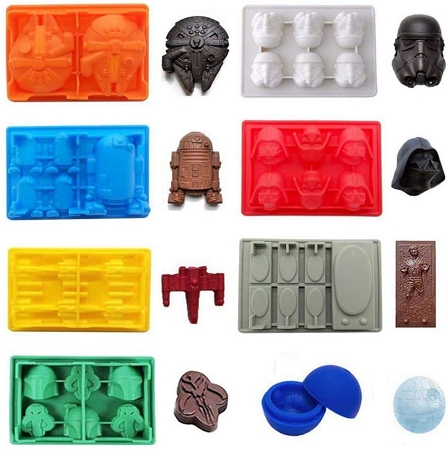 Do you know someone who loves to mold chocolates and is also a Star Wars fan? This Star Wars silicone ice tray is the perfect gift option for them.
There are plenty of designs to choose from. My favorite one has to be the mold of Han Solo frozen in carbonite, which is fitting when freezing ice cubes.
27. Darth Vader Bottle Opener Set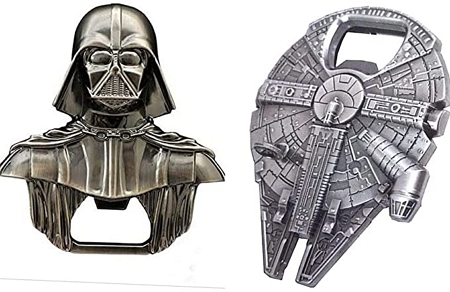 Crack open a cold one with style with these Darth Vader and Millennium bottle openers. The lightweight aspect makes it portable for any camping trip or tailgate party with friends and family.
28. Yoda Toilet Paper Gag Gift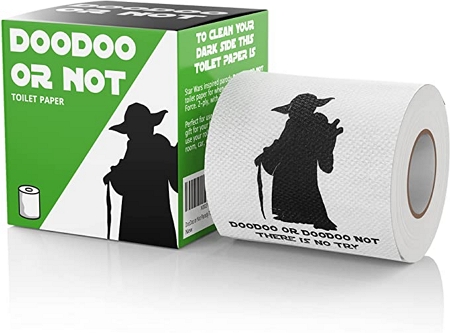 Here's the ultimate gag gift for the Star Wars fan in your life. For those who don't know, there was a scene in Empire Strikes Back where Master Yoda instructs Luke to "do or do not, there is no try."
The description of the toilet paper makes it even more hilarious since it says that it's to clean your "dark side".
29. Lightsaber Chopsticks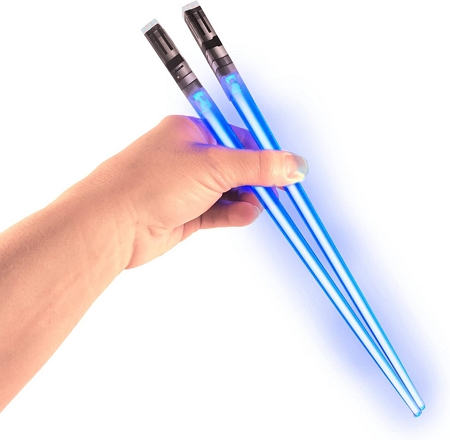 Get your recipient some cool lightsaber chopsticks that are perfectly safe to wield some noodles with. These lightsabers light up like the true ones and come with batteries included.
30. Millennium Falcon Multifunction Tool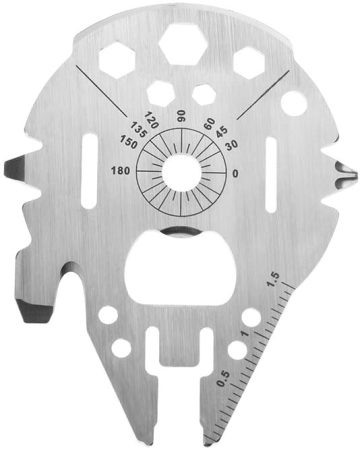 Star Wars fans who happen to love making DIY stuff will enjoy this multipurpose tool shaped like the Millennium Falcon. This small gadget can easily fit in any bag and have eight different uses, including a ruler, protractor, screwdriver, wrench, bottle opener, and more.
31. Boba Fett Gaming Controller Holder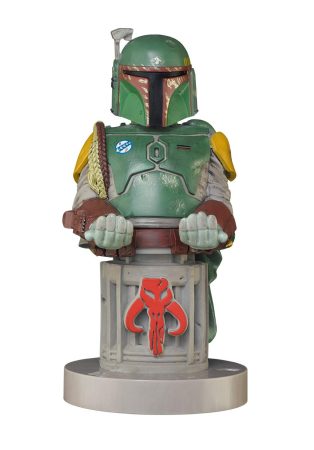 Gamers who just leave their controllers lying around deserve to receive a gift like this Boba Fett controller holder. It's stylish and functional at the same time, perfect as a decoration and a utility item.
Star Wars Gifts Any Man Will Appreciate
May the Force be with you and hopefully, you found the best Star Wars gifts for men from the galaxy.
For other gifts, don't forget to look at our other posts: