The Office is an award-winning show that ran for nine seasons from 2005-2013. Some watched it growing up, others watched it to relax after a long week at work, while for others, watching it became a bonding activity with the family.
In its long run, fans of the show grew attached to the characters, so it was sad when they decided to end this iconic mockumentary.
Hopefully, these gifts will be able to make up for it. Read on to find the coolest The Office gifts that you can give to your coworkers, friends, partner, and more.
12 The Office Themed Gifts
1. Dunder Mifflin Scranton Branch Construction Set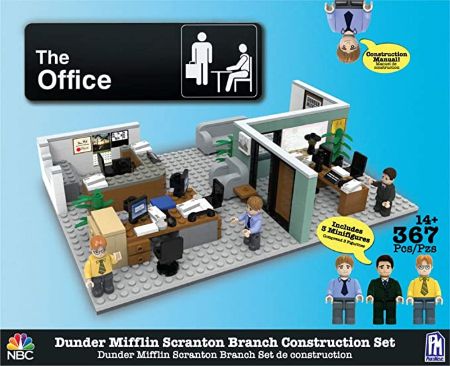 Tour the Dunder Mifflin Paper Company (aka the coolest office ever) with this construction set. It even includes our favorite coworkers like Jim, Dwight, and Michael.
From Pam's art to the table and computer placements, this gift gives a true-to-life depiction of the set.
2. Fisher-Price Little People Collector The Office Figure Set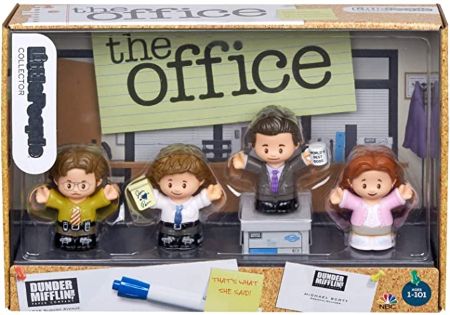 The Office fan in your life won't be able to get enough of this adorable figure set. It comes with all four of the lovable characters from the series like Jim with his "Jim hearts Pam" pad and, of course, Michael with his "World's Best Boss" mug.
3. The Office Jigsaw Puzzle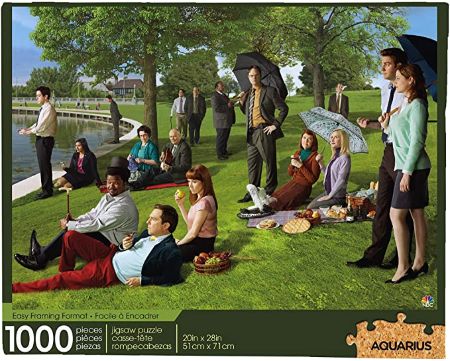 Look forward to spending Sunday afternoon chilling and completing this 1000 piece puzzle set. Join the cast of the Office as they spend a fun picnic together under the sun.
Ready for more challenging puzzles? Click here for more gifts for puzzle lovers.
4. The Office Sign

Why not go for this The Office sign? It's great merch that can be displayed in their room, man cave, or even…their office. Any fan will love this brilliant gift!
5. "It Is Your Birthday" Party Set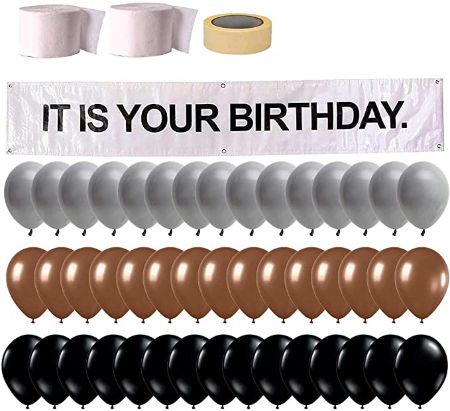 Remember the iconic scene where Dwight and Jim were in charge of the party planning committee for Kelly's birthday? I'll bet it's one of your favorite scenes as well.
Recreate the hilarious set-up for the biggest The Office fan in your life with this party set.
6. Schrute Farms Sweatshirt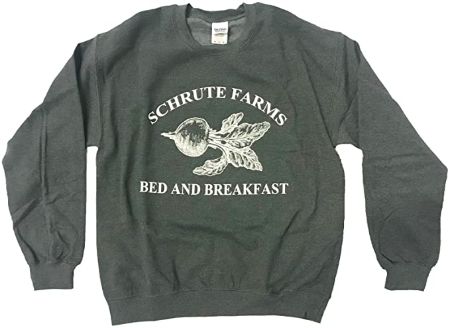 Be a proud member of the Schrute Farms family by wearing this sweatshirt. With all the unique traditions, applaudable skills, and steadfast loyalty the family prides itself on having, no wonder a lot of fans are fascinated with the Schrutes.
7. That's What She Said Mug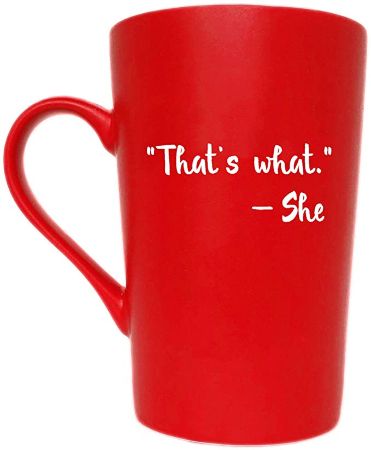 For the prankster of the group who always tries their best to make everyone smile (like Michael), this mug will be an excellent gift.
Brownie points if their favorite character is Michael since it's his annoyingly hilarious catchphrase. Here's Michael saying it on repeat for your enjoyment.
8. The Office Bamboo Coasters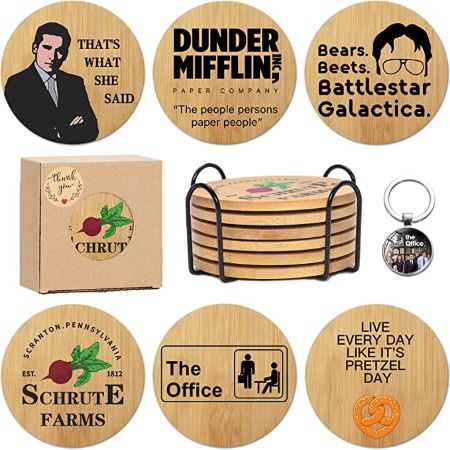 Looking for the best housewarming present for a fan of The Office? These bamboo coasters are an excellent choice. The set contains six durable coasters featuring iconic lines, characters, and symbols from the show.
9. What Do You Meme? The Office Edition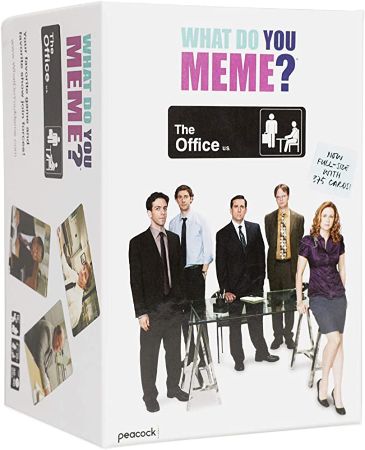 Prepare yourself because it's going to be a wild and exciting night. Enjoy a fun game night with coworkers, friends, or fellow The Office stans with this What Do You Meme party game.
The game set comes with 300 caption cards, 75 photo cards, and an easel.
10. Darryl Funko Pocket Pop! Keychain

Is your recipient like Darryl who's funny and chill? They'll love this mini Funko Pop that they can carry anywhere they go.
Why choose one when you can have them all? Here's the Jim, Dwight, and Kevin Funko Pocket Pops to complete the collection.
11. Motivational Quote Frame Wall Art Decor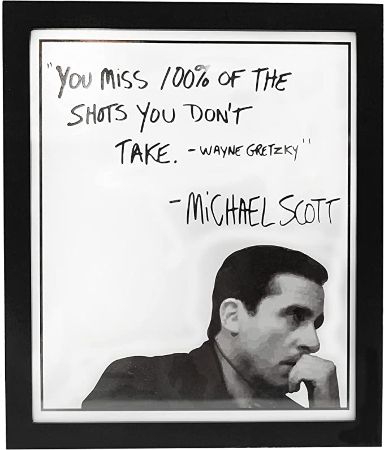 Motivate the biggest The Office fan in your life to take some chances in life with these inspiring words by the Great Michael Scott. Since it comes with a frame, you won't have to worry about the presentation and protection of the present.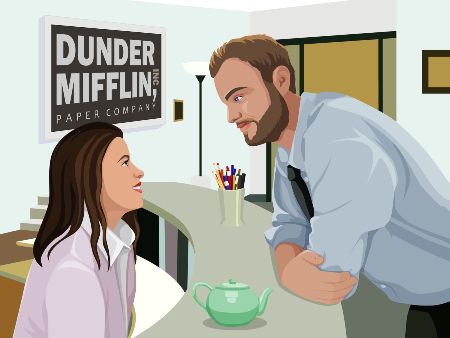 Make your gift extra special by giving this customizable portrait inspired by their favorite TV show. After all, if you're lucky enough to find the Pam to your Jim, the Angela to your Dwight, or Kelly to your Ryan, then you need to give them the best gift ever.
5 The Office Gifts for Him
13. Michael Scott and Dwight Schrute Action Figures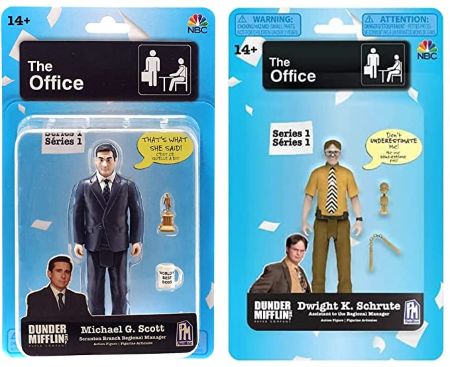 For your loyal and trusted partner in crime, get these matching Michael and Dwight action figures.
Each figure even has its own accessories. The Michael figure comes with his famous mug and the Dundie Award while the Dwight figure includes his nunchucks and bobblehead.
14. Dunder Mifflin Logo Hat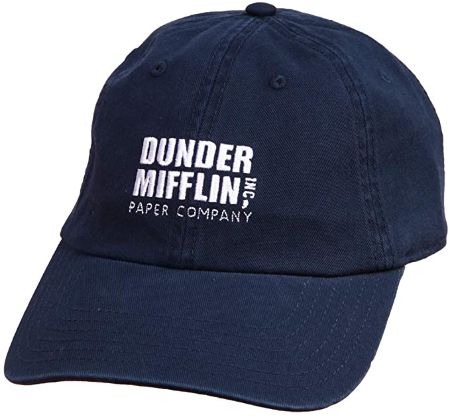 With this Dunder Mifflin hat, they'll feel like they're part of the warehouse crew together with Darryl, Roy, and Val. This hat is also made with high-quality materials and is official The Office merch.
15. Dwight Bobblehead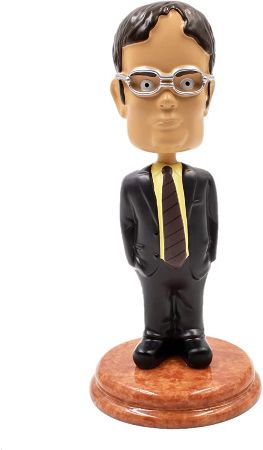 I don't know about you, but the scene where Angela gave Dwight his own bobblehead melted my heart (Dwight and Angela FTW!). Show your appreciation to a fan of The Office by giving them this Dwight bobblehead.
16. Kevin's Famous Chili Dress Socks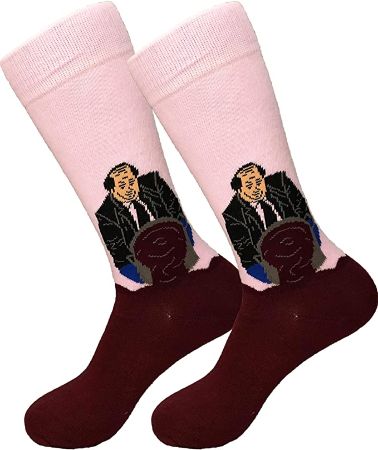 One of the most underrated but can't-breathe-from-all-the-laughing hilarious characters from The Office is Kevin. And one of his most iconic scenes? When he drops his famous chili.
If your recipient has good taste when it comes to choosing their favorite character and chili, then these socks will be a hit.
17. "That's What She Said" Button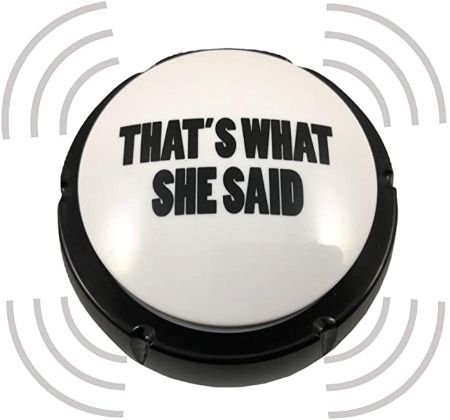 Is your recipient's answer to everything Michael's infamous catchphrase? Make their life easier by giving them this button. It will do the job for them with the press of a button.
5 The Office Gifts for Her
18. World's Best Boss Ceramic Mug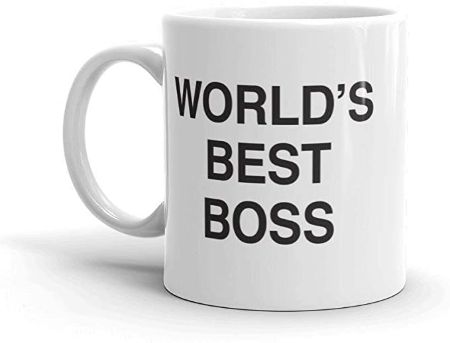 Here's the best gift to give your boss for her birthday or the holidays. It may be a simple gift but the message will be crystal clear —  that you've got the best boss ever!
19. Pam Beesly Funko Pop!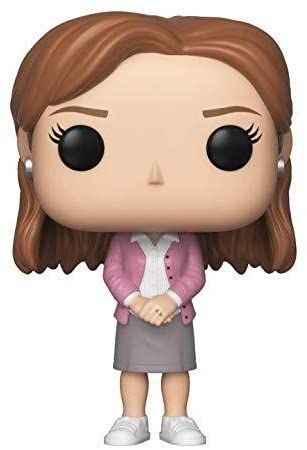 For your friend who has a gentle soul and a passionate heart like Pam Beesly, this Funko Pop will be a great gift for her. This will also be a perfect gift to a big fan of The Office who's an artist or receptionist.
20. Dunder Mifflin Paper Company Beanie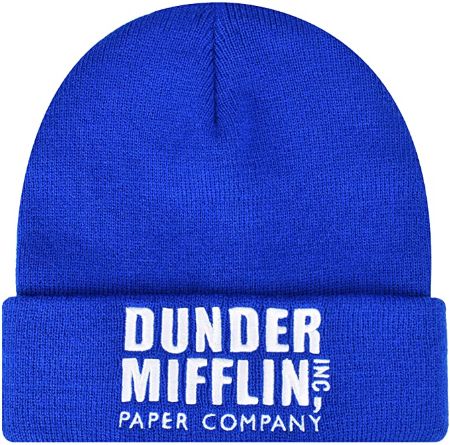 Keep them warm and cozy during the winter with this cool The Office beanie.
Not sure what size fits her best? Don't worry since this is a one-size-fits-most hat.
21. Prison Mike Flip Sequin Pillow Cover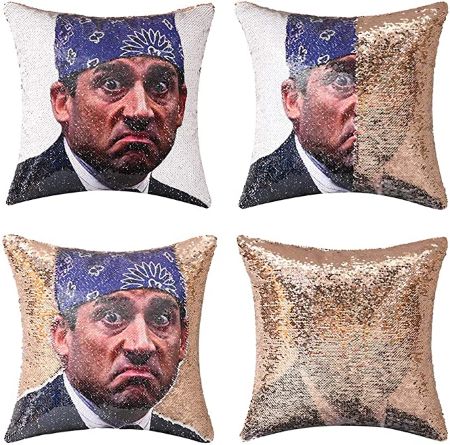 Prison Mike is in the house!
With this sequin pillow cover, there will always be a surprise waiting for their guests.
Even if they're not familiar with The Office, this sequin pillow cover will get them interested to start binge-watching it (because if this is hilarious, then the show will be 100x funnier).
22. The Office Alphabet Tote Bag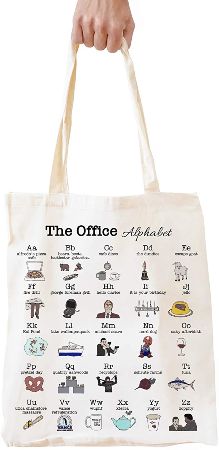 The Office has its own alphabet and it's nothing less than hilarious. Give this The Office tote bag to your recipient for a practical gift that she will be able to use every day.
5 The Office Fun Gifts
23. Schrute Buck Birthday Card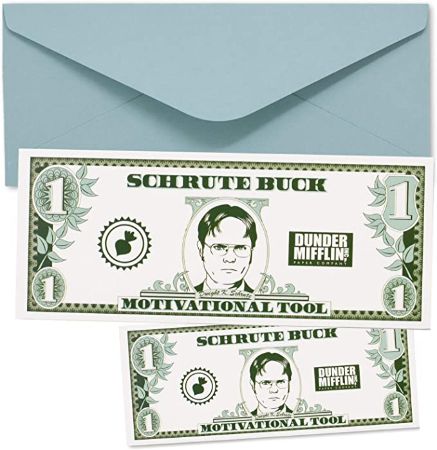 Does your friend or coworker deserve a reward? This Schrute Buck will be priceless.
It may be valued at 0.0001 U.S. Dollars, but it sure is worth it!
24. The Office Character Shot Glass Drinking Game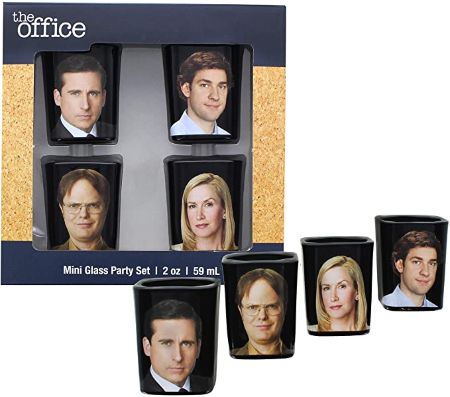 Binge-watching The Office will be more fun and exciting when it's watched with friends…and alcohol. This gift will make it more interesting because it adds thrill to each episode.
Rules include taking a shot whenever Angela gets annoyed 0r whenever Jim looks at the camera.
25. Michael Scott Cardboard Cutout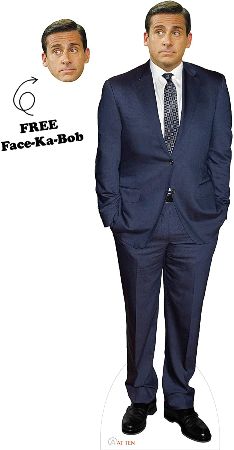 We all miss Michael and the show wasn't the same without him. With this Michael Scott cutout, your recipient will never have to live in a world without a Michael Scott ever again.
26. The Office Car Sunshade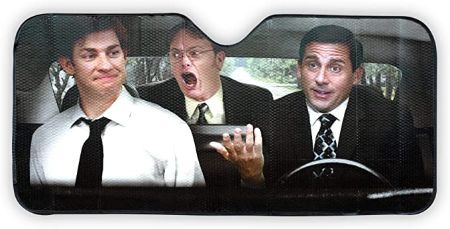 Add this sunshade for added protection and coolness to their car. Any The Office fan will love to have the magic trio in their car (even if it's just on their windshield).
27. "My Heart Beets for You" Keychain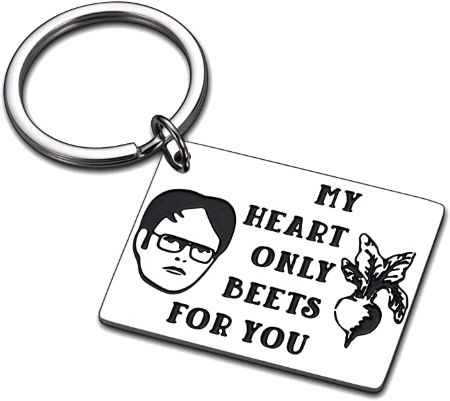 Your recipient will feel butterflies in their stomach once they receive this Dwight keychain. If you're like Dwight who's not great with romantic gestures, but has a loyal and pure heart, then this present is the perfect pick.
The Office Gifts for Everyone
We all miss watching Michael, Dwight, Jim, Pam, and all the other employees of the Dunder Mifflin Paper Company, but all good things (or shows in this case) must come to an end. Relive the magical, funny, and memorable scenes with these The Office gifts.
Get more awesome gift ideas for your coworkers from these other gift lists:
Do you think The Office should have a reunion? Who are you looking forward to seeing the most? I'd love to hear your thoughts in the comments below.