Time flies so fast when you're having the time of your life. One moment you're in front of the church with your significant other and the next thing you know you're already looking for a 27th anniversary gift.
It's nice to show your appreciate for your partner who stuck with you throughout all the hardships, joys, and sadness you've encountered in your marriage life.
Here are the best 27 year anniversary gifts that will make you relive the past, enjoy the present, and look forward to the future.
7 Traditional and Modern 27 Year Anniversary Gifts: Sculptures
Both traditional and modern 27 year anniversary gifts are represented by sculptures. Below are different sculptures that will immortalize this significant occasion in your life.
1. Man Lifting Woman from Ledge Bronze Sculpture

This is a great sculpture if your partner is always willing to lend a helping hand in times of trouble. It's also a great symbolism of how they've saved and helped you grow into the awesome person you are today.
Get this piece if you want something unique that will also be an instant conversation starter.
2. Thinking Man Wooden Sculpture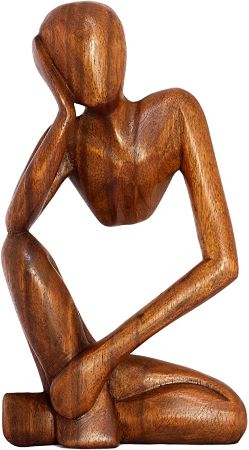 Can't imagine life without the love of your life? This wooden sculpture knows exactly what you feel.
The Thinking Man sculpture is handcrafted and made from the finest wood. Choose from the two colors available: black and brown.
3. Affectionate Couple Resin Sculpture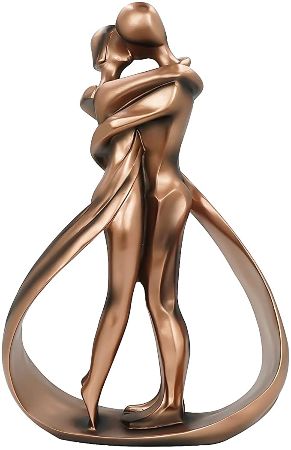 Keeping the love alive is a challenging task for most couples—but not for you guys!
27 years have passed and you both still look at each other the same way when you first laid eyes on each other. This sculpture will be a great gift to represent your undying love and passion for your SO.
4. Contemporary Metal Family Sculpture
Creating a family is one of the greatest things about growing old with your spouse. Seeing your children grow and become outstanding people is the best feeling in the world.
Remember the good old times with your little ones with this beautiful sculpture.
5. Silver Ceramic Sculpture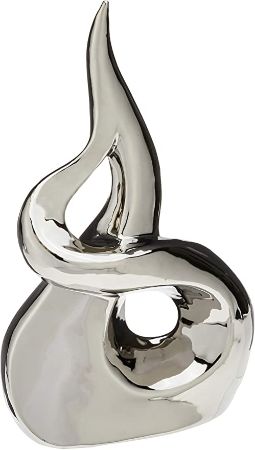 Love is a strong emotion that one can't see but can definitely feel. If you can't find the words that will perfectly describe how you feel about them, then this abstract sculpture will be the perfect gift.
6. Nautical Beach Sculpture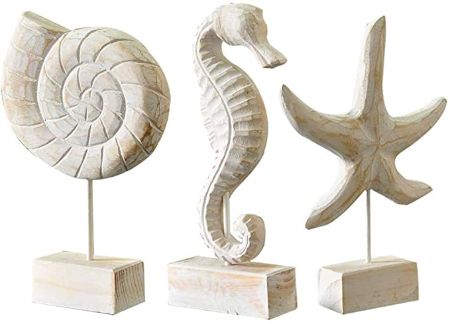 If you have fond memories of the beach as a couple, then this sculpture will be a treat.
The three-piece sculpture includes a starfish, conch, and seahorse. It will give your place a Mediterranean and peaceful vibe.
7. DIY Plaster Statue Molding Kit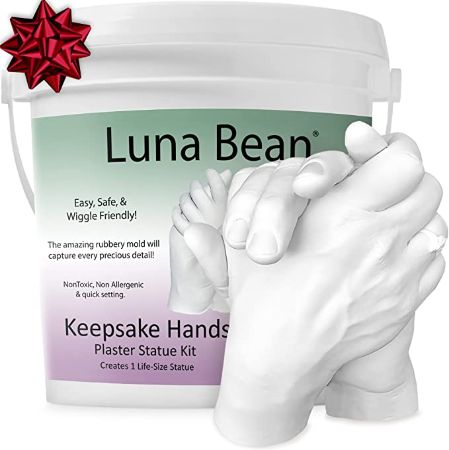 A DIY present is always a good option since it shows that you put a lot of thought and effort into your gift. Make your own sculpture using this kit to add a personalized touch to your present.
Plus, this will also be an unforgettable bonding experience for both of you.
12 Lovely 27th Anniversary Gifts for Your Wife
Treat your queen to these exceptional gifts to make her feel loved on this special day.
8. 2-in-1 Tea Kettle and Tea Maker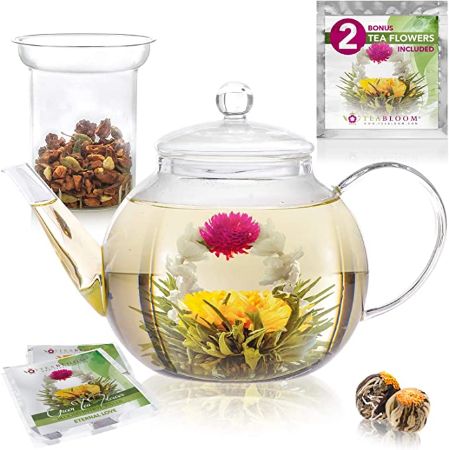 Drinking tea from this set will make her feel like a million bucks. The clear glass will allow her to see the leaves and water simmer making this an exceptional 5 senses gift as well.
9. Aromatherapy Candle and Reed Diffuser Set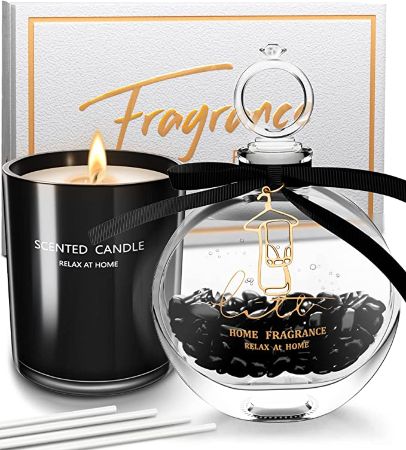 She'll look forward to coming home to unwind after a long day with this gift. This candle and diffuser set will create a peaceful and relaxing atmosphere for her while she enjoys some me time.
10. Floral Watch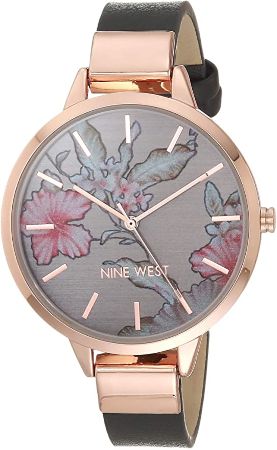 Your wife deserves nothing but the best which is why you should choose this watch. It features a crystal lens, 3d floral design, and rose gold hands and markers.
Brownie points for being water-resistant.
11. Cashmere Shawl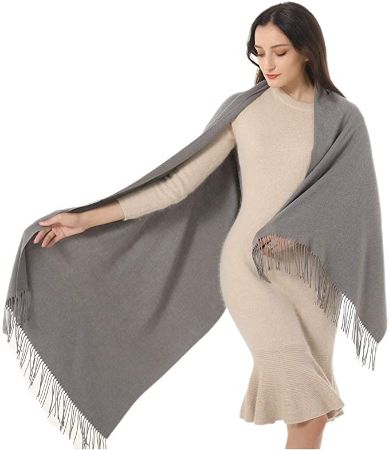 A woman can never have too many shawls since there are endless ways to style and wear them. So even if your loving wife has a ton of these, giving her this cashmere shawl will be a great move.
12. Moon Lamp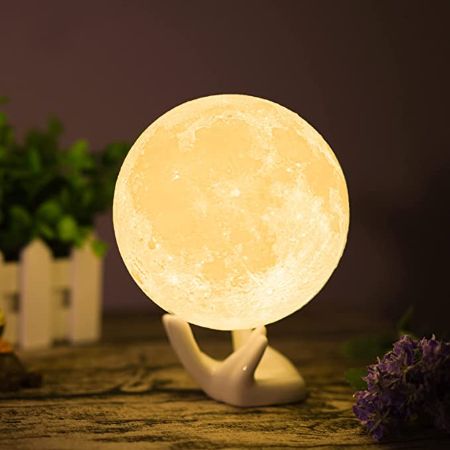 You've promised to give her the moon and all the stars in the sky when you're still dating. Fulfill your promise by giving her this beautiful moon lamp.
The rechargeable lamp has two color modes: soft yellow light and bright white light.
13. Pressed Flower Teardrop Earrings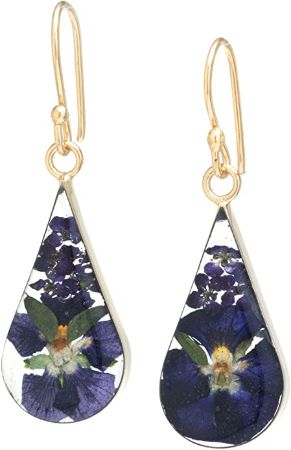 These lovely pair of earrings will have a special place not just in her jewelry box but also in her heart. They're classy and are made with 14k gold over sterling silver.
Pick from the eight available designs and colors.
14. Peacock Trinket Box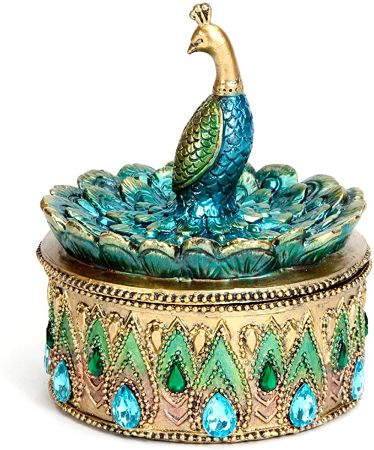 As they say, jewelry is a woman's best friend so it's important to take care of each of these precious accessories. This trinket box will hold and safeguard them against damage.
The intricate peacock fixture on this gift also makes it one-of-a-kind.
15. Owl Travel Journal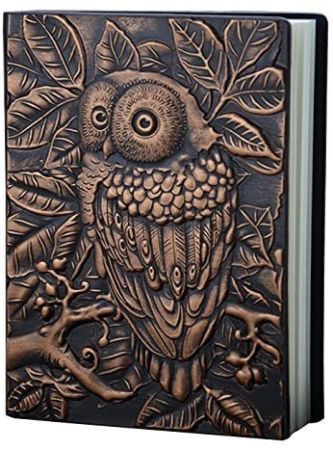 Owls are symbols of intelligence, wisdom, and intuition. Give this splendid journal to your wife who shares these attributes with owls.
16. Tapestry Cat Puzzle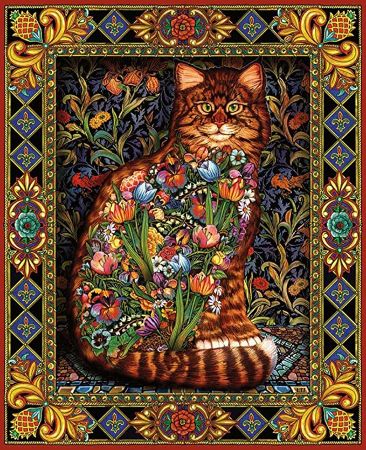 Getting this charming gift for your wife will be a hit if she loves doing puzzles and is a big cat lover. She'll have a lot of fun completing this challenging puzzle with 1000 pieces.
You'll find more amazing gifts for puzzle lovers here.
17. Buddha Statue & Succulent Zen Garden Set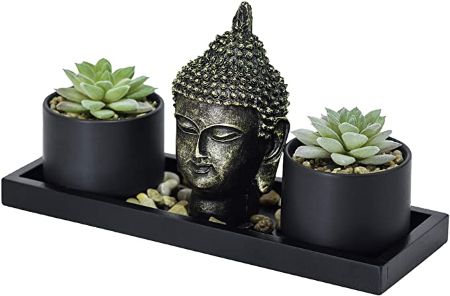 Keep her peace of mind intact all day by displaying this gorgeous zen garden set in her workspace. You won't have to search for the best plants that will be suitable for the set since it comes with artificial succulents.
18. Zen Garden Kit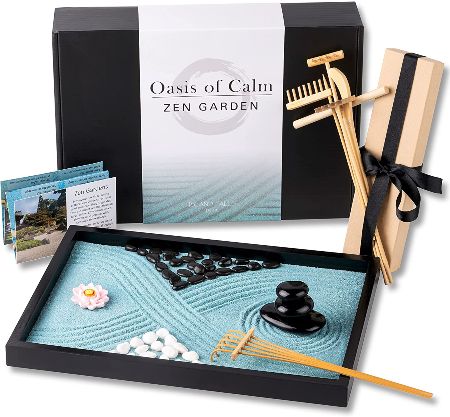 Travelling is good for the soul but going away won't be necessary to achieve inner peace with this zen garden kit. It comes with mini rocks, aqua blue sand, and tools that will be relaxing and enjoyable for your recipient.
19. Custom 3D Photo Lamp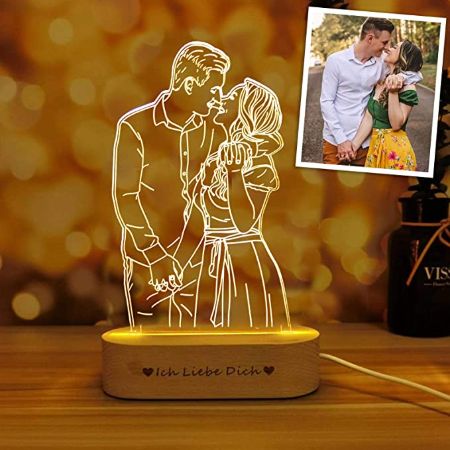 Everyday is a great day when you're together. But if you have a special memory that stands out from the rest, then immortalizing it through a photo lamp will be epic.
Just send them the photo and they'll hand draw it into something beautiful such as the sample above.
9 Interesting 27th Anniversary Gifts for Your Husband
20. Fujifilm X100V Digital Camera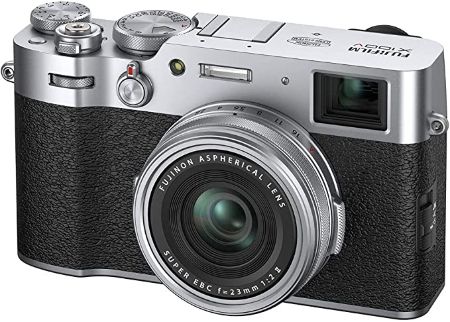 Don't forget to capture precious moments as you spend the next 27 years with the love of your life using this camera. It's a top-of-the-line gadget with its four image processor, built-in flash, and film simulation modes.
It also captures captivating 4K videos at 30 frames per second.
21. Metal Whiskey Stones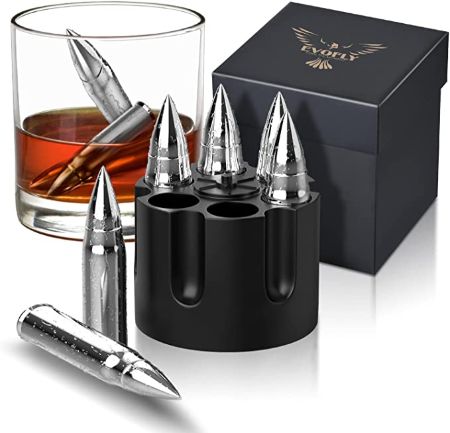 Impress his amigos by adding these metal whiskey stones in the minibar. Drinking whiskey with these stones will make it even finer.
These whiskey stones come in silver and gold.
22. Natural Himalayan Salt Block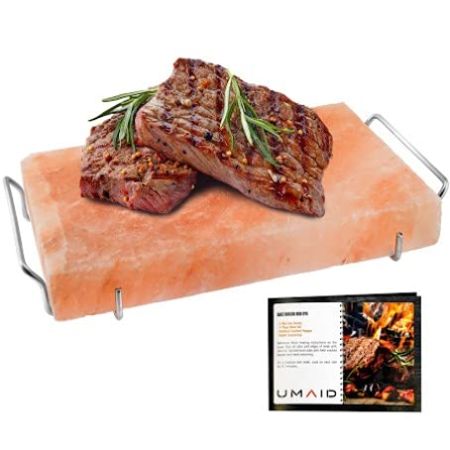 Support your husband with his dream of becoming the ultimate chef with this huge Himalayan salt block. The Himalayan salt will add flavor while also improving the presentation of his dishes. Use this for meat, fish, and vegetables.
23. Apple iPad Air 2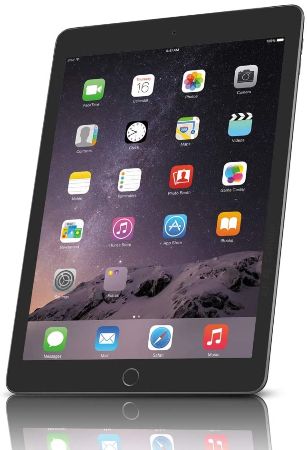 Having an iPad is like having their own library, home theater, and more at the tip of their fingertips. Upgrade to this iPad Air 2 to experience convenience like never before.
You'll get what you pay for and more with this gift.
24. Hip Flask Set

A classy flask set may be the only thing that's missing in his minibar or man cave. Complete his collection (just like how you completed his life) by getting this hip flask set for him.
25. Cillso Smart Watch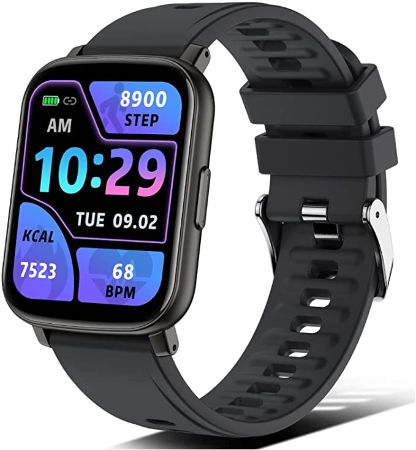 Health is wealth. Protect his health so you two can spend five more decades together with this affordable smartwatch.
It's a fitness tracker, pedometer, and sleep monitor all in one. If your man has an active lifestyle, this will be the perfect watch that will keep up with his lifestyle.
26. Massage Seat Cushion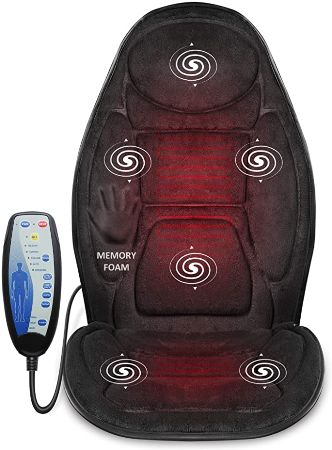 This cool massage seat cushion will give him the throne that he deserves. It's super high-tech that will cater to his every need. It's a massager, a heater, and an office chair.
What more can we ask for?
27. Scratch Off Map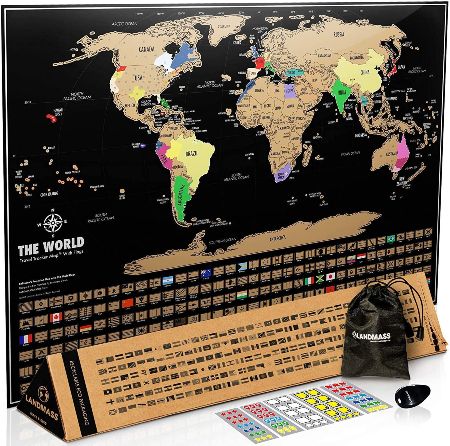 Get inspiration on where your next travels will be with this scratch-off map. It doesn't matter whether you'll end up in a tropical island, desert, or the Antarctic, as long as you're together, it's going to be epic.
28. High Power Monocular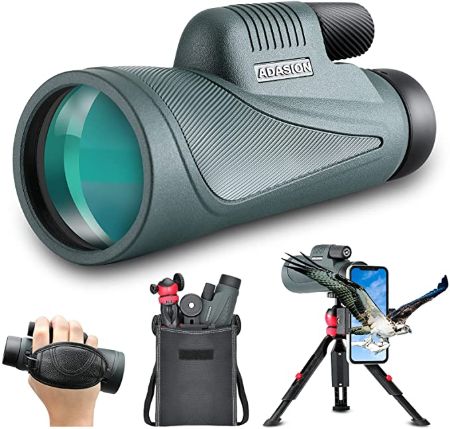 He'll see the world more clearly while doing his favorite activities such as hiking, bird watching, and star watching if he has this powerful monocular.
It's also waterproof so it's safe to bring in fun water adventures.
27 Year Anniversary Gifts for Your Special Someone
Your life partner deserves all the love and attention on your anniversary. Make them feel special as you mark this day with these awesome 27 year anniversary gifts.
Find more amazing gifts below: