Amethyst is a type of quartz with a purple hue that's famously known as the birthstone for people born in February (#AquariusRepresent!).
Aside from its perceived healing powers (such as its power to lessen anxiety and stress), amethyst is also believed to have the capability to protect its owner from drunkenness.
Whatever the reason may be that you're on the search for a special amethyst gift, this list has you covered. Read on to find the coolest amethyst gifts your recipient is guaranteed to love.
9 Amethyst Gifts
1. Amethyst Lamp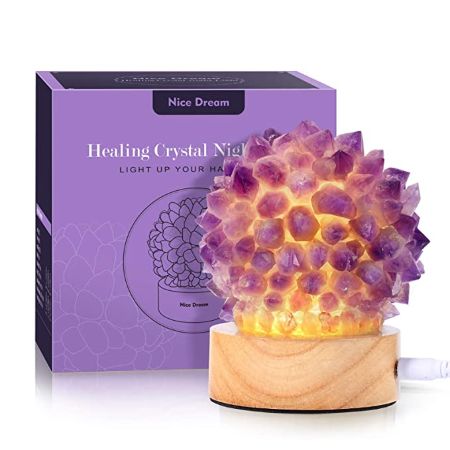 Illuminate a warm and positive light in the space of your recipient through this gorgeous amethyst lamp. Using this lamp while meditating or doing yoga will add a peaceful and relaxed atmosphere.
The wooden base of this gift will protect the crystal from scratches and will make it more durable.
2. Jewelry Box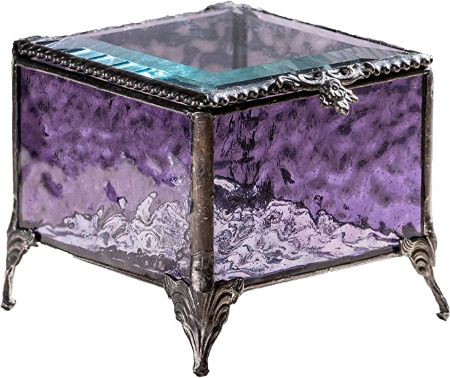 Their other precious stones and crystals deserve equally elegant and beautiful storage. Placing earrings, necklaces, and bracelets in this jewelry box will give their jewelry the VIP treatment it deserves.
3. Hand Carved Amethyst Bowl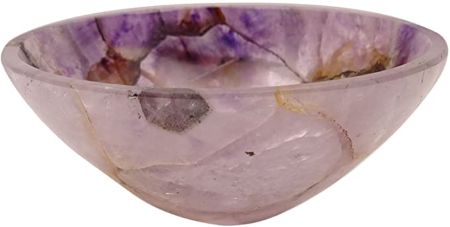 Did you know that in Ancient Greece, people created amethyst cups because they believed that it prevents intoxication?
Take advantage of amethyst's powers by using it in the kitchen or even as a display piece.
4. Amethyst Crystal Water Bottle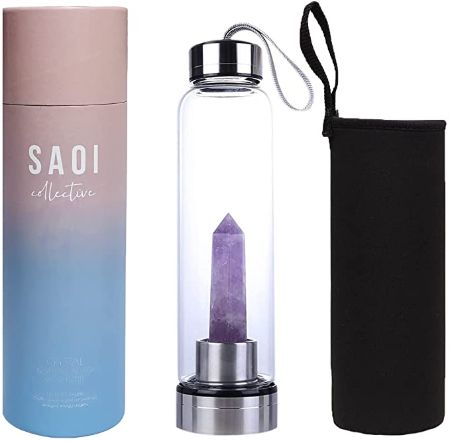 Give them a functional and aesthetically pleasing present that they can carry wherever they go.
This gift includes a black neoprene sleeve that will keep their drinks cool throughout the day (but I wouldn't blame them if they don't use it because seeing the clear or colored drinks in the tumbler makes the gift even prettier).
5. Amethyst Wind Chimes

Adding this pretty amethyst wind chime will create a welcoming ambiance in your recipient's house. The best part of this gift is the magical feeling it gives whenever the sunlight passes through the stones.
This gift is not limited to outdoor use, either.
6. Crystal and Dried Flowers Candle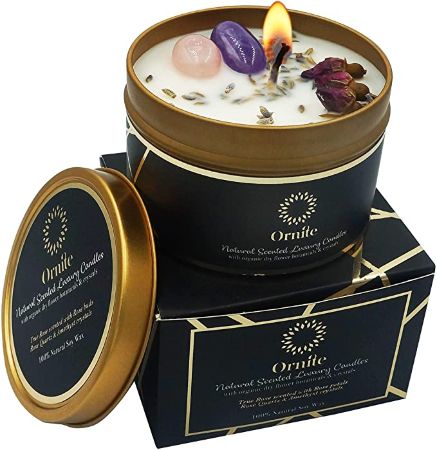 If your recipient collects scented candles and crystals, then this candle will be a great present. This slow-burning and smokeless candle will allow them to enjoy and maximize the use of it.
It's also decorated with dainty flower petals and crystals. Plus, after the wax is gone, your recipient will have a memento in the crystals left behind.
7. Amethyst Decorative Lights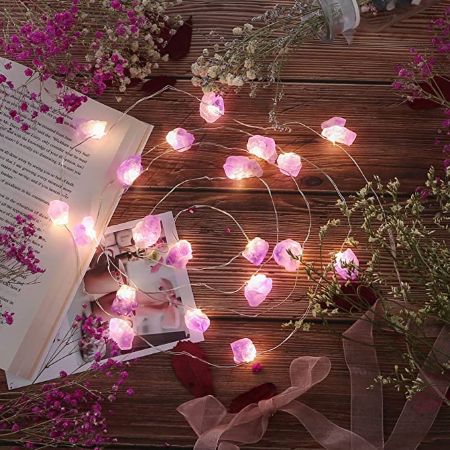 Are you planning on throwing a grand Aquarius-themed birthday party? Then these amethyst lights are a must.
Set up will be quick and easy since the amethyst stones are already strung together. The only thing left to do is to pick the best spot to hang them.
8. Crystal Wine Stopper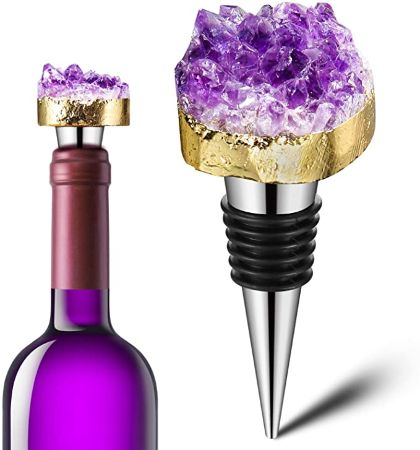 Show your appreciation to the host of the party by giving them this glamorous crystal stopper. Each stopper is special since it's handmade and the crystals have a unique shape and size.
It will be a sparkly addition to their kitchen, room, or home bar.
9. Bath and Body Works Amethyst Deluxe Gift Set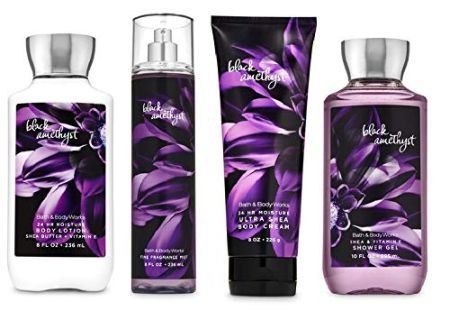 Here's another great gift choice from Bath and Body Works, especially if they're a fan of the black amethyst collection. The set includes a body cream, lotion, shower gel, and fragrance mist.
5 Amethyst Jewelry
10. Genuine Amethyst and White Topaz Bracelet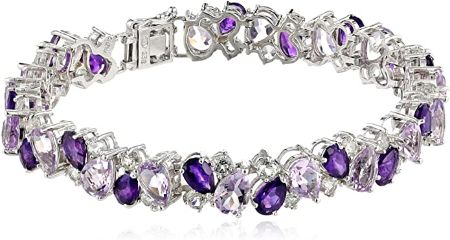 Spoil that special someone with this elegant bracelet. Filled with amethyst stones and white topaz, this bracelet will be a timeless piece of jewelry in their collection.
It's also plated with rhodium for added durability and shine.
11. Amethyst Dangle Earrings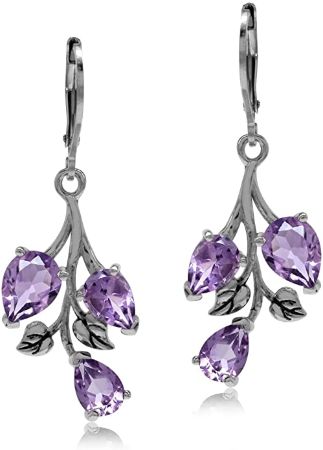 These beautiful earrings will complement their outfit and help in achieving a classy look that's perfect for any occasion — for date nights, graduations, and birthdays.
The present also comes with a satin pouch and box.
12. Amethyst Ring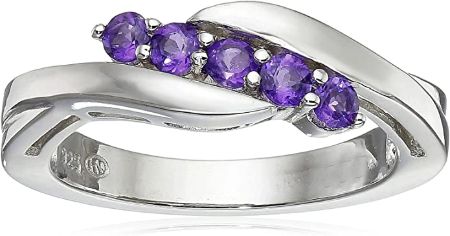 A woman can never have too much jewelry (especially rings)! They symbolize wholeness, love, eternity, and more.
Get this amethyst ring for a fancy and exquisite present that won't break the bank.
13. Angel's Wings Ring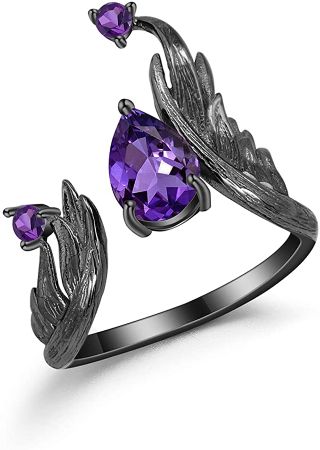 For your recipient who loves all things that are unique and rare, this Angel's wings ring is a great choice.
Aside from the cool design, another reason you should get this is because it's safe to wear. It's nickel-free, lead-free, and hypoallergenic.
14. Amethyst Jewelry Set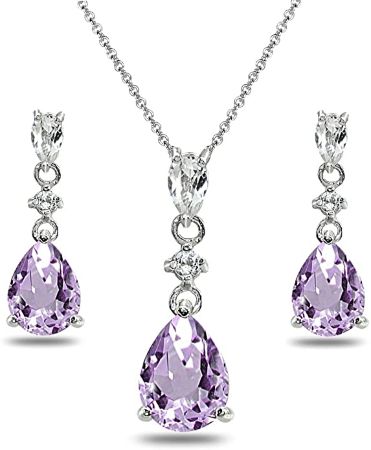 Can't decide whether to get a necklace or a pair of earrings? Here's your sign to get them both!
This beautiful amethyst and white topaz jewelry set come with pear-cut dangling earrings and a necklace.
6 Amethyst Crystal Gifts
15. Amethyst Money Tree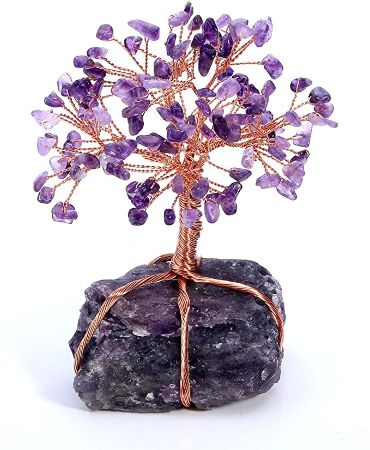 Feng Shui gives a lot of tips on how to live a life filled with love, prosperity, and peace. An amethyst money tree attracts all of those and more.
This will be a great piece to add to their space that will invite all the positivity and good in the universe.
16. Amethyst Guardian Angels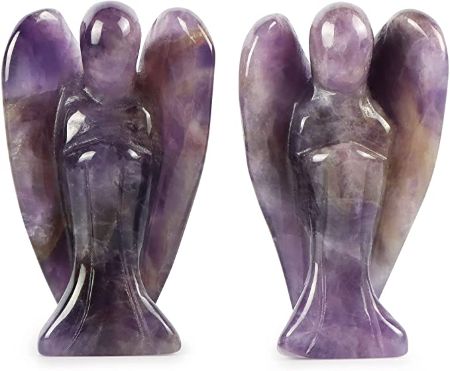 Looking for a thoughtful present that will serve as a guide in their everyday life? Get them these guardian angel amethyst figurines.
They're easy to carry (they fit in pockets) which makes it convenient when they need a moment of peace and serenity.
17. Amethyst Rock Crystal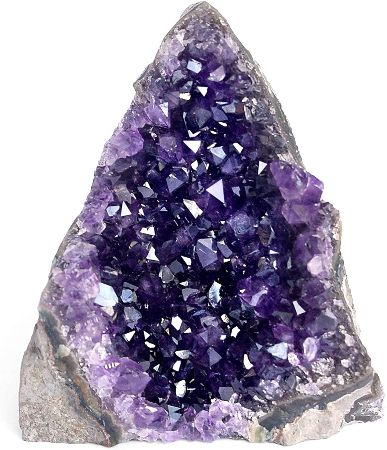 Dreaming of owning an Uruguayan amethyst but worried about the price tag? With this gift, they can have the aesthetics and benefits of the Uruguayan quartz at an affordable price.
Both stones (amethyst and basalt) are all-natural and haven't been treated or dyed.
18. Sleep Aid Crystals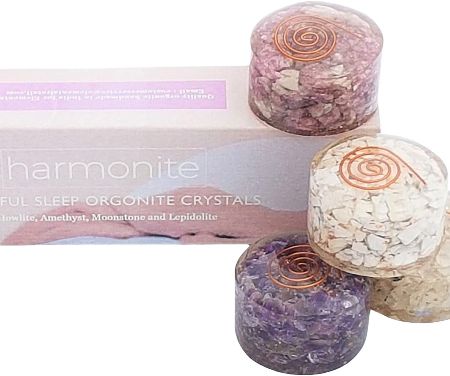 Another wonderful benefit of having an amethyst at the nightstand is its ability to induce peaceful sleep and reduce anxiety.
This gift set has four sleep aid crystals such as amethyst, moonstone, lepidolite, and howlite that will give them the best rest they've had in a long time.
19. Amethyst Crystal Hearts Set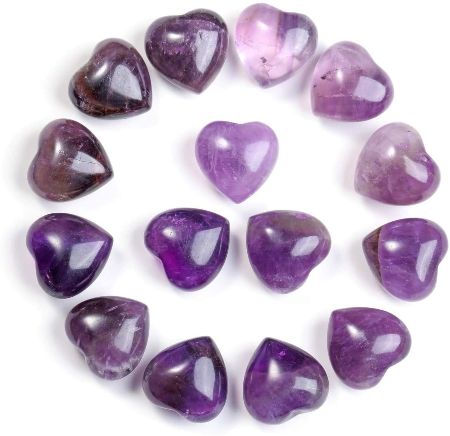 Give them these amethyst hearts to take wherever they go. These are ideal as palm stones, pocket stones, and even as decor.
Each pack contains a gift box and 15 pieces of amethyst hearts that weigh approximately 48 grams.
20. Mini Gemstone Bottles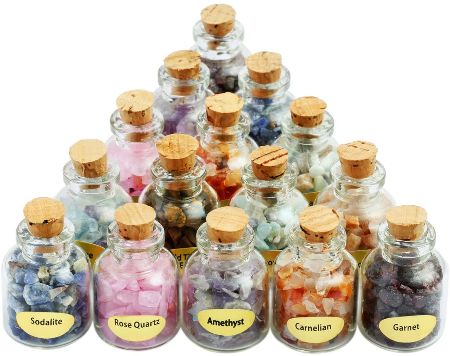 Get these mini gemstone bottles if they're new to the crystal world so they can have a little of each type. The set includes nine bottles of a combination of amethyst, rose quartz, red jasper, and more.
6 Purple Gift Ideas
21. Stainless Steel Coffee Mug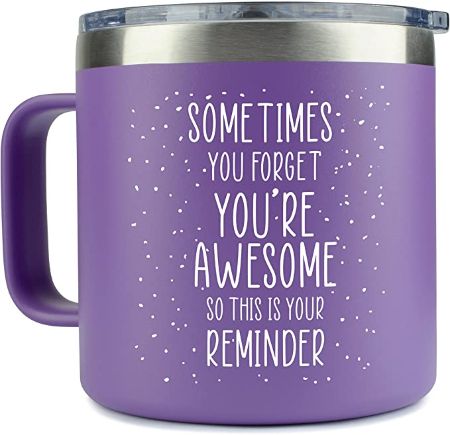 This mug will serve as a daily reminder to your recipient of how awesome, unique, and beautiful they are.
Even though your love and support are irreplaceable, whenever you're not there to cheer them up when they're down, this mug will do the trick.
22. "Please Pardon My Mood" Wine Glass

For your recipient who loves anything and everything purple (even their favorite drink), this wine glass will be a nice gift.
Plus, look at the sparkly base that's made with purple glitter and rhinestone bling. That alone should convince you that this gift is the one.
23. Bath Spa Gift Basket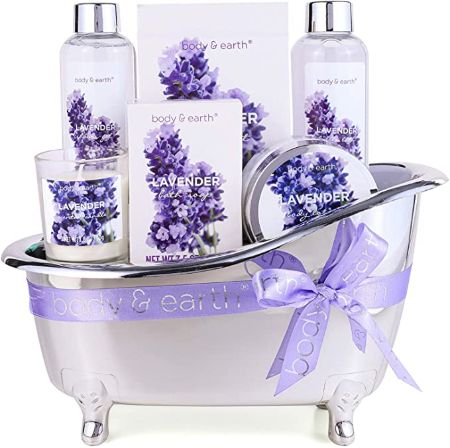 Have much-deserved and relaxing me-time with this gorgeous gift basket. It includes items that will pamper and leave their skin feeling soft and moisturized such as shower gel, bath salts, lotion, and more.
Check out this compilation of self-care gifts for more amazing gift ideas.
24. Floral Scented Bath Soap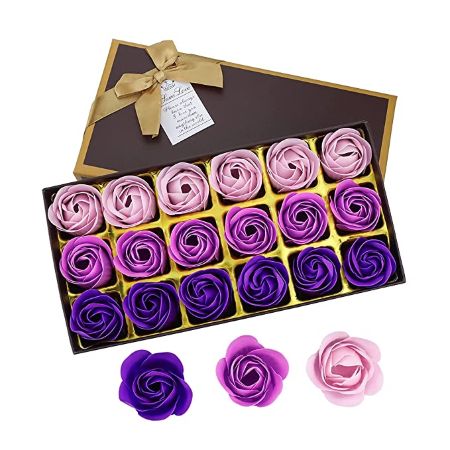 Is it a rose? Is it soap? It's a flower-shaped soap!
Add these 2-in-1 flower soaps to their bathroom to give it a more classy vibe. They smell like freshly-cut roses (without the thorns).
25. Coasters Set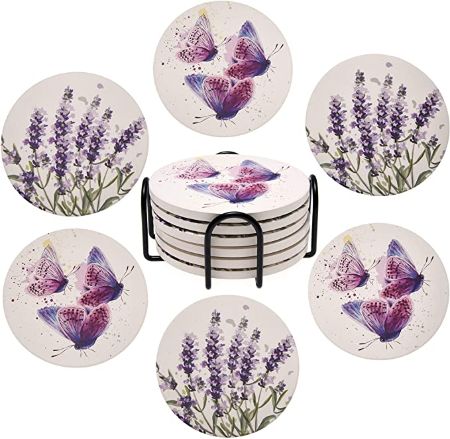 Keep their furniture free from unsightly water rings with these pretty coasters. The pack contains six uniquely designed ceramic coasters.
26. Purple Garden Toolset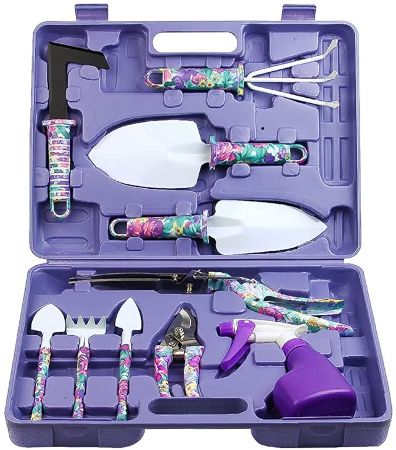 Prepare the dungarees, boots, and hats because it's time for gardening.
They'll have all the necessary tools to create a lively and beautiful garden with this toolset that includes tools such as a rake, weeder, and shears.
Amethyst Gifts for a More Peaceful and Balanced Life
Amethyst is more than just a pretty stone because it's also functional. It helps people create a more relaxed and harmonious environment that makes life more enjoyable.
Here are more thoughtful gifts to explore:
Were you able to find the perfect purple gift for your recipient? Which among these items are your top picks? I'd love to hear your thoughts in the comments below.