New England Patriots fans can be hard to buy for. They already have six championship rings. What more can they ask for?
Well, the good news is that with every championship comes awesome Patriots gifts, so if you're looking for a gift for the ultimate Patriots fan, I've got you covered.
In this article, I've compiled a list of 27 gifts for Patriots fans that includes clothing and merchandise, and much, much more.
So, without further ado, here are New England Patriots gift ideas to help you find the perfect present.
13 New England Patriots Gifts for Every Fan
1. New England Patriots Cap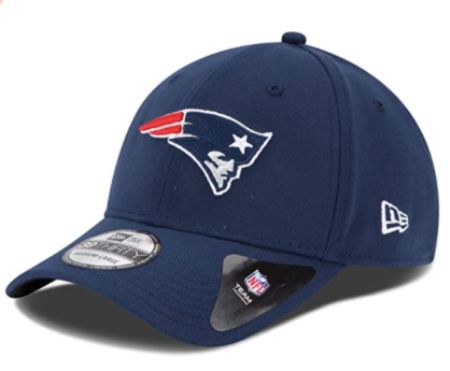 How cool is this Patriots cap? As cool as the person wearing it, of course.
This hat features a curved bill, structured crown, and an embroidered red and white Patriots logo. It's durable, washable, and made from a polyester and spandex blend so it can stay snug and keep its shape for a long time.
2. Patriots 3-Pack Onesie for Infants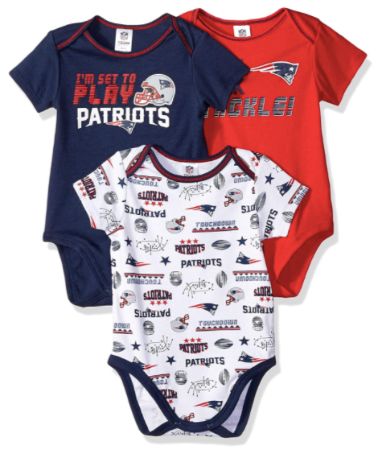 Parents usually pass on their love for their favorite sports team to their kids, and there's no shame in starting them young. Babies will look adorable in these onesies on game day. Win-win!
3. Patriots Women's Fleece Pullover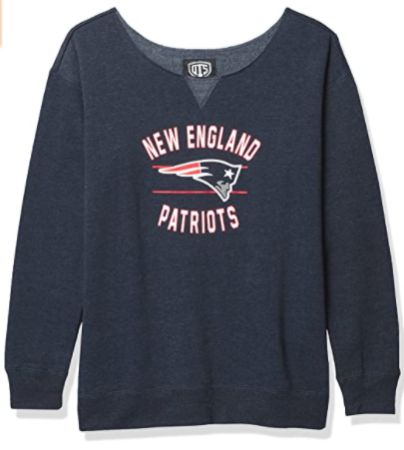 Whether she's relaxing at home or heading to a tailgate party, this fleece pullover for women is the perfect top to show some Patriots love.
This shirt is made from a cotton and polyester blend with a soft interior and ribbed details to make it more durable. The screen-printed graphics also gives it a more versatile, vintage look.
4. Patriots Crossbody Pebble Purse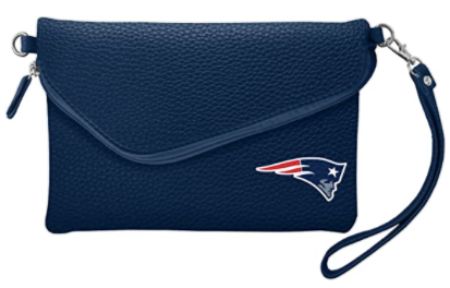 This fold-over crossbody purse brings the right amount of fashion and function while showing off her team pride. It has three interior pockets and the Patriots team logo printed on faux leather.
Plus, it has detachable straps for versatility. It can be used as a clutch for a night out or a cross body for a day of shopping.
5. Patriots Popsocket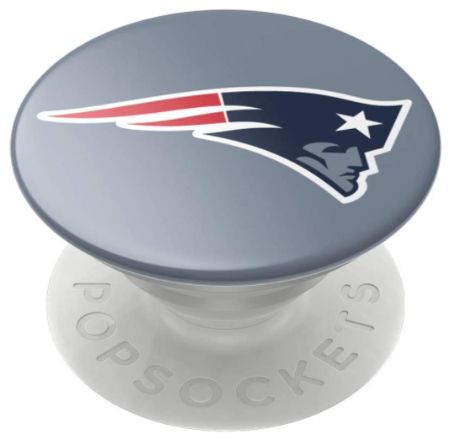 Different occasions call for different Pop Tops, and this Patriots Popsocket is no different. The PopGrip features a swappable PopTop that can be switched out for a different style after football season.
Plus, it offers a secure grip for easier texting, photo snapping, and watching videos hand-free.
6. Patriots Fleece Throw Blanket
This Patriots fleece throw blanket is perfect for celebrating their favorite team. It features a vibrant marquee print that also makes it great for hanging on walls or throwing on top of couches as a clear declaration of team pride.
7. Patriots Women's Watch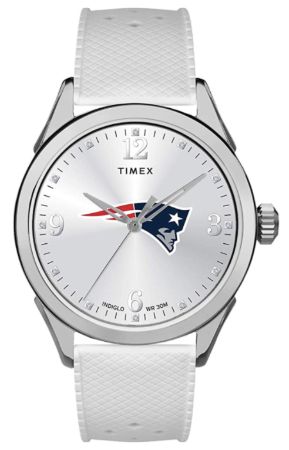 Not only does this Timex NFL Athena Women's Watch display the Patriots logo, but it's also great to look at. It has a silver dial that lights up, silicone straps, and a scratch-resistant glass face. This watch is something any Patriots fanatic would proudly wear anytime.
8. Patriots Coaster Set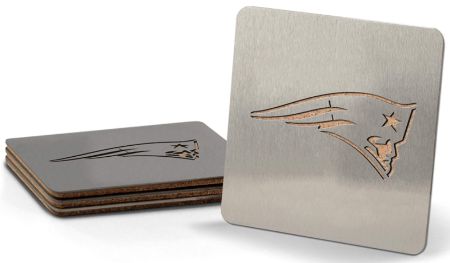 Football parties are a great way to bond with fellow sports fans and the game-day spirit usually involves cold beer. Party in style and protect wooden tables and countertops with these cool-looking stainless steel Patriots glass coasters.
Each bottom is made from quality cork that doesn't slip and slide. The Patriots logo is laser-cut with precision on a stainless steel plate.
9. Patriots Glass Ball Ornament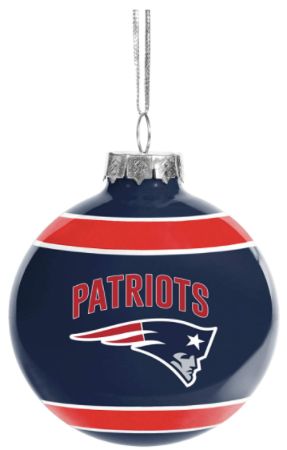 Another great gift for patriots fans is this beautifully made glass ball ornament that features the Patriots logo, the team colors, and has a silver accent with a ribbon for hanging.
Now they can celebrate both Christmas and football season in style
10. New England Patriots Bangle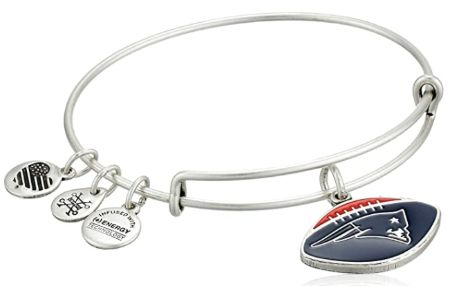 This bangle would make for a great gift for a patriots fan that's also a girly girl. Cheering their team on game nights with this bracelet on their wrist would complement their outfit perfectly!
It's made from brass with a beautiful silver finish and a durable Patriots logo charm. This bangle is adjustable to fit different wrist sizes.
11. Patriots Insulated Tote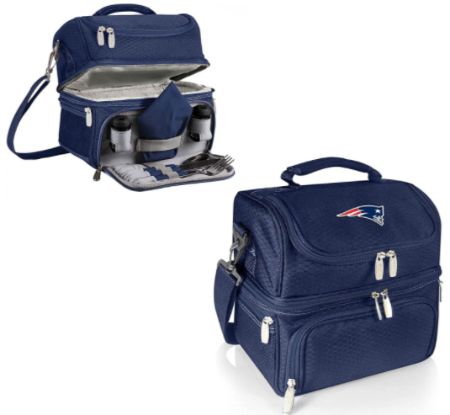 For picnics or lunch on the go, this Pranzo insulated lunch tote with the Patriots logo is great at keeping hot or cold drinks and food items at the perfect temperature for up to five hours.
It looks compact, but it can fit up to eight soda or beer cans and features separate compartments for hot and cold items, plus a flatware section complete with napkins, salt and pepper shakers, and stainless steel cutlery.
12. New England Patriots Stainless Steel Tumbler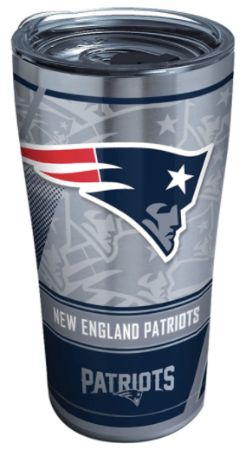 There are plenty of reasons tumblers are such popular gifts for any occasion. They're relatively inexpensive, functional, and there are plenty of cool designs and features to choose from.
If you're thinking about giving one to a Patriots fan, this stainless steel tumbler is the winner. It has all the cool features of a great tumbler and that lets them declare their love for the greatest football team ever!
13. Patriots Garden Gnome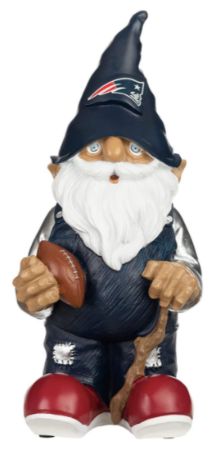 This football-carrying garden gnome wearing the Patriots jersey will cheer up any fan. It's good quality and it will look cute not only in gardens but also as a display piece anywhere in their home.
6 Great Patriots Gifts for Him
14. Patriots Road Sign

Something that would be great for his man-cave is this Patriots Road sign. It's the perfect "just because" gift for your favorite Patriots fan.
The sign features a cool-looking graphic Patriots logo print that looks amazing for its price. Plus, it has pre-drilled holes and, because it's plastic, is lightweight enough to hang on any surface.
15. Patriots Men's Fleece Pullover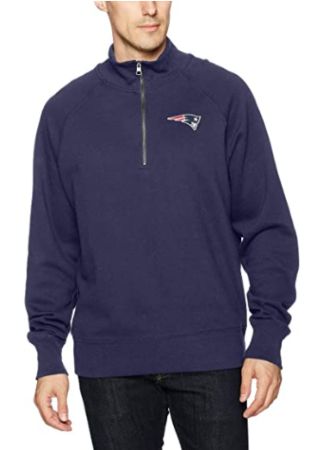 For the man who needs to level up his Patriots merch game, this men's fleece pullover is a more functional change from his usual team jersey.
This pullover can be worn on game days and tailgate parties, but is subtle enough for everyday wear while still showing his Patriots pride.
16. Patriots Drawstring Lounge Pants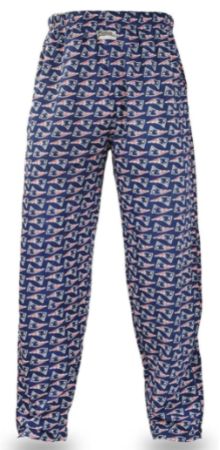 For maximum comfort while watching the game, give your guy these Patriots drawstring lounge pants. It has a wide size range and drawstring waist for better fit and is made from a blend of soft cotton and polyester.
Plus, it also features two side pockets for carrying more snacks from the kitchen to the living room with ease.
17. Patriots Timex Ace Watch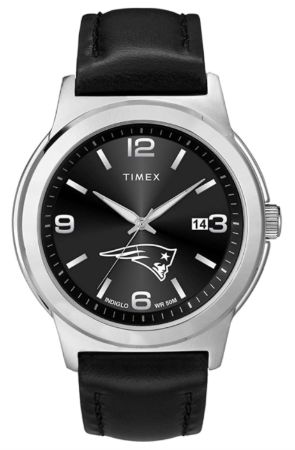 Just like their love for their favorite sports team, this Timex Ace men's watch is timeless. The black leather straps on a silver dial give it a classic look that never goes out of style.
This watch also features a date window, glow-in-the-dark hands, and is water-resistant for up to 50 meters.
18. Patriots Terrain Duffel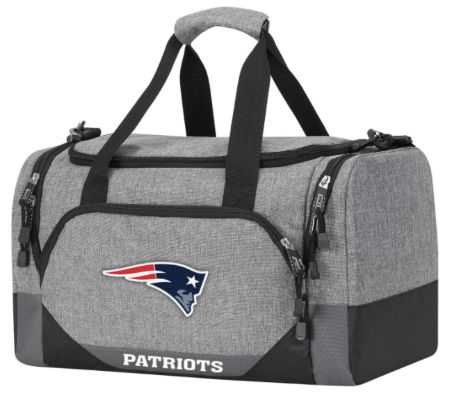 If your guy loves to travel, go to the gym, or play sports, this duffel bag is not only stylish, it also has more than enough room for all his gear.
This bag is well-made and has multiple pockets and compartments for keeping wet and dry items separate. Plus, the Patriots logo is prominently featured on the front so they'll have no problem spotting their luggage.
19. Patriots Slip-On Sandals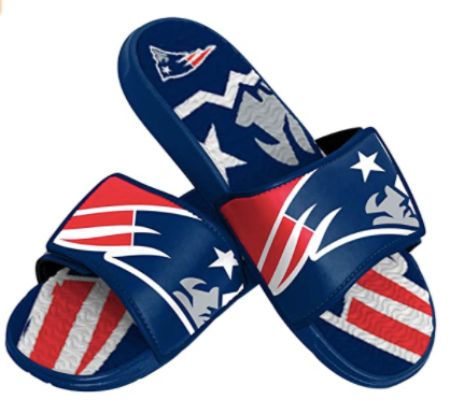 The last item on our New England Patriots gifts for men are these slip-on sandals. These sandals rank high in comfort, durability, and team pride among avid sports fans.
They feature non-slip rubber soles and adjustable velcro straps. Anyone who'll see them wearing a pair will no longer have to ask what team they're rooting for this season.
4 Patriots Gifts for Tailgate Parties and Barbeques
The next few items on this New England Patriots gifts list will make for a great tailgate party or Patriots-themed barbeque, including the highly in-demand Patriots cornhole game every Patriots loyalist will enjoy.
20. New England Patriots Multi-Purpose Hamper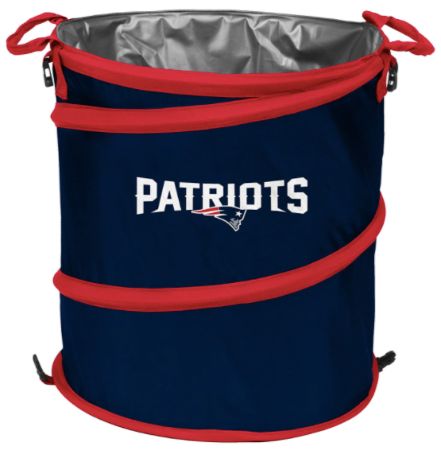 A tailgate party is not complete without ice-cold beer, and this versatile container can hold all the beers and keep them cold with it's leak-proof pvc insulation.
This can also be used as a clothes hamper and toy container. Plus, it's collapsible and easy to store until the next tailgate party!
21. Patriots Foldable Chair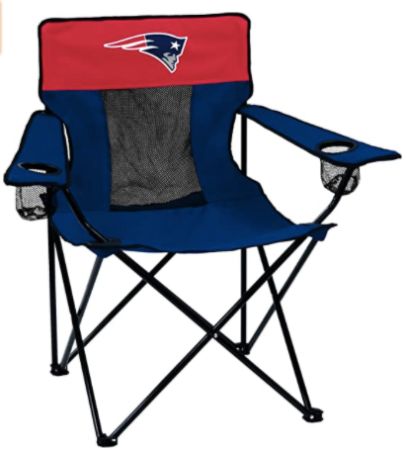 This portable Patriots chair is sure to come in handy during Patriots tailgate parties, barbeques, or any sporting event. It folds easily, is lightweight, and comes with its own nylon carrying bag for easy transport and storage.
Plus, this chair is comfortable and sturdy and can hold up to 250 lbs of weight.
22. Patriots Cornhole Set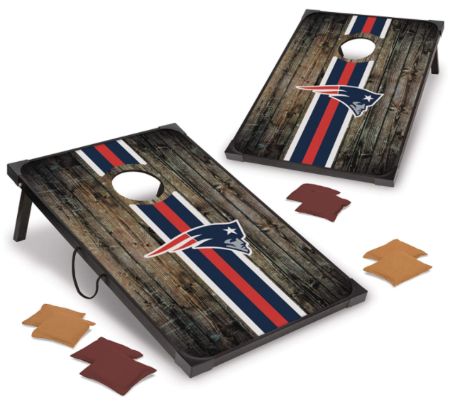 Have a little friendly competition while waiting for the game to start with this regulation-size wooden Patriots cornhole set. This set features two full-sized collapsible boards and eight bean bags in two different colors.
This Patriots cornhole set is perfect for bringing more fun for all ages to any type of backyard party and barbeques.
23. New England Patriots Flag
Let the Patriots flag fly proudly! Hang this 3' x 5' polyester flag and have the best time with fellow die-hard fans at tailgate parties, cookouts, and barbeques.
4 Gifts for the Ultimate Patriots Fan
24. Patriots Hover Football LED Lights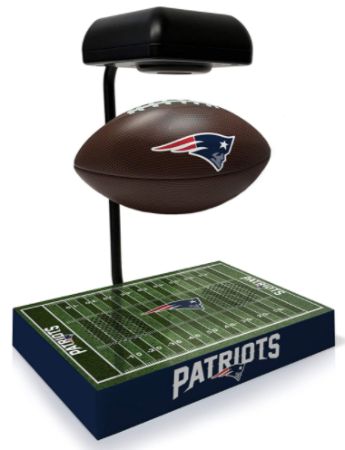 This Patriots hover football is already cool with its floating and spinning football, but it'seven cooler with its LED lights, a Bluetooth speaker, and a USB charging port.
While it's a little on the pricey side, it will make the perfect special occasion gift for the ultimate Patriots fan.
25. New England Patriots Display Case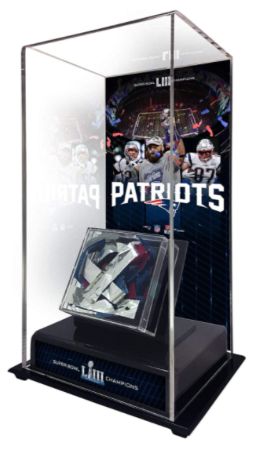 Give them a little something from the greatest day (so far) in every die-hard Patriots fan's life! This collectible display case contains confetti used during Super Bowl LIII and comes with a certificate of authenticity from Fanatics Authentic.
26. Patriots Championship Rings Replica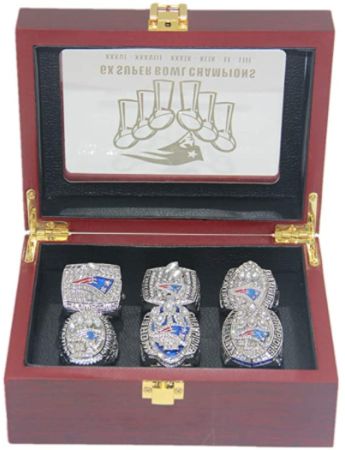 While you can't give them the actual rings, these Patriots championship rings replicas come close to the real thing. It's a collectible that the ultimate Patriots fan would like to have as a symbol of their team's greatness.
27. Tom Brady Funko POP!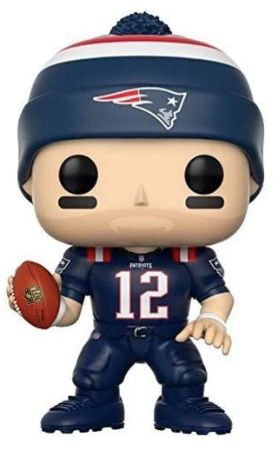 He may no longer be on the team, but most fans will agree that Tom Brady helped make the Patriots what it is today. This Funko POP! figure is perfect for serious Patriots memorabilia collectors or as a cute gift for fans.
The Best List of Patriots Gifts for Every Fan
If you enjoyed this list of Patriots Gifts and you're looking for other gift ideas for the fan in your life, check out these other gift lists:
Do you have something else in mind and can't find it on the site? Tell me in the comments what you'd like to see featured in future lists.