The most colorful, magical, and sweetest holiday is finally here – Easter! Make this special day fun for the newest member of the family with these Easter basket ideas for babies.
These Easter gifts for babies will make the occasion inclusive for every child in the family. Read on to find the most adorable and useful presents for your littlest ones this Easter Sunday.
20 Gift Ideas for Baby's First Easter Basket
Wondering what to put in baby's first easter basket? These next 20 ideas are not only safe for babies, they're also pretty useful, too!
1. Personalized Baby Rattle Teether Ring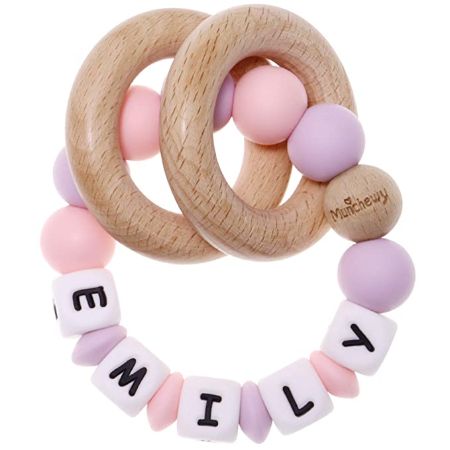 Not yet candy-ready? No problem!
This cute personalized rattle and teether will let your recipient join in the Easter fun even at a young age. Choose from eight different color variations available such as pink, blue, and gray.
2. Bunny Egg Teething Toy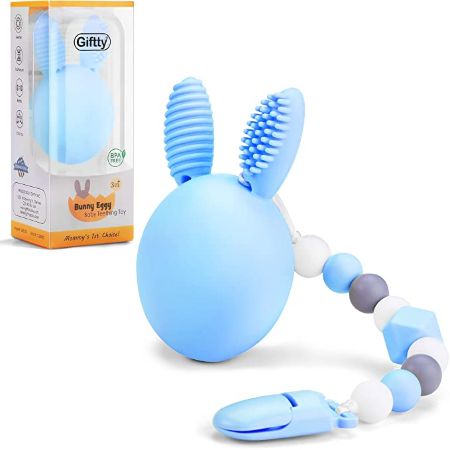 If you're looking for an all-in-one present, then this bunny silicone will be a great choice.
It's a teether, gum massager, rattle and sensory toy. Plus, it's 100% safe for babies. This will give you your money's worth and more!
3. Blanky and Plush Toy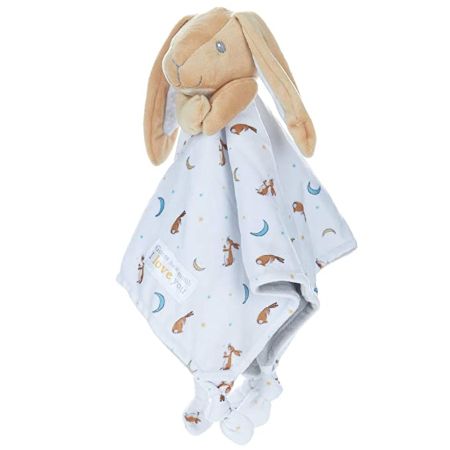 This adorable bunny blanket slash plush toy will be their new security blanket.
It's super cuddly and soft that will soothe them whenever they're feeling down or angry. It's made from quality materials as well so you can guarantee that they'll have this gift for a long time.
4. The Classic Rattle Toy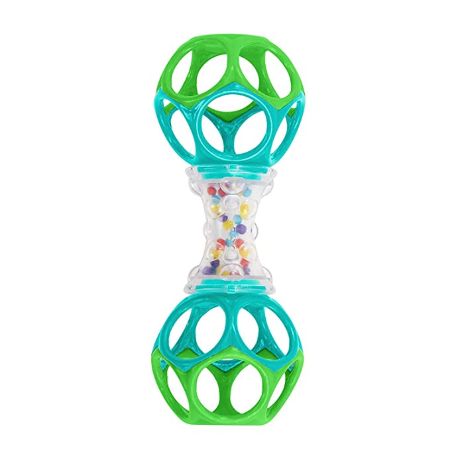 Your baby will never get tired of playing with this colorful rattle toy. They'll enjoy shaking it to the rhythm of the music at the Easter party.
The rattle is BPA-free as well so you can sit back and relax knowing that the toy your baby loves is safe for them.
5. Peter Rabbit Jack-in-The-Box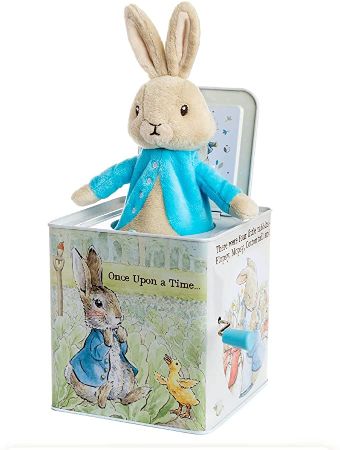 Peekaboo, peekaboo, I see you!
Share the joy of playing with a jack-in-the-box with your little recipient through this gift. It's a classic and engaging toy that past generations love and appreciate. The rabbit pops out to the tune of "Pop Goes the Weasel" so brownie points if your recipient loves that nursery rhyme.
6. Bunny Stuffed Animal

Here's a cute stuffed animal that they can hug and cuddle with 24/7 365 (and not just on Easter).
Rabbit plush toys will never go out of style. This will be your recipient's constant and loyal pal as they grow up. Making this stuffed animal is also very well thought of since it mixes durability and softness which is the perfect mixture for babies.
7. Musical Farmyard Cube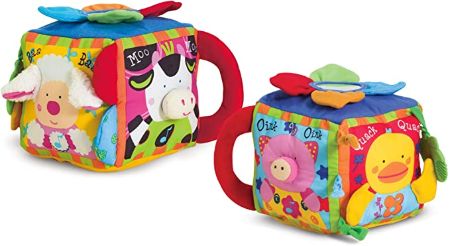 Does your recipient love animals? They'll love this cube that's filled with farm animals such as a cow, pig, and duck.
This farmyard cube is also an interactive toy. Just press the nose of the animals to hear their sounds. It's an excellent toy that will help in developing their motor, logical, and creativity skills.
8. Bunny-Themed Hooded Towel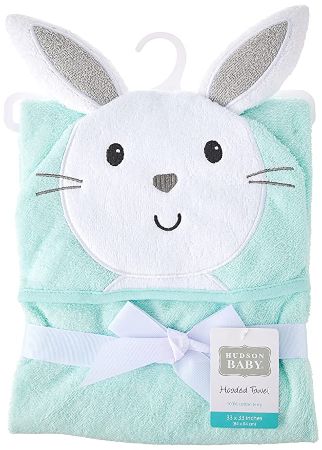 Your recipient needs to be cute and cuddly even after a warm bath or a swim in the pool. Wearing this hooded towel will help them achieve the desired look.
Aside from its adorableness, this towel will also be a great gift choice since it's made from 100% woven terry cotton so it's soft and gentle on baby's skin.
9. Little Egg Baby Bath Toy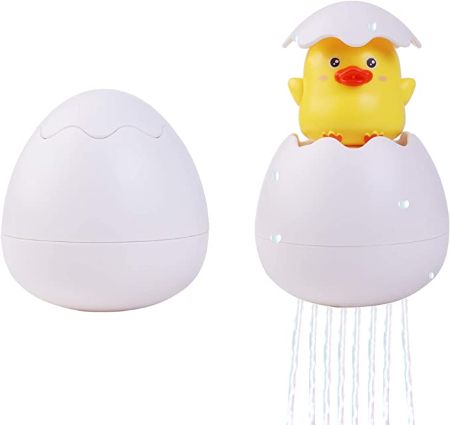 Make bath times more enjoyable for your little ones with this hatching animal toy. The water gun function is also a cool feature that will make every bath (or swim) more exciting.
Your baby can also play with the dinosaur and penguin versions of this gift.
10. Easter Cotton Bib and Headband Set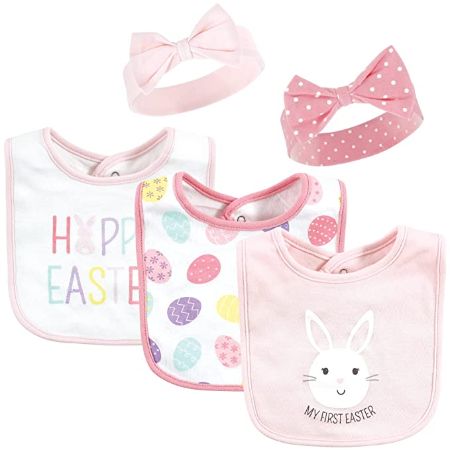 Do you know what Easter Sunday means? It means a lot of food, sweets, and treats (and of course a lot of mess as well).
You won't have to worry about your baby ruining their #OOTD with this Easter-themed bib and headband set. After all, the mess is part of the fun!
11. Cozy Fleece Bunny Booties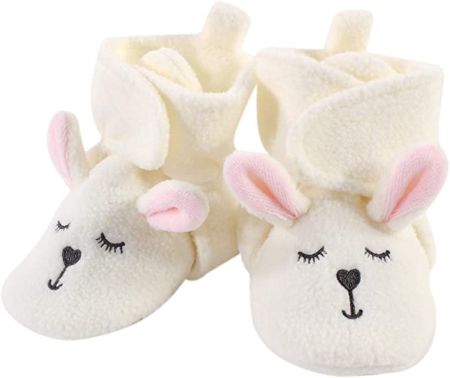 Look at how adorable these fleece booties are! Just imagine how much cuter they will be on your tiny recipient's feet.
Another awesome thing about these booties aside from being cute is that they're comfy and gentle on baby's skin. It's a win for fashion and practicality on this one.
12. Mickey Mouse Boonie Hat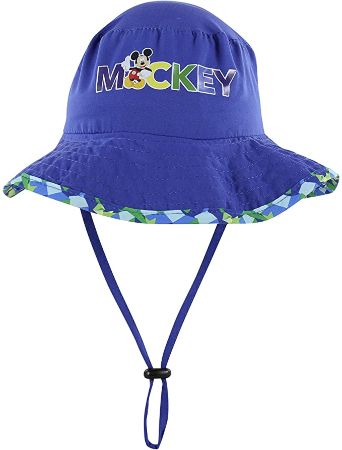 Sunblock will protect your baby from the sun but it doesn't hurt to add another layer of protection.
This Mickey Mouse boonie hat will be perfect for the Easter party outdoors. They also have a Minnie and Daisy hat variation.
13. Bunny Baby Headband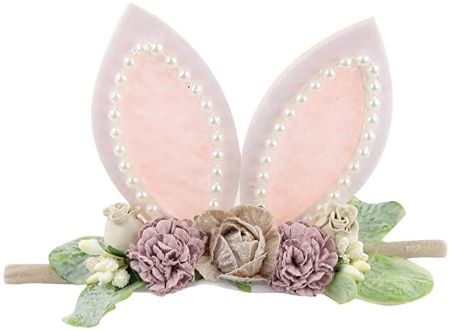 Aiming for a bunny fairy look for Easter? This headband will complete the look. It's complete with soft bunny ears and fabric roses that will match their Easter dress.
Your recipient can also wear this for photoshoots, Halloween, or costume parties.
14. Bunny Silicone Suction Plate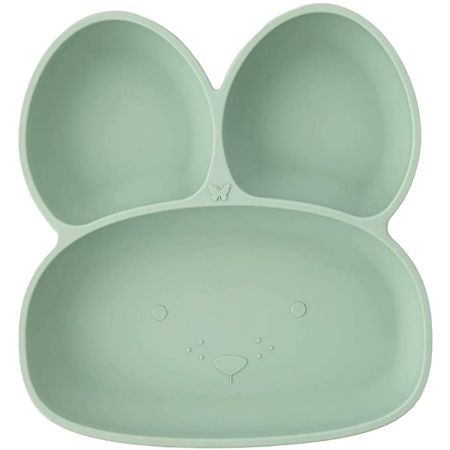 Teach them to eat their greens and fruits at a young age with this bunny plate. It's divided into three so they can have all the nutrients they need on one plate.
Plus, it's tantrum-proof thanks to its suction feature.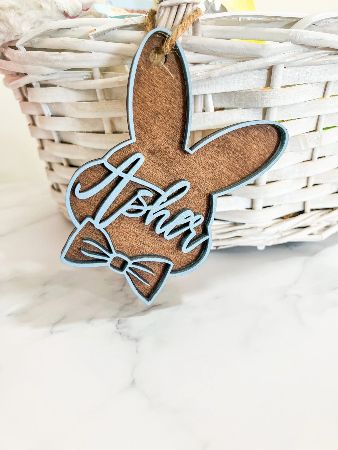 Avoid the confusion of whose basket is whose by labeling each one with this personalized bunny tag.
It can also be used as a keychain once the Easter party is over so it will give you a bang for your buck.
16. Hippity, Hoppity, Little Bunny by Cottage Door Press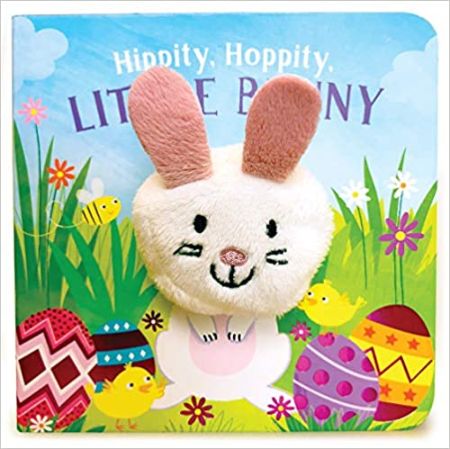 Explore with the Little Bunny Rabbit and their friends as they hunt for Easter eggs in this fun finger puppet book.
The characters, textures, along with the colorful pages will entertain them for hours on end.
17. Soft Interactive Baby Book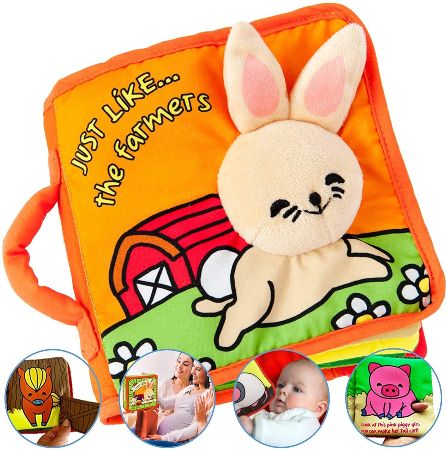 Foster their interest in reading by giving them this charming book. As they say, it's never too early to start reading to a child. And this gift will serve as a fantastic first book.
The book features peek-a-boo flaps, sounds, and mirrors that will capture your recipient's attention.
18. Biscuit's Pet & Play Easter: A Touch & Feel Book by Alyssa Satin Capucilli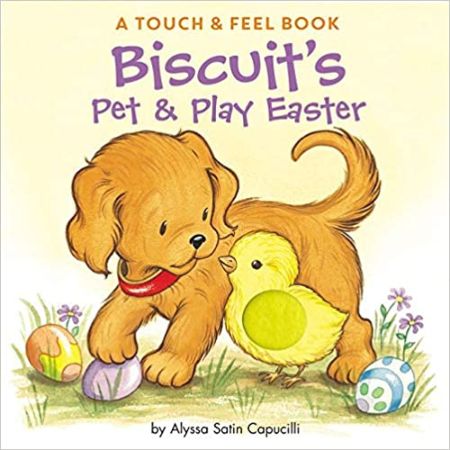 Mix in a puppy, chick, and Easter for an unforgettable adventure.
Join the two best friends as they search and collect the shiniest Easter eggs in town. Reading this book to your baby will make them feel the holiday spirit.
19. "My First Easter Egg Basket" Plush Set
Why have one when you can have them all! Give your baby not one, but six Easter-themed plush toys.
Included in the basket are a chick, bunny, frog, and more.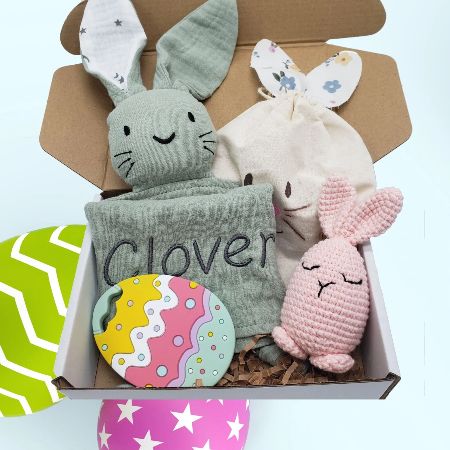 Their very first Easter should be memorable and one way to do that is by giving them this Easter gift box. It contains goodies that will make Easter their favorite holiday yet.
6 Easter-Themed Clothes for Babies
21. "Lil Wabbit" Onesie for Boys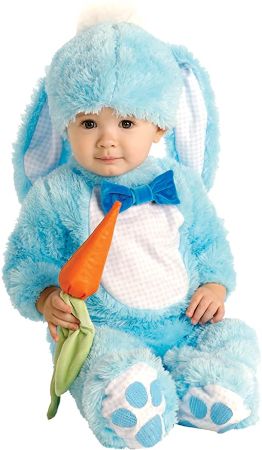 Your recipient will look like a bunny straight out from a fairytale book wearing this costume. It even comes with a carrot prop to complete the look.
22. Precious Little Rabbit Onesie for Girls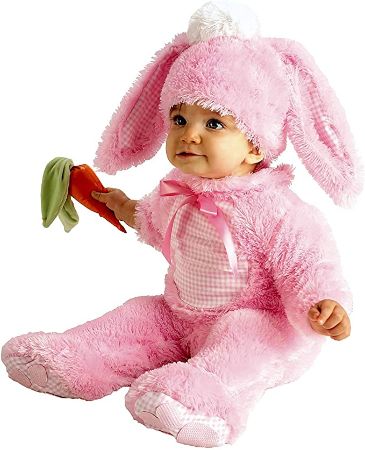 Here's another great option if you want a pink one for your baby.
23. Bunny One-Piece Swimsuit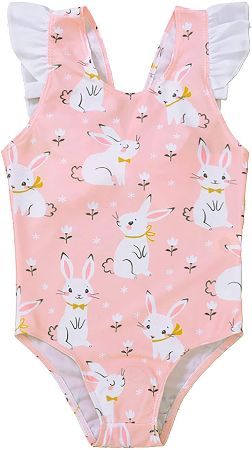 Easter doesn't have to be just for a single day. It can be celebrated all season! It will feel like Easter everyday with this pretty one-piece swimsuit.
24. Easter Bunny Romper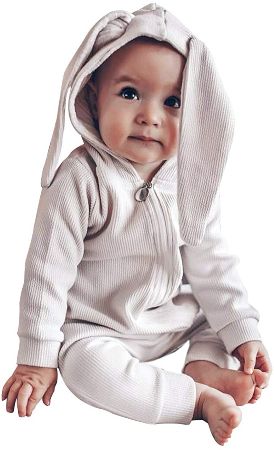 Your baby can still sport a fun bunny look while being comfortable with this romper. It's the perfect outfit for lounging and looking  irresistibly cute all day.
25. "My First Easter" Outfit for Girls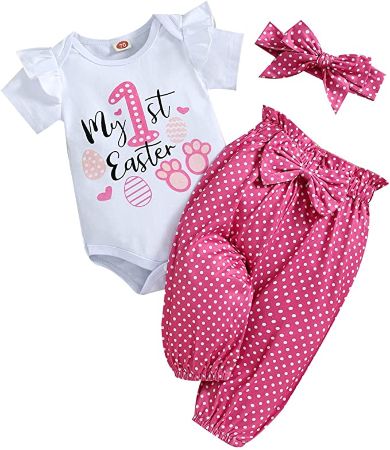 Mark the occasion with a photoshoot of your baby wearing this pretty summer outfit.
They'll look extra adorable wearing the matching romper, pants, and headband.
26. "My First Easter" Bunny Print Bodysuit for Boys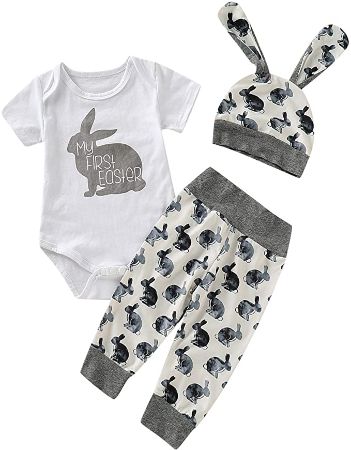 For a more neutral-tone outfit, this one is a better choice. The set includes an Easter-themed bodysuit, pants, and hat.
The Cutest Easter Basket Ideas for Babies
These baby Easter basket ideas will make their first Easter a memorable one. From toys to clothes to books, this list has got it all.
Find even more gift inspiration by reading through the other post on our site: