If you're reading this, then you're probably looking for gifts for skateboarders. The skater in your life might be harder to buy for because let's face it – if you're not a skater yourself, all those skateboard accessories, gear, and clothing options can be confusing.
I'm here to help you not get overwhelmed by the number of results you get when you research skater gift ideas on the internet. I've compiled this list of 26 of the best gifts for skateboarders of all skill levels featuring brands trusted by shredders and skateboard aficionados.
So, let's get started, shall we?
5 Gifts for Skateboarders: Skateboards and Skateboarding Gear
The first category on this list covers the most important part of skateboarding both for skaters and for parents – good skateboards and safety gear.
1. Alien Workshop Skateboard

The Alien Workshop is rated as one of the best skateboard brands out there. If the skater in your life has been into the sport for a while, I'm sure they'll recognize the iconic alien logo prominently printed on this 8.5-inch complete skateboard.
This skateboard is made from ultra-durable 7 ply Canadian hard rock maple and comes in plenty of designs, colors, and sizes to choose from.
2. Enjoi White Panda Skateboard

This particular skateboard model is designed as a starter board for the younger, smaller skateboarding enthusiast. The deck is made from Resin7 epoxy maple that's light and durable – perfect for street or park riding, or even for just practicing on the driveway.
3. Skateboard Helmet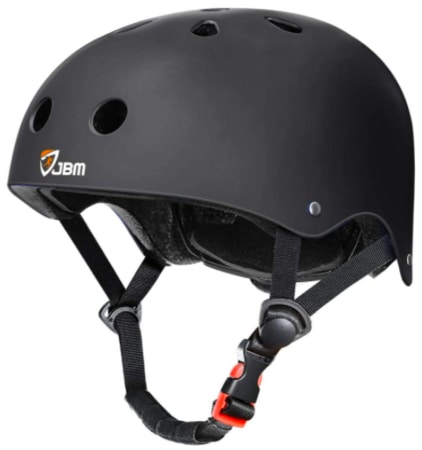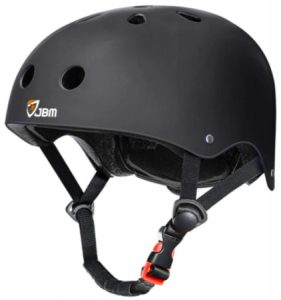 It's always a good idea to invest in quality safety gear regardless of a person's skill level.
One of the best brands out there for safety helmets is JBM. All their gear is CPSC and ASTM certified so you can be sure it follows international safety standards.
This helmet offers maximum impact resistance, comfortable padding and ventilation, and adjustable straps for the perfect fit. Plus, it comes in a variety of colors and three sizes to choose from.
4. Protective Gear Set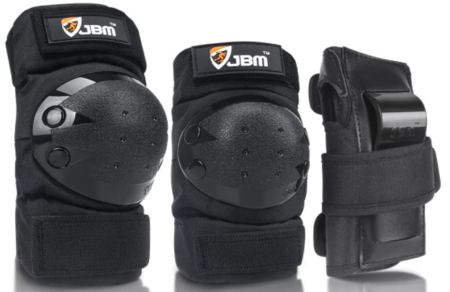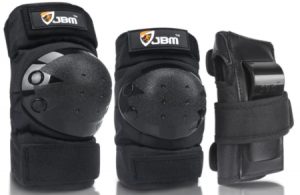 This protective gear set from JBM comes with knee pads, elbow pads, and wrist guards that are made of durable materials with soft inside padding and sturdy plastic plates for maximum knee protection. Long-time skateboarders swear by the adjustable elastic straps for a great fit that won't slip.
5. Half-Finger Wrist Guards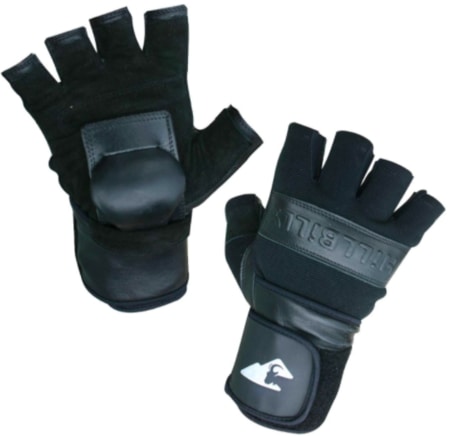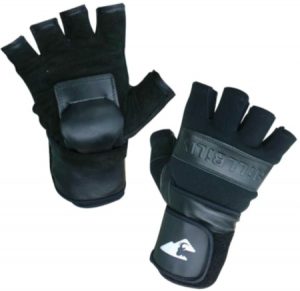 Another great gifts for skaters to complete their safety gear are these Hilbilly half-finger wrist guards. These gloves do what they're designed to do better than most brands out there.
They're heavy-duty and made from quality goatskin material with double nylon stitching. Plus, the wrist wraps provide a snug fit without being too constrictive and the plastic guard provides extra ergonomic protection.
5 Skateboard Accessories Gifts
6. Skateboard LED Lights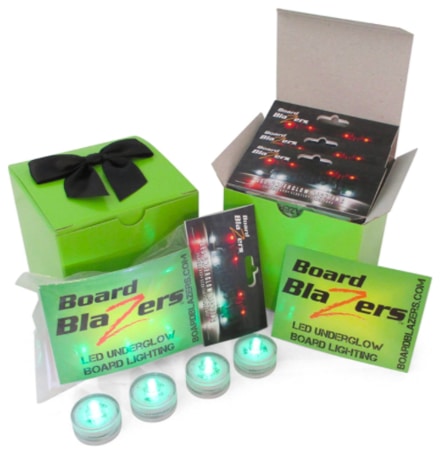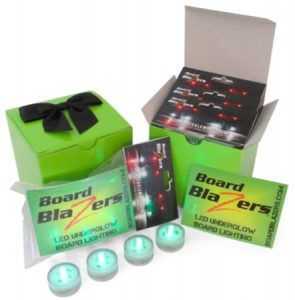 Aside from looking cooler, lighting up a skateboard is also good for safety purposes, especially when riding at night.
Not only will your skater be more visible, they'll also be able to see, and therefore avoid, holes and cracks in the pavement to prevent nasty falls.
This pack of Board Blazers Skateboard LED Lights are easy to install and come in a set of three different colored lights.
7. Skateboard Trick Trainers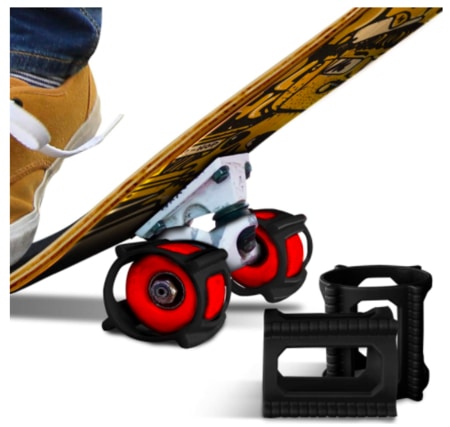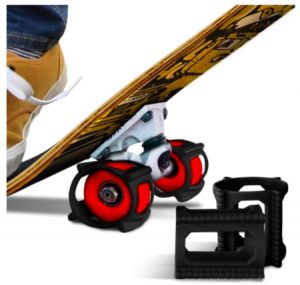 If the skater in your life is a beginner and is only starting to learn tricks, give them these Skateboard Trick Trainers by Activ Life.
These trainers provide the stability and confidence they need as they learn to balance and master tricks safely.
8. Skateboard Wall Hanger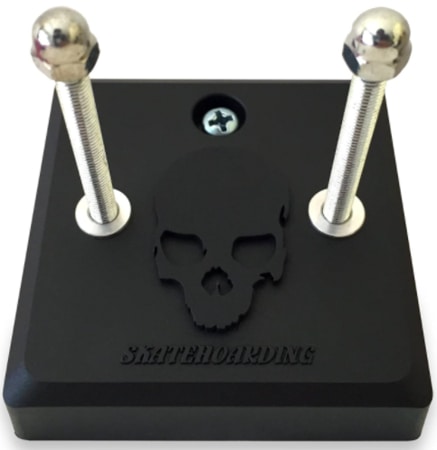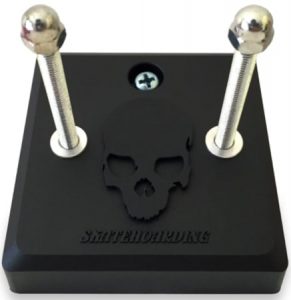 If they're running out of space to park all their skateboards, give them this skateboard wall mount.
That way they can keep their beloved boards off the floor and have a place of honor for their favorite one. This pack comes with everything they need to install the mount.
9. Launch Ramp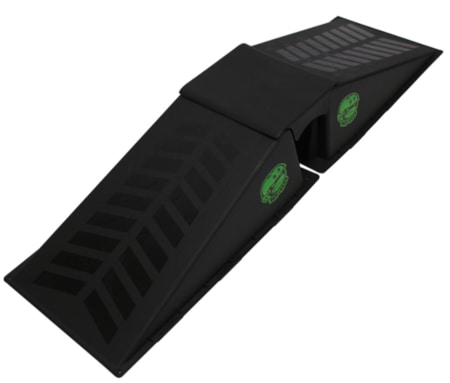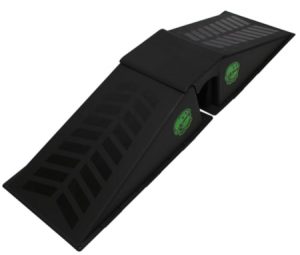 If the skater in your life is still learning to perform tricks and is not quite ready to hit the ramps and half-pipes at the skate park, this gives them this Ten-Eighty Micro-Flybox Launch Ramp.
It's made from high-impact polymer with a non-slip surface to ensure stability. No assembly is needed! Now your little shredder can practice in your garage and driveway with no worries.
10. Skateboard Bearings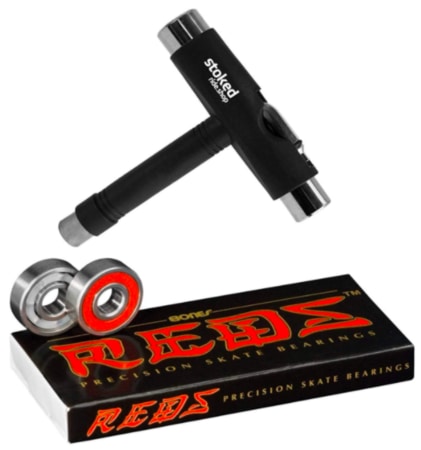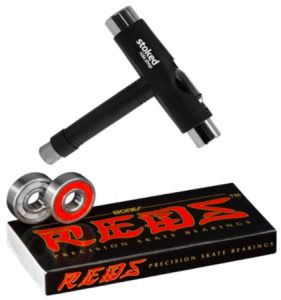 Seasoned skateboarders know that their board's performance depends on their wheels and bearings so why not give them these Bones Reds skateboard bearings?
Trust the experts, they'll need these sooner or later! Plus, they're relatively inexpensive so they make for great stocking stuffers. This pack comes with eight bearings and the Stoked T- tool for easy installation and adjustments.
10 Gifts for Skateboarders: Shoes, Clothing, and Accessories
11. Vans Old Skool Classic Skate Shoes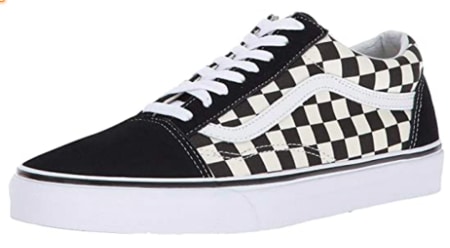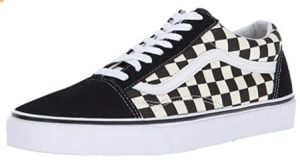 There's a reason these shoes from Vans are popular with skateboarders. The Vans Old Skool Classic Skate Shoe feature padded collars and a lace-up, low-cut design that makes them easy to slip on and very comfortable to wear.
Plus, these shoes feature arch support, shock absorbent thick soles, and Vans' signature waffle outsole that provides traction and grip.
12. Etnies Low-Top Skate Shoes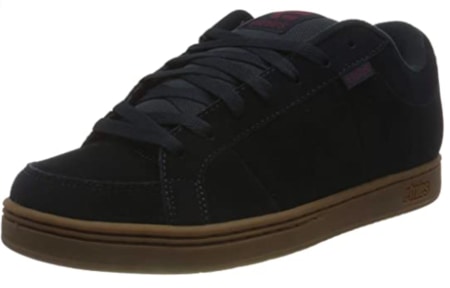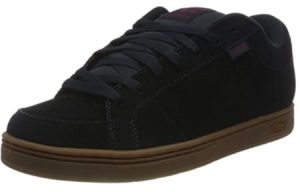 Etnies is another brand skateboarders trust for their skating apparel.
These low-top skate shoes are one of the more popular models from their skating line. Skaters love these shoes for their versatile look while still having all of the features of a good skate shoe.
13. Bluetooth Beanie Hat with Headphones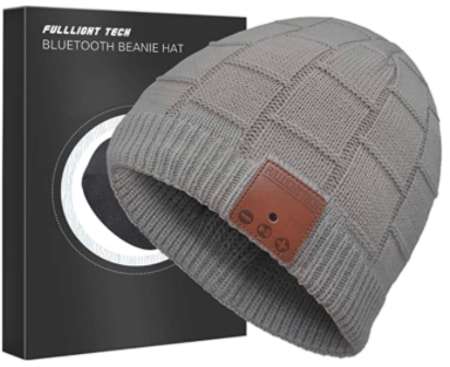 How about this Bluetooth beanie hat so they can keep warm, take calls, and listen to their favorite musics while cruising at the skate park?
This beanie features an upgraded battery that delivers 16 to 20 hours of continuous play, a 4.2 Bluetooth chip for stable connectivity, and upgraded HD speakers for clearer sound. 
This beanie is hand washable and comes in a variety of colors to choose from.
14. Pullover Hoodie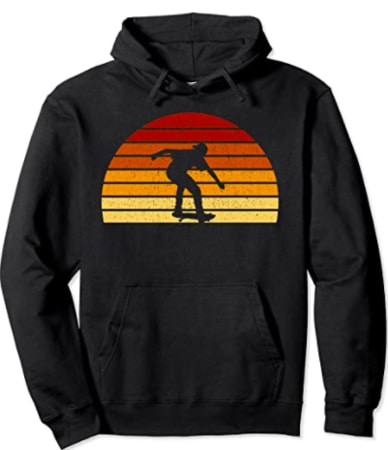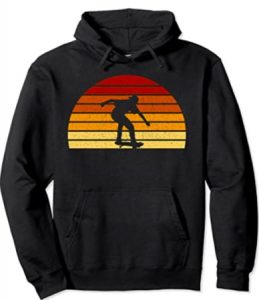 I'm sure you've seen them cruising around in hoodies of various colors and designs. Why not add this vintage sunset skater hoodie to their rotation? It comes in sizes small to 2XL and is available in black, navy and dark heather.
15. Skateboarder Girl's T-Shirt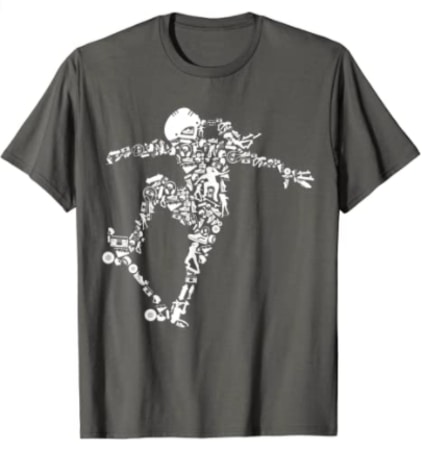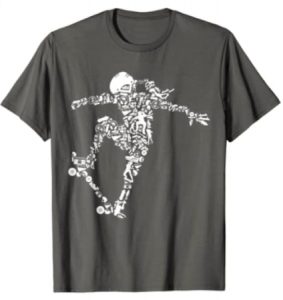 The coolest skater girl you know will proudly wear this t-shirt while cruising around on her skateboard and nailing the ollie. This shirt comes in various colors and sizes.
16. Men's Skateboarding Pants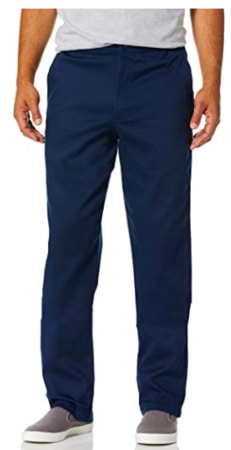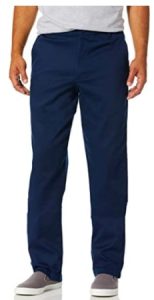 While they don't have official uniforms, skateboarders are very particular about their clothing both in and out of the skatepark. When it comes to pants, the most important factors to consider are fit, material, and construction.
These Adidas Originals Men's Skateboarding Chino Pants are made with all that in mind.
They're made from durable cotton twill material with a relaxed fit to allow for comfort and ease of movement. Plus, they're lightweight and breathable and features Adidas's iconic three stripes on the sides.
17. Volcom Men's Shorts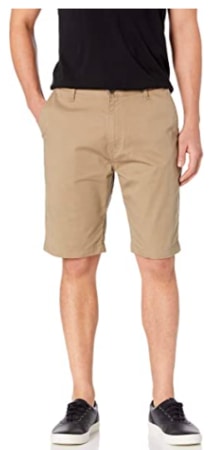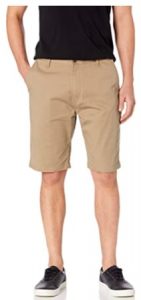 Or, if they prefer shorts, these men's shorts from Volcom, America's first boarding clothing company, will get the seal of approval from your favorite shredder. It features a relaxed fit, deep pockets, and are designed to withstand the beating they'll get when worn at the skatepark.
18. Skateboard Backpack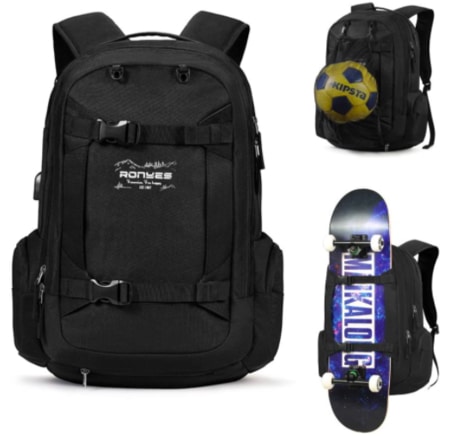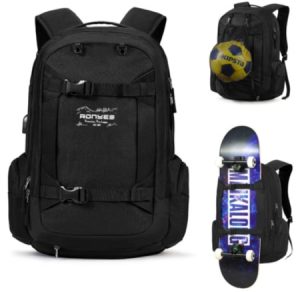 This backpack is the perfect bag for skateboarders to use for school, work, or sporting events.
It has durable and adjustable straps that can snap their skateboard snugly in place and a hidden mesh flap to carry other sports equipment. This backpack has a 13″ x 20″ x 6″ laptop pocket, a waterproof coating, and an external USB port for convenient charging.
19. Lightweight Neck Gaiter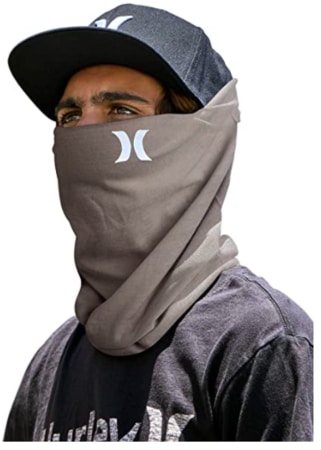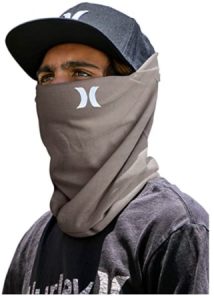 Gifts for skateboarders can be as simple as this  lightweight Hurley neck gaiter. It protects their face and neck from sunburn but can also be used in several different ways like a bandana, headband, scarf, beanie, and much more.
The material features a moisture-wicking technology for a more comfortable ride on hot days. They come in a variety of colors and prints to choose from.
20. Skateboard Wood Sunglasses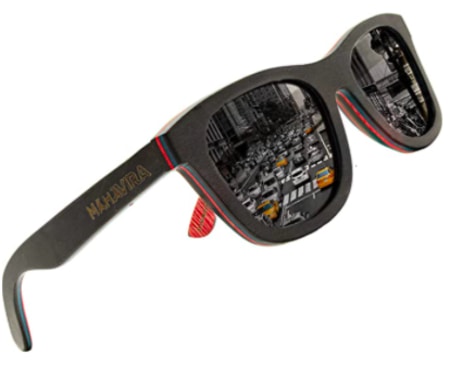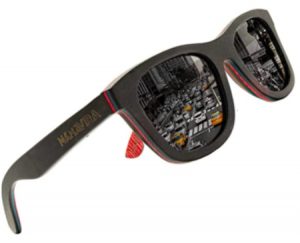 Skaters spend a lot of their time outdoors, so good eyewear can go a long way in protecting their eyes from the sun. These polarized wooden sunglasses from Mahavira will do the job perfectly.
These glasses are made from lightweight recycled skateboard wood with polarized lenses and specially designed stainless steel hinges. The hinges are designed to flex without snapping to provide an ergonomic fit that won't slide off as they move.
6 Cool Gifts for Skateboarders
Finally, the last but definitely not the least category on this list of skater gift ideas are things the skater in your life will appreciate receiving whatever the occasion may be. 
21. Tony Hawk Pro Skater 1+2 – Nintendo Switch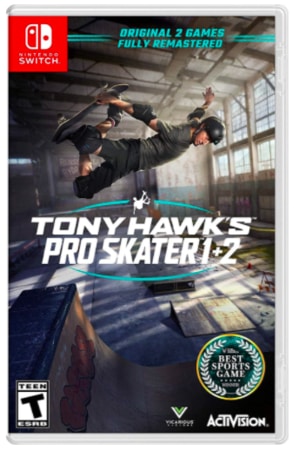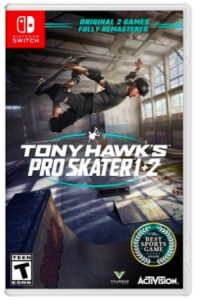 Let them skate as the Birdman himself in this Tony Hawk Pro Skater game for Nintendo Switch. Your favorite skater can perform trick combos or develop their own style while competing against their friends in local two-player mode. This game is also available for Playstation 5 and Xbox Series X game consoles.
22. AKASO Brave Action Camera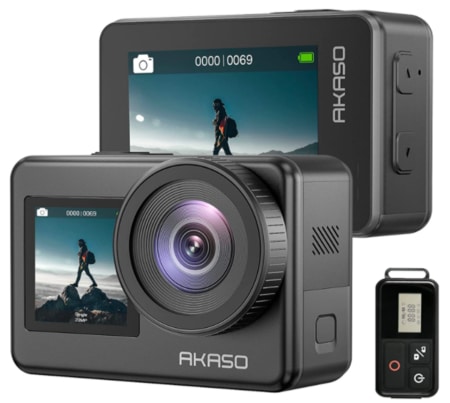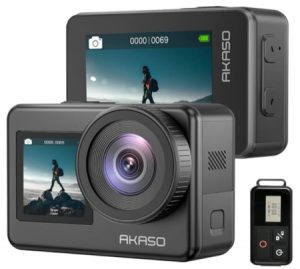 If you're looking for a good quality but cheaper alternative to the GoPro, this Akaso Brave Action Camera will do the job nicely.  This camera is waterproof and features an image stabilizer, wifi connectivity, a built-in mic, dual-screen recording, and a remote control for easy operation.
23. LEGO Series 4 Skater Minifigure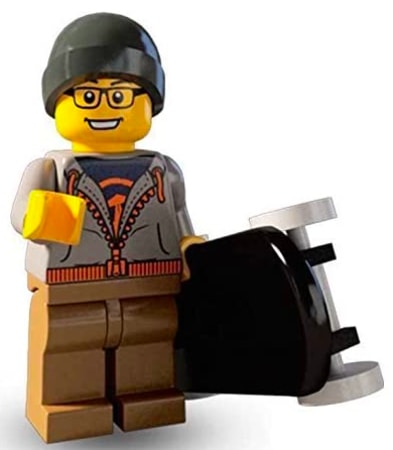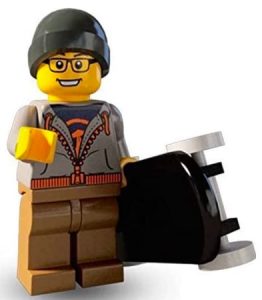 For serious LEGO collectors and skateboarding enthusiasts of any age, this LEGO Series 4 Collectible Skater Mini-figure is fun to put together and or to simply display alongside their collection.
24. Novelty Coffee Mug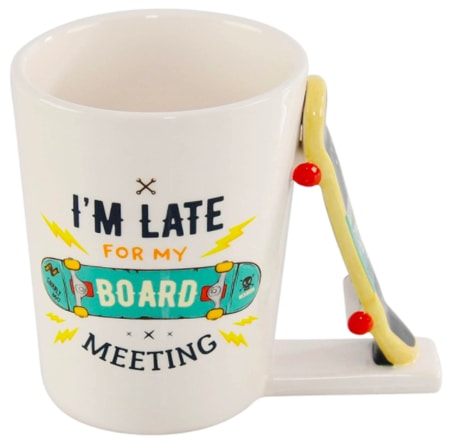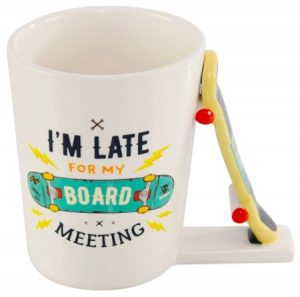 I'm sure they'll love this mug for its humor and unique design that's made for skateboarding enthusiasts. With this mug as their official morning coffee vessel, I'm sure they'll be ready to face any ramps, pipes or sidewalk cracks that happen to be in front of them.
25. Skateboard Keychain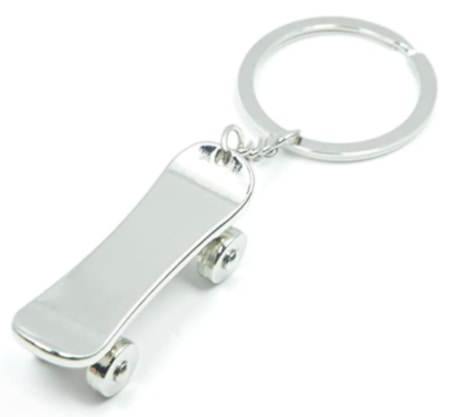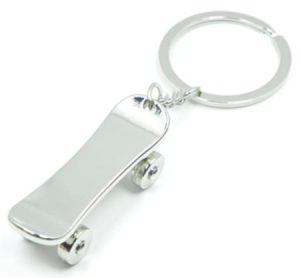 Keychains can make for the best skate gift for skaters – you just need to find one they'd like. This skateboard keychain will make a perfect gift for a friend, neighbor, or as a stocking stuffer for the skating enthusiast in your life. It's made from hypoallergenic zinc alloy, so it won't rust or lose its luster.
26. Skate Park Fingerboard Set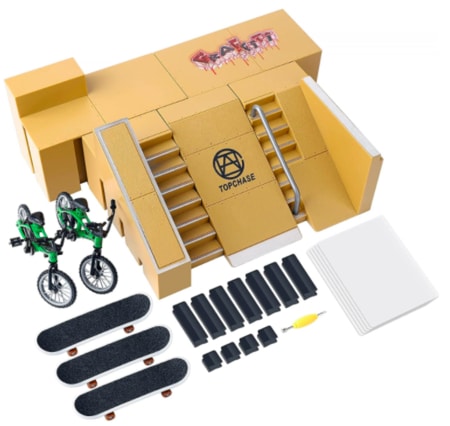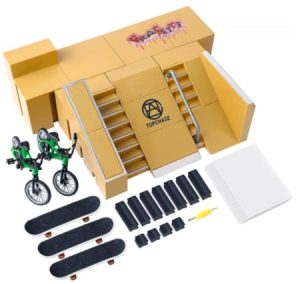 Skaters, especially younger ones who live and breathe the sport, will love this skate park fingerboard set from DaCool.
This set contains five parks that can be assembled to create one bigger design, three fingerboards, and two finger bikes. This kit is easy to assemble and is the perfect finger coordination training tool for skate enthusiasts. Recommended for ages three and up.
Gifts for Skateboarders Gear of Every Age and Skill
You really can't go wrong with whatever you pick from this list of gifts for skateboarders!
And if you're not done gifts shopping, check out our other equally awesome gifts lists below:
Meme Gifts
Soccer Gifts
Boxing Gifts
Funny Gifts for Men
Rick and Morty Gifts
Gifts for Tomboys
Super Mario Gifts