If there's one thing Avengers fans can agree on, it's this: Iron Man gifts are the coolest.
Tony Stark will always be a fan favorite. Who wouldn't love this guy? He's a genius, billionaire, playboy, and philanthropist. He's also hilarious. That's why Iron Man is everyone's favorite Avenger.
So, if you have an Iron Man fanatic at home, show them you love them 3000 with any of these 12 Iron Man gifts.
Iron Man Stuff for the Ultimate Fan
1. Funko Pop! Avengers Endgame: "I Am Iron Man" Figure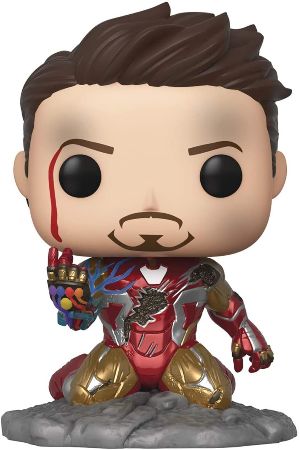 This iconic figure based on the 2019 mega-hit Avengers: Endgame is 4 inches tall, glows in the dark, and is sure to be a stand-out in the Iron Man fan's superhero collection!
Explore Funko Pop's store and collect all Iron Man variants available for the Avengers fan in your life.
2. 2016 Chevy Camaro Die-Cast Car with Iron Man Figure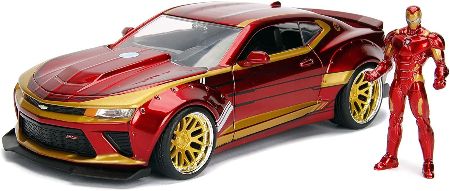 Jada Toys brings one for the boys (hey, that rhymes!). You could say that these iron man toys for kids are also fit for grown men. After all, men love cars. And men definitely love the 2016 Ford GT this awesome toy is based on.
This durable, Iron Man-inspired, 100% die-cast metal Chevy Camaro replica also comes with premium-quality rubber tires, functioning car doors, hood, and trunk. Oh, and there's an Iron Man figure included.
Any car guy who also loves Iron Man would definitely love to own this!
3. Iron Man Blu-Ray Movie Collection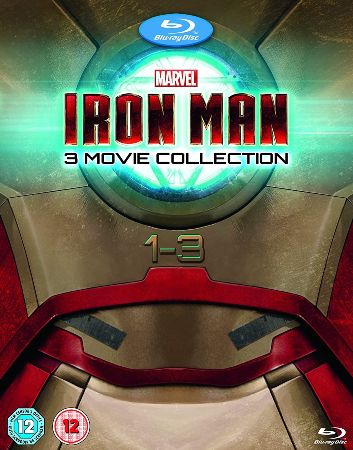 Any hardcore Iron Man fan would definitely love getting this DVD collection as a gift.
This collection includes the original Iron Man (2008), Iron Man 2 (2010), and Iron Man 3 (2013) in their latest Blu-ray editions.
If you're struggling to decide on any Iron Man presents to give, you can't go wrong with this one.
4. Iron Man Arc Reactor MK1 Model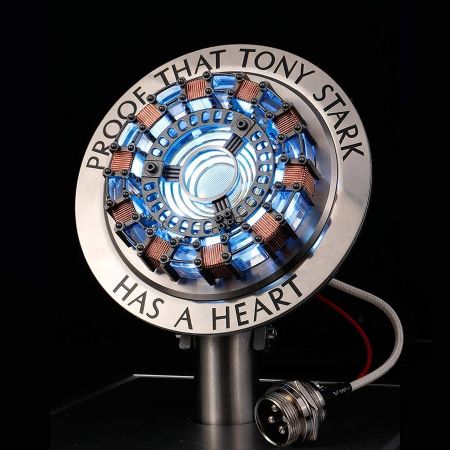 One of the best Iron Man gifts that says "I love you 3000" in a big way is this Iron Man Arc Reactor MK1 Model brought to you by LONYIABBI.
This MK1 model has an LED light display with vibration sensing control and a USB interface. It also comes enclosed in an acrylic plexiglass display box and is engraved with the iconic phrase coined by Pepper Potts, "Proof that Tony Stark has a heart."
5. Stark Industries Logo Iron Man Sweatshirt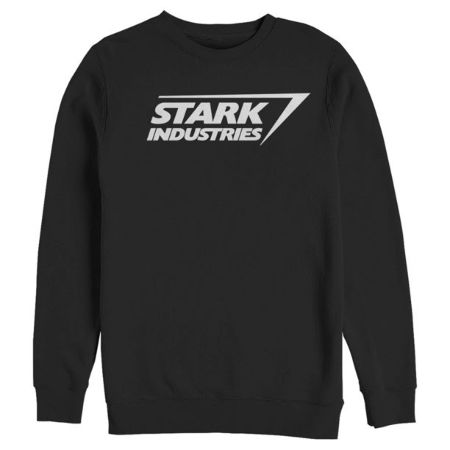 This cool, stylish, Iron Man sweatshirt is officially licensed apparel by Marvel. It features a twill-taped neck with a classic fit design and is made out of a cotton-polyester blend.
This Iron Man sweatshirt comes in three different colors: black, navy, and dark heather, and can fit fan boys of all sizes who want to feel like the billionaire bad boy himself.
6. Iron Man Wallet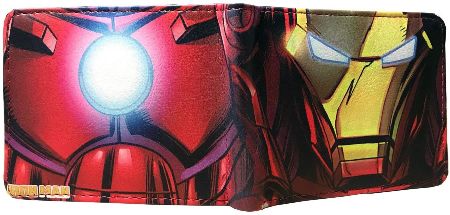 This Iron Man wallet has a bi-fold feature, which includes 3 card slots for your credit and debit cards, as well as a window ID and a pocket for spare change.
It's small enough to fit most back pockets comfortably at 4.5" x 3.5" with a material made from durable PVC.
This definitely falls under the category of Iron Man gifts for men who aren't afraid to show they love for this smart-mouthed Avenger.
7. Iron Man Helmet for Kids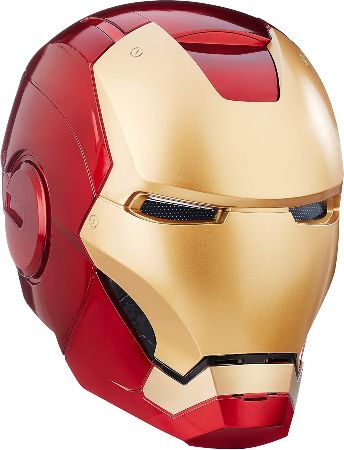 Give that little Iron Man fan in your life a chance to feel what it's like to be their idol with this Iron Man helmet for kids.
This helmet has amazing features such as 2 LED light-up eyes, a detachable magnetic faceplate, and premium detailing and finish.
It also includes cool electronic sound effects to really make kids feel like their Iron Man!
8. Avengers Legends Series Endgame Power Gauntlet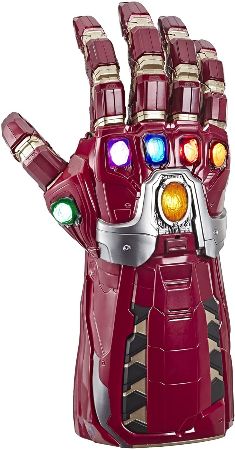 This intricately designed power gauntlet is one of the most popular Iron Man-themed gifts out there. Fans can wear it around town or display it in their homes for friends, family, and guests to admire.
Watch how giddy with excitement they'll get when you hand them this gauntlet of power as a gift for their birthday or Christmas.
9. Iron Man Single Serve Coffee Maker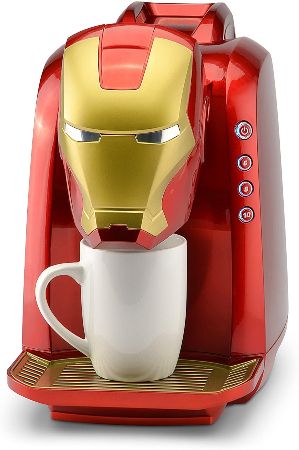 Tony Stark fans can now brew their coffee capsules or ground coffee with a touch of a button with this Iron Man Single-serve Coffee Maker that lets them choose between 6, 8, or 10 ounces of brew volume, depending on their preferences.
Who knew making coffee could be this Marvel-ous?
10. UBTech Iron Man MK50 Robot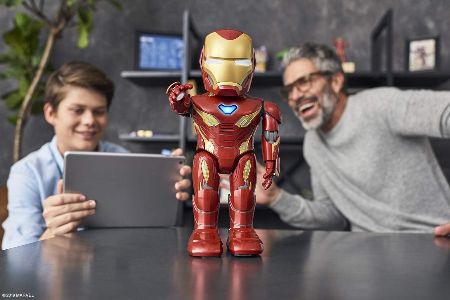 Is the person you're giving Iron Man gifts to a control freak? Well, this is something they'll definitely love – their very own controllable Iron Man!
This UBTech Iron Man MK50 Robot features remote functionality that controls the robot's lights, sounds, and motors via a mobile phone app.
They can also complete augmented reality (AR) missions and personalize the MK50 robot with voice recordings, facial recognition, and unique action sequences.
Now that's genius!
11. Authentic Iron Man Costume for Children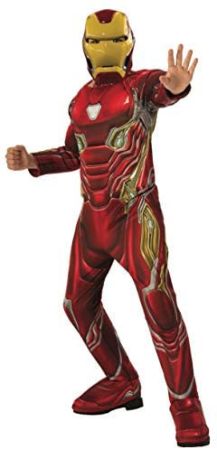 This costume is officially licensed by Marvel Studios in partnership with Rubie's. It's made of 100% polyester material and 50 deluxe pads with an attached mask and boot-tops.
To be sure that you get the right size, simply use the child size chart featured with the product images and avoid using the child's age and clothing size as a reference.
Missiles and rocket launchers not included.
12. Authentic Iron Man Costume for Adults & Teens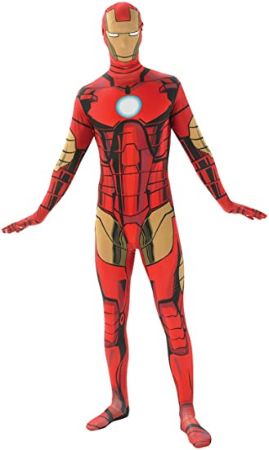 Being a grown-up doesn't mean you can't have fun anymore. If you're looking for gifts for a 30-year old man who's still a kid at heart, this is the perfect solution.
This Iron Man costume is made out of 7% spandex and 93% polyester with a pull-on closure design for comfort. When choosing the right size, refer to Rubie's adult 2nd skin size chart and guidelines.
Missiles and rocket launchers are also not included.
13. Iron Man Shirt for Men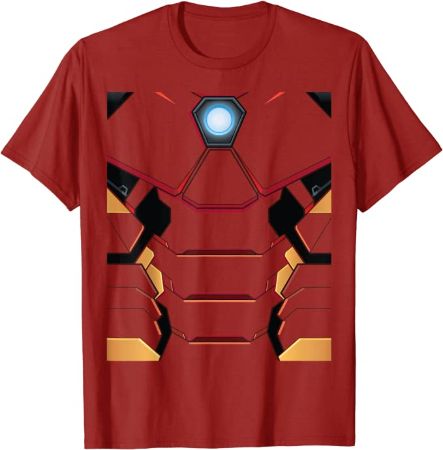 Is a costume a little much for the Iron Man fan in your life? Go with something a little more subtle (but not too subtle), like this Iron Man t-shirt that features a close-up look at the arc reactor that keeps Tony Stark alive.
This costume top is made from a cotton-polyester blend, so it's soft and comfortable.
14. Iron Man Shirt for Women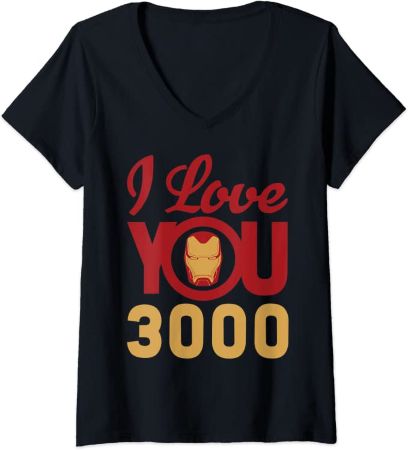 Who says all Iron Man fans are men? Here's a really great Iron Man gift option for the special lady in your life to let her know that she is, indeed, loved 3000.
This cotton v-neck Iron Man t-shirt for women is also made from a cotton-polyester blend that ensures comfort and style, and is available in 4 different colors.
Iron Man Themed Gifts for Everyone
These are just some of the best Iron Man gifts that you can give to your favorite Tony Stark-addicted person. It doesn't matter if it's your child, your sibling, your friend, or your partner, these gift choices are definitely going to bring joy to the hearts of any superhero fans.
Did you find what you were looking for? I've got more gift ideas for you if you think the person you're buying presents for would enjoy something else:
What did you pick out of this list of Iron Man gifts for your superfan? Did they love it 3000? Please let me know in the comments below so I can create even better gift lists for you in the future!