So, you're look for a great medical school graduation gift because someone you love finally reached the finish line after years of sleepless nights, multiple cups of coffee, and reading a ton of books.
They're now one step closer to their dream of becoming a doctor. Only the smartest, bravest, and most dedicated students survive medical school, which is why I know you must be so proud of the new graduate in your life.
These graduation gifts will make them feel loved and appreciated. They will also be useful as they enter a new chapter in their life.
12 Useful Graduation Gifts for Doctors
1. Briefcase for Women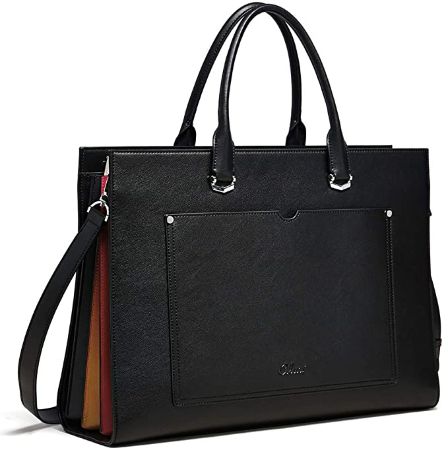 It may take a long time for them to realize that their dream is now a reality. Giving them this elegant briefcase will make them feel and look like a professional.
This spacious bag will fit all the essentials for them to do their job well such as their notes and stethoscope. There's also enough room in the bag where they can put their personal stuff such as IDs, wallet, and keys, making this one of the most versatile medical school graduation gifts.
2. Doctor Mug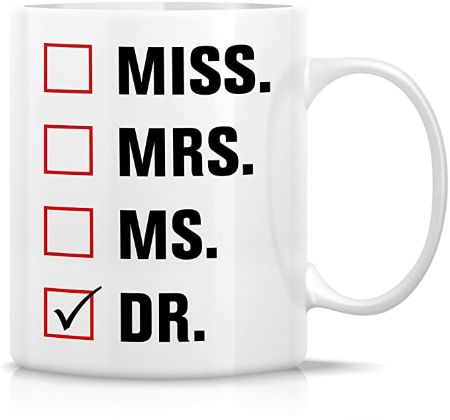 One of the best things about finishing med school is the change of title from Ms. to Dr.. This is the perfect gift to showcase their achievement to the world.
Plus, it's a great ceramic mug that will be useful for another round of all-nighters as they do their doctor duties.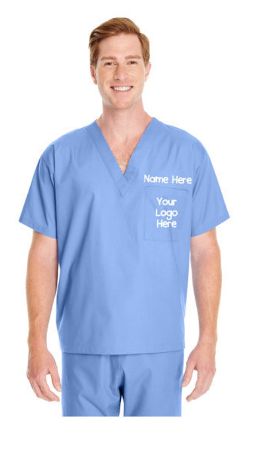 Being a doctor means that they'll be basically living in scrubs. That's why these are a foolproof gift to the new doctor in your life.
Make them stand out from the other medical professionals in the hospital by personalizing your gift. This shop allows you to add their name or a photo that will make their scrubs cuter.
4. Makeup Bag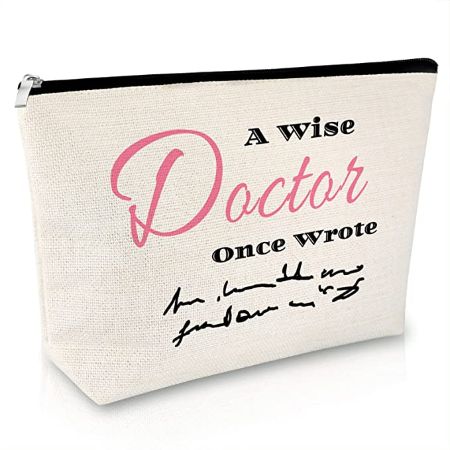 Doctors are famous for their messy (and sometimes unreadable) handwriting. Welcome them to the club by getting them this funny makeup bag.
It will be useful for doctors since it's huge enough to fit all their toiletries whenever they have a double shift at the hospital.
5. Memory Foam Seat Cushion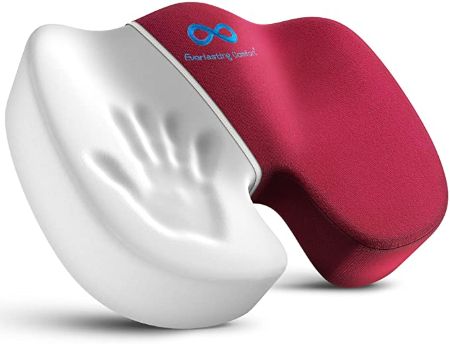 They'll be comfortable even after seating for a long period of time thanks to this seat cushion. This cushion will allow them to study and work on hours end without feeling any discomfort or pain.
Plus, it's portable which they'll be able to bring in at the hospital, cafes, and at home.
6. Ergonomic Footrest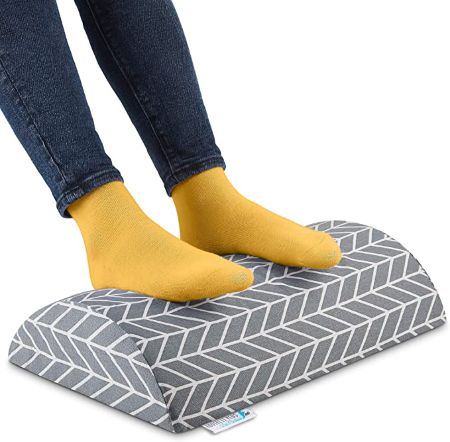 Their daily routine will include doing rounds around the hospital which typically lasts for two hours. Roaming around the hospital for hours may cause foot pain.
Having this footrest will relieve the pressure and soothe the pain their feet are feeling in an instant.
7. Foot Massager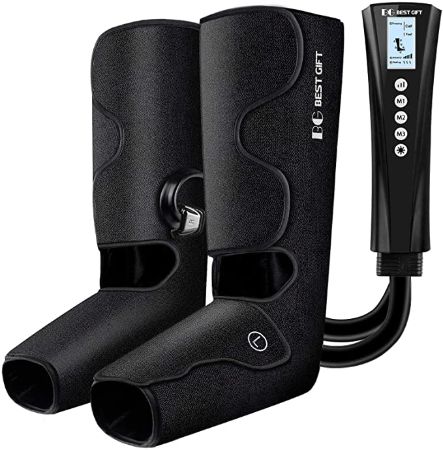 Their feet will thank you for this incredible gift. It will work its magic onto their feet and will leave them refreshed and rejuvenated after usage.
They'll also be able to choose the intensity of the massage with its three-mode function.
8. Hospital-Themed Socks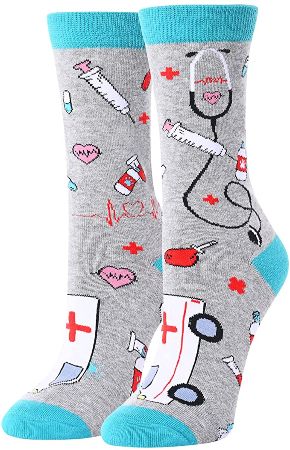 Doctors need funky socks, too!
Pair these adorable socks with their scrubs to make them look cheerier and livelier. This gift will be perfect for pediatricians to let their little patients know that they're in good hands with the cool doctor.
9. Novelty Doctor Gift Set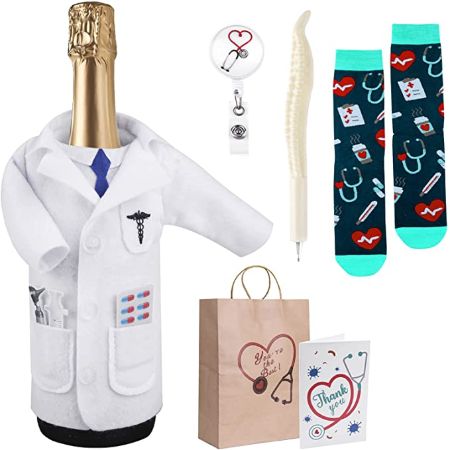 This gift set has it all. It includes a pair of socks, a skeleton pen, and a white coat wine bag to name a few. This is the gift to buy if you want to give them everything since it's already conveniently packed with all the cool doctor stuff that they'll find useful in their job. Brownie points for being affordable.
10. Wine Glass & Mug Set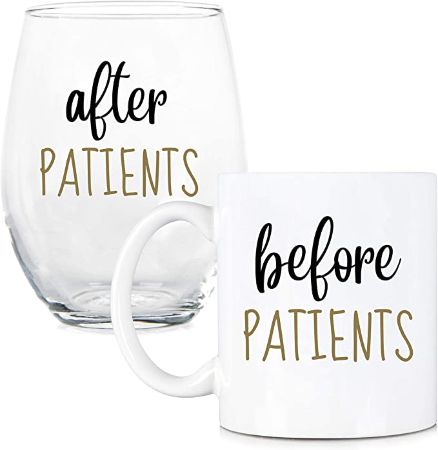 Working as a doctor is probably one of the most challenging professions out there so they need to have a break once in a while. This glass set will be suitable for all their moods.
There's a wine glass for when they want to relax and party and a coffee mug when it's time to focus on work.
11. Stethoscope Carrying Case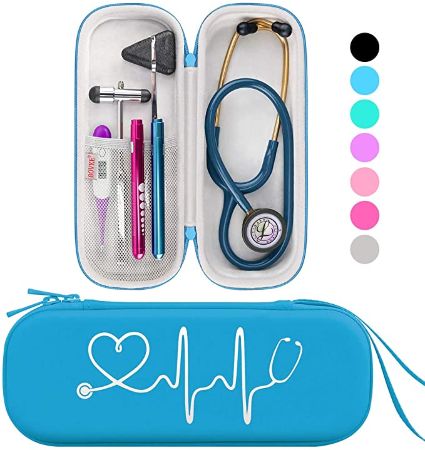 Keep all the medical essentials in this carrying case. Its hard case will protect their fragile stethoscope, thermometer, and penlights from breaking since it's shockproof and waterproof.
Choose from the seven colors available such as black, pink, and gray.
12. Trinket Dish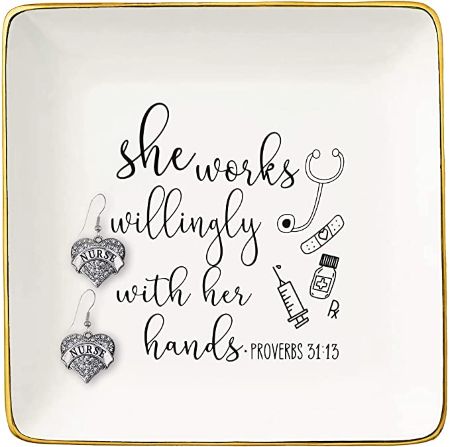 This trinket dish will keep their passion to heal others burning even on days when they're feeling demotivated. The encouraging quote will remind them why they started in the first place.
Get this if you're on the quest for a present that's both chic and functional.
13 Fun Medical School Graduation Gifts
13. Medical Humor Notepads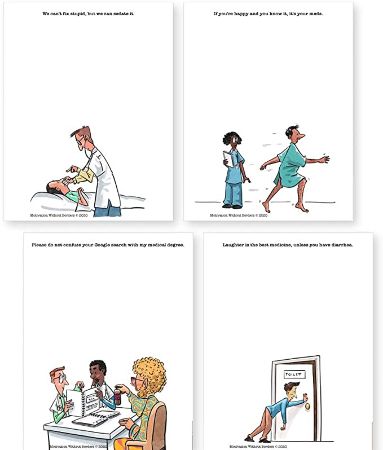 They'll be known as the funny doctor because of these hilarious notepads.
The set comes with four relatable strips that both patients and medical professionals will find funny. Each pad has 50 sheets.
14. First Aid Sticky Notes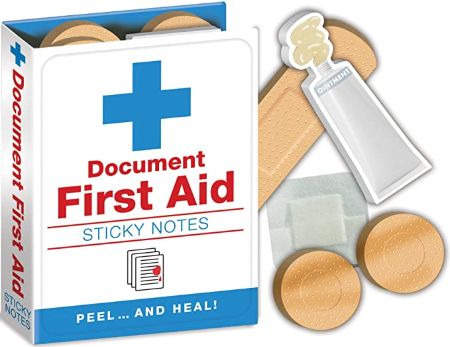 Your recipient will never forget an important date, meeting, and appointment with these cool sticky notes.
This doctor-approved gift will be your recipient's new favorite functional stationery.
15. Fun Pens for Doctors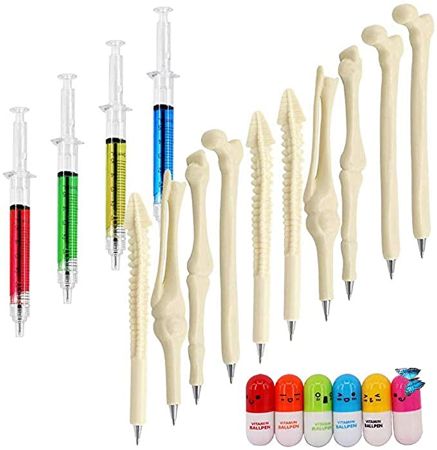 Ordinary pens are too good for the awesome doctor in your life which is why you must get these brilliant pens for them.
They'll have different pens that will match their mood for the day with this gift. Syringe pens when they're happy, bone pens when they're thrilled, and capsule pens when they're excited.
16. "I Like Big Veins" Retractable ID Clip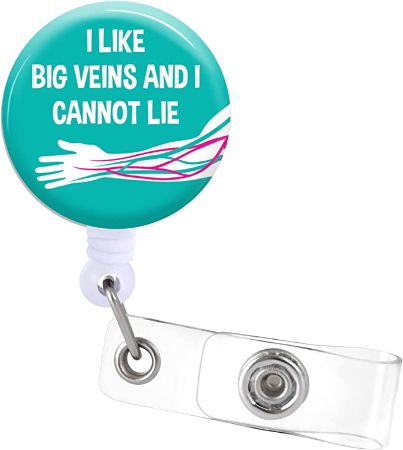 Aside from their name, one thing people should know is that they like big veins. This retractable ID clip will be a hit to your recipient and their colleagues.
Check out this other cool design: Thoracic Park Badge
17. Abdomen Anatomy Jigsaw Puzzle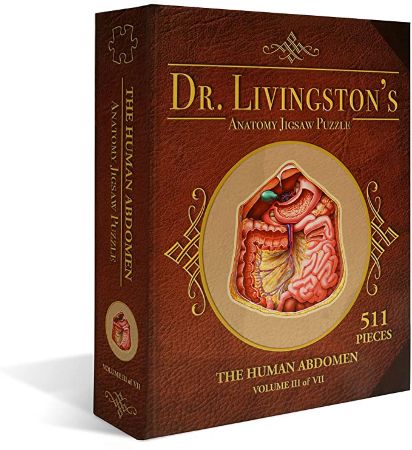 The learning never stops. Even if they already graduated from medical school, it's important to keep on practicing and challenging their brain.
The Dr. Livingston's anatomy jigsaw puzzle has a leg and arm-themed puzzles as well.
18. Precious Moments "I Did It" Porcelain Figurine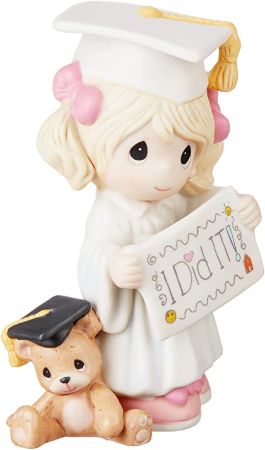 It may be hard to grasp that your little girl is now a doctor. This gift will remind them that no matter how successful or old they get, they can always count on you since you've got their back always.
19. Stethoscope and Heart Necklace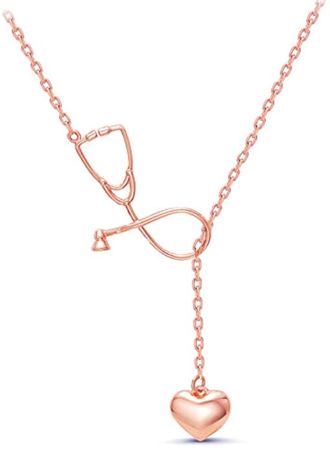 This lovely necklace will be a key component to level up their outfits. Wearing this will let the world know that they love and are passionate about their profession.
There are different colors and designs so you can pick the one that will look best on your recipient.
20. Graduation Keychain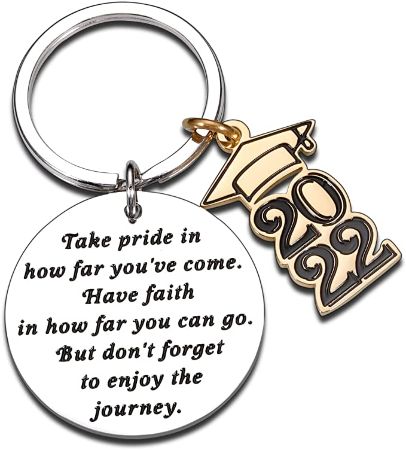 Here's a great reminder of how far they've come because of their perseverance and hardwork. It will also serve as a motivation that they can surpass any challenge life will throw at them since they graduated from the notorious medical school.
21. "Doctor Est. 2021" Shirt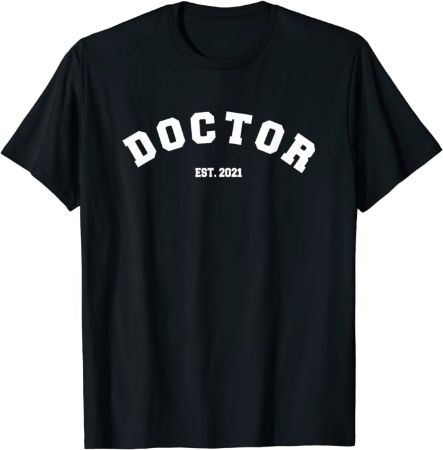 They'll always remember the glorious year that they've earned the title Dr. with this shirt. It's also lightweight, durable, and comfy making it a great buy.
22. Scrubs Wine Bag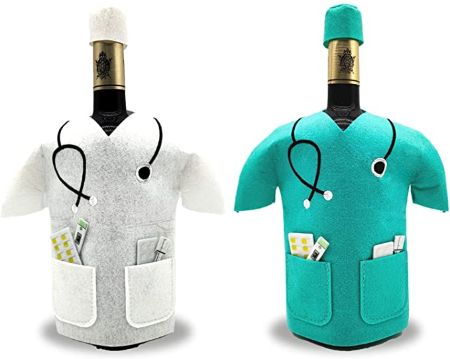 Graduating from medical school calls for a celebration!
Organize a fun party to celebrate this huge milestone. Make sure to get these adorable wine bags that will match the theme of the party.
23. Neat Brain Anatomy Specimen Coasters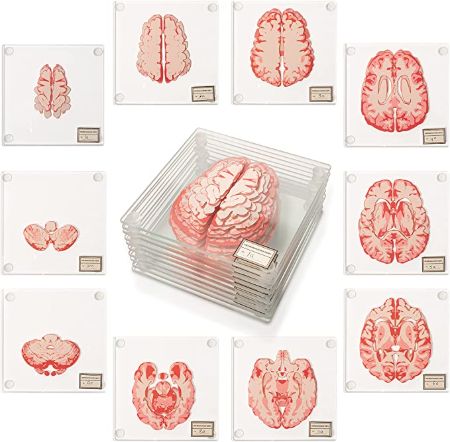 Your nerdy recipient will love these specimen coasters. It's the perfect gift for the doctor in your life who's fascinated with neuroscience.
They'll be able to study and analyze the brain while enjoying their favorite drink.
24. Medical Dictionary Anatomy Art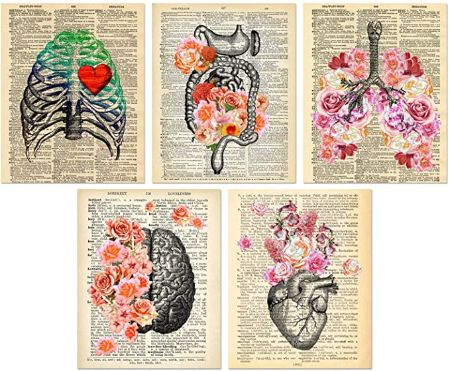 Reading anatomy books may bore some people but for them, it's the most fascinating book ever.
This artwork perfectly shows how every page comes into life in their eyes. It features beautiful depictions of the brain, heart, and the lungs.
25. Limited Edition Anatomy Dammit Doll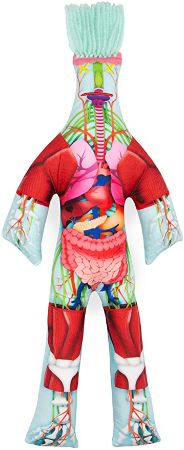 They'll feel a lot of stress and pressure in their daily endeavors. After all, nobody said being a doctor is a piece of cake.
This gift will help them cope with stress. It acts like a stress ball that they can press or hug to release some negative emotions.
The Best Medical School Graduation Gifts
Graduating from medical school is a big milestone. It has been a long journey, which makes this event much sweeter. Make it even more special with these medical school graduation gifts.
Below are more awesome gift ideas for someone special: