Viking culture has been surging in popularity in recent years, so it's no wonder Viking gifts are also on the rise.
Just take a look at modern popular culture. We see Norsemen in television, like History Channel's Vikings, and even in Marvel's universe with the TV series Loki and the Thor film series (Love and Thunder expecting to premiere in 2022).
While some of these films and TV shows perpetuate common misconceptions about the Viking culture, there's no denying that many people can't resist the appeal of these seafarers.
That's why I've "raided" 29 gifts for the Viking enthusiast in your life – so you don't have to!
9 Norse Viking Gift Ideas
1. Bone Comb with Viking Longship Design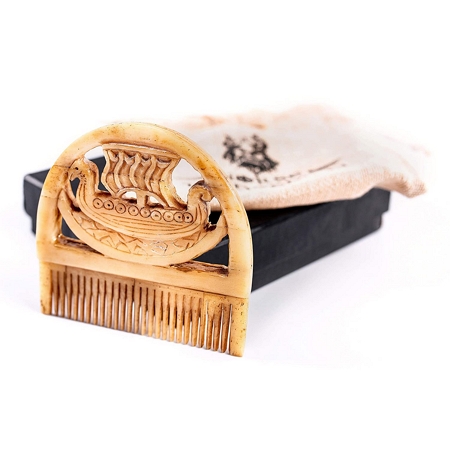 Vikings were known to have a nomadic lifestyle, so they had to use every bit of resource available to them to make things like this comb made of bone.
This handcrafted ox bone comb features a drakkar longship design and is perfect to use with beard oils, waxes, or pomades to define that sweet Viking beard.
2. Horn Shotglass with Wooden Display Stand
Here a set of ox horn shot glasses that are made from genuine ox horns. It includes five shot glasses, perfect for when the boys come over, and a wooden rustic glass holder.
The wooden display tray also features some runes, which enhances the medieval Viking atmosphere and, more importantly, grants the drinkers with blessings from the Gods.
3. Blanket with Viking Prayer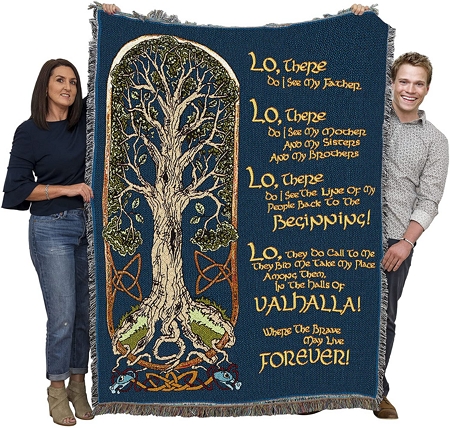 Get your giftee this 72 x 54 inch blanket with a Norse prayer woven within. While your giftee may not worship Norse Gods, the blanket's design, which features Yggdrasil, the Norse Tree of Life, will clearly enhance the Viking motif in their home.
4. Axe Bracelet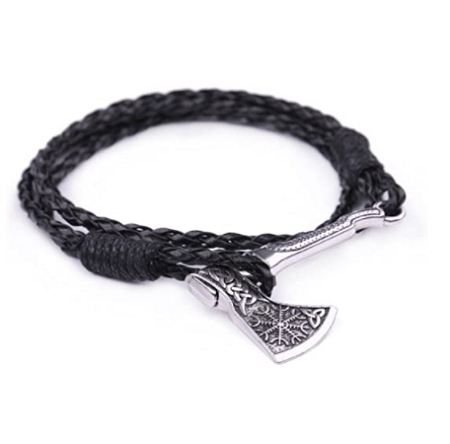 The axe was the weapon of choice by most Vikings in the Middle Age because it was affordable and very useful in making their longships. An axe often reminds us of violence, but this humble weapon symbolizes hard work and fearlessness.
Here's a braided bracelet with an axe pendant, which is a perfect gift for the courageous and diligent Viking enthusiast in your life.
5. Vegvisir Rune T-Shirt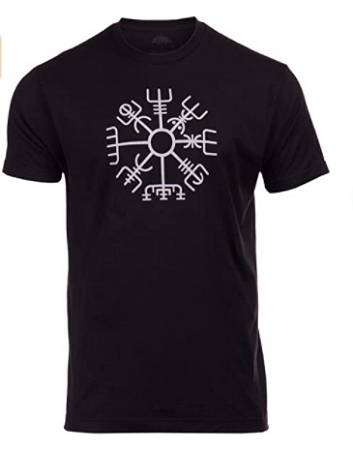 Vegvisir is an Icelandic runic symbol that means "that which shows the way" and is often carried by those who travel through rough weather.
Anyone who loves Norse myth and travels a lot will appreciate this t-shirt with a vegvisir symbol that will ensure their safe travels.
6. Water Bottle Designed as Thor's Hammer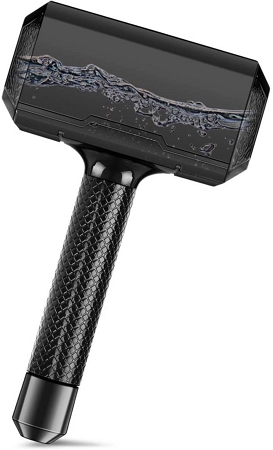 Keep the Norseman and Marvel fan in your life hydrated with this Mjolnir water bottle that's fashioned after Thor's hammer.
It can contain almost 1.7L of liquid, making it a great water bottle for those who love camping, hiking, or just about any type of outdoor activity.
7. Viking Trinket Box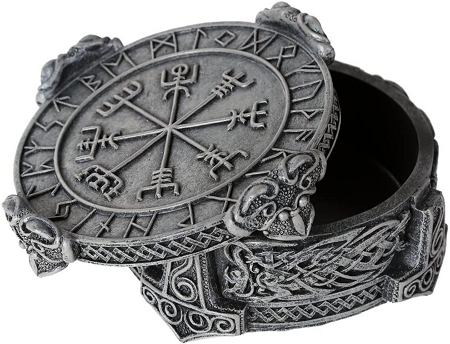 Here's a gift for the woman who has "pillaged" pieces of jewelry throughout the years. This trinket is made of crushed stone mixed with high-quality resin, giving it an antique feel that your recipient craves.
If that's not enough, the trinket is adorned with many details, like the vegvisir (and other runic symbols) inscribed on the lid to elevate this collectible.
8. Odin Bronze Statue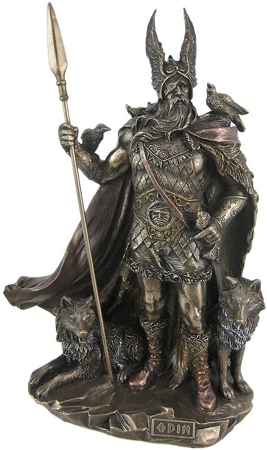 Those who enjoy reading about Norse mythology can finally display the All-Father himself, Odin.
Whether it's placed in a collection room or the living room, the intricate design of this resin statue with a bronze finish will undoubtedly catch the eye of any visitor.
9. Norse Mythology by Neil Gaiman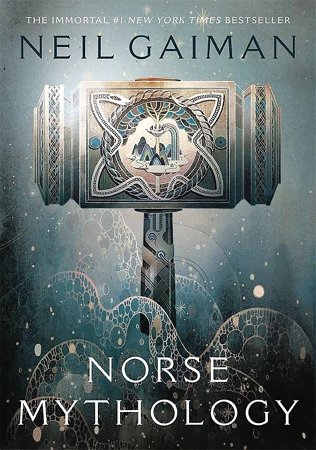 Those looking to get a comprehensive introduction to Norse mythology shouldn't miss the chance to read this book. It's a good starting point for learners, as the book recounts the origins of the gods that the Vikings respected and their impending doomsday, Ragnarok.
Allow your favorite Viking to experience the halls of Valhalla and the vast nine realms through the imaginative storytelling of Neil Gaiman.
11 Viking-Themed Gifts
10. Norse-Inspired Goblet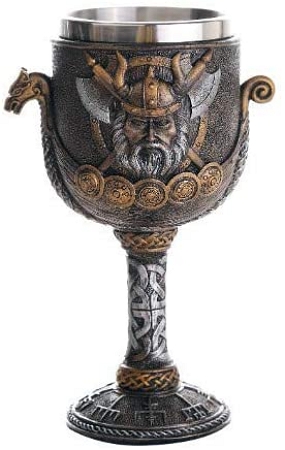 Allow your recipient to celebrate and drink to their heart's content with this Viking-themed wine goblet. It's a great cup for those who love to experience a lavish lifestyle every once in a while.
The impressive design wouldn't make for a bad display piece, either.
11. "Meet Me In The Halls of Valhalla" Clock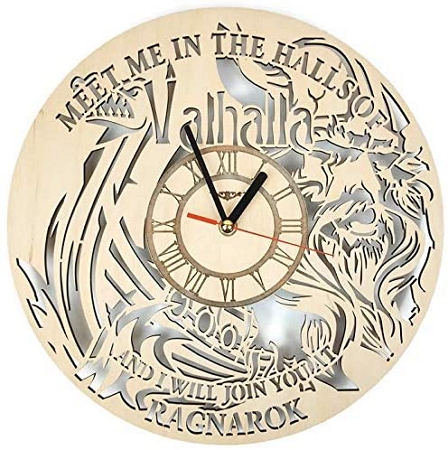 According to Norse myth, Ragnarok is a series of tragic events that entails the death of gods, such as Odin, Thor, Loki, and many more, but the aftermath of which is supposed to bring some kind of prosperity.
Here's a Norse-inspired clock for those who are not looking forward to Ragnarok, but must (a.k.a. Monday mornings). This silent quartz clock features a drakkar longship design that any Viking enthusiast will appreciate.
12. American-Style Viking Tumbler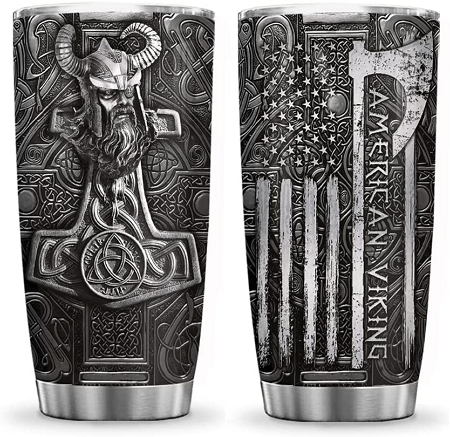 Here's a tumbler featuring some patriotic and Viking designs for the proud Viking that's constantly on the go.
Any beverage will be kept cold in this metal tumbler for at least 20 hours because it's triple insulated. The stainless steel interior will prevent any transfer of flavors and any worry of rusting.
13. Viking Ship Pop Up Card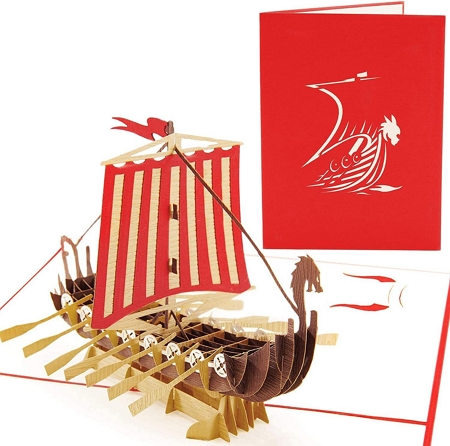 Here's a cute Viking longship pop-up card that goes well with any present you get for your giftee. This item is more than just a greeting card since the laser-cut drakkar is almost an art in itself that can be displayed.
14. Viking Longship Candle Holder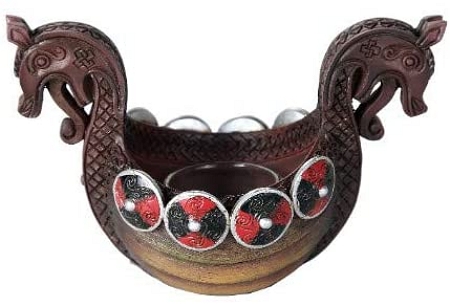 People who enjoy scented candles and Viking aesthetics will rejoice when they receive this longship candle holder.
There's no need to worry about it being a flame hazard since this particular longship is not made of wood but crushed stone mixed with resin.
15. Viking Longship Shot Glass Holder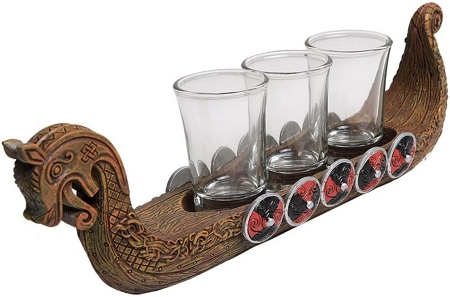 Here's another longship that will serve your giftee who appreciates the Viking spirit, or any type of distilled liquor.
This incredible shot glass holder might look like it's made of wood, but it's made of resin, which is more durable.
16. Valhalla Coffee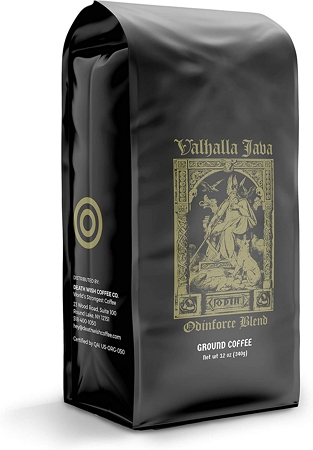 Viking admirers who love a good coffee brew in the morning should explore this Valhalla Java arabica. Indonesian coffee beans are considered to be one of the best in the world, having low acidity and a rich earthy flavor.
While Vikings probably never encountered coffee during the Middle Ages, they are portrayed as very energized, just like how your recipient will be after a good morning brew.
17. Handcarved Odin Totem Figure

Those looking to spruce up their home with wooden decor and a Viking aesthetic should be given this hand-carved Odin totem. Anyone who appreciates the craftsmanship of a woodworker will also be glad to receive such a gift.
18. Viking-Inspired Shower Curtain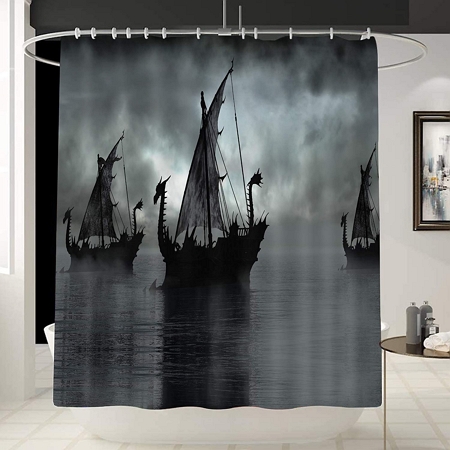 Here's a shower curtain to set the mood for your recipient while they're sailing in their drakkar bathtub. It's easy to install and fits most standard showers. The digital printing technology used produces a high-resolution image of this grim Viking army.
19. Viking Hairpin Gift for Her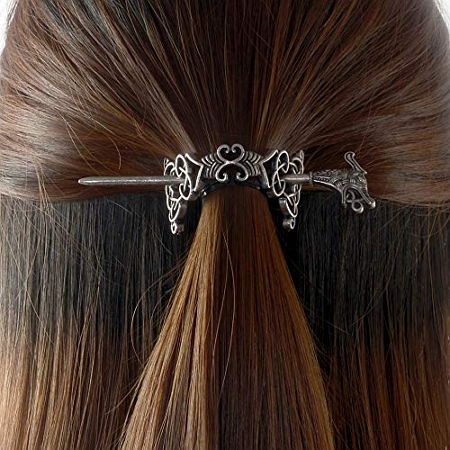 Here's a nice little Viking present for the woman in your life. The dragon design typically seen in Viking longships is meant to instill fear in their opponents, but this hairpin will give any woman the confidence she needs.
It's also made of pewter, which is a material that doesn't normally cause allergic reactions.
20. Cute Barbarian Helmet Beanie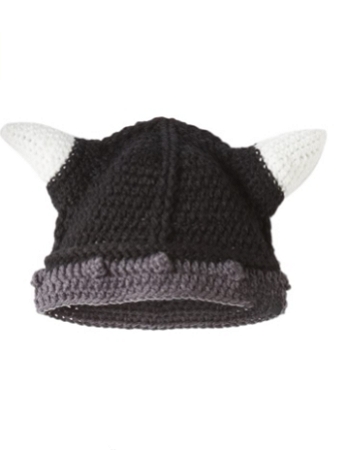 The helmet with horns is one of the prominent misconceptions regarding Viking culture. Many people find it fascinating, however, and this cute beanie is the perfect headwear for any type of Viking enthusiast.
9 Viking Gifts for Him
21. 2-Piece Viking Knives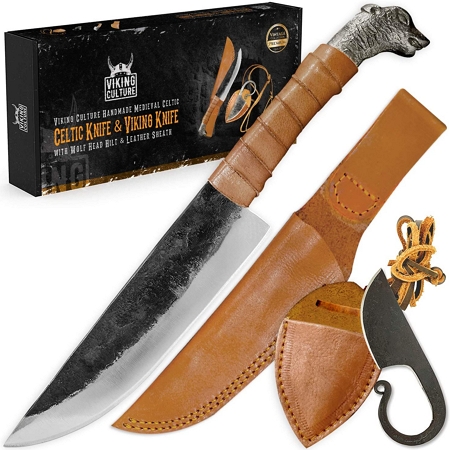 Give this Viking blade and Celtic knife to those who love to dress their own game. The 10 inch Viking knife is made of carbon steel, which means that it can cut through any type of meat, while the Celtic knife is more appropriate for smaller game.
Both knives come with a leather sheath to protect both the user while carrying it and the knife from being dropped by accident.
True hunters should always be well-equipped for any situation, so here are the best gifts for hunters.
22. Viking Throwing Axe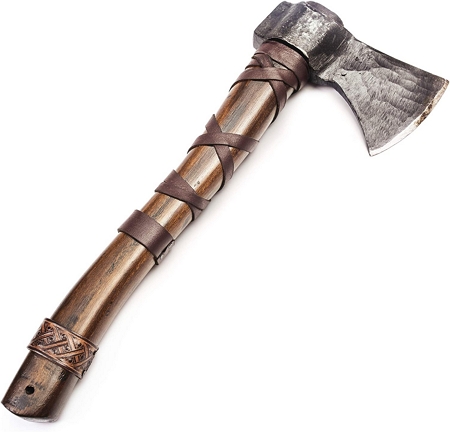 Check out this other survival tool that will make your giftee feel like a true Viking! The steel has been hand forged to ensure durability and sharpness.
The handle has an ergonomic design and is made of quality timber that makes it weather-proof, perfect for any outdoor activity, like hunting or axe-throwing.
23. Viking Drinking Horn with Stand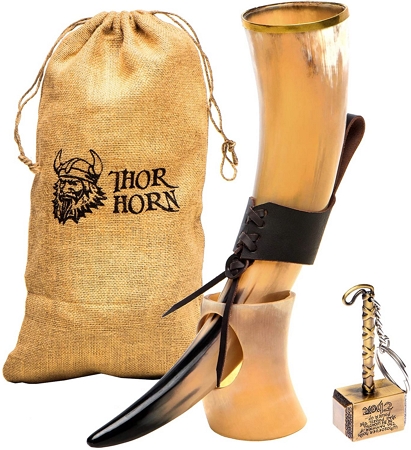 Allow your recipient to drink as the Vikings did with this authentic drinking horn. It's made of a real buffalo horn and comes with a stand and a leather strap that will keep their hands free.
24. Norse Horn Mug and Shot Glass Set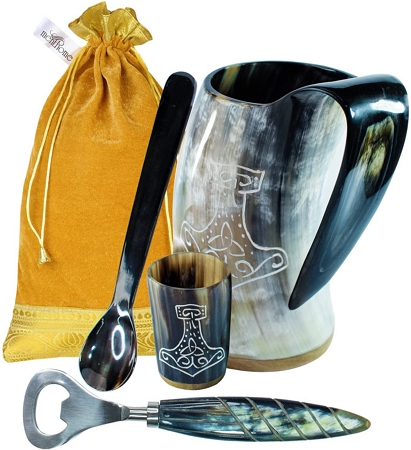 If your recipient is less open to the idea of drinking from a bull's horn, then this might be a more appropriate gift while still retaining the Viking aesthetic.
The mug is still made of animal horn, but it's crafted in a way to make it look more like a normal tankard and less an animal horn. The set comes with a bottle opener for beers and a shot glass for other types of spirits.
25. Ultimate Beard Care Kit for the True Norseman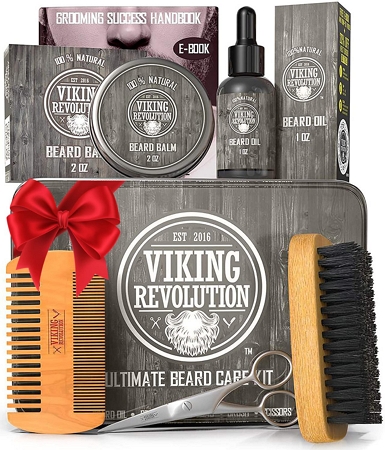 Reward your Norseman with the ultimate beard care kit so he can nurture that facial hair he's worked so hard for.
Viking Revolution brings the perfect accessories and tools, including a beard comb, a brush, a pair of trimming scissors, and the best oil and wax products to soften and model your man's Viking-inspired beard.
26. Viking Axe Necklace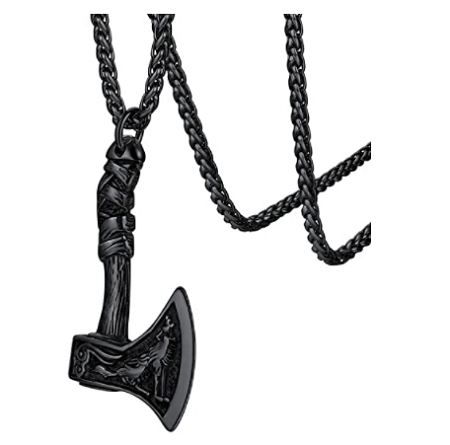 Here's a necklace with an axe pendant that's the perfect birthday present for any Viking enthusiast. The axe pendant is very detailed, from the handle to the howling wolf insignia.
27. Viking Ring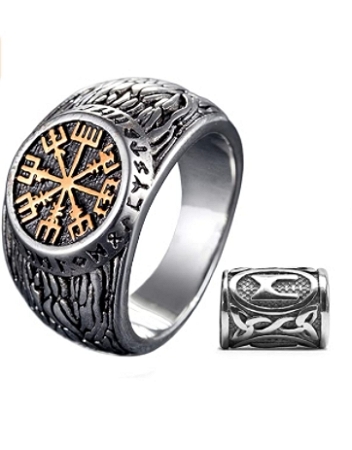 Here's an amulet to wish your recipient safety during their navigation in life. Vegvisir symbolizes protection for those who need to brave through rough weather. This ring will remind the wearer to be strong during tough times.
28. Viking-Style Belt Buckle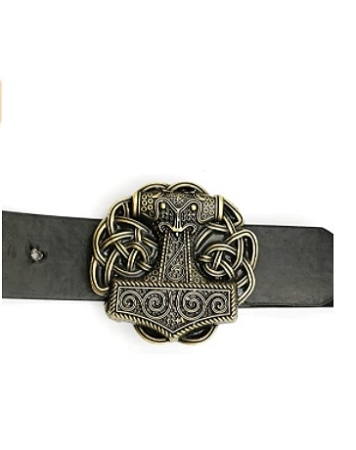 Need something fancy to make your giftee's casual look a little bit more elaborate? Check out this Viking-style belt buckle that will fit any type of snap-fit belt.
29. Men's Watch Designed with Norse Symbols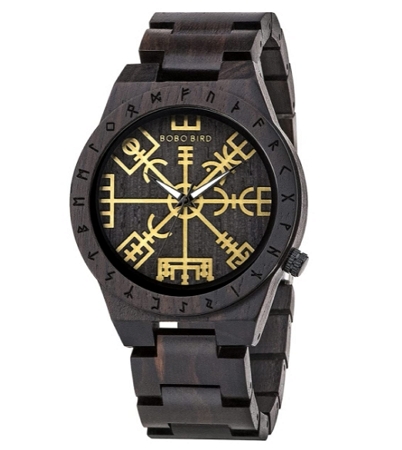 This men's watch is the best gift for the man who wishes to admire the Vikings in a more low-key way.
Unlike other watches that feature Roman numerals, this one is designed with vegvisir runic symbols, perfect for any Viking lover.
All Aboard These Viking Gifts!
There are appropriate gifts for anyone who loves Viking stuff, whether they want to display their admiration for the Viking culture through Odin statues or they love hunting wild animals with Viking axes.
Check out our other posts for even more gift ideas: