If you're looking for a traditional 18 year wedding anniversary gift for your spouse, anything made of porcelain, garnet, cat's eye, or the color blue is the traditional gift for this joyous occasion.
But, since you're here, you're probably looking for something unique and nontraditional. Whether you decide to go with tradition or not, don't be shy about getting creative with your gift choice.
Scroll through this list to discover 28 of the best nontraditional 18 year anniversary gifts your spouse will appreciate, and gifts you can enjoy together.
8 Useful 18th Wedding Anniversary Gifts for Couples
1. Double Belgian Waffle Iron
Nothing completes Sunday morning brunch at home better than waffles, and this double Belgian waffle maker cuts cooking time in half. It makes two fluffy waffles in less than four minutes and gives you more time to make mimosas.
Its nonstick coating makes clean-up a breeze so you and your spouse can do more fun things with your weekend.
2. Charcuterie Set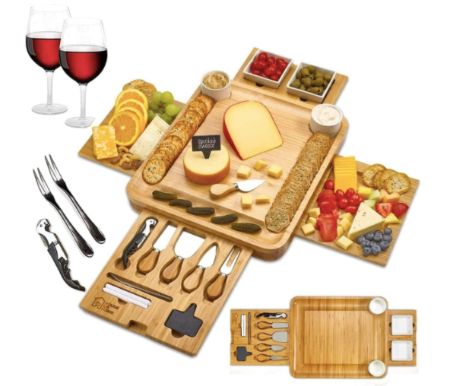 If you and your spouse love entertaining, this complete charcuterie set is a great way to impress your guests at your next wine and cheese party.
The tray is made from sustainably grown bamboo and includes storage drawers, four high-quality stainless steel knives, two ceramic bowls, two plates, three slate labels, two markers, and a wine opener to complete the set.
3. Espresso Machine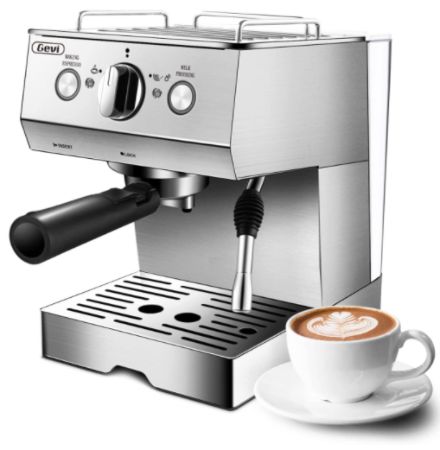 Level up your and your partner's morning coffee game without having to drive to your favorite coffee shop with this semi-automatic 2-in-1 espresso machine.
Now you can both have your espressos right at home, just the way you want it. Talk about the gift that keeps on giving!
4. Robot Vacuum Cleaner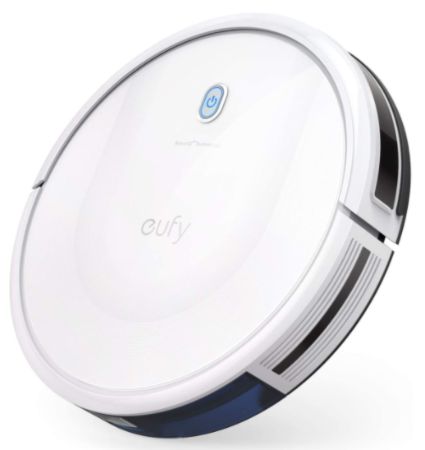 Say goodbye to arguments about whose turn it is to clean. With a touch of a button, this robot vacuum cleaner does the work for both of you.
It works on hard floors and medium-pile carpets and has sensors that prevent it from falling or bumping into things. It works quietly, too, so the cleaning gets done anytime without waking up the kids.
5. Back, Neck, and Shoulder Massager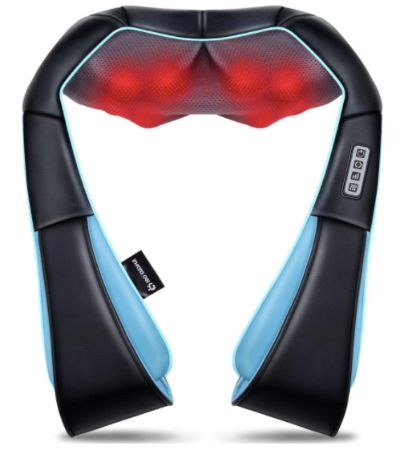 For times when you're not there to rub away your significant other's sore muscles, you can still show them how much you care with this convenient back, neck, and shoulder massager.
It has eight massage nodes that use Shiatsu-based massage movements to knead their tired muscles anytime and anywhere.
This massager also comes with optional infrared heating to improve blood circulation.
6. The Love Poems of Rumi by Rumi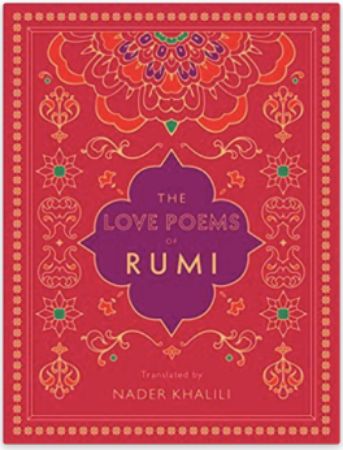 This book contains over 120 poems from the Persian mystic poet and Sufi master named Rumi. His verses on love and its deeper meaning have enchanted readers all over the world of every faith and background.
Or, you can also check out this 2-in-1 book called 100 Love Sonnets and Twenty Love Poems by the famous Chilean poet, Pablo Neruda. The first book, 100 Love Sonnets was published in Spanish in 1959 and dedicated to his wife, Matilda Urrutia.
7. King and Queen Satin Robe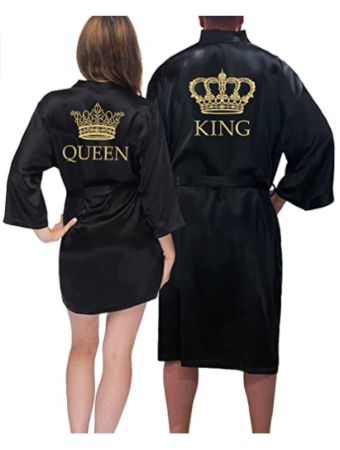 This "his and hers" satin robe set is a great 18th wedding anniversary gift to make the happy couple feel like the queen and king they are.
These robes are made of a premium satin charmeuse blend that feels as soft and luxurious as silk for that extra comfort and relaxation they most definitely deserve.
8. Personalized Porcelain Christmas Ornament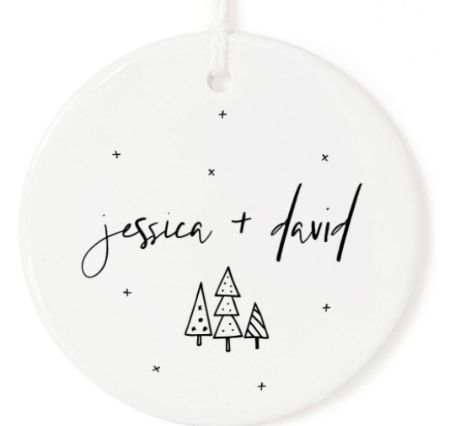 Mark your 18th anniversary the traditional way with this personalized porcelain Christmas ornament that measures 2.75 inches in diameter and can be customized with your names and/or a message.
11 Thoughtful 18th Anniversary Gifts for Her
9. Bone China Tea Set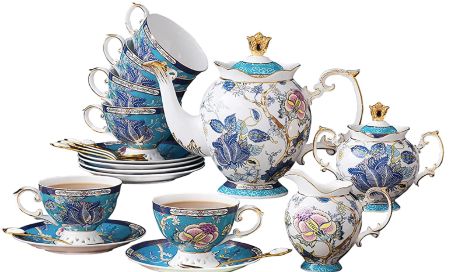 Whether or not your wife is someone who throws tea parties, this heirloom-quality bone China tea set as an 18 year anniversary gift will be one for the books.
This set is made with beautifully hand-painted fine bone china. She'll want to keep it forever and pass it on to her children or grandchildren.
10. Jewelry
You can never go wrong with jewelry. In keeping with the 18-year anniversary gift tradition, we've chosen two equally amazing garnet pieces, depending on your budget.
This bold but feminine Red Garnet Cocktail Ring is handmade with 92.5 sterling silver and can be engraved with a special message. You can also choose to go with the gold version if that's more her style.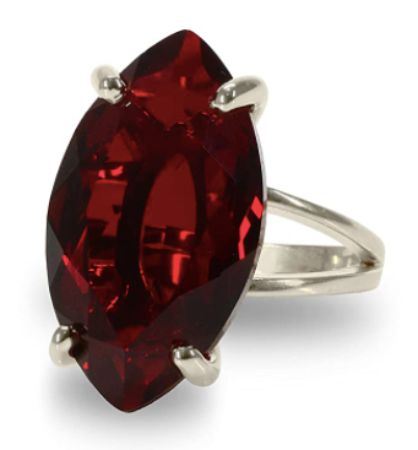 The next piece is on the pricier side but is still definitely worth the splurge. This beautiful 0.45 carat heart-shaped Garnet Pendant comes with a 14K yellow gold chain and will become one of your wife's favorite pieces.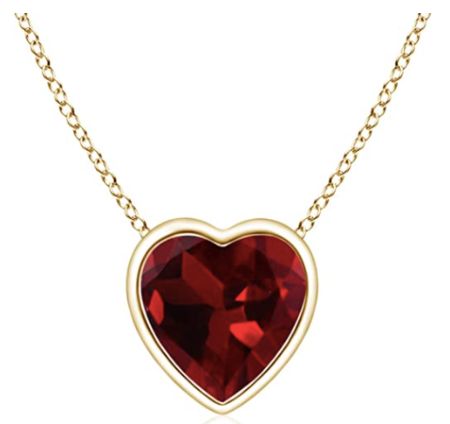 11. Preserved Rose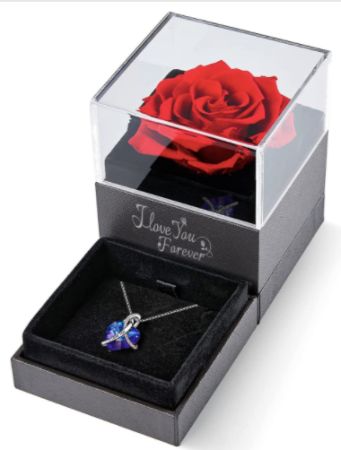 If your partner loves flowers, then this rose is the perfect 18th-anniversary gift for her. This real rose comes beautifully preserved in a clear acrylic box and includes a lovely stainless steel, hypo-allergenic necklace.
This rose is guaranteed to brighten her days for a long time to come.
12. Instax Mini 11 Camera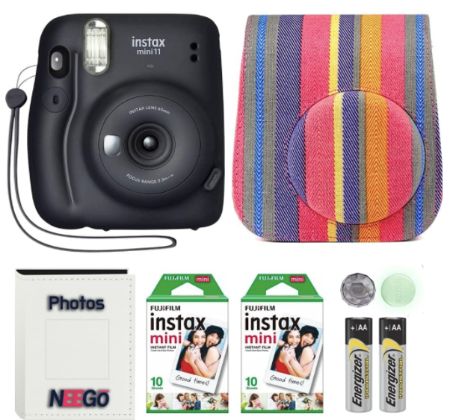 Now she can easily take tangible pictures of your family, vacations, pets, and whatever else she wants with this Instax Mini Camera that's very easy to use.
This bundle comes complete with everything she needs to take her first picture as soon as she opens this thoughtful gift.
13. Ergonomic Office Chair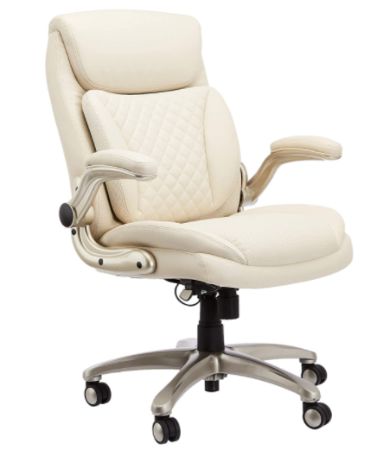 If your partner works from home, this ergonomic office chair will be a godsend. This high-backed chair has adjustable height and depth, back height and tilt, lumbar support pad, and flip-up armrests.
Plus, it's upholstered in bonded leather so it provides maximum comfort for those long hours sitting behind her desk while being easy to clean.
14. Porcelain Trinket Tray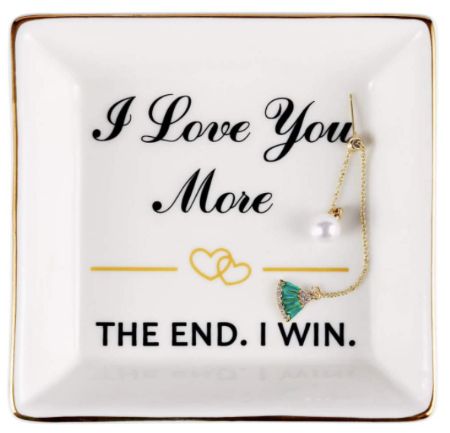 Another traditional 18-year anniversary gift is this porcelain trinket tray that will not only look good on her nightstand, it will make her smile every time she looks at it.
This might also help you have the last word for a change.
15. Porcelain Pattern Scented Candles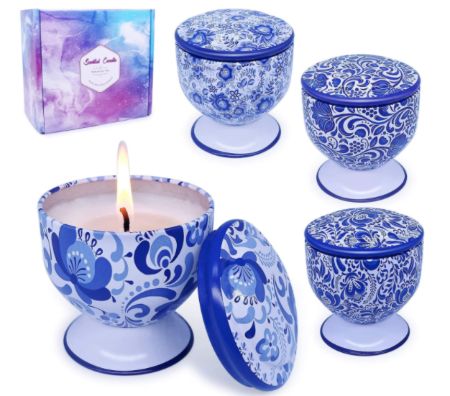 If your partner has a candle obsession, why not give her these porcelain patterned scented candles? Each 4.0 oz candle is made of natural soy wax that's infused with essential oil of Lavender, Lemon, Vanilla and Jasmine, and Apple and Cinnamon.
They come in beautifully painted tin containers so she can take one or two with her on the go.
16. Porcelain 3D Lotus Sculpture Wall Art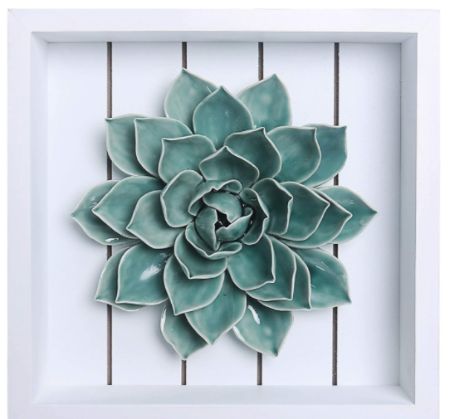 This handcrafted 3D flower wall art is a subtle yet stunning piece of decor for any wall. The lotus flower is made from porcelain and comes in a sturdy wooden frame.
It also comes in different colors and since it's handmade, no two products will be the same. It's a one-of-a-kind gift for a one-of-a-kind person.
17. Gourmet Chocolate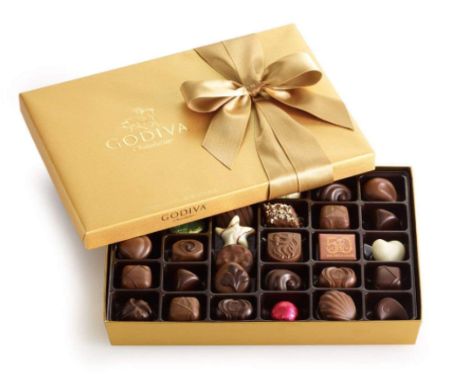 For your partner who can't get enough chocolate, delight her with a box of gourmet Godiva chocolate.
The box contains 36 pieces of chocolate in the six most iconic flavors from the world-famous Belgian chocolatier.
18. Weekender Bag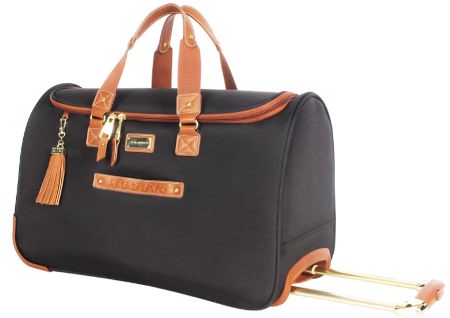 If your wife loves to travel, she will appreciate this weekender/carry-on bag from Steve Madden that can either be rolled or carried by its handles.
It's sturdy and lightweight which makes it the perfect bag to take for that quick getaway trip you've been planning.
19. Handmade Anniversary Card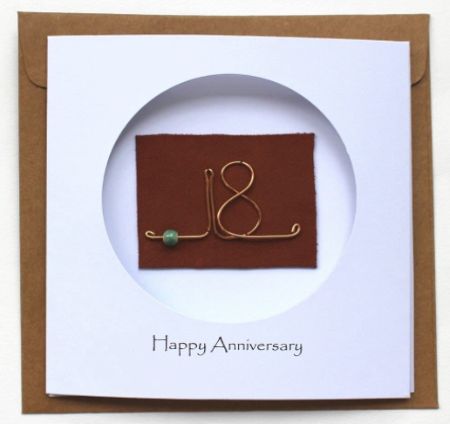 If you want to keep it simple but still special, a heartfelt written message will always be something that hits the right spot.
This handmade card that contains a porcelain bead to keep it within the traditional 18 year anniversary gift is the perfect way to say you care.
9 Useful 18th Anniversary Gifts for Him
20. Moon Lamp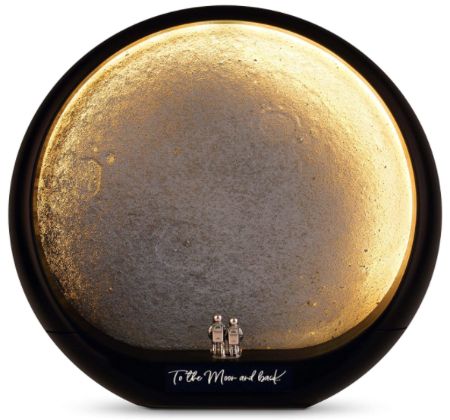 This sleek moon lamp would look cool on top of his desk at work or at home. The lamp's brightness and color can be adjusted by touching the little couple figure on the front when turned on.
It also features a sweet little reminder of how much you care for when he needs it most throughout the day.
21. Garmin GPS Smartwatch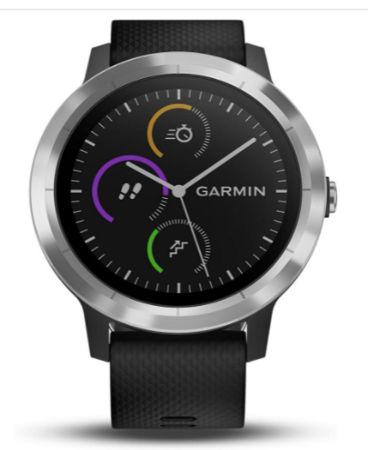 This Garmin Vivoactive 3 GPS smartwatch not only looks cool, it also packs a lot of punch for its price.
Along with all the usual features a smartwatch has, this watch also allows contactless payments and has more than 15 preloaded GPS and indoor sports apps.
22. Hover Helmet with LED Lights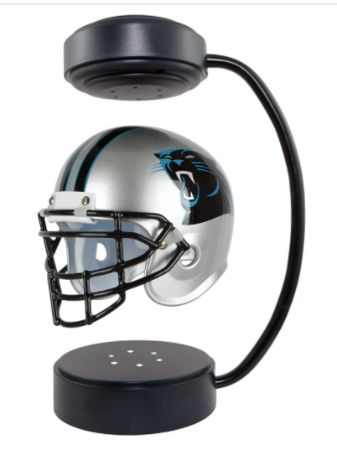 Indulge your favorite sports buff on this joyous occasion with this amazing hover helmet with led lights.
Choose his favorite pro or college football team and watch his eyes light up like a little boy on Christmas morning.
23. Faux Porcelain Triple Blade Razor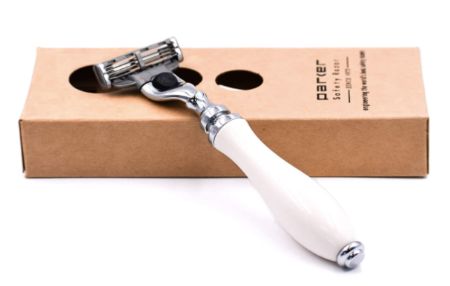 Shaving doesn't have to be boring with this elegant faux porcelain triple-blade razor that's compatible with Gillette's Mach 3 and Venus razor cartridges.
It features a lightweight, long handle for a comfortable shave minus the nicks and cuts.
24. Jo Malone Men's Cologne Collection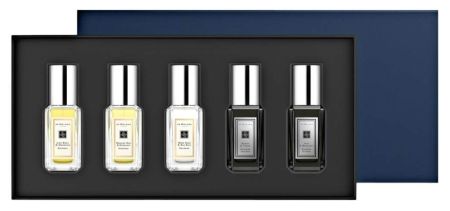 If you're tired of your guy wearing the same old cologne he's been wearing since the day you met, this men's mini cologne collection from Jo Malone is the perfect 18-year anniversary gift.
It comes in a beautiful box with five different travel-sized scents he can try.
25. Black + Decker Stackable Toolbox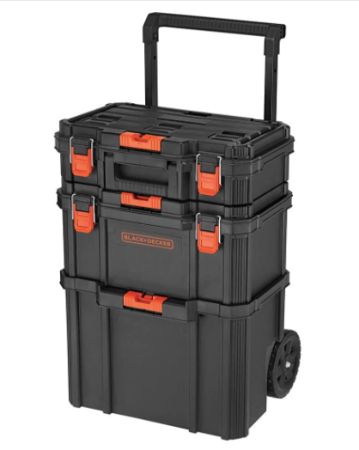 How does that old saying go?
"A place for everything and everything in its place."
This stackable three-layer toolbox from Balck + Decker is perfect for keeping every tool, screw, and other items big and small organized and in one place.
26. Cuisinart Deluxe Grill Set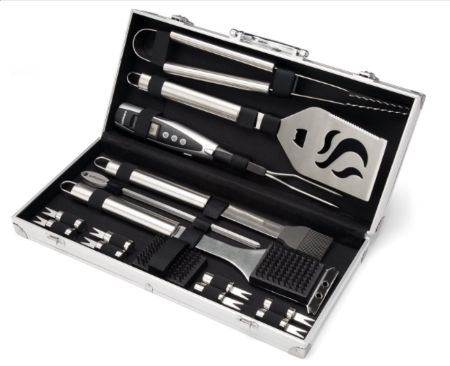 If your equal half likes to grill, make him feel like the grillmaster at the next family barbeque with this 20-piece grill set from Cuisinart.
This set contains all the essential tools he'll need to grill that perfect steak: various spatulas, tongs, a digital temperature fork, a basting brush, and a stainless steel grill brush for easy clean up.
27. Laptop Table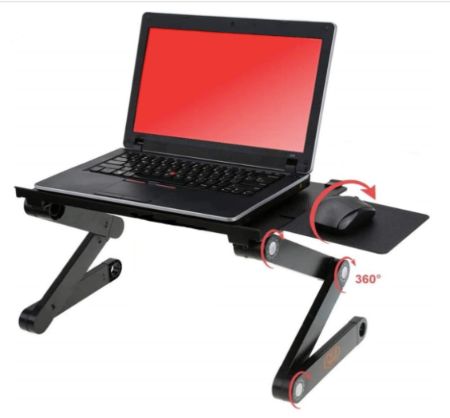 Save him from neck, shoulder and hand strain with this lightweight ergonomic laptop table. This portable table is adjustable to get the most comfortable height and has a built-in mouse pad and two cooling fans.
Now he can work comfortably from the bed, couch, or his favorite La-Z-Boy.
28. Customized Porcelain Mug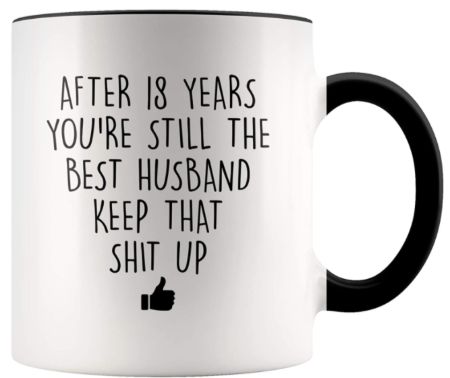 This porcelain mug is sweet and simple with a sense of humor because married or not, we all could use some humor these days.
18 Years of Marriage, and the Journey Continues…
Congratulations! Almost two decades in and many more years to look forward to. Whether you decide to go with a big or small 18 year anniversary gift, what's important is that you mark the occasion and reaffirm your love for each other.
If you're looking for something not on this list, I have more gift guides to help you: