Everybody loves Dr Pepper. Why? Because it has the perfect blend of 23 unique flavors that everyone from all ages, backgrounds, and nationalities just can't get enough of.
Dr Pepper has been one of the leaders in the soft drinks industry for over a hundred and thirty years. It also expanded around the globe and is now sold all over Europe, Asia, and the Americas.
If you know someone who loves the carbonated drink more than anybody else, then these cool Dr Pepper gifts are right for them. This list has Dr Pepper shirts, decors, and more!
Read on to make their holidays, birthdays, and anniversaries more special with these awesome Dr Pepper gifts.
9 Dr Pepper Gifts
1. Dr Pepper Scented Candle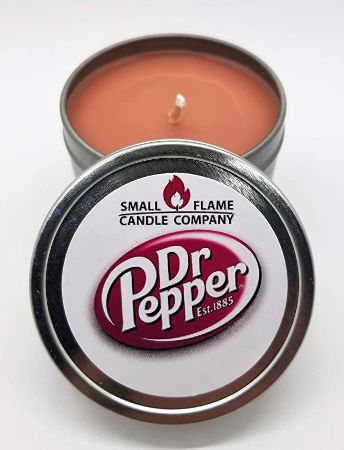 Nothing beats going home and smelling Dr Pepper all over the place. Also, lighting this candle while they soak in the tub will be a great reward after working hard all week.
Find more amazing self care gifts on this post.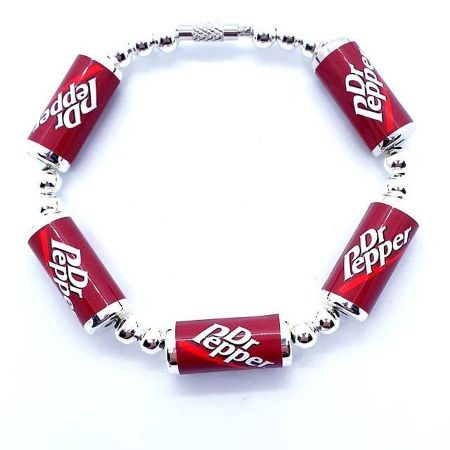 Now, who wouldn't want to get these super cute Dr Pepper Bracelet?!
Get this handcrafted bracelet to your recipient who's obsessed with Dr Pepper. It's a great accessory that will show their love for the drink.
3. Soft Silicone AirPods Case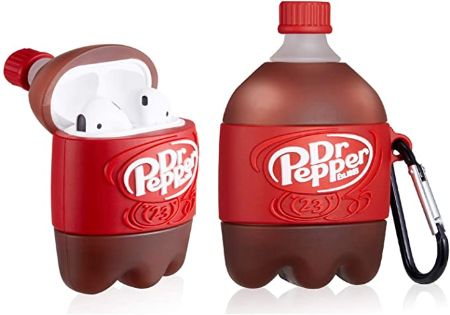 Protect their AirPods while making it 100x more adorable through this case. It provides all-around protection from bumps and scratches since it's made with premium silicone materials.
This soft silicone case is compatible with AirPods 2/1.
4. Pouch Bag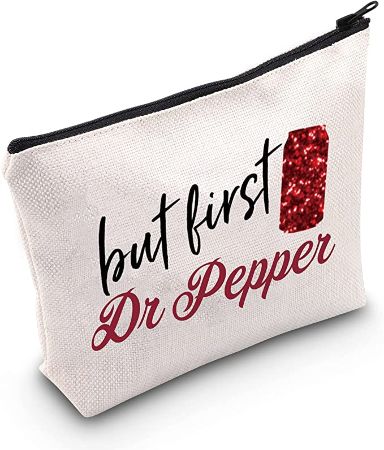 Every great day starts and ends with a Dr Pepper. Let this pouch be a reminder to take their daily dose of Dr Pepper everyday.
Kidding aside, this pouch will be useful to organize things such as makeup, school supplies, and accessories. Brownie points for the pretty design.
5. Dr Pepper Sign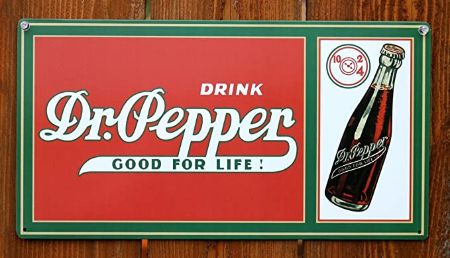 What's great about Dr Pepper is that it's more than just a drink. It's also a pop culture icon that's used as decoration such as this sign.
This vintage Dr Pepper sign will be a perfect addition to your recipient's home, man cave, or workstation that will instantly brighten up the space.
6. Shirt for Women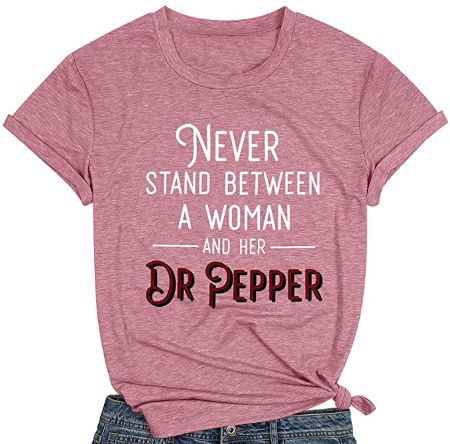 Let's make one thing clear: "Never EVER stand between a woman and her Dr Pepper."
Follow this simple rule to remain on good terms with the biggest Dr Pepper fan in your life. Don't forget to give them this awesome shirt as well.
7. Distressed Dr Pepper T-Shirt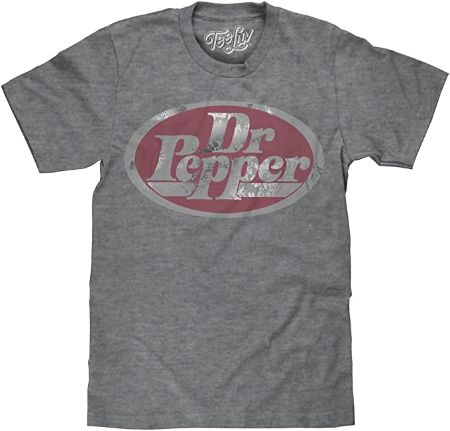 Dr Pepper has amassed a huge following since it has been around for more than a century. And some of these fans have been drinking Dr Pepper all their lives.
This distressed shirt will be a great representation of their loyalty to the drink. It shows that no matter how old they get, Dr Pepper will always have a special place in their life.
8. Novelty Socks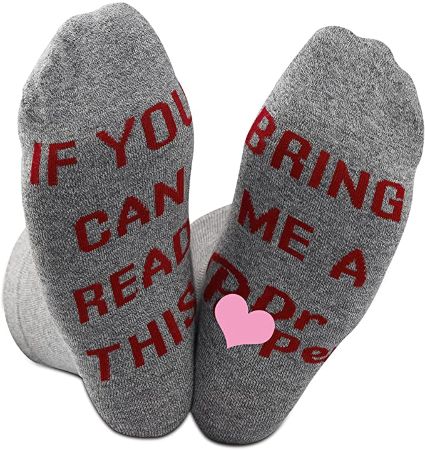 You can never go wrong with novelty socks especially those who have a Dr Pepper reference. They'll be useful for everyday use and will keep their feet warm and comfy throughout the day.
9. Red Plastic Tumblers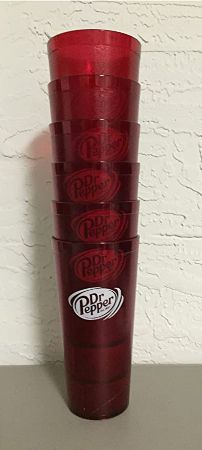 Dr Pepper is meant to be shared. Share the fun of Dr Pepper with friends and family with these plastic tumblers.
Plus, these high-quality tumblers comply with NSF standards and are BPA-free. Each set includes six 24-ounces cups.
5 Dr Pepper Food and Beverages
10. Dr Pepper Baked Beans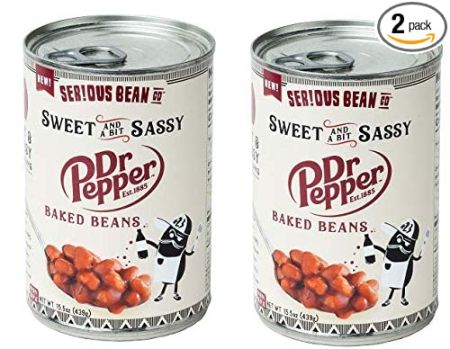 Your recipient may have tried all the flavors and variants of Dr Pepper, but have they tasted Dr Pepper baked beans?
Let them experience Dr Pepper in a whole new different way through this gift. The pack comes with two 15 oz baked beans that will complete their Dr Pepper-themed meal.
11. Dr. Pepper Cotton Candy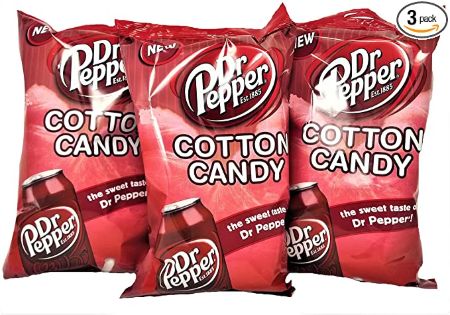 This Dr Pepper present will be ideal for your recipient who has a sweet tooth.
It will double up the fun with the fluffiness of cotton candy combined with the sweetness of Dr Pepper. It couldn't get any better than this!
12. Dr. Pepper Jelly Beans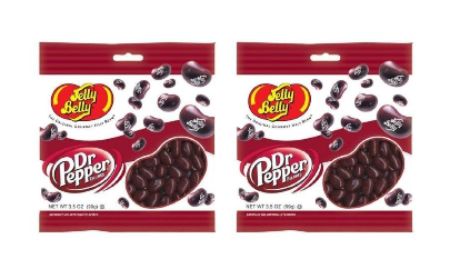 Don't forget to add these jelly beans to your Dr Pepper gift basket!
Here are other Dr Pepper-themed items that will complete the present: Dr Pepper dessert topper, Dr Pepper cream soda, and gift basket.
13. Dr Pepper Cherry
Here's a foolproof present to the Dr Pepper fan in your life— a monthlong supply of their favorite drink.
The refreshing taste of Dr Pepper Cherry will quench your recipient's thirst and will satisfy their sweet tooth cravings. Plus, it's a great mixer for their next party.
14. Diet Dr Pepper Soda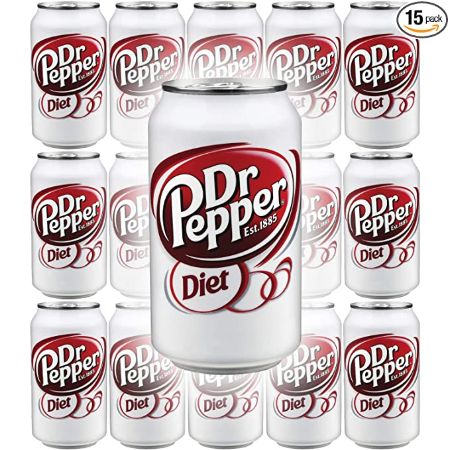 Is your recipient on a diet? That's not a reason not to drink Dr Pepper!
This Diet Dr Pepper has zero calories so your recipient will enjoy the drink guilt-free. Each pack contains 15 cans of Diet Dr Pepper.
5 Dr Pepper Merchandise
15. Dr Pepper Lip Balm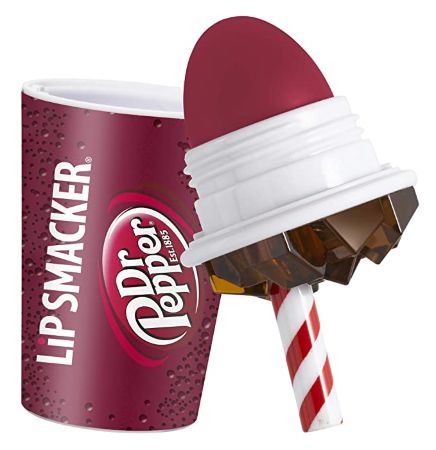 Your recipient won't have to worry about dry lips thanks to this cute lip balm. Aside from effectively moisturizing their lips, it's also Dr Pepper scented which is a huge plus.
This lip balm is ideal for a combination skin type.
16. Lil' Sweet Funko Pop!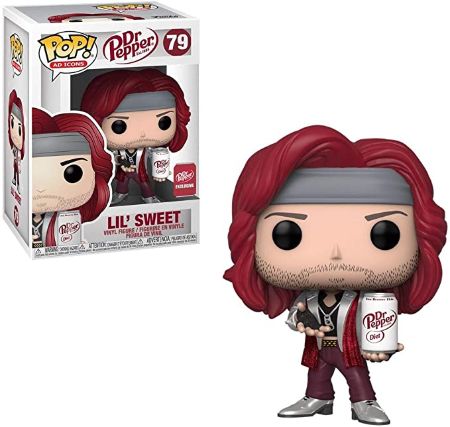 Dr Pepper won't be complete without Lil' Sweet. Every fan of the drink knows who this magical being is. He's this creature that gives out Dr Pepper to those who deserve a reward.
Your recipient will have this iconic character from their favorite drink inside their home with this epic Funko Pop!.
17. Baseball Cap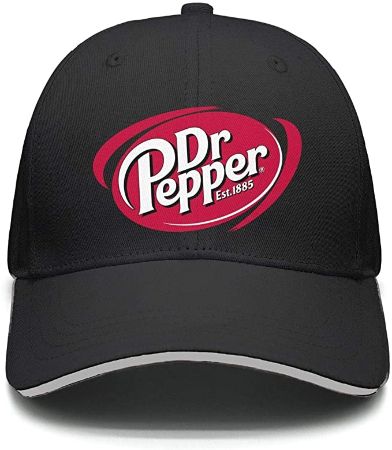 Get this cool cap for the biggest Dr Pepper fan in your life. It's a great gift since it serves two functions: it's a practical gift that will be useful for outdoor activities and it will proudly show their love for the drink.
18. Dr Pepper Kanji Shirt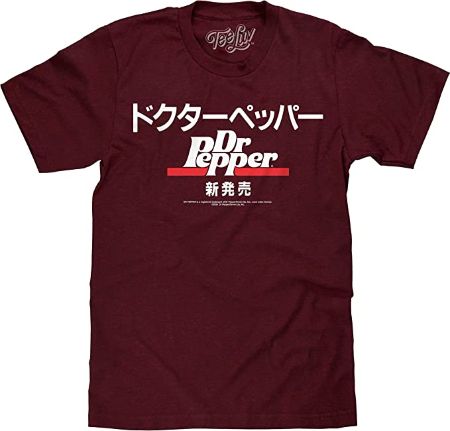 This kawaii shirt will delight your recipient and will be a great present no matter the occasion. Plus, shirts are great presents since they're practical.
Check out this list of Sailor Moon gifts for more kawaii gifts.
19. Dr Pepper Hoodie
Keep them warm and cozy through this red Dr Pepper hoodie. It's made with high-quality materials so it won't shrink or fade even after multiple washes.
It also comes in a wide range of sizes: small to 3XL.
Bonus: Must-Haves for Dr Pepper Lovers
20. Vacuum Insulated Tumbler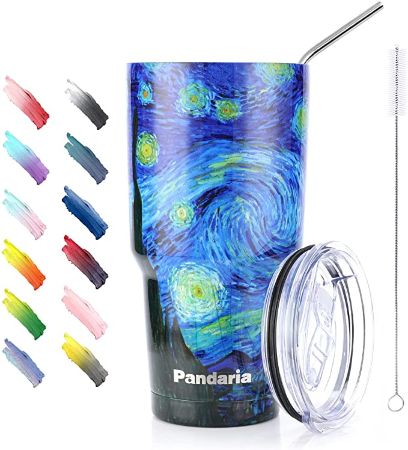 An aesthetic tumbler will also be an ideal gift for the soft drink lover in your life. It will keep their drinks cold while they watch a movie or read a book.
This tumbler comes with an eco-friendly straw and cleaning brush. Choose from the eight beautiful designs available.
21. Beverage Refrigerator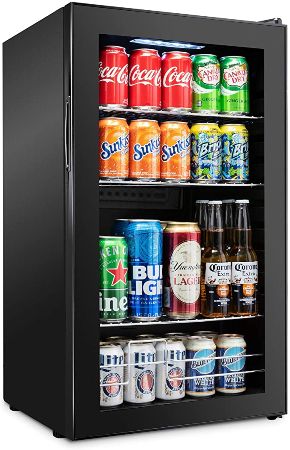 It's important to keep their Dr Pepper cans as well as their other beverages cold to fully enjoy the drink. This mini fridge will be the best gift for that since it's compact and can fit up to 126 cans. That's a whole lot of Dr Pepper!
22. Drink Sleeves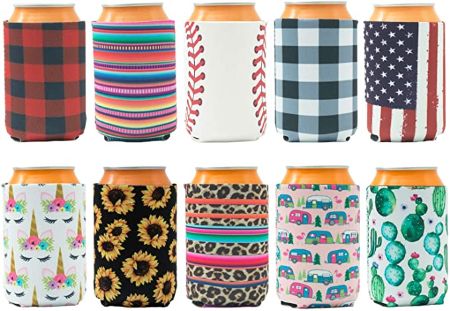 Thank your hostess for a lovely meal with these cute drink sleeves. These will not only keep the temperature of the drinks but will also protect the furniture from scratches. A win-win gift!
Daily Dose of Dr Pepper Gifts
Dr Pepper has been part of the lives of countless people so it holds a special place in their hearts. Relive the best moments of their lives and create new memories with these Dr Pepper gifts.
Read on to find more exciting gifts here: