Sailor Moon ran for 200 episodes and five seasons in the 90s. Whether it's because of the courageous warriors, amazing animation, or relatable characters, Sailor Moon has managed to maintain its popularity even in the 21st century.
You'll find the best Sailor Moon gifts on this list that includes everything a fan could ever want, and more — from practical gifts, such as a bag, to more aesthetically pleasing items, like artwork and cool wineglasses.
21 Sailor Moon Merchandise
1. Sailor Moon Backpack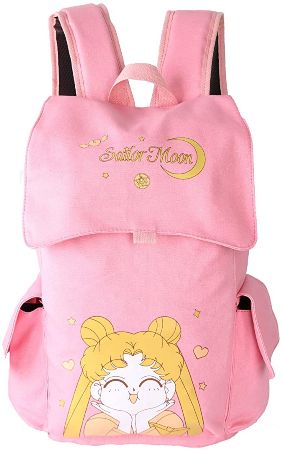 Turn their school bags from cute to super kawaii by upgrading to this adorable pink Sailor Moon bag. This gift is both cute and practical because it's very spacious and can even fit a 14 inch laptop.
Since it's made from canvas, cleaning and washing this bag won't be a problem.
2. Sailor Moon Handbag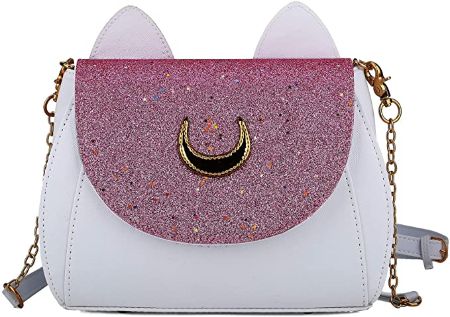 Going to a party or the mall? This sparkly handbag will be a great choice to bedazzle their outfit.
Like the Sailor Guardians who have different costume colors, this bag also comes in blue, black, and gold.
3. Sailor Moon Notebook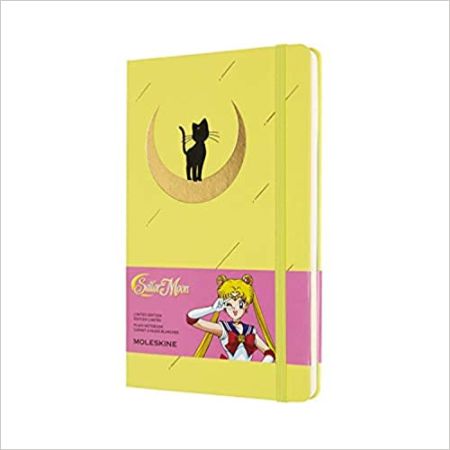 It's important and healthy to have a trusty outlet for our unfiltered and true emotions — whether that's a friend, therapist, or notebook.
This notebook will be a safe space for them to write their feelings, poetry, and even draw sketches of anime characters (such as Sailor Moon).
4. Lanyard Set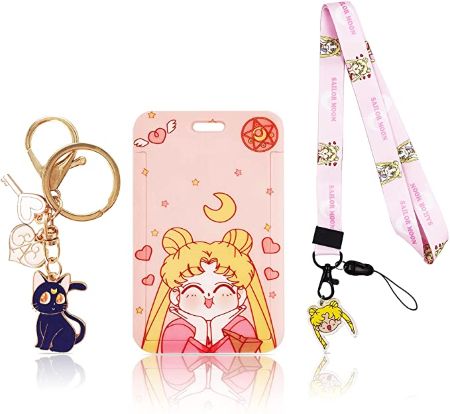 Your fun coworker deserves more than just a plain old boring lanyard for work. An adorable Sailor Moon-themed one will brighten up their day and will make them look forward to another day at work.
There are multiple designs and inclusions to choose from such as a lanyard, ID holder, keychain, and stickers.
5. Sailor Moon Ramen Bowl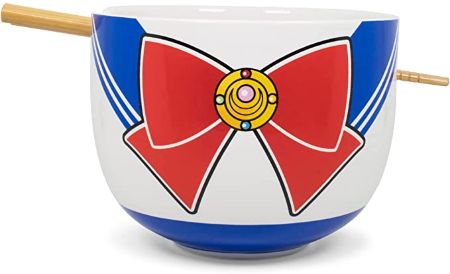 Watching Sailor Moon while enjoying a hot bowl of ramen is a great way to immerse themself into the Japanese culture. It makes the experience more authentic and memorable.
6. Sailor Moon Wine Glasses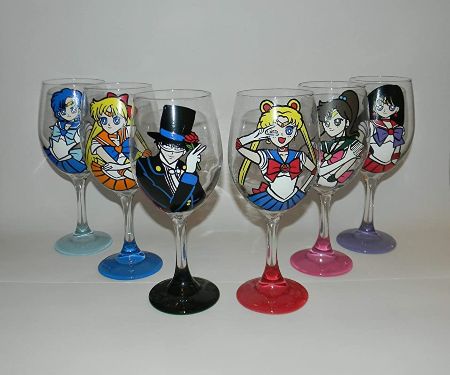 Or if they're the type of person to binge-watch Sailor Moon with fellow anime fans, these wine glasses are definitely a cool present.
Each friend will have a pretty glass featuring the Sailor Guardians and Tuxedo Mask.
7. Wine Stopper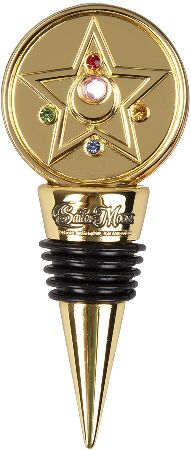 Just as the crystal star helps transform Sailor Moon into her stronger and powerful self, a glass of wine can also do wonders for a person.
Made with heavy-duty and sturdy metal, the stopper will fit any wine, soda, or beer bottle.
8. Sailor Moon Cookie Cutter Set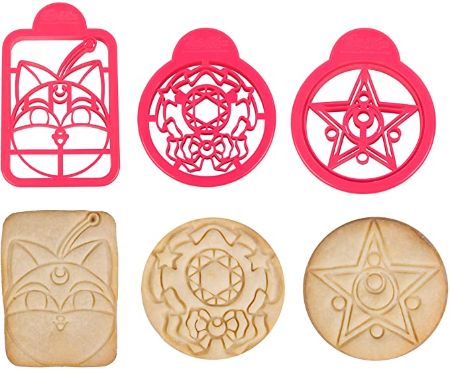 Their Sailor Moon-themed watch party will be a hit, especially when they serve yummy cookies in the shape of the famous transformation brooch and the adorable Luna. With these cookie cutters, they'll win the best host of the year award.
9. Silicone Ice Cube Tray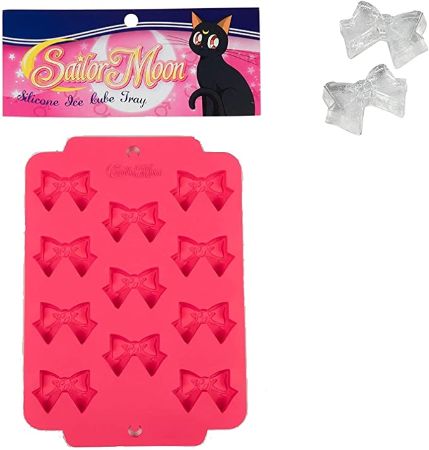 The Sailor Guardians are well-known for their out-of-this-world powers (figuratively and literally)  as well as their cute outfits and big bows.
True Sailor Moon fans will appreciate how thoughtful the details of the gift are.
10. 3D Sailor Moon Fridge Magnets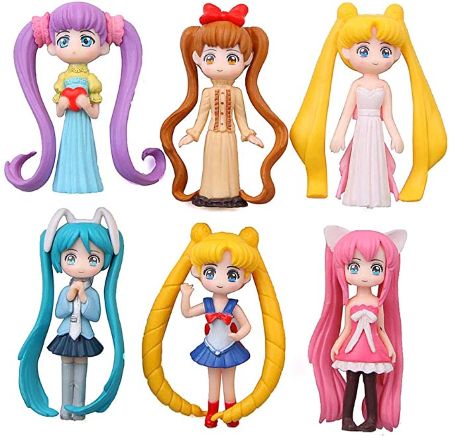 The Sailor Moon fan in your life will love these magnets of the show characters in their adorable chibi forms.
Stick these in lockers, on whiteboards, and on the fridge to add life and color to each space.
11. Sailor Moon Bodysuit Dress for Babies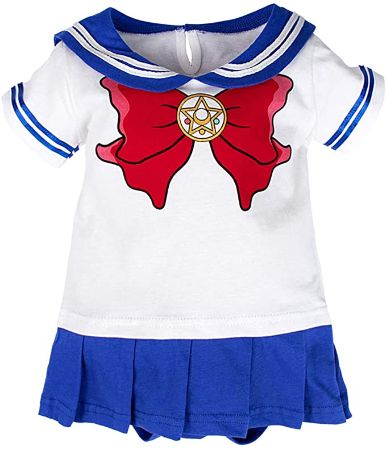 For the youngest Sailor Guardian you know, this bodysuit dress will be their first-ever official uniform to fight evil with their adorableness.
It's also available in Sailor Mars, Sailor Jupiter, and Sailor Venus designs.
12. Sailor Moon Top and Shorts Set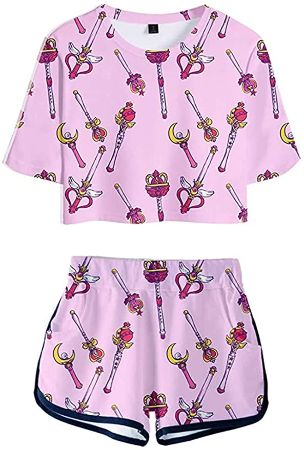 The Spiral Heart Moon Rod, Garnet Rod, Eternal Tiare, and of course the Moon Scepter are among the most powerful devices in all of the Sailor Moon universe.
Pick this matching top and shorts for a low-key Sailor Moon present that only fans will appreciate.
13. Sailor Moon Crocs Shoe Charms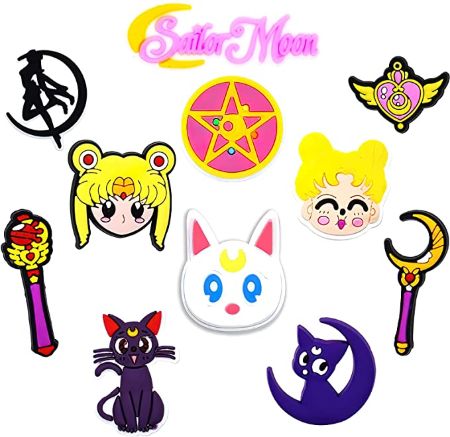 Level up their crocs, notebook, or bracelet game by adding these pretty charms. The set includes 11 charms that they can mix and match to their preference such as Luna, Artemis, Moon Stick, and more.
14. Rose Gold Compact Mirror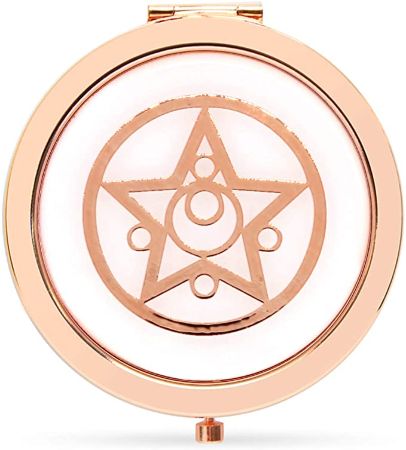 This compact mirror will be super handy, especially for emergency touch-ups on the go. Brownie points for the chic and minimalist design!
15. Luna Cosmetic Hairband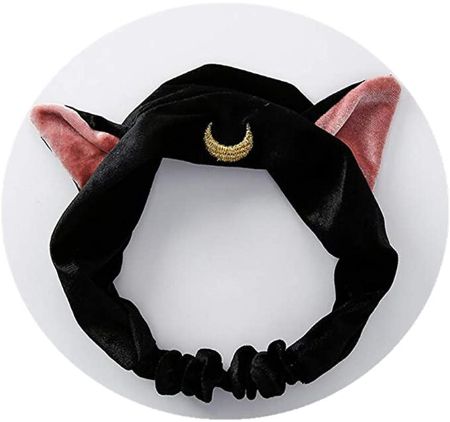 Feel beautiful even while showering or doing skincare and makeup with this adorable Luna hairband. It will keep hair out of their face and help them finish the task much quicker.
16. Sailor Moon Makeup Brush Set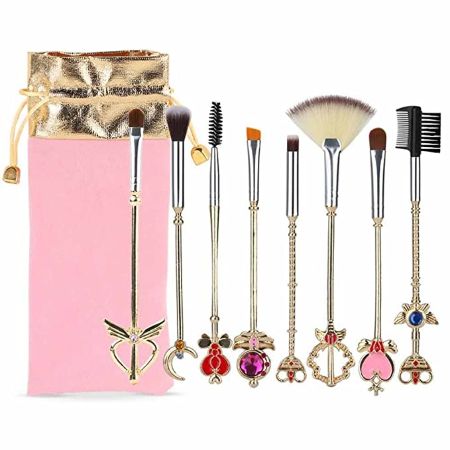 Throw all their basic makeup brushes away because it's time for a magical upgrade. They'll get eight high-quality Sailor Moon-themed brushes and a cute pouch in this gift set.
17. Car Air Freshener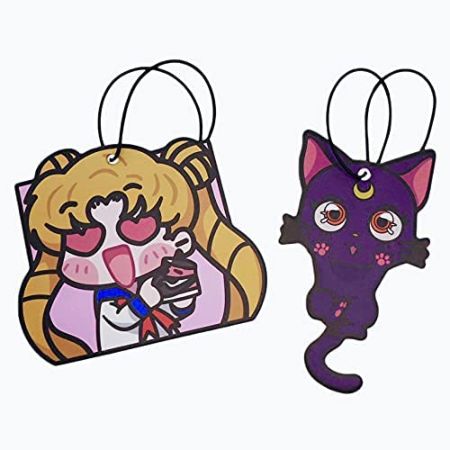 With this present, they will get not one, but two cute Sailor Moon air fresheners for their car. Aside from having cute designs, these will also leave their car smelling clean and fresh all day long.
18. Sailor Moon Pom Pom Socks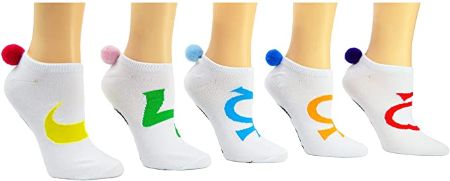 Give these socks to your besties to channel the inner Sailor Guardian in them.
These socks are Sailor Moon, Sailor Mercury, and Sailor Venus-inspired and are also great for sleepovers.
19. Cutie Moon Rod Plush

The little fan in your life will have a lot of fun while pretending to be one of the best sheroes of all time, Sailor Moon, through this magical cutie moon rod.
These are preferable for young kids because it's made with soft materials, lessening the possibility of hurting themself while they swish and turn the rod to their heart's desire.
20. Artemis Plush Toy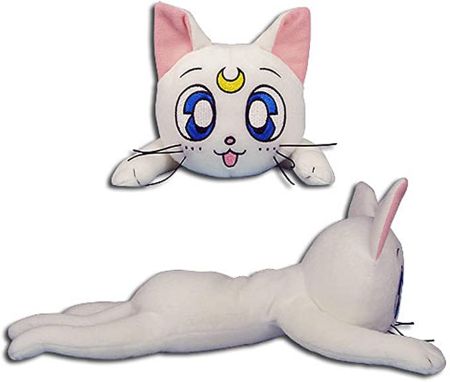 Is your recipient a cat person who is allergic or can't have one because of apartment rules?
This Artemis plush toy will fill the cat-shaped gap in their hearts. It's also a great cuddle-buddy while they watch Sailor Moon for the nth time.
21. Sailor Moon Puzzle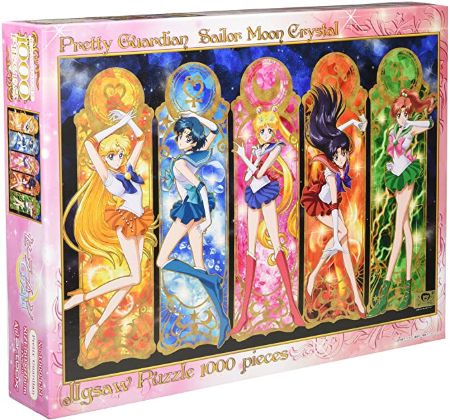 If your recipient loves to keep their mind active, this 1000-piece jigsaw will be an excellent gift.
Check out this compilation of gifts for puzzle lovers for more ideas of fun and challenging gifts!
5 Sailor Moon Decor
22. Hanging Storage Bag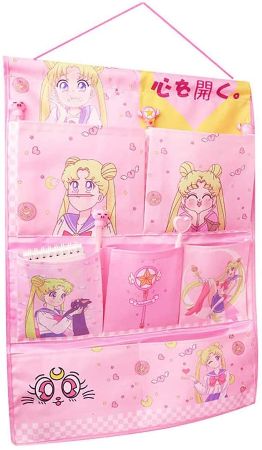 Motivate the little Sailor Moon fan in your life to keep their belongings in order by giving this kawaii organizer. It also won't take up a lot of space since it's a hanging storage bag.
23. Decorative Throw Pillowcase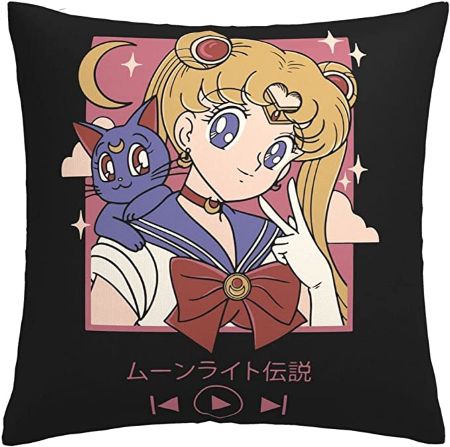 This decorative throw pillowcase will make their space homey and welcoming, especially to other Sailor Moon fans. Plus, the invisible zipper helps in preserving the aesthetics of the pillow.
24. Van Gogh Inspired Wall Art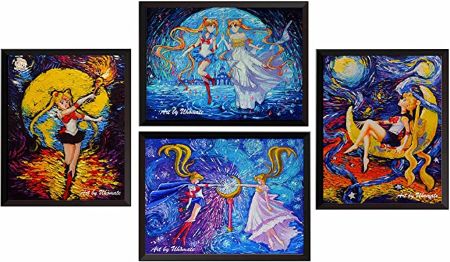 These Sailor Moon posters show a fusion of classical and modern art. If your recipient loves Van Gogh's Starry Night and is also a fan of Sailor Moon (an odd combination, nonetheless epic), then these are a great choice.
25. Sailor Moon Posters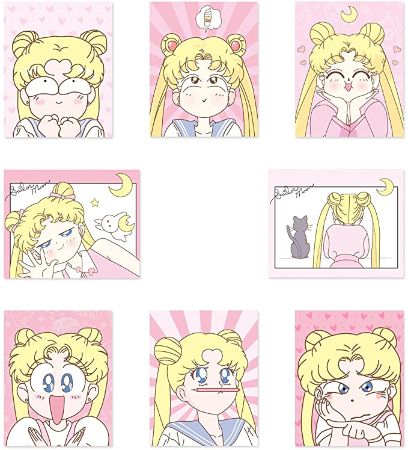 These Sailor Moon posters are the definition of cuteness overload. Each set includes eight pieces of 8″ x 10″ posters that will be great for their space.
26. Sailor Moon Manga Wall Art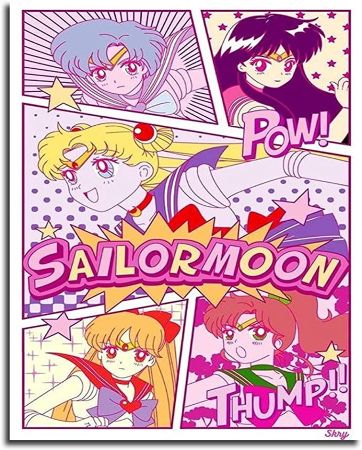 Did you know that Sailor Moon was originally a manga series? I bet the super fan in your life does.
For a more accurate depiction of Sailor Moon, this comic-inspired wall art will be a great choice.
Sailor Moon Gifts for Every Fan
Sailor Moon is a good role model because she proves that girls can be anything and everything they want to be — even if that means being a Sailor Guardian.
Here are more awesome gifts that you need to check out:
Did you also watch Sailor Moon as a kid? Who is your favorite Sailor Guardian? Let me know in the comments below.