When it comes to superheroes, Captain Steve Rogers is the embodiment of the all-American superhero. I mean, he IS Captain America, and he didn't get that name by accident, either. He earned it long before he even became The First Avenger.
It's no wonder he's one of the most well-liked superheroes in the Marvel Universe. Since you're here, I'm sure you have someone you're hoping to find the best Captain America-themed gift for.
Whether you're looking for the best Captain America gift for the superfan in your life or a casual supporter, I'm here to help. I've searched the web and came up with 31 awesome gift ideas for Captain Rogers fans of any age.
14 Captain America Merchandise Gifts to Delight Any Fan
1. Captain America Blender Bottle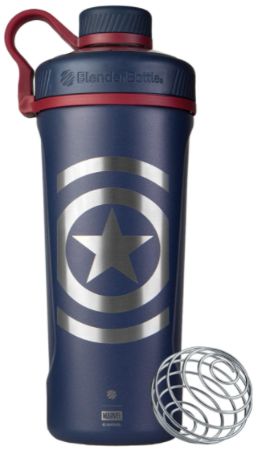 Just like Captain America, this is not your average tumbler. It has a patented stainless steel BlenderBall whisk that can turn powdered supplements into shakes directly in the bottle.
Plus, it features the iconic logo and keeps drinks cold for up to 24 hours. It's the perfect sports bottle for the Captain America fan and fitness buff.
2. Captain America Mug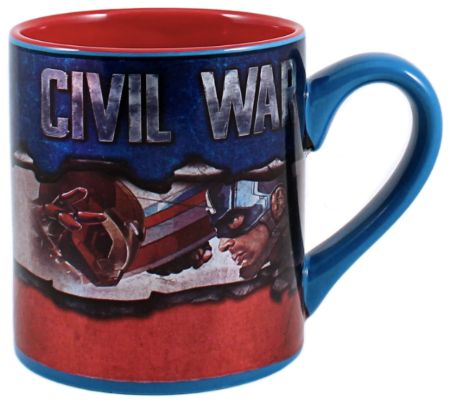 If the person on your list is as much a fan of coffee as they are of Captain America, then they'd definitely appreciate this coffee mug from the highest-rated Captain America movie so far.
With this mug they can have their coffee every morning while contemplating their great day ahead.
3. Captain America PopSocket with PopWallet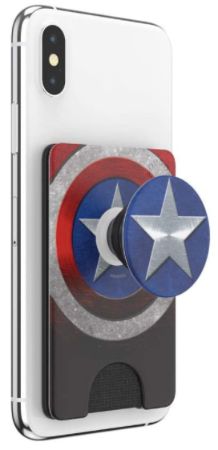 Double the function of the usual Popsocket by adding a PopWallet. Throw in the Captain America shield design into the equation and you get one happy Captain America fan.
WIth this gift you give them the power to take great Snaps, hold their phone and credit cards one-handed, and watch videos hands-free.
4. Captain America Hat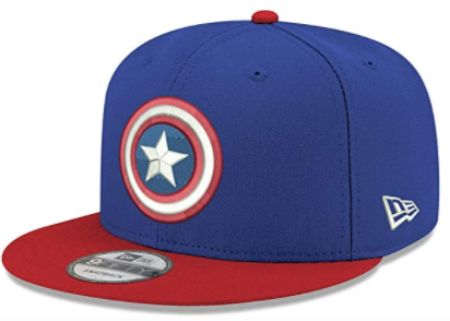 The Captain America fan in your life will be happy to exchange their old (maybe even tattered) baseball cap for this officially licensed Captain America hat by New Era.
This cap features a sweat-wicking band and adjustable closure for a comfortable fit (and several cool points to you) on hot days.
5. Captain America T-Shirt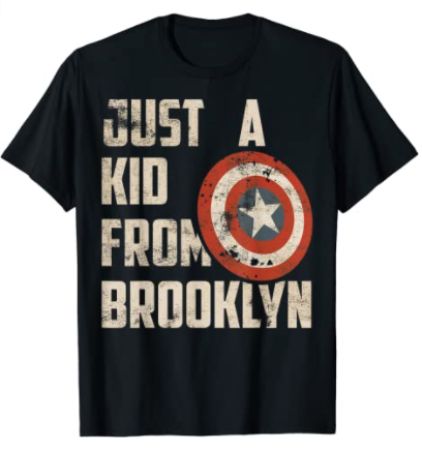 Maybe it's time for them to retire their old Captain America T-shirt for this stylish, "Just a Kid from Brooklyn" T-shirt.
It features the famous shield everybody knows can't be wielded by just any kid from Brooklyn. This design also comes in a long-sleeve T-shirt, hoodie, tank top, or raglan shirt, and a variety of colors.
6. Captain America 3D Deco Light
Make them feel like they're part of the action with this super cool Captain America 3D wall deco light.
It features a 3D crack sticker they can stick to the wall to make it look like The First Avenger himself threw his shield through it. It doesn't matter how old they are – if they're a fan, they'll thank you for this gift.
7. Captain America Ornament
They already have Captain America stuff everywhere, so why not let them put one on the tree as well? Not only will this Captain America shield Christmas ornament look awesome hanging on the tree, but it will also give the biggest First Avenger fan in your life some extra holiday cheer.
8. Captain America Tapestry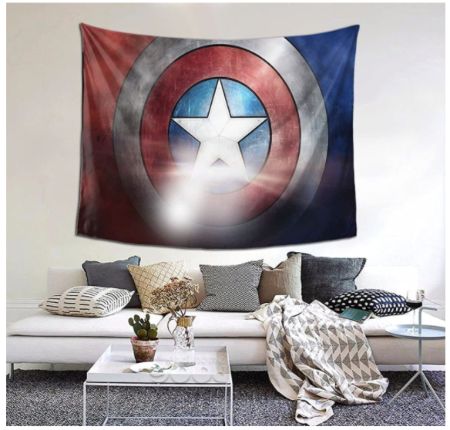 For the fan that's ready to declare their loyalty to their favorite superhero, they can proudly hang this Captain America tapestry on their wall.
It features a vibrant print of the famous shield and comes with everything they need to easily mount this 50" x 60" symbol of the greatest superhero ever for everyone to see.
9. Captain America Waffle Maker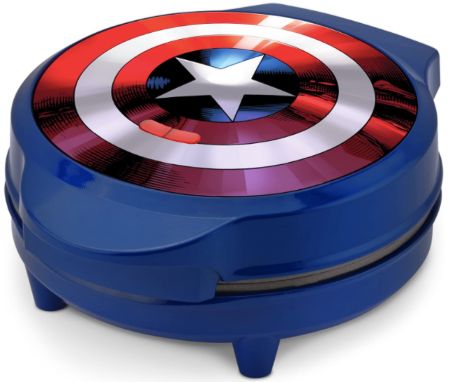 How awesome would breakfast be with the help of this Captain America waffle maker? Not only would this device look great on their kitchen counter, but whipping out waffles in the shape of The Captain's shield would make them feel like a superhero in the kitchen.
10. Captain America Popcorn Maker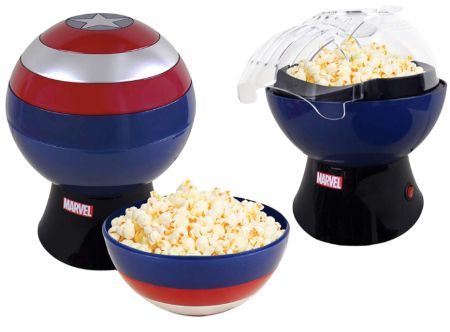 Movie nights aren't complete without popcorn, and with three Captain America movies (plus all the Avenger movies), they have a lot of movie night material to cover.
Why not give them this cool popcorn maker so they don't have to worry about snacks and just focus on how awesome their favorite superhero is?
This comes complete with a measuring cup and a butter receptacle. Plus, the top shield cover functions as a serving bowl.
11. Captain America Insulated Lunch Bag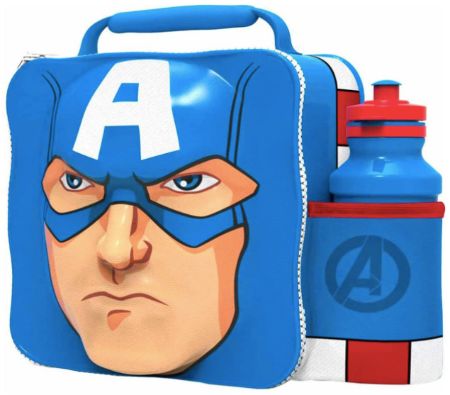 Get your favorite young Captain America fan excited for lunchtime with this insulated 3D Captain America lunch bag. It keeps their food fresh and cool, and it comes with a matching water bottle for maximum lunchtime awesomeness.
12. Captain America Toy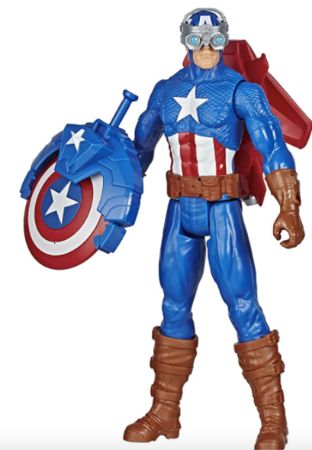 This classic design Captain America 12-inch scale figure from the AVN Titan Hero Series is a great gift for young fans. It comes with cool accessories, including a blast gear system equipped with a projectile that can launch the shield with just a push of a button.
Plus, all accessories are compatible with other Titan Hero Series figures they can mix and match.
13. Captain America Scope Vision Hat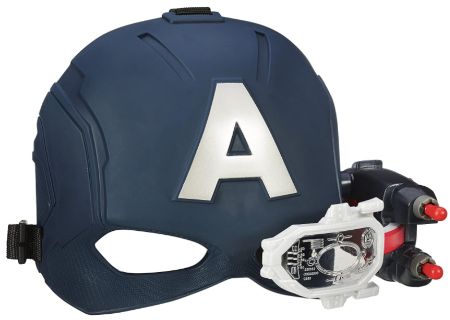 Young Cap fans will have hours of superhero fun with this cool replica of the Captain America: Civil War scope vision helmet. It features a lighted scope goggle, a blaster, and two projectiles. They can adjust the aim, push a button, and fire away!
14. Captain America Bedding Set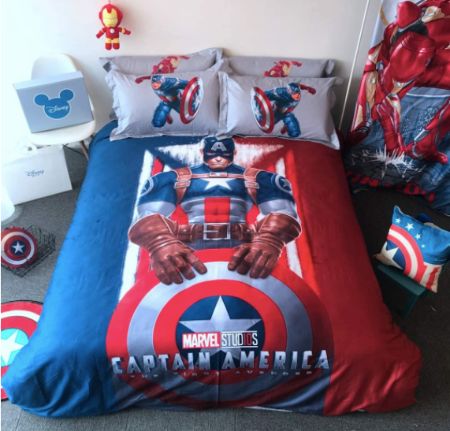 Get your kid excited for bedtime with this Captain America bedding set that's made with 100% cotton. This twin set includes a fitted sheet, two pillowcases, and a duvet cover. With The Captain's image prominently printed right on the middle, no villains or monsters (or nightmares) stand a chance.
5 Captain America Gifts for Men
15. Captain America Tie Bar and Cufflinks Set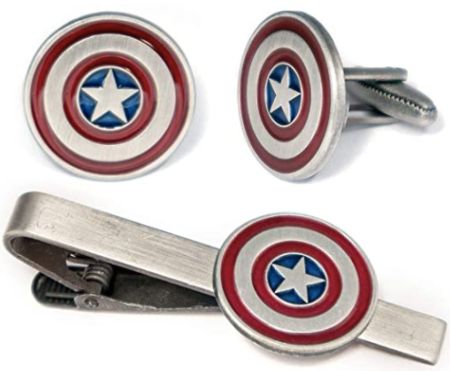 Just because they have a dress code at work doesn't mean they can't wear Captain America merchandise.
This silver-plated cufflinks and tie clip set are subtle enough to wear even for important meetings and other black-tie occasions. They'll feel extra cool and confident both in the boardroom and the ballroom.
16. Captain America Robe

The Unfrozen Avenger fan will love this Captain America robe on days when they don't have to get dressed and go into the office.
This robe is made from cotton and polyester and is warm enough for chilly days. Plus, it features good-sized front pockets for snacks and other important stuff.
17. Captain America Lounge Pants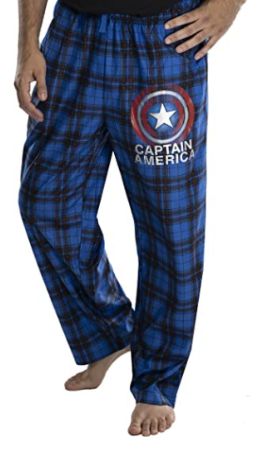 With most people working from home these days, comfort has become the first order of business when it comes to "dressing up" for work. These Captain America pants provide the warmth and comfort of flannel pajamas without looking too out of style.
These pants feature a digital print of The Captain's shield that won't fade in the wash and drawstring waist for a comfortable fit.
18. Captain America Crew Socks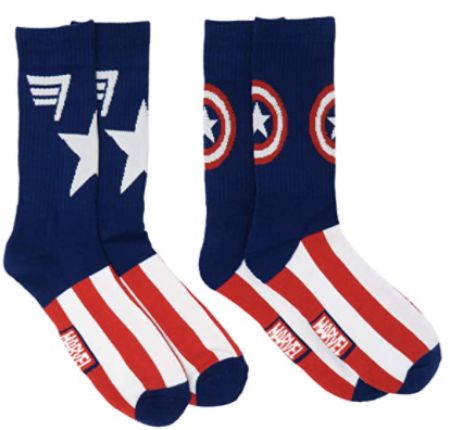 Trust me, no matter how many pairs of socks they have lying around, the Captain America fan in your life will still appreciate getting these officially licensed athletic socks. The set comes with two pairs of these comfortable crew socks that will hold up nicely in the wash.
19. Marvel Adidas Running Shoes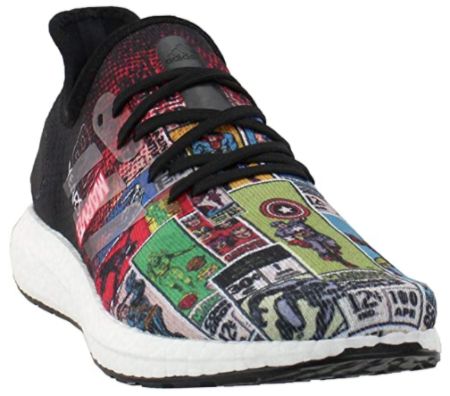 They already have the T-shirt, the Captain America hat, socks, and (maybe) pants. All they need are these Marvel men's running shoes by Adidas to complete their look.
These are running shoes, so they're ultra-comfortable and feature The Cap and his Avenger friends doing what they do best.
5 Captain America Gifts for Her
20. Captain America Earrings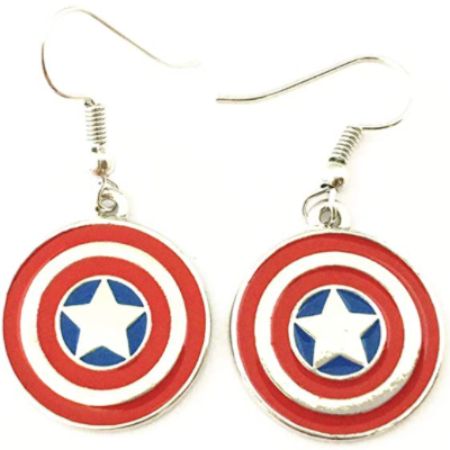 These chic Captain America shield earrings will add a little Captain America flair to any outfit. They're subtle enough to dress up or down and are made from quality hypoallergenic alloy and come in a cute gift box. It's the perfect Captain America gift for her that won't break the bank.
21. Captain America Ringer Tee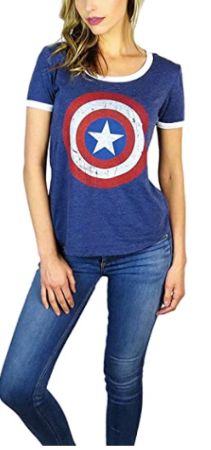 Here's a little upgraded version of the usual Captain America T-shirt for women. This burnout ringer tee looks ultra-feminine without being too sheer and is durable enough to hold up well in the wash.
22. Captain America Crossbody Bag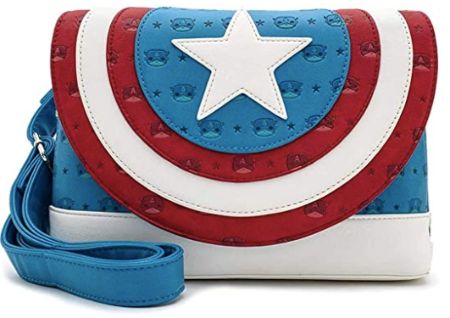 This Captain America crossbody bag by Loungefly is perfect for a fun night out or running errands around town. It has detachable straps in case they want to use this as a clutch and the side zipper allows the bag to expand for carrying more essentials.
23. Captain America Women's Pajama Set

Keep them warm and comfy while pledging their allegiance to The Captain in this soft, 100% polyester pajama set. Perfect for sleeping or lazy Sundays lounging around the house.
24. Captain America Shield Pouch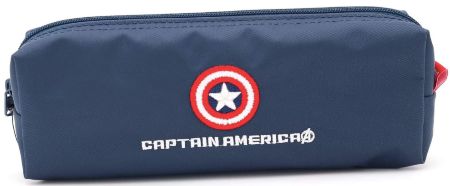 This multi-purpose Captain America pouch features the iconic shield with Captain America embroidered across the front. It's made from quality material with durable stitching that's perfect for carrying school or work essentials.
7 Bonus Captain America Stuff for Serious Fans
The last category on this list are items that collectors and serious fans of The Captain will be happy to receive no matter the occasion.
25. Captain America Funko POP!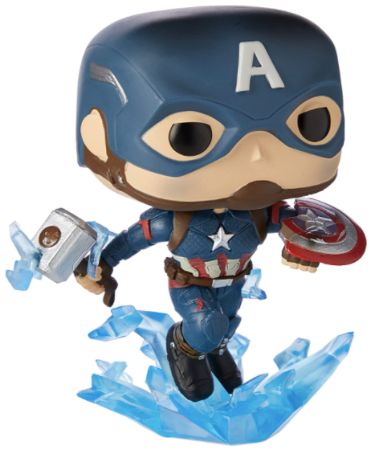 Funko POP! collectibles are all the rage these days. If the biggest fan in your life is also an avid collector, give them this Funko POP! Captain America figure from The Avengers: Endgame.
It features the battle-worn Cap carrying Mjolnir and his broken shield with amazing detail that's typical of any Funko product.
26. Captain America War Bonds Poster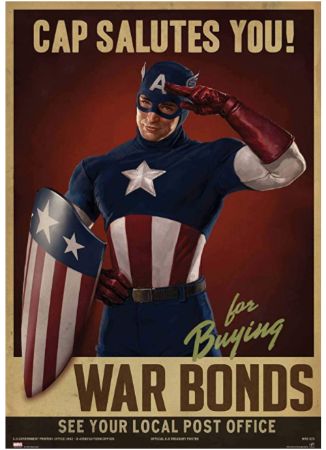 Give your favorite fan this piece of Captain America history. This extra-large poster depicts the pre-Avenging, badass superhero days of The Captain when he served as an over-qualified public relations person for America's war efforts. But hey, everybody has to start somewhere.
27. Captain America – Tamashii Nations by S.H. Figuarts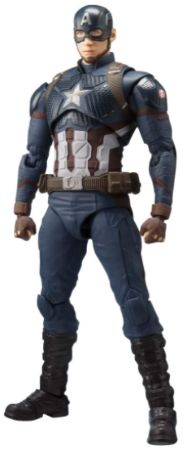 S.H. Figuarts action figures are well-known to collectors all over the world for their quality, great articulation, and detailed rendering.
This Captain America figure from The Avengers: Endgame movie comes with three hand options and a shield. You can also choose to add other optional accessories to make the fan in your life even happier.
28. Captain America: Civil War Movie Poster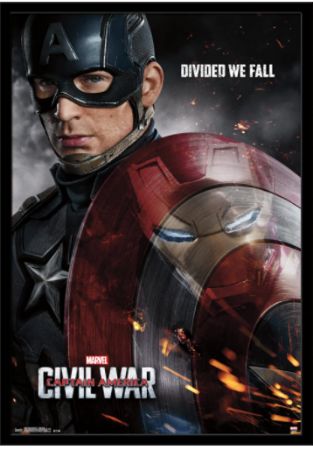 How about this framed Captain America: Civil War poster? The frame is lightweight enough so they can hang this on any wall – a perfect addition to their man cave.
Looking for more ideas to show your support for his favorite place in the house? Check out these awesome man cave gifts that will make him feel extra special.
29. Captain America Premium Shield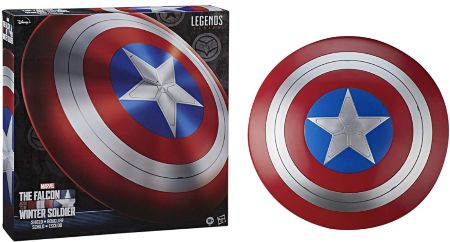 His shield is the most important weapon in Captain America's arsenal. It's the ultimate offensive and defensive weapon. For the ultimate fan, this full-scale replica is the next best thing to the original shield and deserves a place of honor in their collection.
30. Captain America Cosplay Suit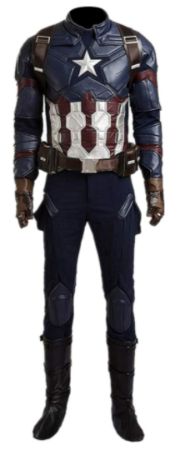 If they're into cosplay, get them this Captain America cosplay suit that's made to look as close to the original Avengers Endgame suit. It comes in US adult sizes XS to 3XL.
Or, choose the custom-made option if you want this suit tailor-made to their size.
31. Captain America Civil War Helmet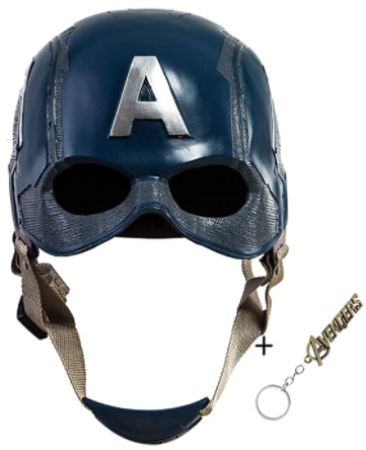 No Captain America costume is complete without the helmet, and this one is a close replica of The Captain's iconic headgear in Civil War. It's made from synthetic resin with adjustable straps and a circumference that will fit most adult sizes.
Captain America Stuff for Fans, Old and New
Unlike superhero work, Captain America gift shopping from this list doesn't take all day. I've included items for every fan and budget range to make your shopping experience a breeze.
If you have someone else in mind, check out our other geeky and fandom-related gifts lifts below: